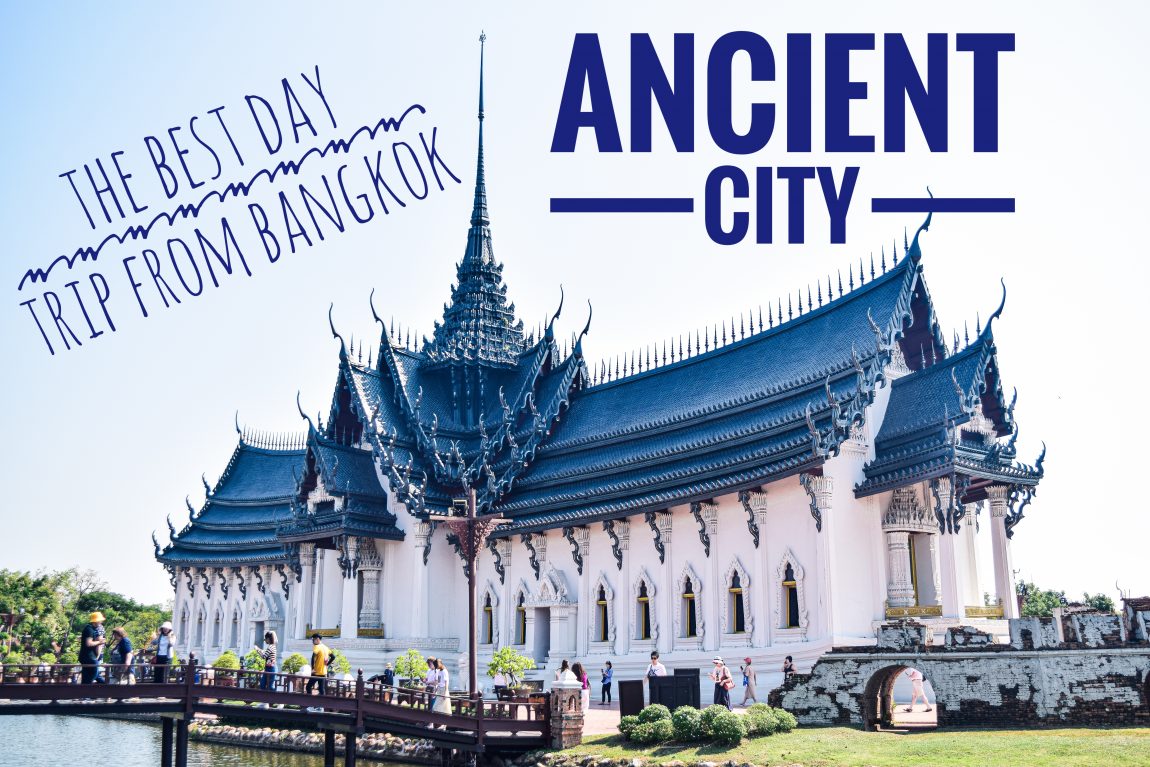 Ancient Siam (Muang Boran) – What makes it the best place for a Day trip when in Bangkok?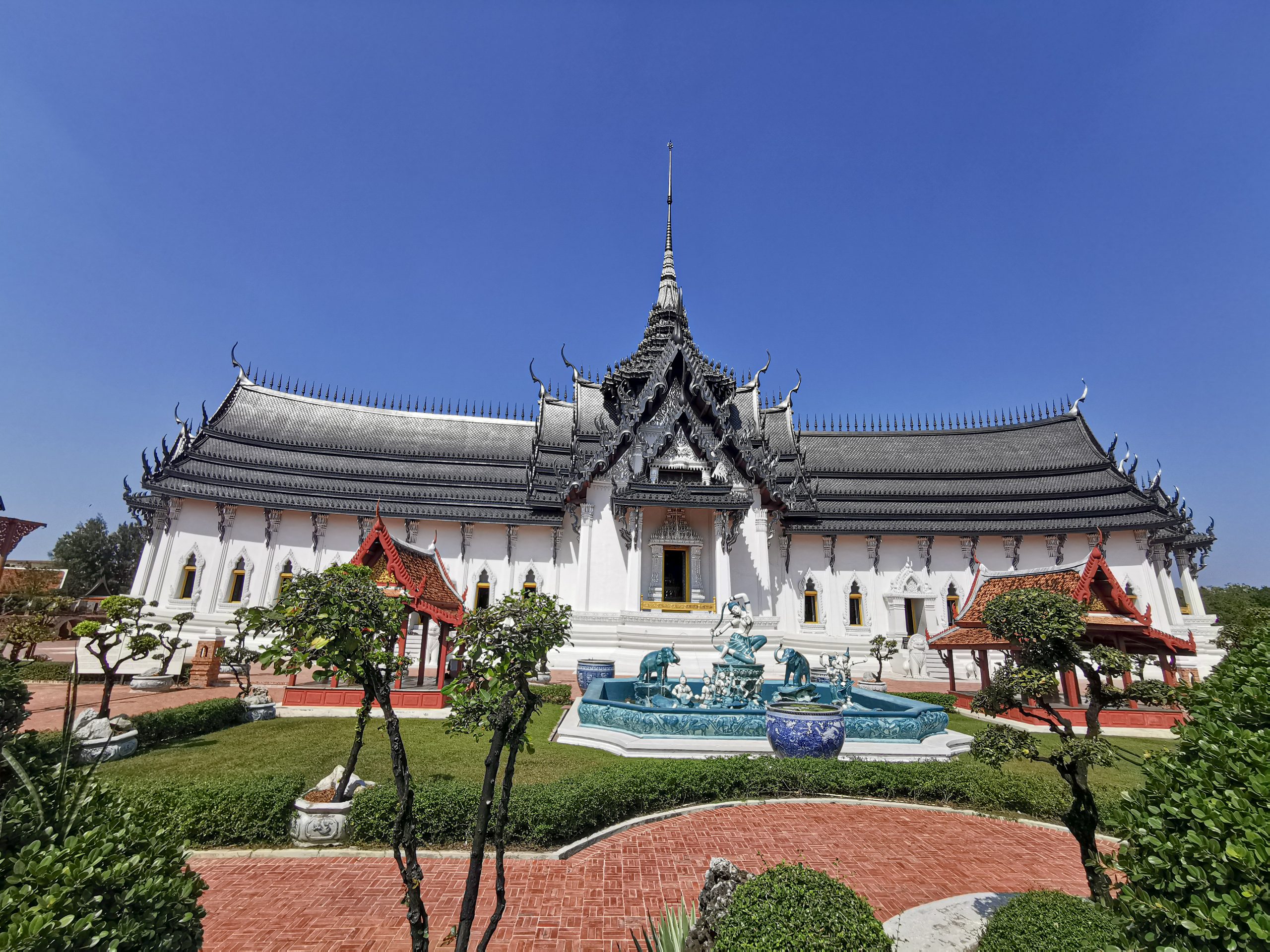 In the last decade, Bangkok has attracted millions of visitors and emerged as the most visited city in the World. Bangkok has become many vacationer's first choices as a holiday destination for its gigantic skyscrapers, dazzling royal palaces, Wats embellished in intricate architectural designs, the jewel adorned Buddha idols, ritzy glitzy party scenes, buzzing nightlife around the red-light districts, delicious and world-class foods, diverse culture and humble Thai people. Throughout history, through the rise and fall of kingdoms and in the process of modernization, a small trading post of the Ayutthayan period, Siam has grown into today's vibrant, chaotic metropolitan Bangkok representing a unique mix of traditions, history, and modernity.
When we decided on a South East Asia trip last December, Bangkok was our obvious choice to end the year on a high and happy note. Bangkok offers so many options in terms of sightseeing, shopping, leisure, amusement, and adventure that several weeks can fall short if you wish to explore every bit of this megacity. We stayed for a short duration of 4 nights and wanted to experience the best of both – the sagas of the ancient Thai and the marvels of the modern heritage. With limited days in hand, we planned to spend three days exploring the city attractions and a half-day trip in Muang Boran (Ancient city of Siam) – the gateway to Thailand's history and culture.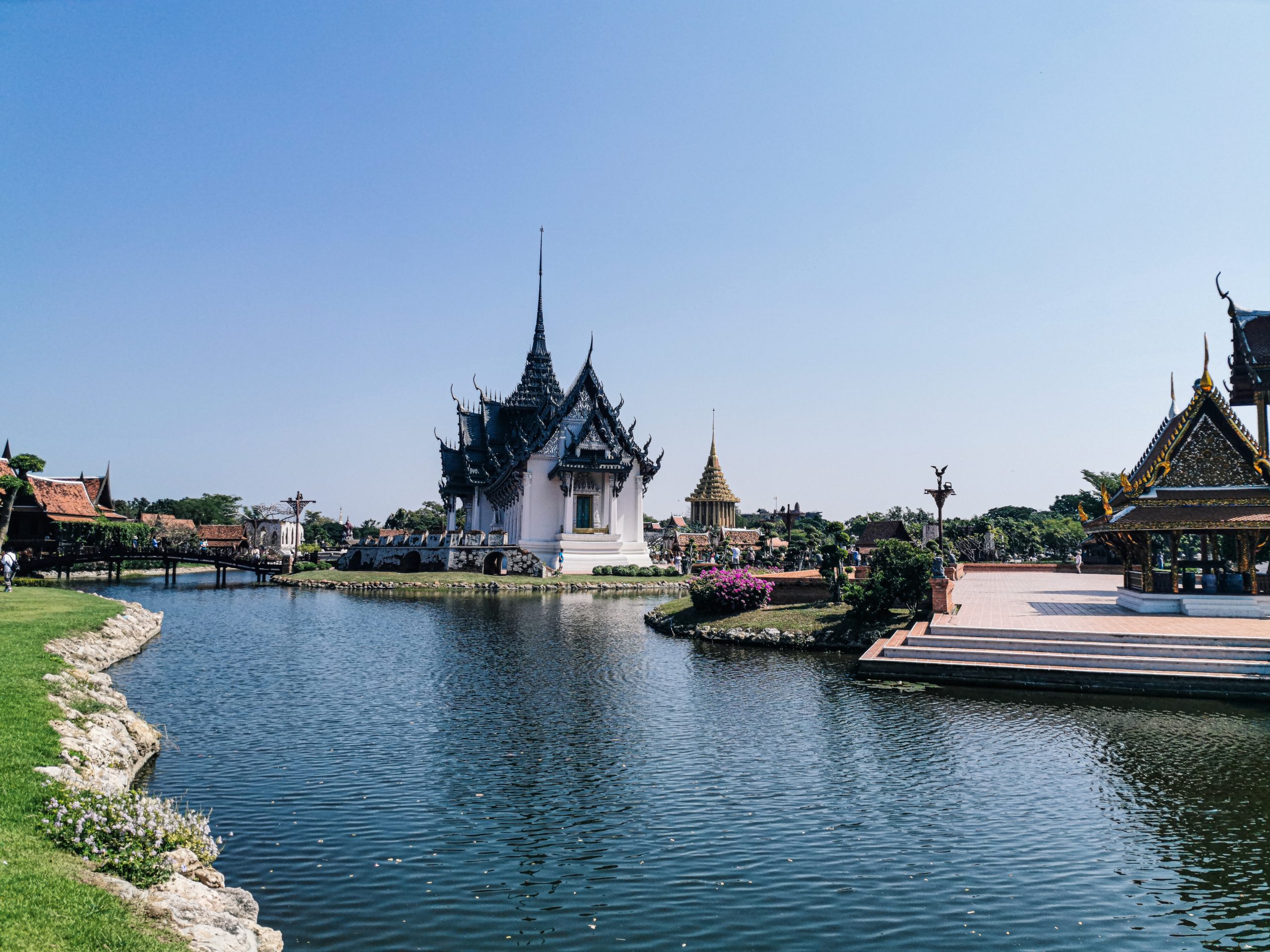 The story behind Muang Boran:
Before our trip, while searching online for the main attractions of Bangkok, we didn't see any mentions of Muang Boran in top suggestions. Probably because it is situated in another province called Samut Prakan, it was only listed in day trip suggestions from the Bangkok city area. After extensive research, we came across the images of a few fascinating structures like 'Pavilion of the Enlightened' and 'Sumeru mountain palace.' Without a second thought, we knew we had to go there. We thought we could cover the area in a couple of hours but little did we know that this was the World's largest open-air museum spread over a vast land of 200 acres.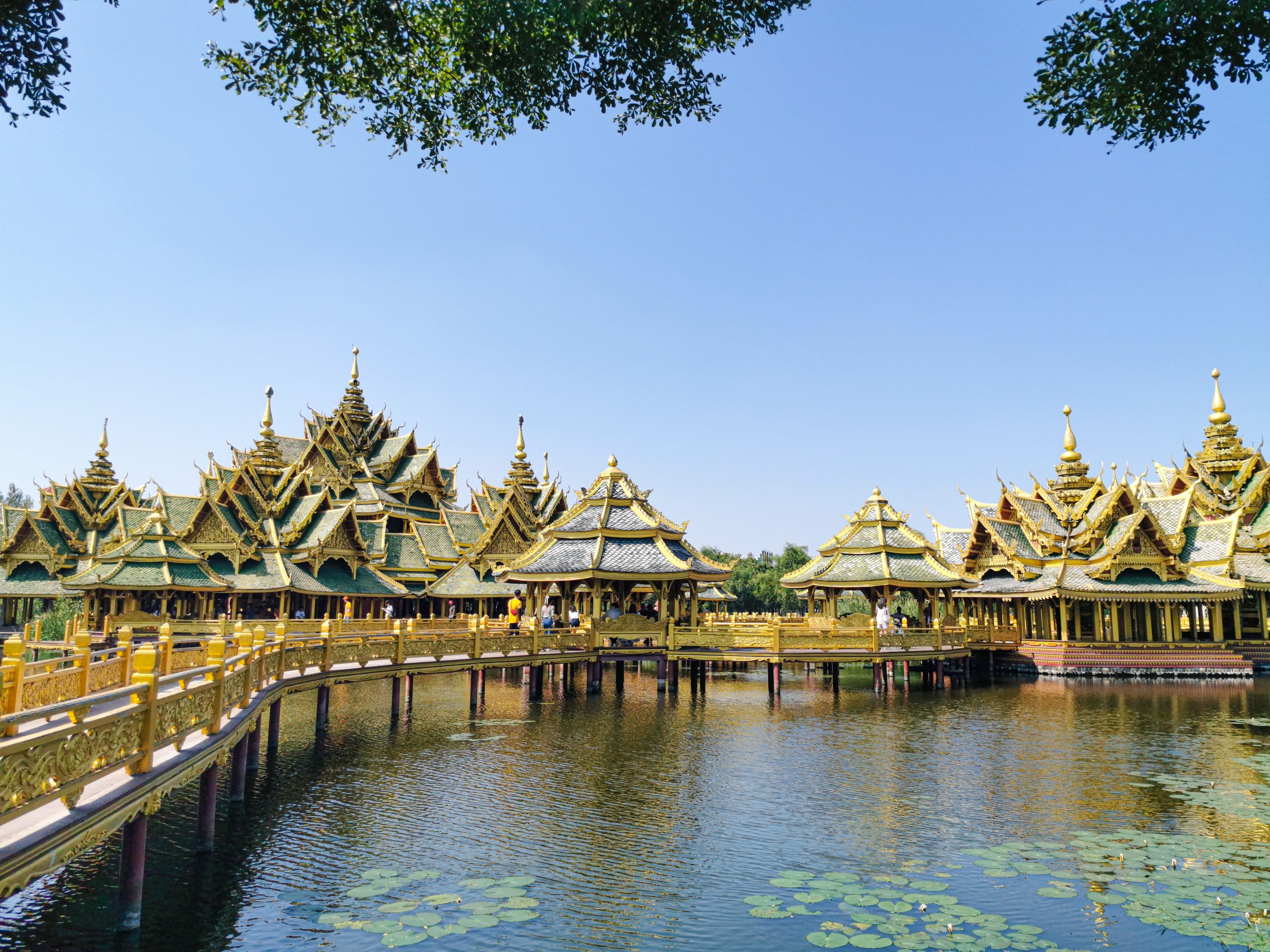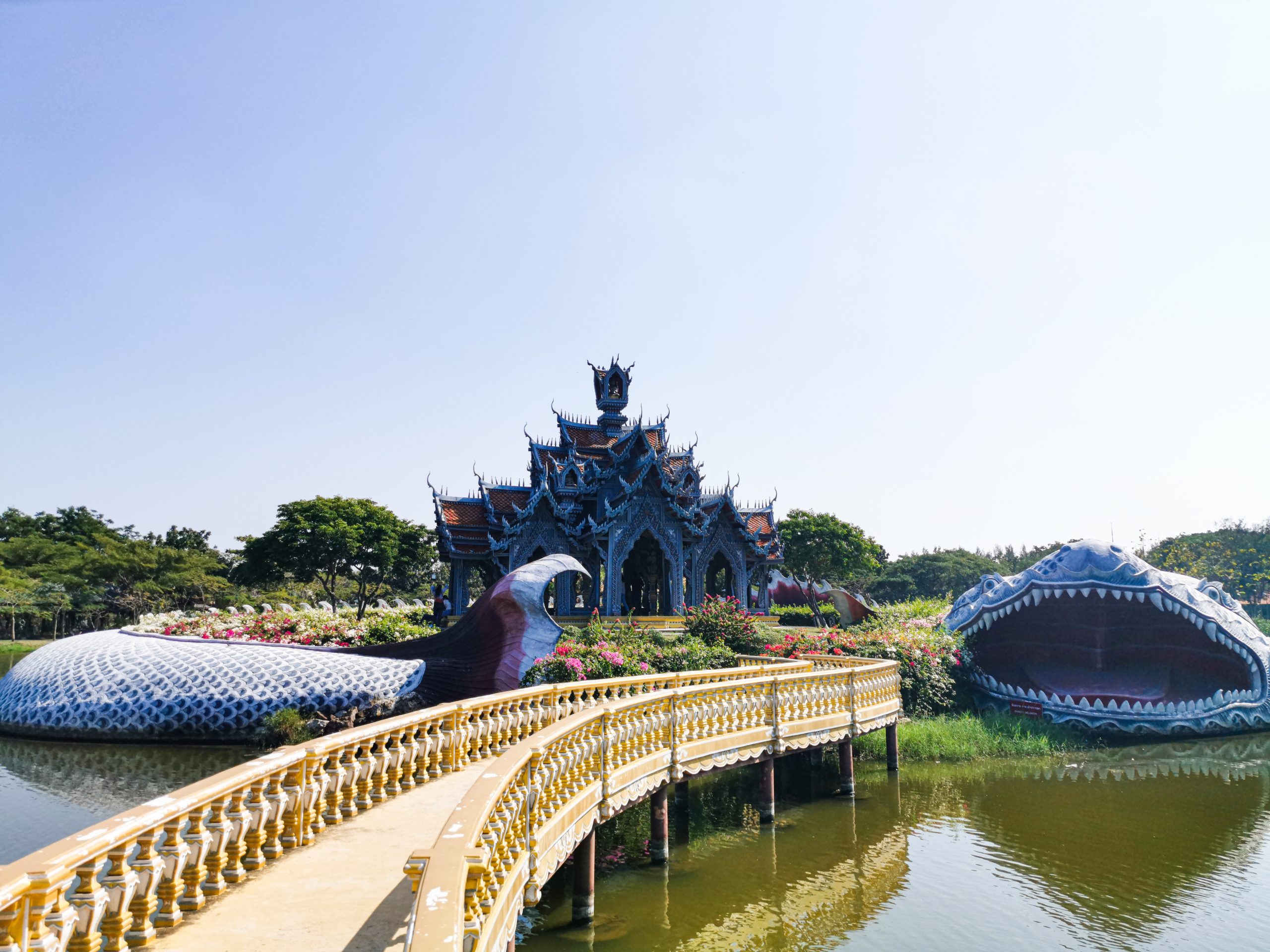 The wooded site was landscaped in the shape of a Thailand map and featured 116 replicas of the most famous monuments from across the country (some of which are life-size or a miniature of the original structure).
This outdoor museum was conceptualized and constructed by Thai business tycoon Lek Viriyaphant. He also created other wonders like the Erawan Museum in Samut Prakan and the Sanctuary of Truth in Pattaya.
Originally Lek started with the idea of building a Thai map-shaped golf course that would house miniatures of important national ancient structures to promote tourism and serve educational purposes. However, Lek's interest in philosophies and cultures, his knowledge of arts and craftsmanship, and understanding the importance of preserving the antiques and ancient architectural symbols had inspired him to build The Ancient Siam. Today the museum showcases the splendors of the Siamese past, the heritage of Thai wisdom, educates the newer generation of their heritage, and key monuments that otherwise lies in decay.
Getting there, Entry Fee, Opening hours:
Getting to Muang Boran (Ancient City) was a little bit tricky for us as we had limited information. The museum itself was located nearly 38 km far from the city as well as from Suvarnabhumi airport and there was no direct Skytrain or metro. We did not find any local bus details nor there was any information on the official website of the Ancient city. Of course, you may hire a taxi or get a Grab but since it is in another province, it would be an expensive ride. Alternatively, based upon the area you are staying in, find the nearest BTS station and choose destination station as Kheha located on the last end of Sukhumvit or Green line. At Kheha station take a taxi for the last 3.5 km stretch that would take only 5-10-minutes for 35-40 THB. Hop on songthaews are also available for 10 THB.
Relying on BTS SkyTrain station info outlined on Google map we realized the easiest and most affordable option was to make a combination of MRT, sky train, and taxi. Our Airbnb was located in the Bang Phlat area, a bit away from the bus/train station or taxi stand. The closest MRT station was Bang Phlat station (2 km) which would connect us to Mo Chit BTS station (15km) and later to Kheha.
Accordingly, we left by 8 am and took a running taxi to Bang Phlat MRT only to realize the station was not operating and closed for the public. It was our mistake that we missed seeing the official MRT site (https://www.transitbangkok.com/mrt.html) to check which stations were operational. Furthermore, the taxi driver was not familiar with English and failed to guide us or communicate on which would be the next closest open MRT/BTS station. Ideally, Victory Monument BTS would have been closer but in a confusion, we asked the driver to directly drop at Mo Chit was a detour for the taxi route. The taxi charged 150 THB but finally, we reached the Ancient city without any further trouble.
Entry fee: The ticket prices are quite high at 700 baht (for adults) and 350 THB (for children between 6-14 years). Yet it's worth every penny.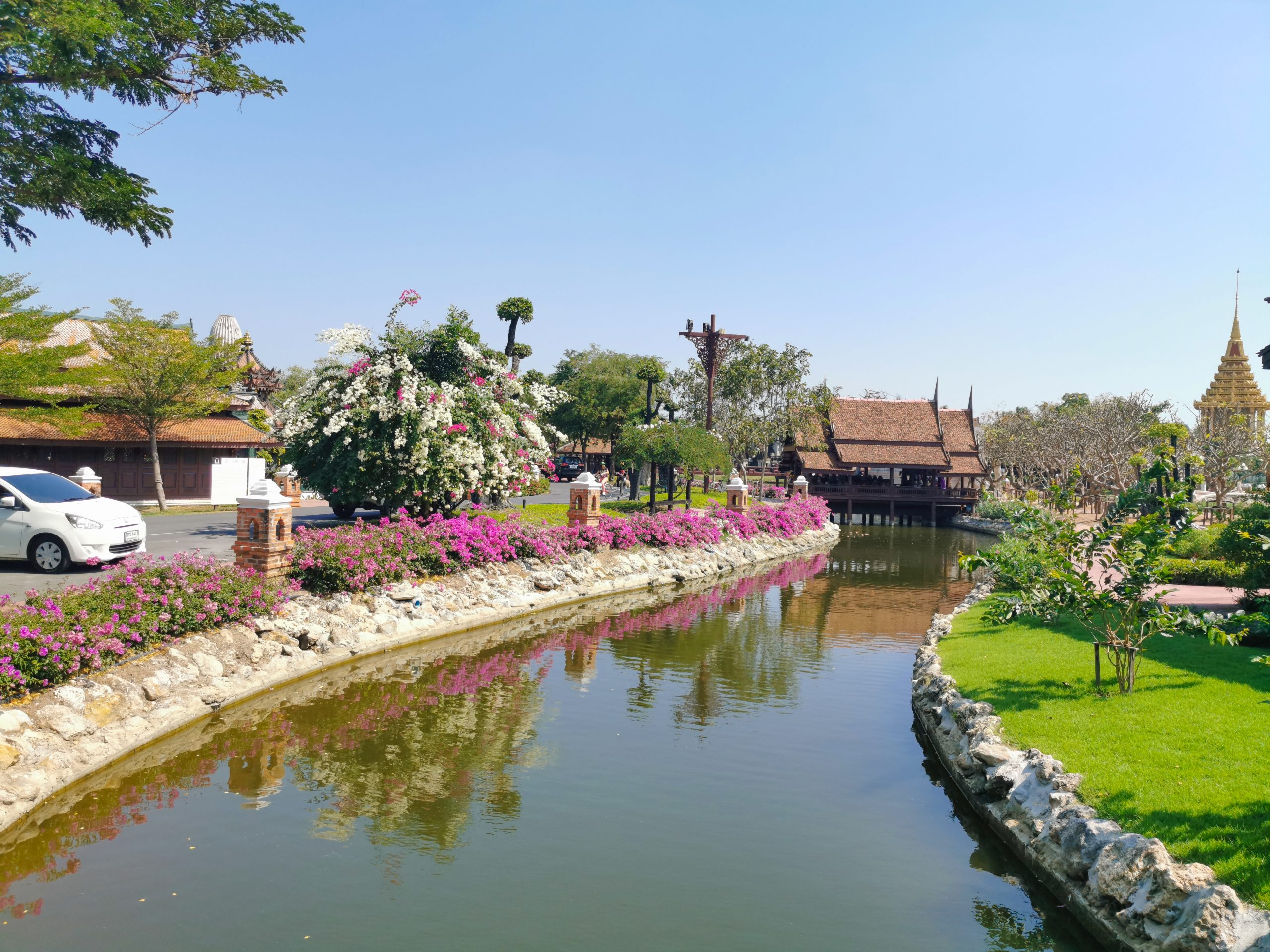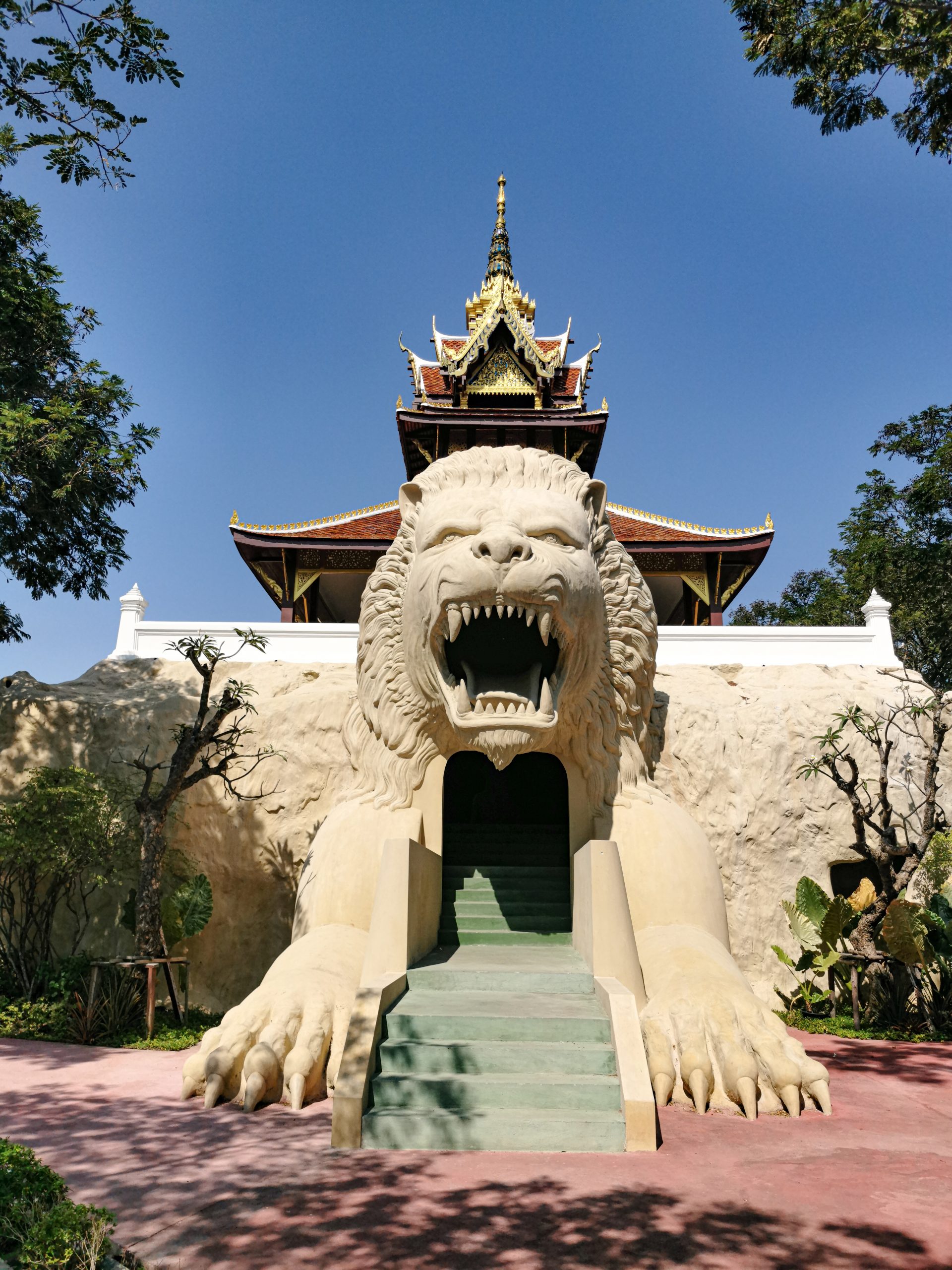 The sheer size of the park makes it impossible to see all the attractions by walk. You can take a free bicycle at the entrance which makes exploring a lot easier.
Golf carts are also available for rent at an extra cost (4-Seater at 350 THB for the first hour, 200 THB for each additional hour, and 6-Seater at 500THB for the first hour, 300 THB for each additional hour). You need an international driving license to drive it.
There is a free to use tram service available on Saturday, Sunday, and Public holidays. The only problem the tram runs at specific intervals for 1.5 hours only and stops at limited locations.
Ancient Siam is open daily from 9 am until 7 pm. We recommend reaching there early to cover all the attractions.
Note: You need to show the ticket at several check points, so do not lose it. Take a free audio guide from the ticket counter that will help you to know a lot of details about each structure.
When we bought the tickets near the counter, I misplaced our camera bag on a golf cart. It had the tickets too. We didn't realize we had lost it until asked to produce the tickets at the main attraction gate. Realizing my blunder, we panicked and frantically started searching the bags everywhere. Gloriya and I jumped onto the bicycles and went in different directions to look at all the possible places we covered till then. After 45 minutes of scouring, asking the staff, gardeners we didn't locate the bag. Disappointed, finally we went to the reception to request another ticket, which they didn't. We informed our names and exact ticket purchase time. Then they issued a blue sticker (to attach to our t-shirt) which would allow us unrestricted entry in all the sites. As a final hope to find that bag we enquired at the Lost and Found section. Magically, a staff there handed the bag to us. We were overwhelmed to find the camera and the lenses least to our expectations (the tickets were never found). Luckily, we managed to avoid the mishap and continued the sightseeing.
Location: 7 296/1 Sukhumvit Rd, Bang Pu Mai, Mueang Samut Prakan District, Samut Prakan 10280, Thailand
Where to Eat:
There were only a couple of places inside the Muang Boran that served food. Right near the reception and bicycle stand, we saw a small cart selling some drinks and snacks. In another few hundred meters we could find a small Thai food joint where we finished our breakfast from. There were a few options for traditional Thai breakfast items, some refreshing fruit drinks, etc. In the old market town area, there is a store for some lite snacks and water. The floating market is another option to pick some snacks where local vendors sell out from their boats.
For our lunch, we went to a restaurant that serves traditional Thai meals around a canal. There were options to choose from Pad Thai, Tom Yum, Coconut soup, Thai curries to mango sticky rice, and much more.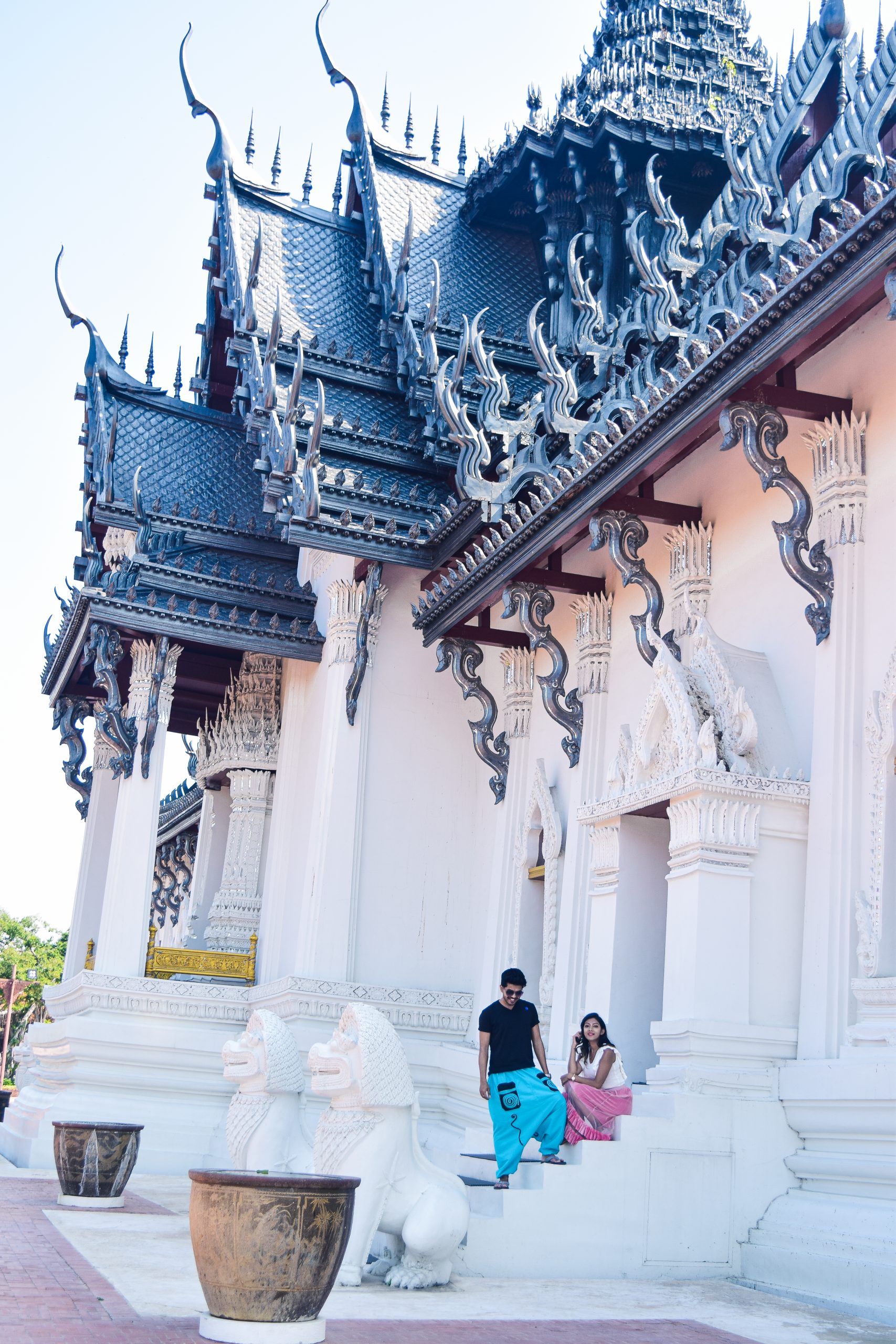 Things to carry for your day trip to Muang Boran:
It will be a very long day if you want to explore all the attractions and sites in the Ancient city. Riding and walking around in the scorching midday sun can be very tiring, so make sure to carry a few necessary items.
First and foremost, keep your tickets and other valuable belongings safe at all times. You already know our struggle.
Wear lite and quick-dry clothes which will feel relaxing while riding bikes. Carry a hat, sunglasses, umbrella, and sunscreen, these will come in handy.
It's a big area to cover and you might not get a food stall in all the corners. So, it's better to keep some lite snacks or bars in your bag.
Carry your passport and driving license if you plan to rent a golf cart.
There is no dress code this being an open-air museum. It is a relaxed place. However, there are a couple of temples to visit where you can see Buddha idols. Women can keep a shawl just to cover the shoulders inside temples. It's not a mandatory requirement but a respectful thing to do.
Do not forget to collect the map of the ancient city from the reception once you buy the tickets. It will guide you in the right direction amidst so many sites and lanes without wasting any time. If you lose your map, do not worry though. Several site blocks indicating the name and number of the site, numerous signs will guide should you feel lost.
Last but not the least a good camera to capture all the beautiful frames.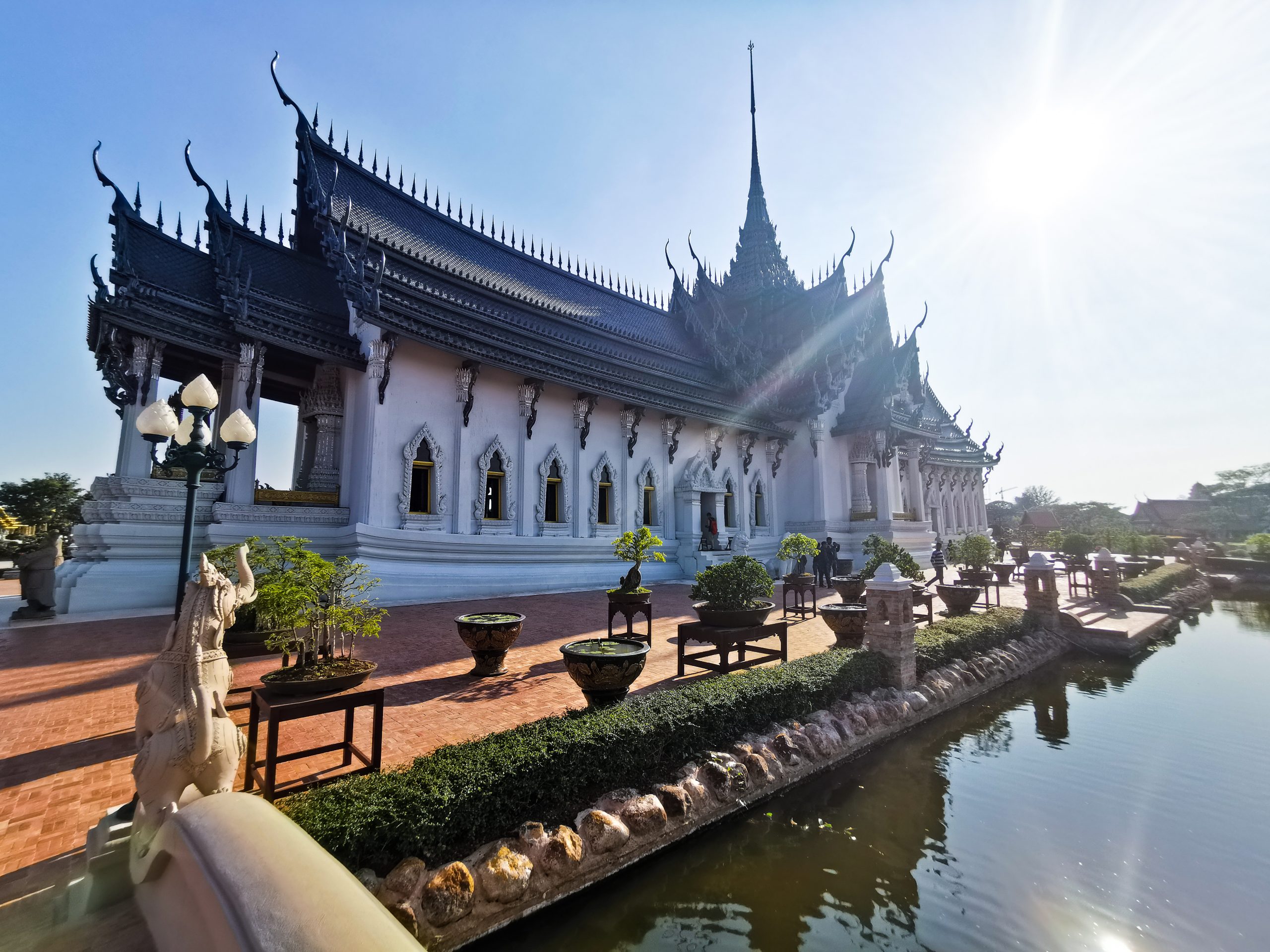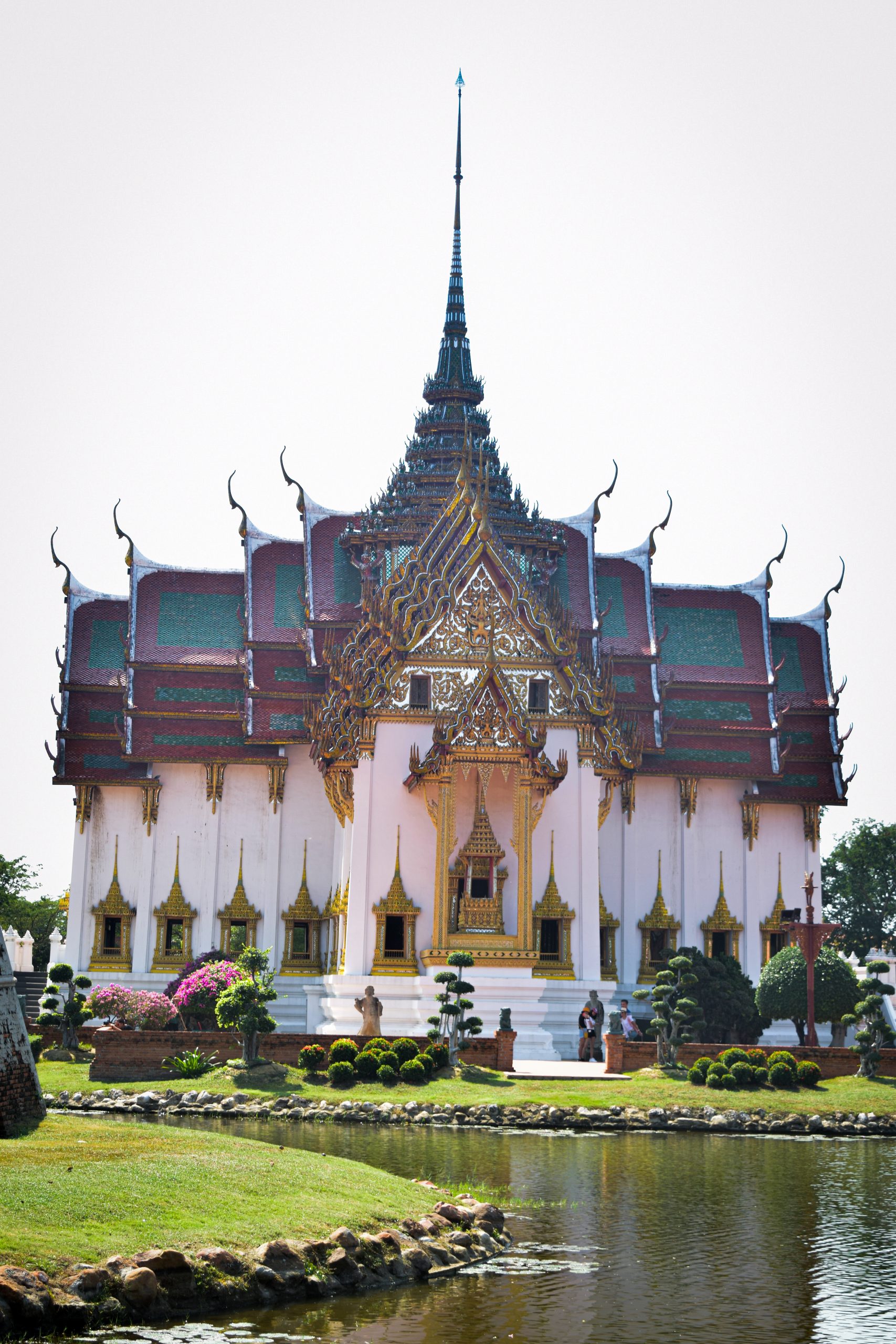 The Must-see places inside Ancient City:
The whole museum park replicates five regions of Thailand namely Northeast, South, Central, North, and West (Suvarnabhumi). Each zone has several wats and stupas, palaces, Buddha idols, pavilions, floating markets, old towns representing various periods in Thai history. There are many gorgeous gardens, fountains, bridges and ponds, statues of mythology, traditional houses. Each zone is having its charm and a list of attractions based upon real geographic location. The best is to cover all the sites and none of these are ordinary. We are listing a few of our favourites and must-see structures/replicas from across the zones.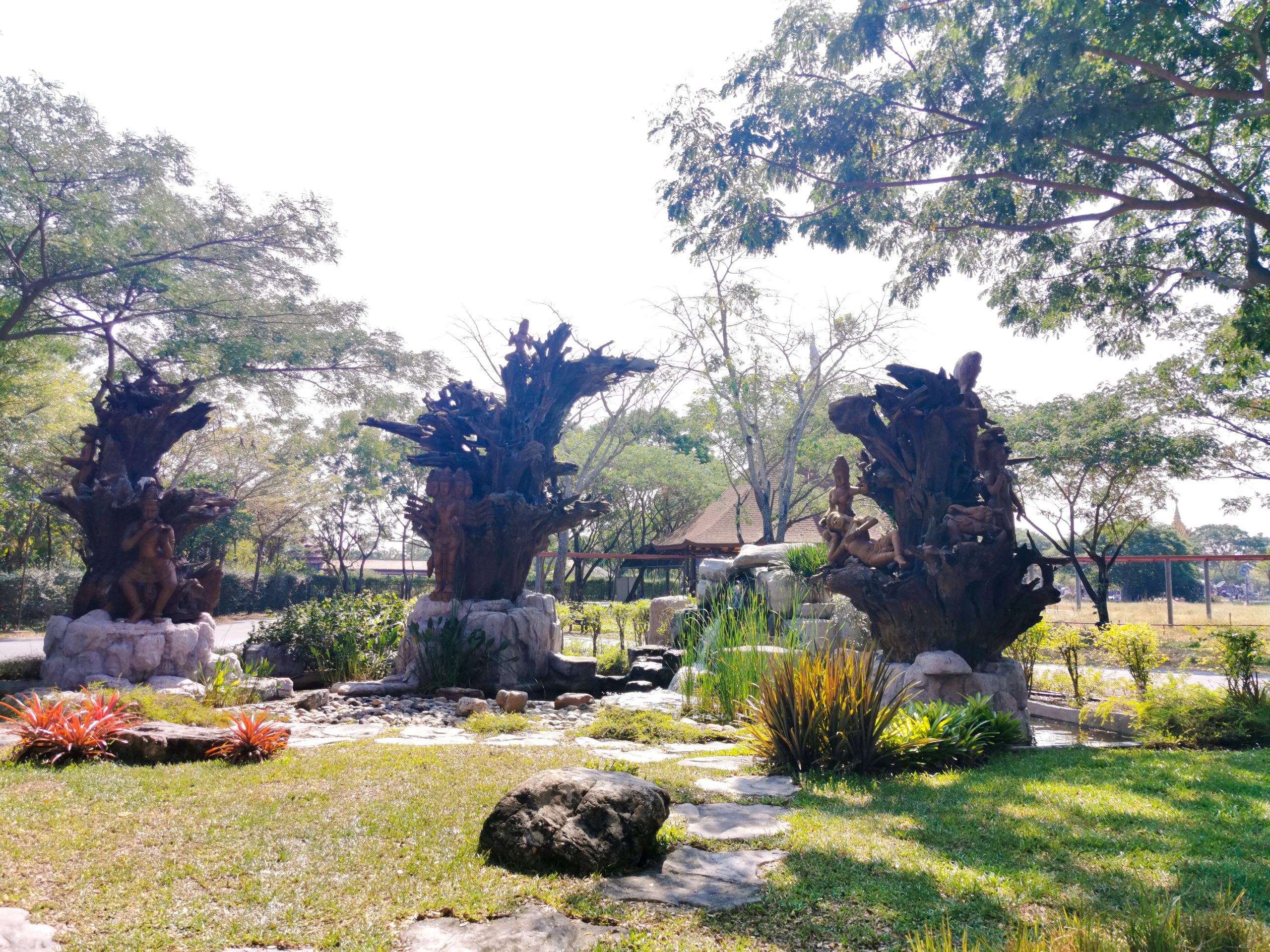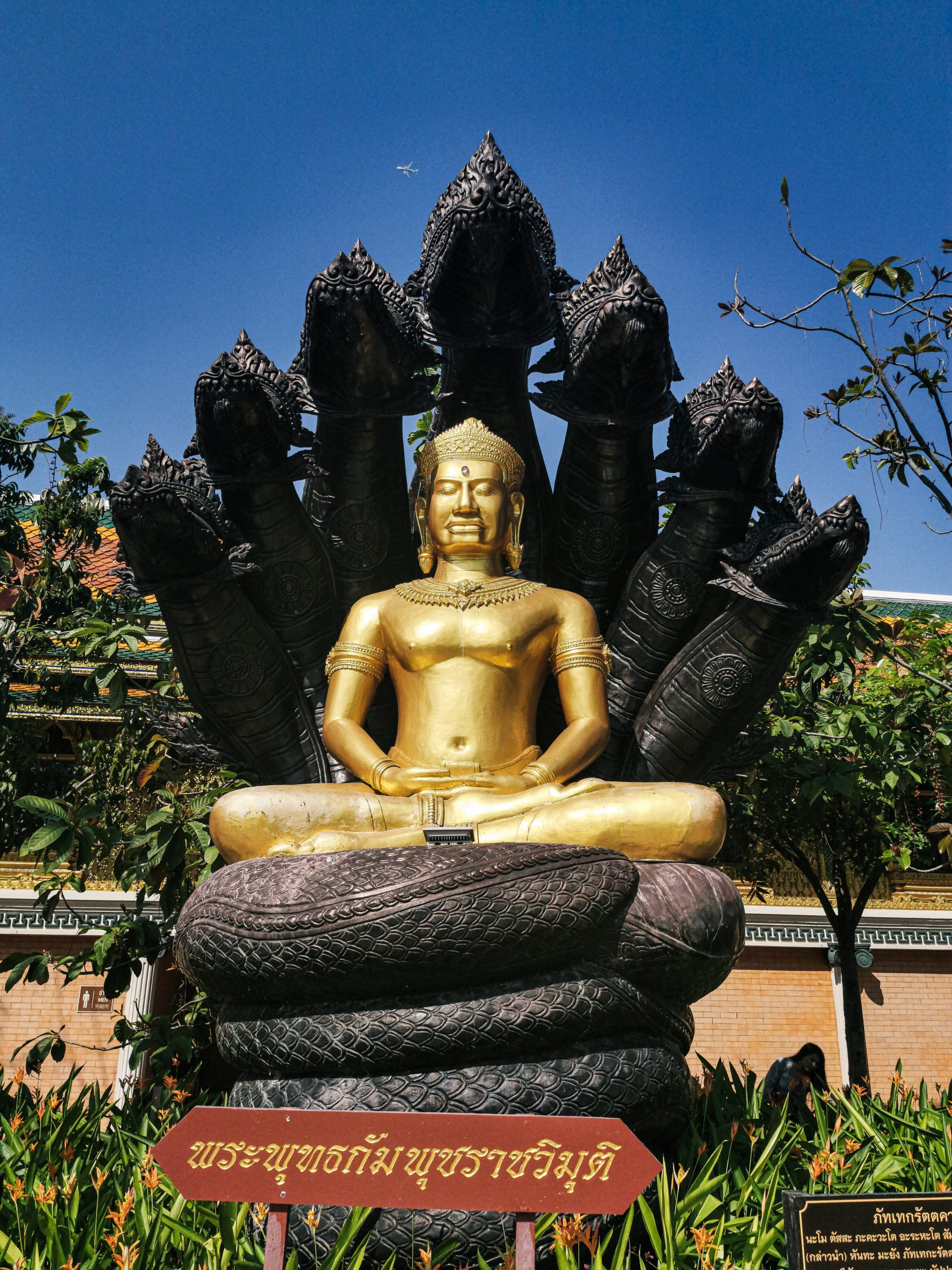 South Zone:
This part starts just after the entrance representing the Southern region of Thailand and highlighting the ancient rural life of Siam. Even though the number of structures is limited compared to other zones, it already gives a glimpse of what you can expect from it.
The Royal Stand – This Sukhothai style Thai pavilion is made of laterite and plaster offered to Lord Brahma, the Hindu deity who is the official symbol of The Ancient City.
The Stupa of Phra Maha That – A white marvellous monastery influenced by Singhalese art symbolizing the artistic Virtuosity of the Southern Thai architects.
The Pallava Group Images – Stone carved idols of three Hindu Gods, Vishnu, Shiva, and Lakshmi, rooting out of tree trunk. A Pallava Sculptor of Southern Indian origin sculpted these images during the 8-9th centuries A.D.
Central Zone:
This zone represents the glory and culture of the Siamese era from the Ayutthaya Kingdom to the Rattanakosin Kingdom, the bond of old Thai civilization with the Chaopraya River. This zone has the maximum number of structures.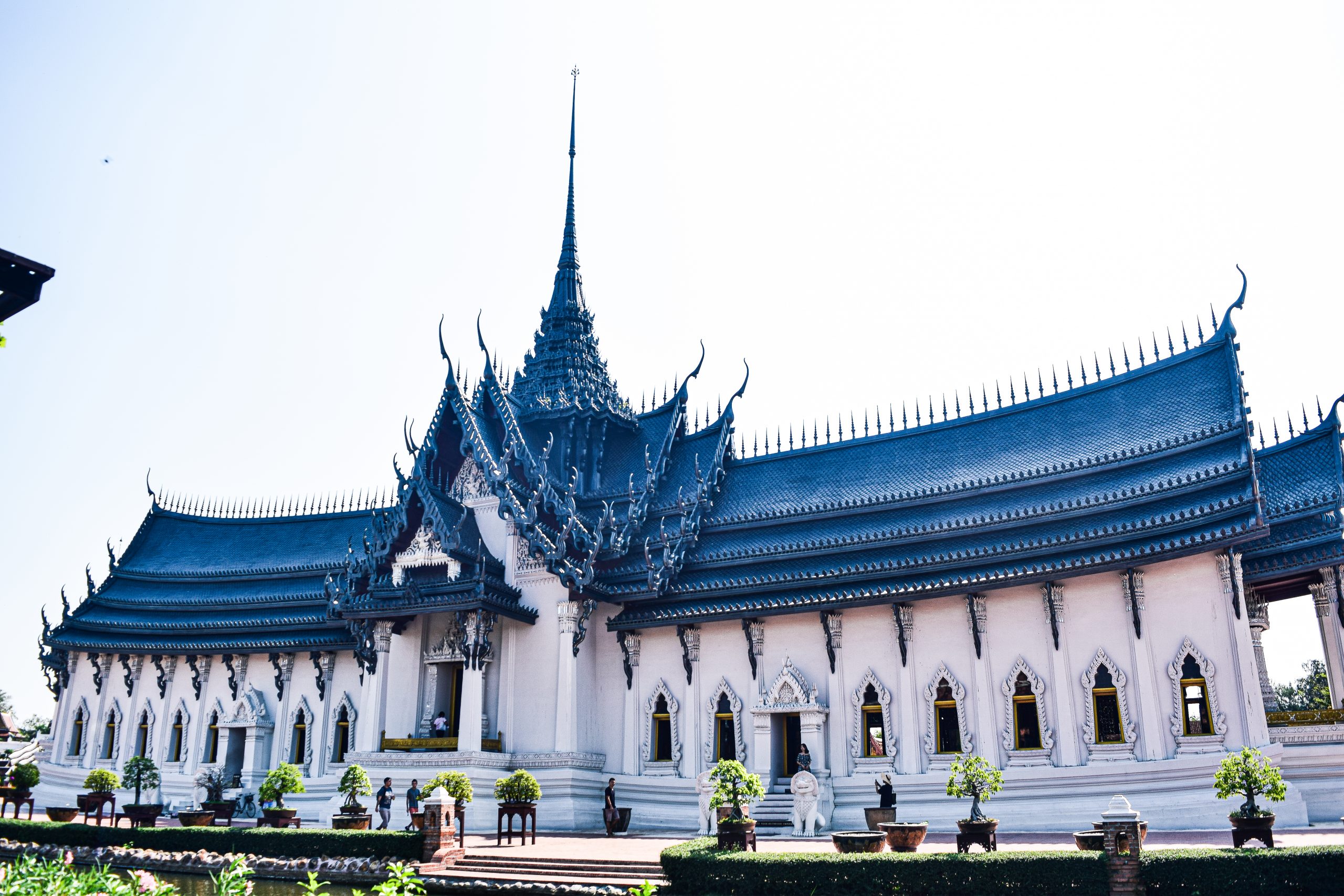 Sanphet Prasat Palace – The dazzling white palace with its dark green intricately carved roof is a glorious recreation of the original palace from the Ayutthayan kingdom during the reign of King Baromatrai Lokanat. The design of this palace was completely different from the preceding Khmer and Sukhothai styles. It was used for important court and state ceremonies. Unfortunately, the stately palace was burnt to ashes when Ayutthaya lost the war to Burma in 1767 A.D. It was rebuilt in Muang Boran in 1963 based on the archaeological and historical evidence left by Thai and foreign historians. The walls inside this palace replica are ornated with stories and pictures of Hindu mythological characters like Indra, Krishna, Narasimha, Rama.
Dusit Maha Prasat Palace – Another stunning palace with white walls and glazed roof tiles of red, gold, and green. Built by King Rama I in 1806 A.D, it served as an audience hall to perform royal ceremonies and to conduct stately affairs.
The Dvaravati House – A group of eight traditional Thai house units modelled after Ruean Thap Khwan. Each unit has specialized functions: a chapel, bedrooms, a day room, and a bird-room.
The Floating Market – It provides a backdrop to the livelihood of the people living on the banks of the river. It represents the houseboats, boats carrying an assortment of goods, and rice barges that can be seen in floating markets around Thailand like Amphawa, Damnoen saduak, Taling Chan, Khlong Lat Mayom, and Bang Phli, etc.
The Footprint of the Lord Buddha – An Ayutthayan architectural mandap housing the Footprint of the Lord Buddha, in the most sacred places of Thailand. Originally located on the top of a hill in Saraburi Province.
The old market town – Or Talad Bok features traditional Thai houses that are inspired by an old Thai community in Yannawa, Bangkok.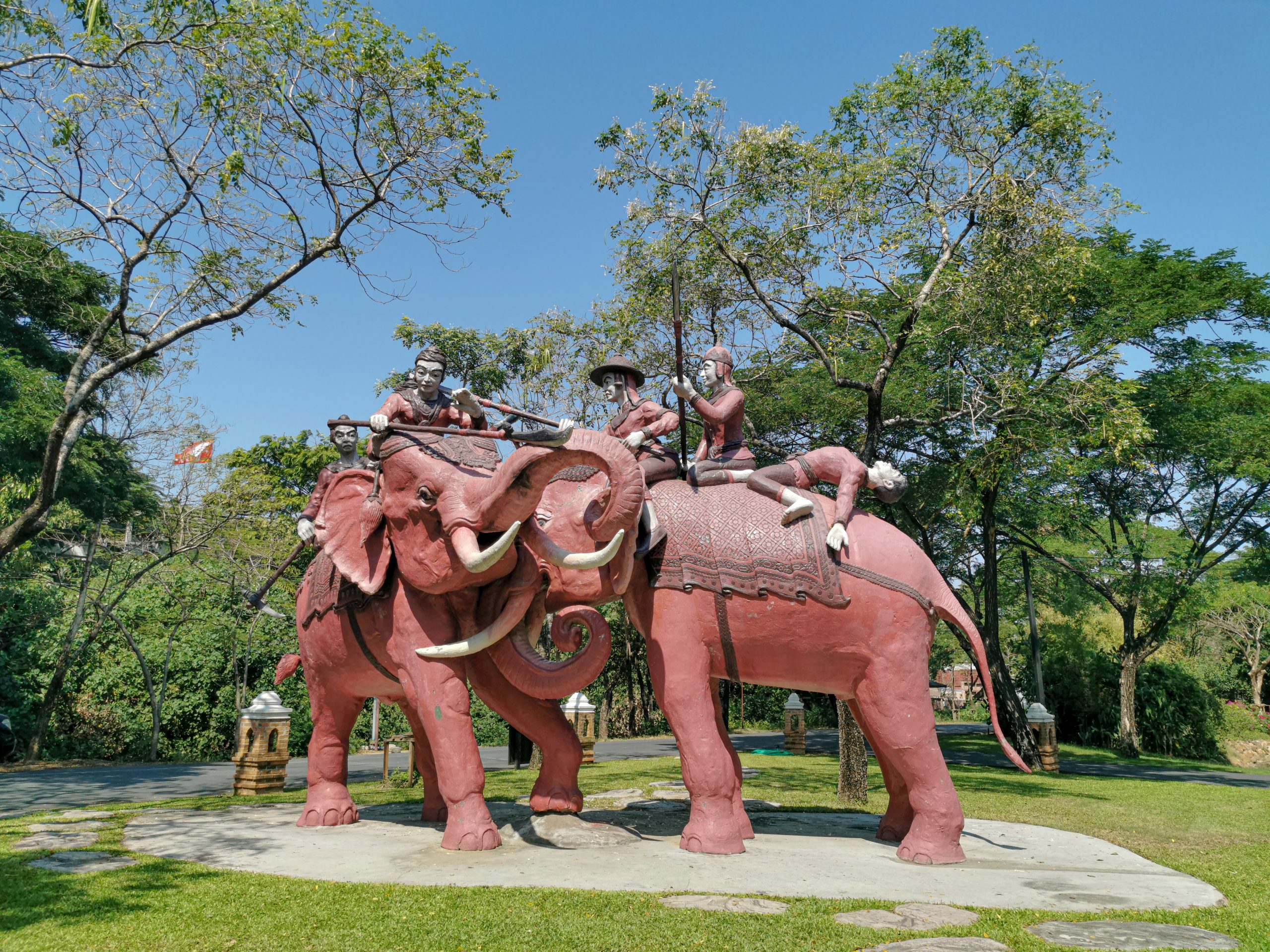 The Great Battle of Yuthahathi – Scene that represents the battle when Ayutthaya fell to Burma in 1569 A.D. during the reign of King Phra Mahin Dharatirat.
Suvarnabhumi:
The west zone is referred to as Suvarnabhumi that embodies richness and abundance. The term Suvarnabhumi has been cited in many Indian historical texts and throughout Southeast Asian literary sources meaning land of fortune. In this section, you can see some exquisite designs.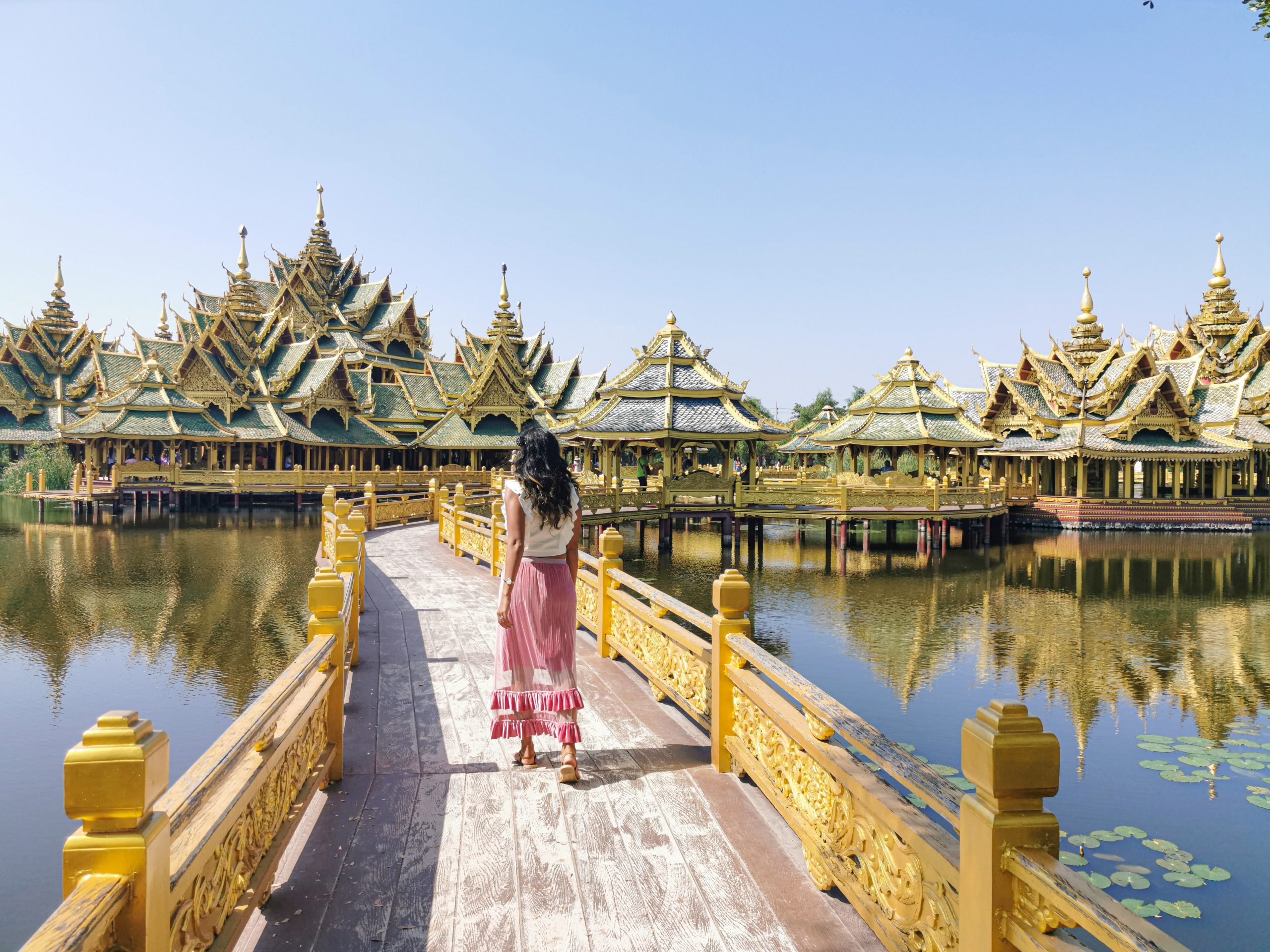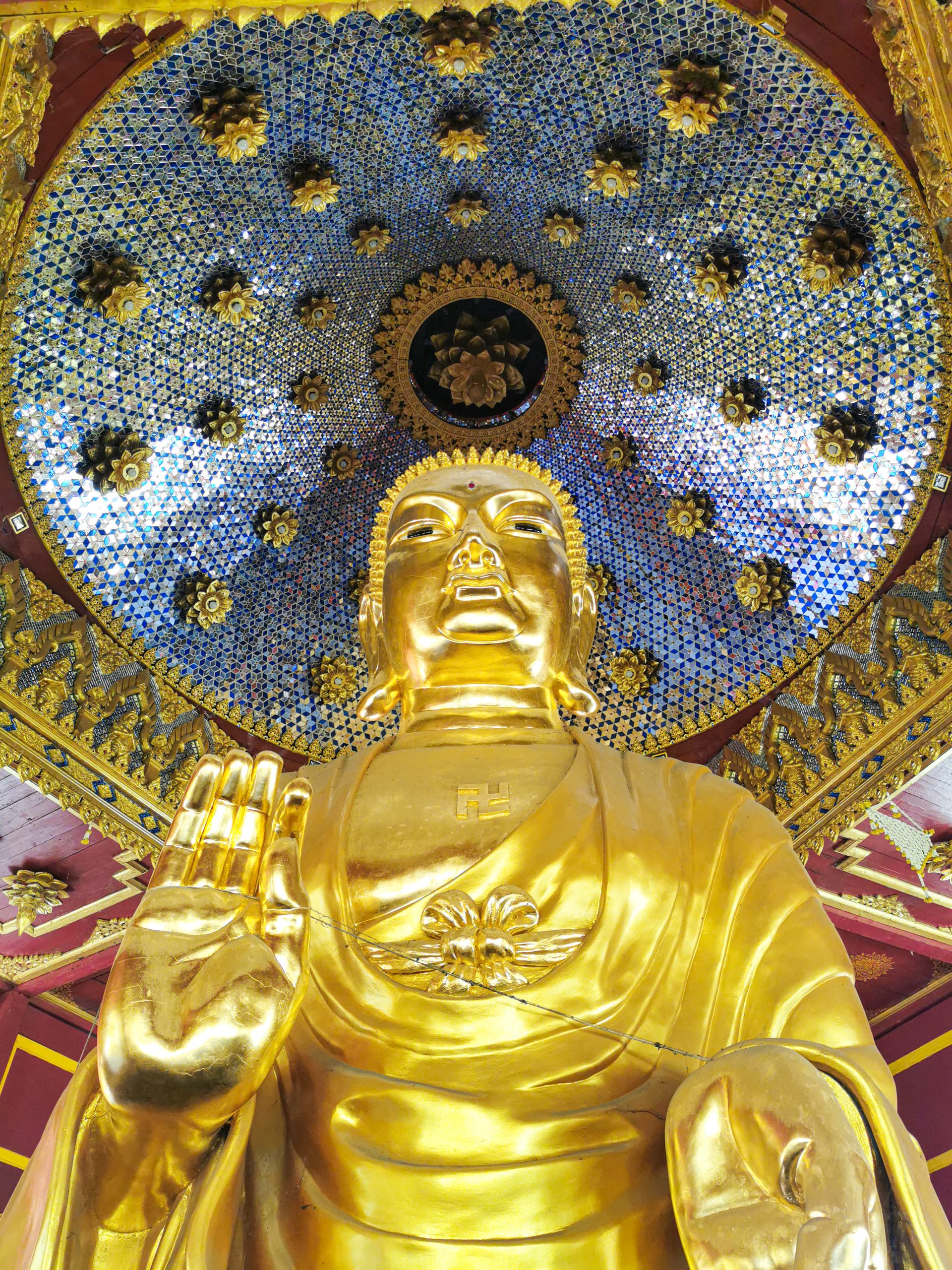 Pavilion of the Enlightened – A water pavilion that tells the story of 500 enlightened monks of Mahayana Buddhism and how they teach people of different backgrounds to become enlightened and reach Nirvana.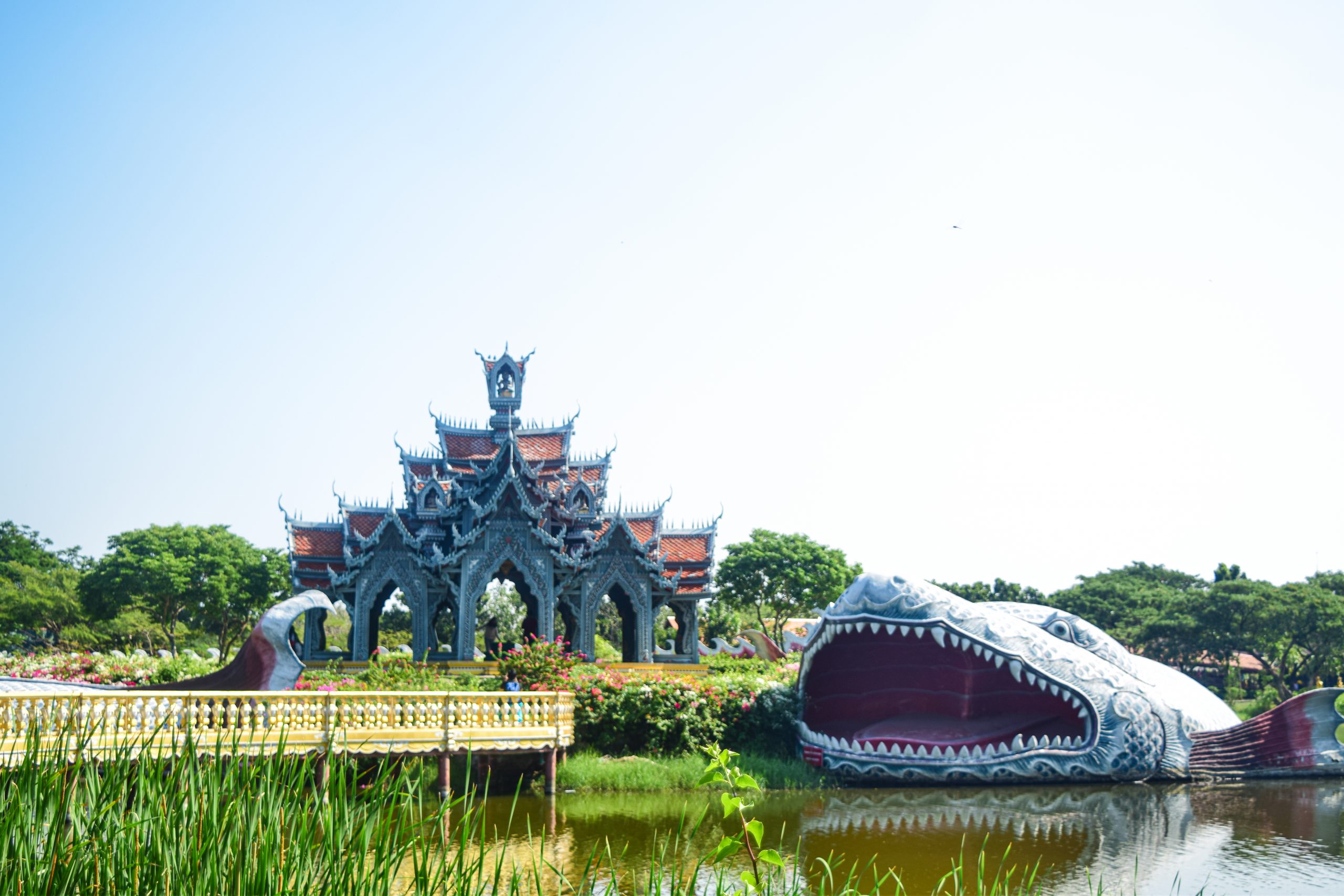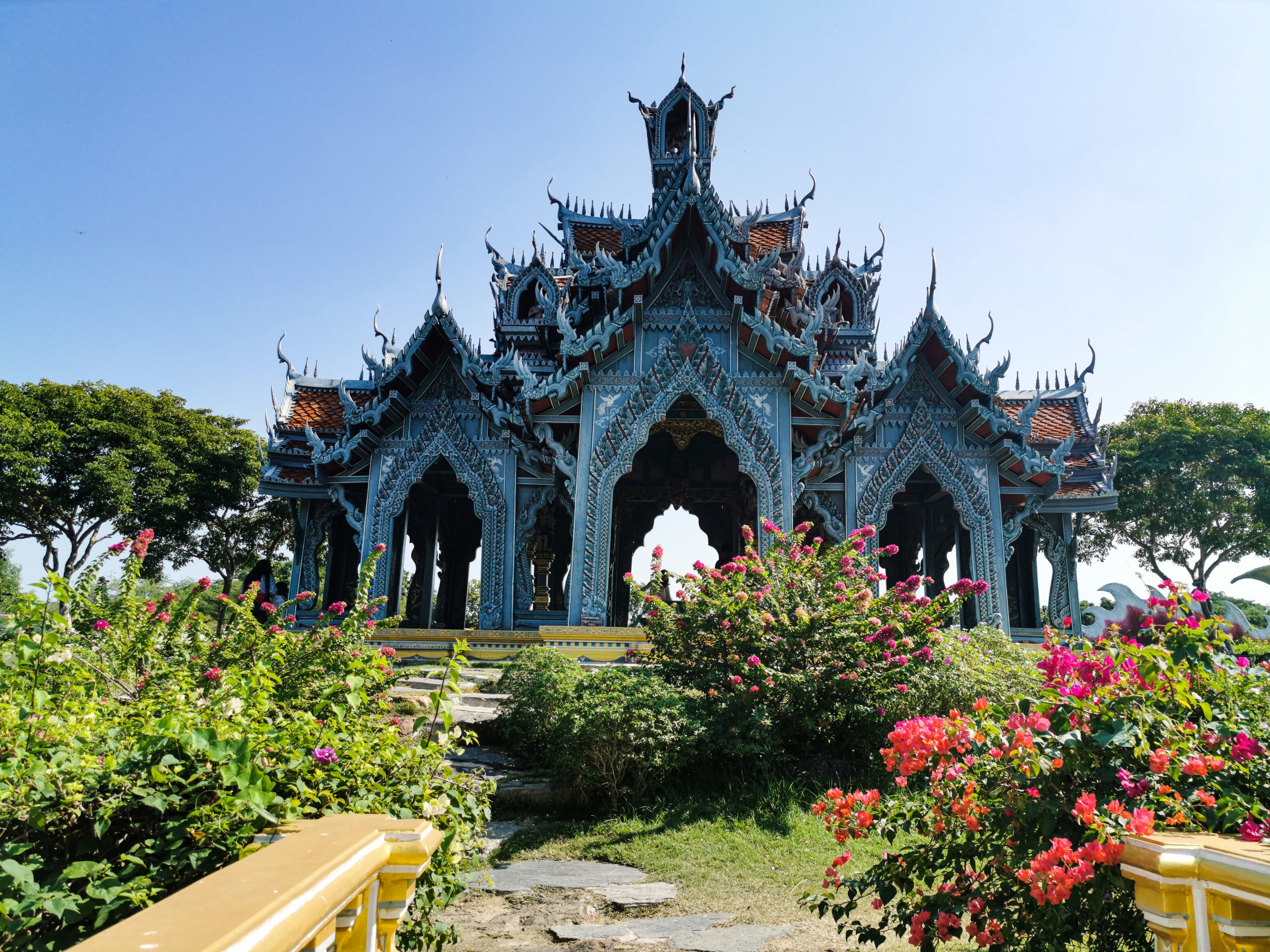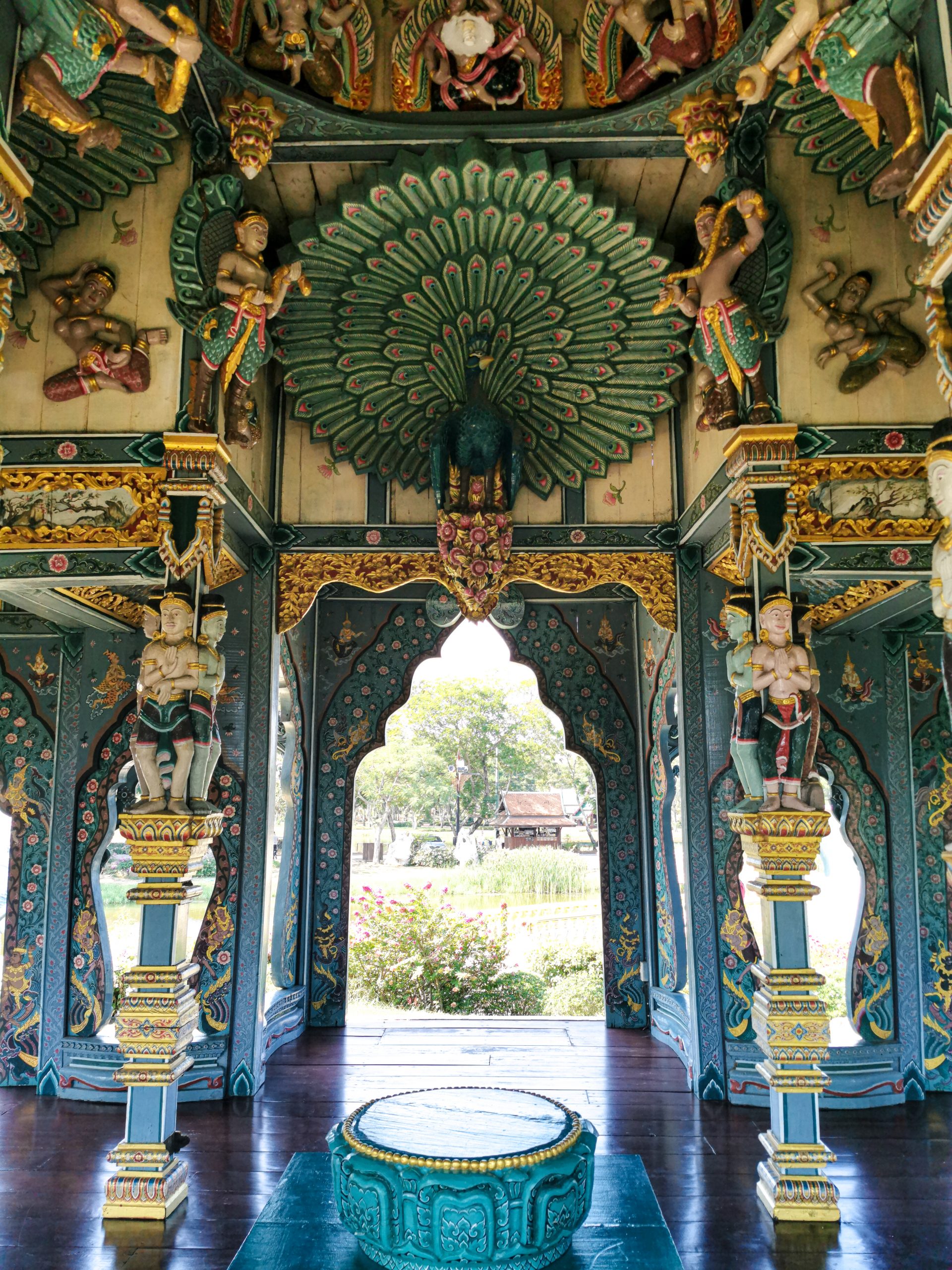 Sumeru Mountain – Thai cosmology considers Sumeru Mountain as the pillar of the world as well as the center of the universe. It is believed to be the residence of deities in heaven and devils in hell. The beings living by the mountainside also include humans, nagas, garudas, and yogis. The mountain stands above the water surface. The heaven on top of the mountain is called Tavatimsa.
Both these monuments are best viewed from a bird's eye view. So, if you have a drone and the necessary permission to fly it, then you can capture some captivating frames. Unfortunately, we did not have one.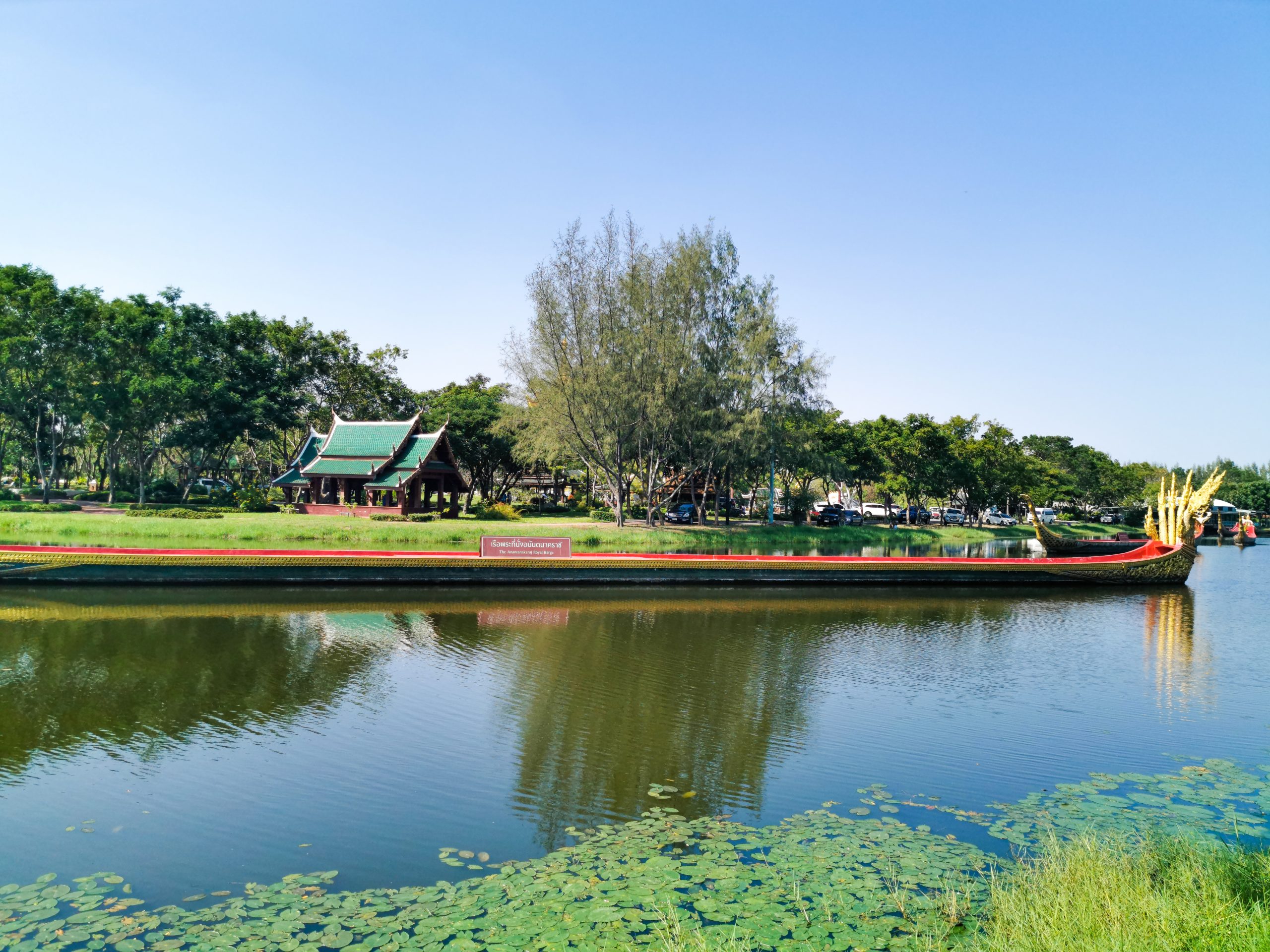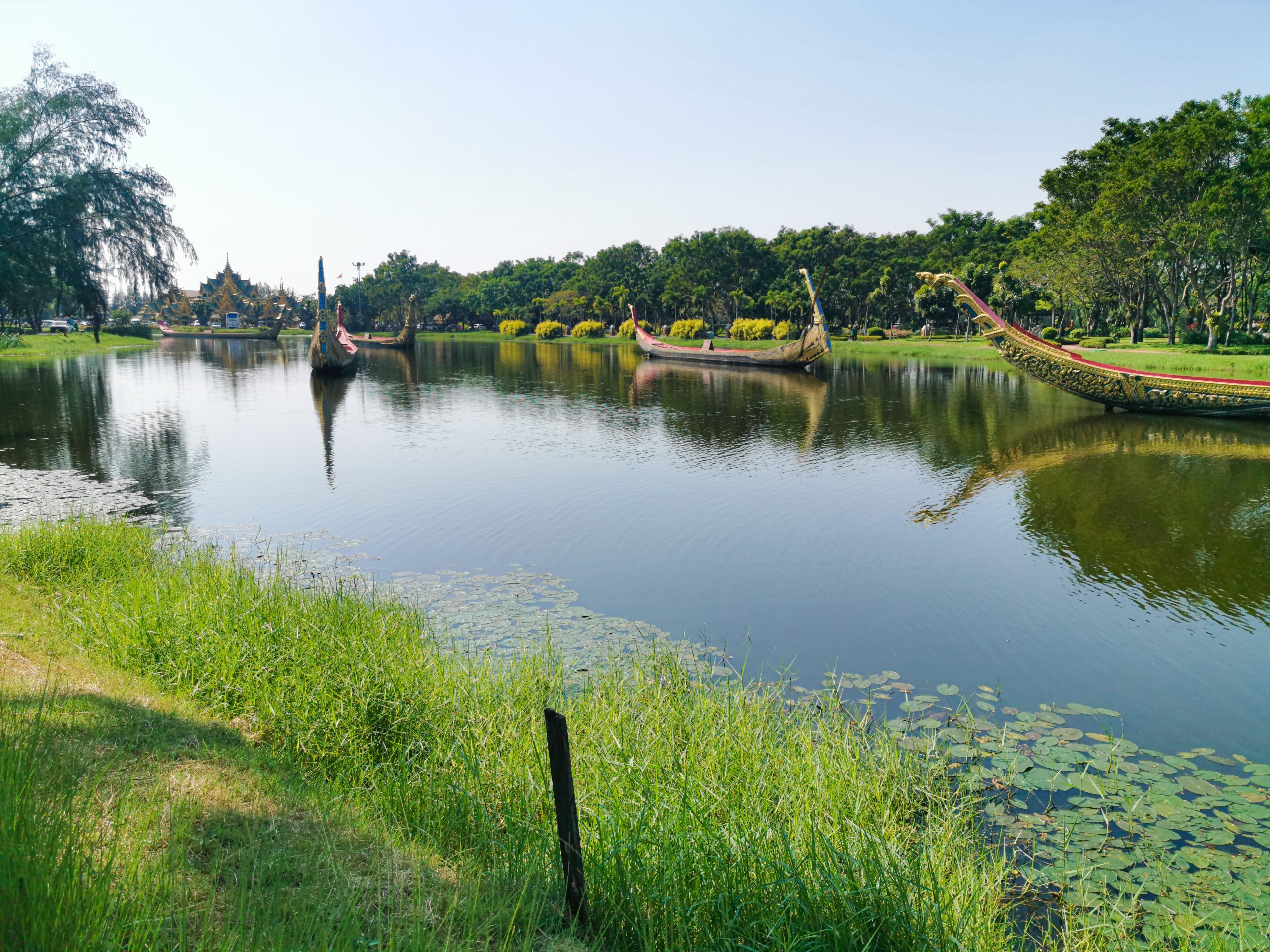 The Royal Water Course Procession – A group of royal barges depicting the prosperity of the Thai Kingdom. These barges depict how the state ceremonies (such as the reception of the royal guests and the royal procession welcoming diplomats and Carrying royal letters or commands) were held during the Ayutthayan period.
Sala of Ramayana – A public pavilion for Buddhist merit-making ceremonies and other social activities.
Bodhisattva Avalokitesvara – The deity of a seated Buddha that conquers the maleficent forces to preserve Humanity.
Mondop of Bodhisattva Avalokitesvara (Kuan-Yin) – Chinese T'ang Dynasty legends transformed this male Bodhisattva into the image of a beautiful and gracious woman (known as Kuan-Yin) that depicts the two main virtues of humanity – kindness and justice
North Zone:
This zone showcases the beautiful Lanna style architecture of Northern Thailand.
The Grand Hall of Wat Maha That – A grand hall built with 11 large rooms during the Sukhothai Kingdom. It has several pillars and a Buddha image at the rear end.
Noen Prasat – Remains of the Royal palace from the Sukhothai Kingdom
North-eastern Zone:
In this section of the park, you will discover constructions and monuments that are influenced by the neighbouring empires such as Khmer.
The Phanom Rung Sanctuary – This impressive Khmer temple of Thailand's Buriram province reminds the Phimai architectural style of the famous Angkor Wat in neighbour country Cambodia. Built between the 10th and 13th centuries, it was dedicated to the Hindu god Shiva.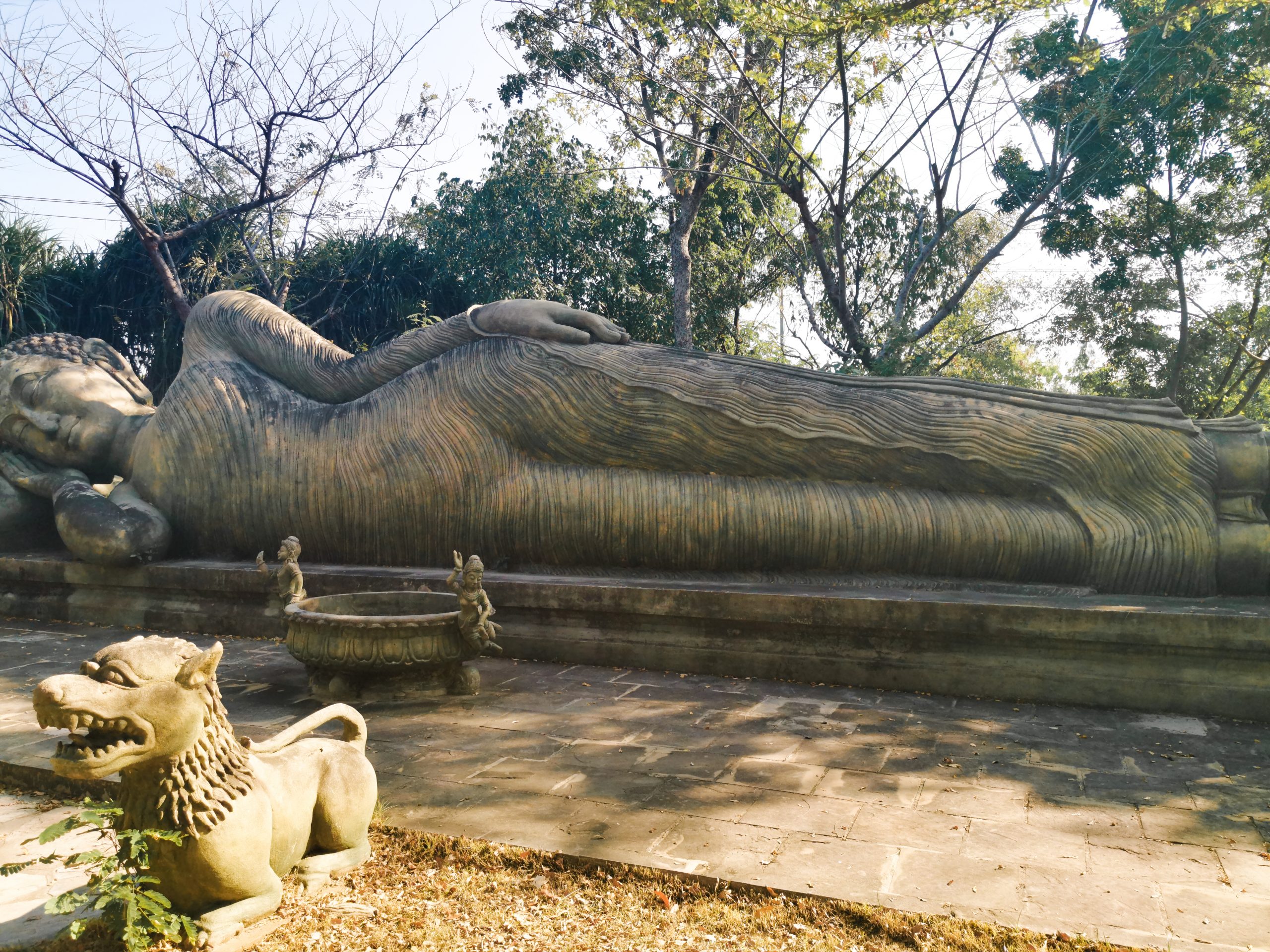 The Reclining Buddha – This reclining stone idol symbolizes the dying gesture of Buddha.
Prasat Phra Wihan (Preah Vihear) – This prasat is located in the Si Sa Ket Province near the Thai-Cambodian border on the summit of Phra Wihan Hill. This stone sanctuary was built in the reign of King Suryavarman I around 1038 A.D.
Try not to miss any of the above ones but there are many other sites scattered through this mini-city that will grab your attention as you ride through the lanes. As a bonus, we saw this shiny majestic golden temple just outside the ancient city wall that has a standing Buddha Idol. It's an original temple and not a replica. There is no entry fee but make sure you dress respectfully by covering your shoulders and knees. A little ahead of the ancient townsite, towards the left of 'The Stupa of Phra Maha That' across the Thetsaban Bang Pu 63 alley, you can locate this temple.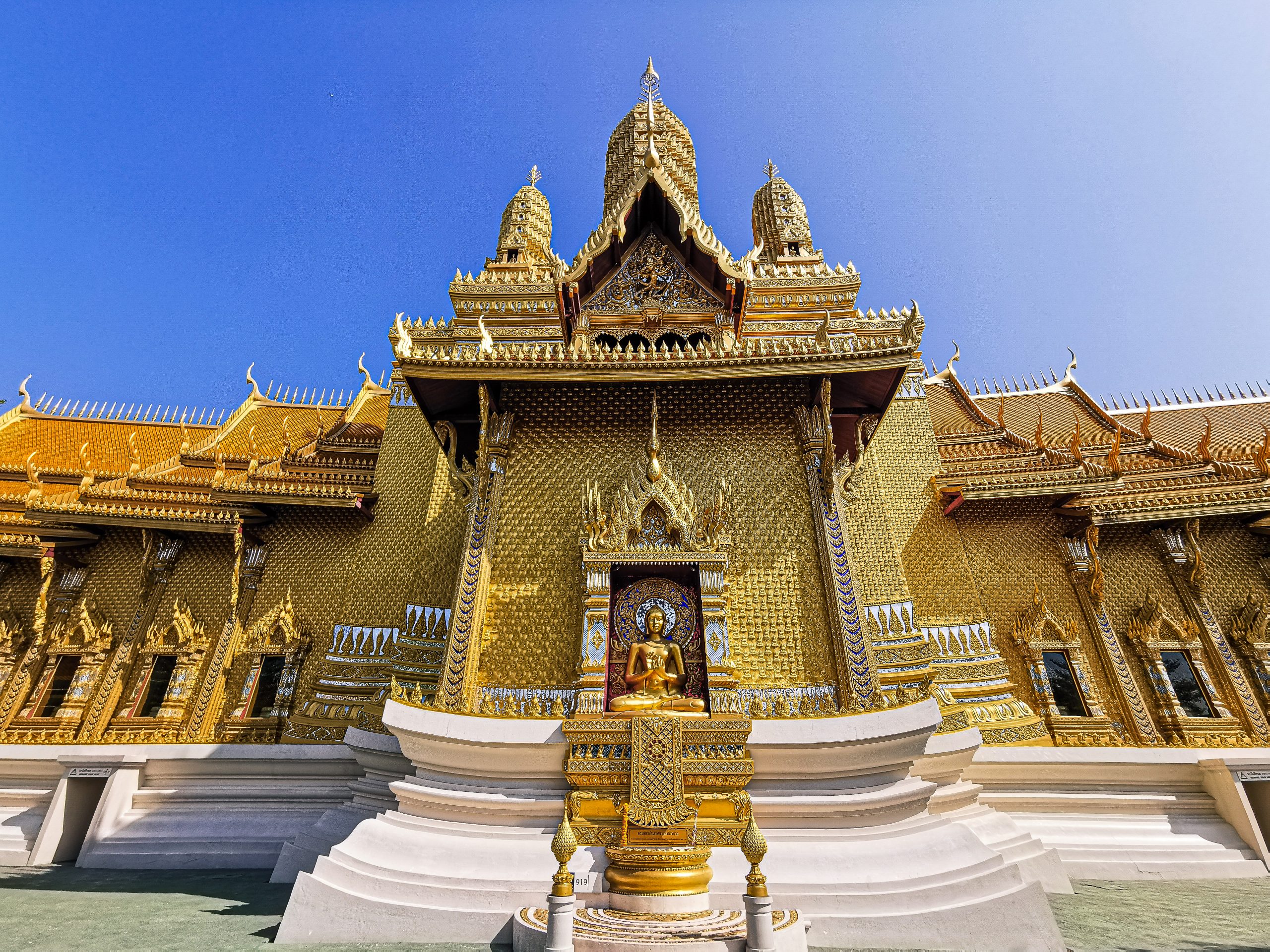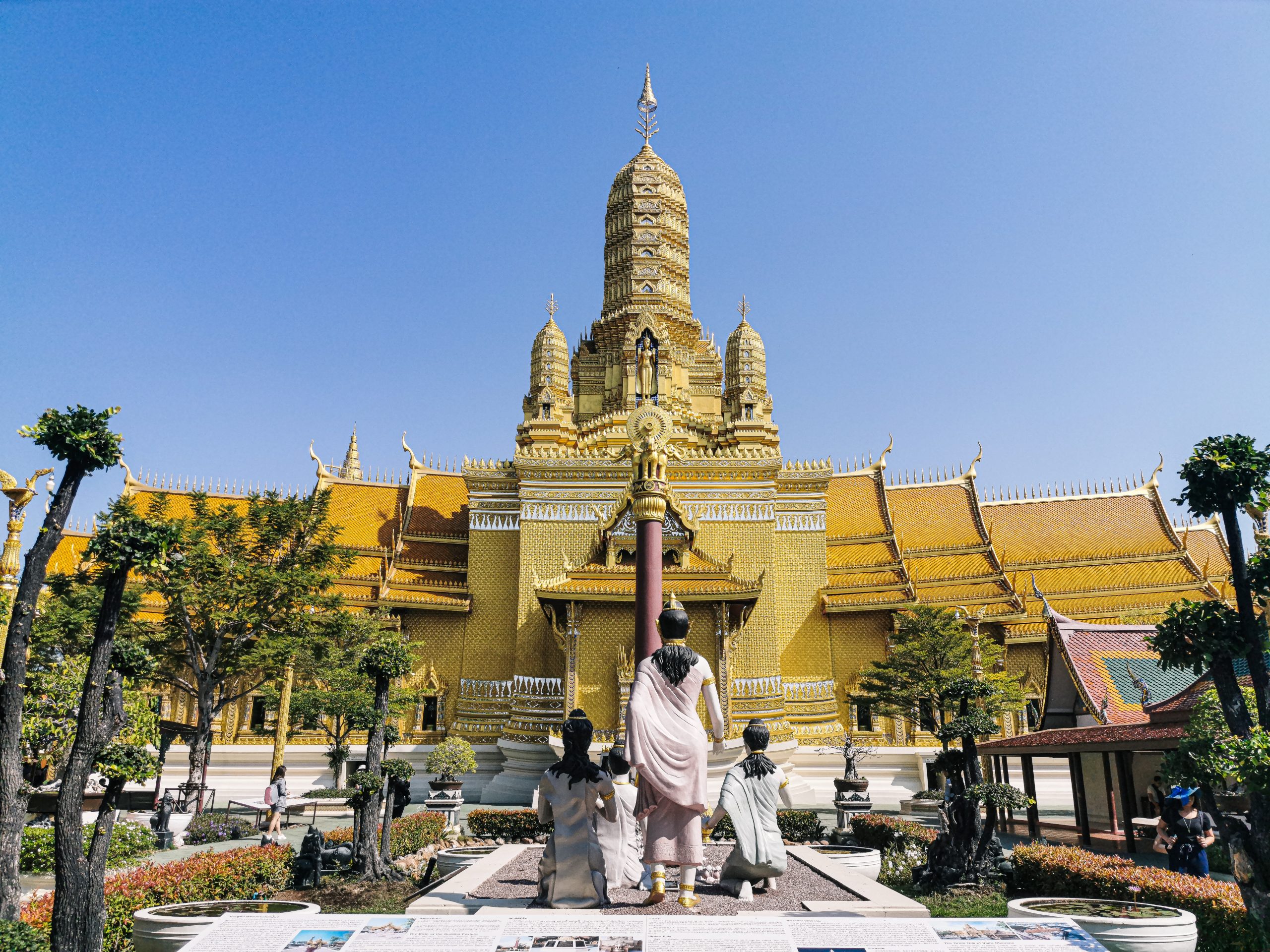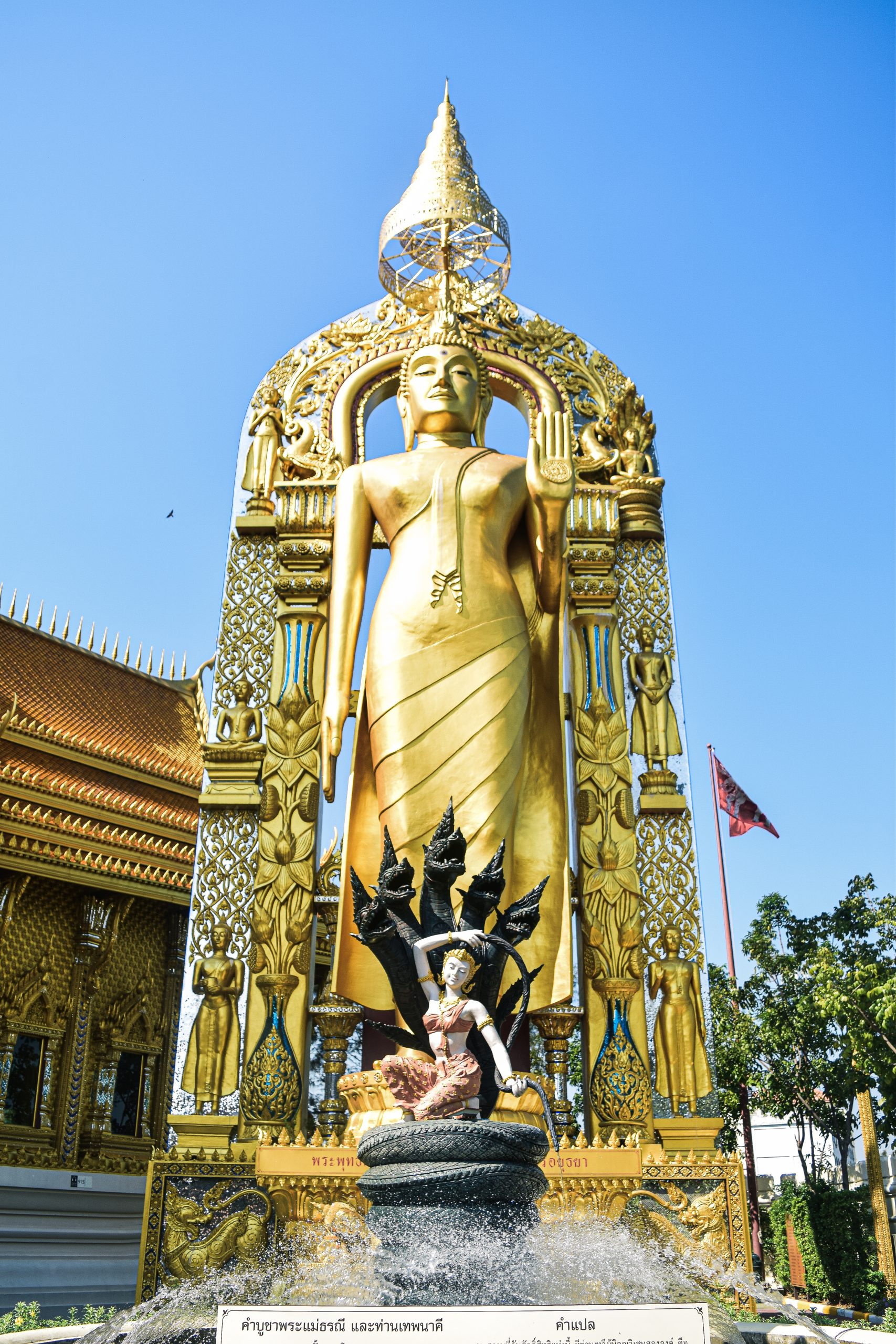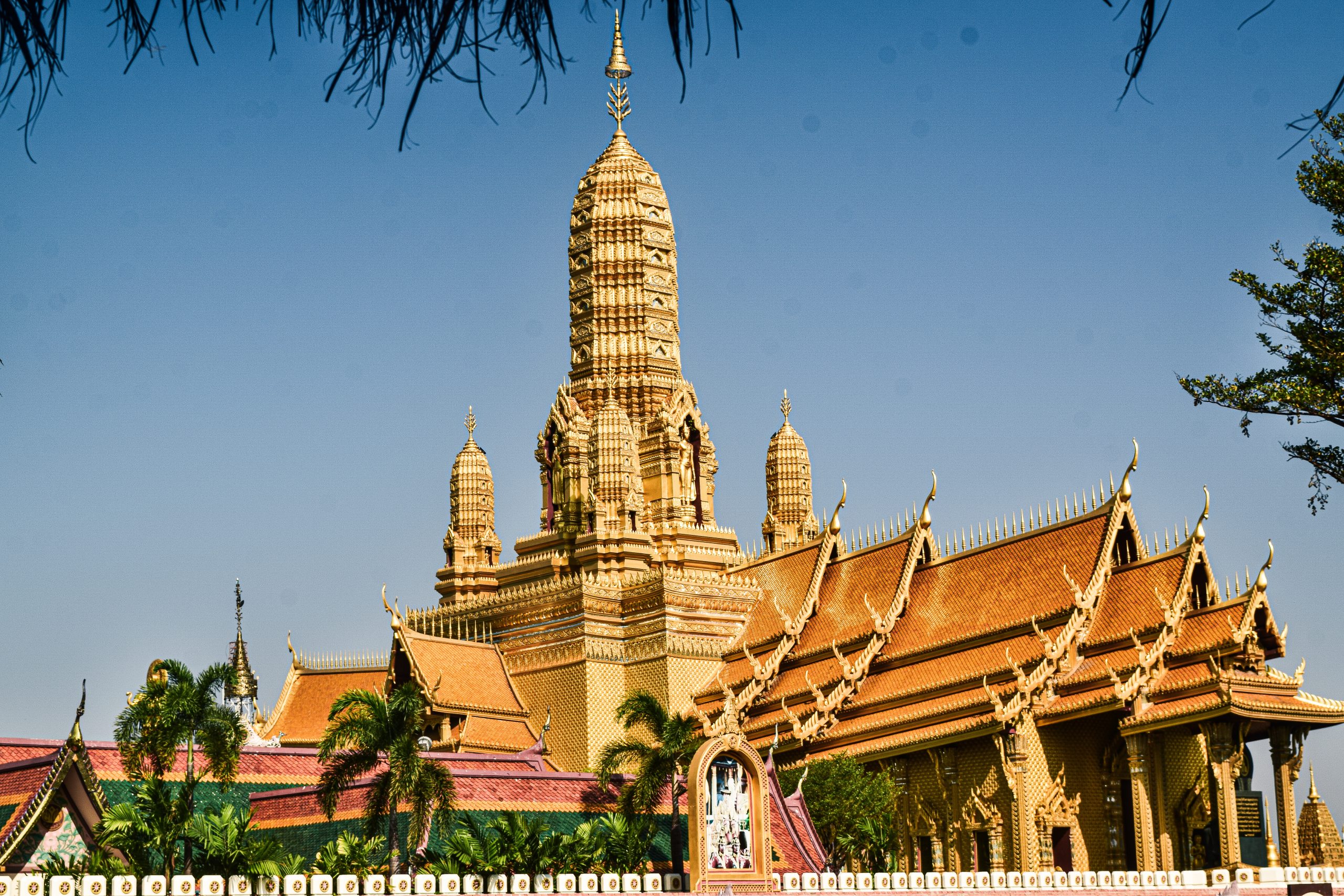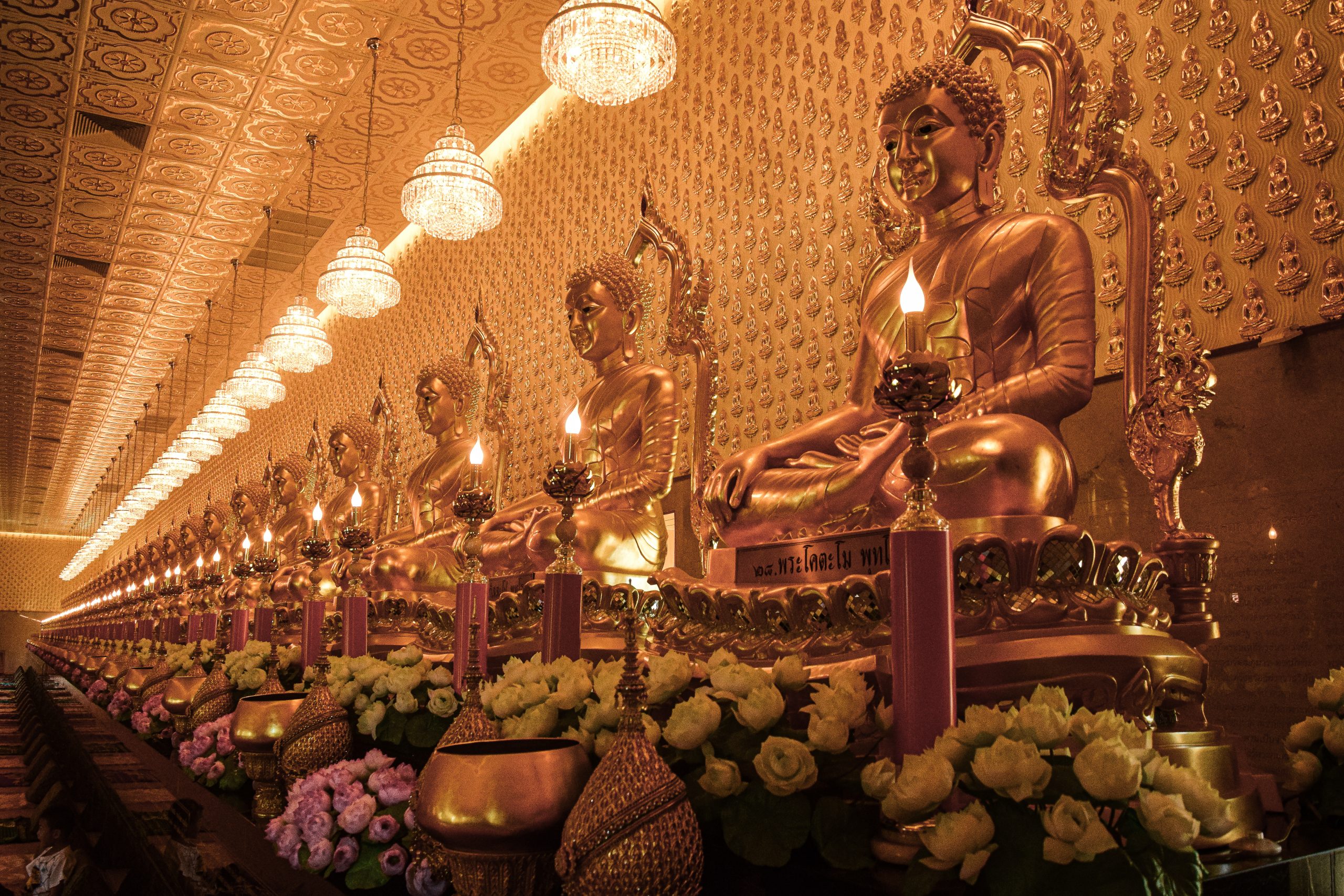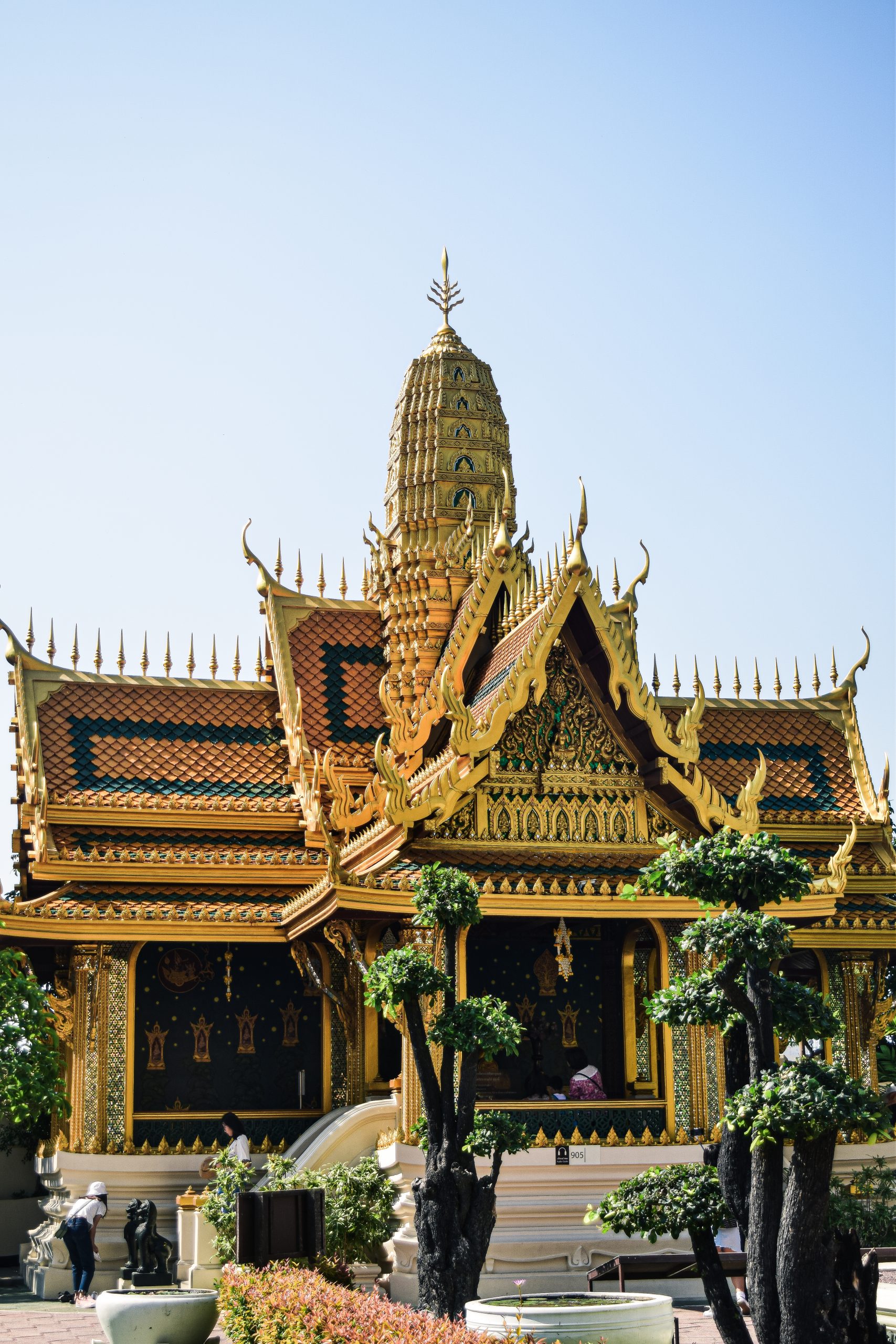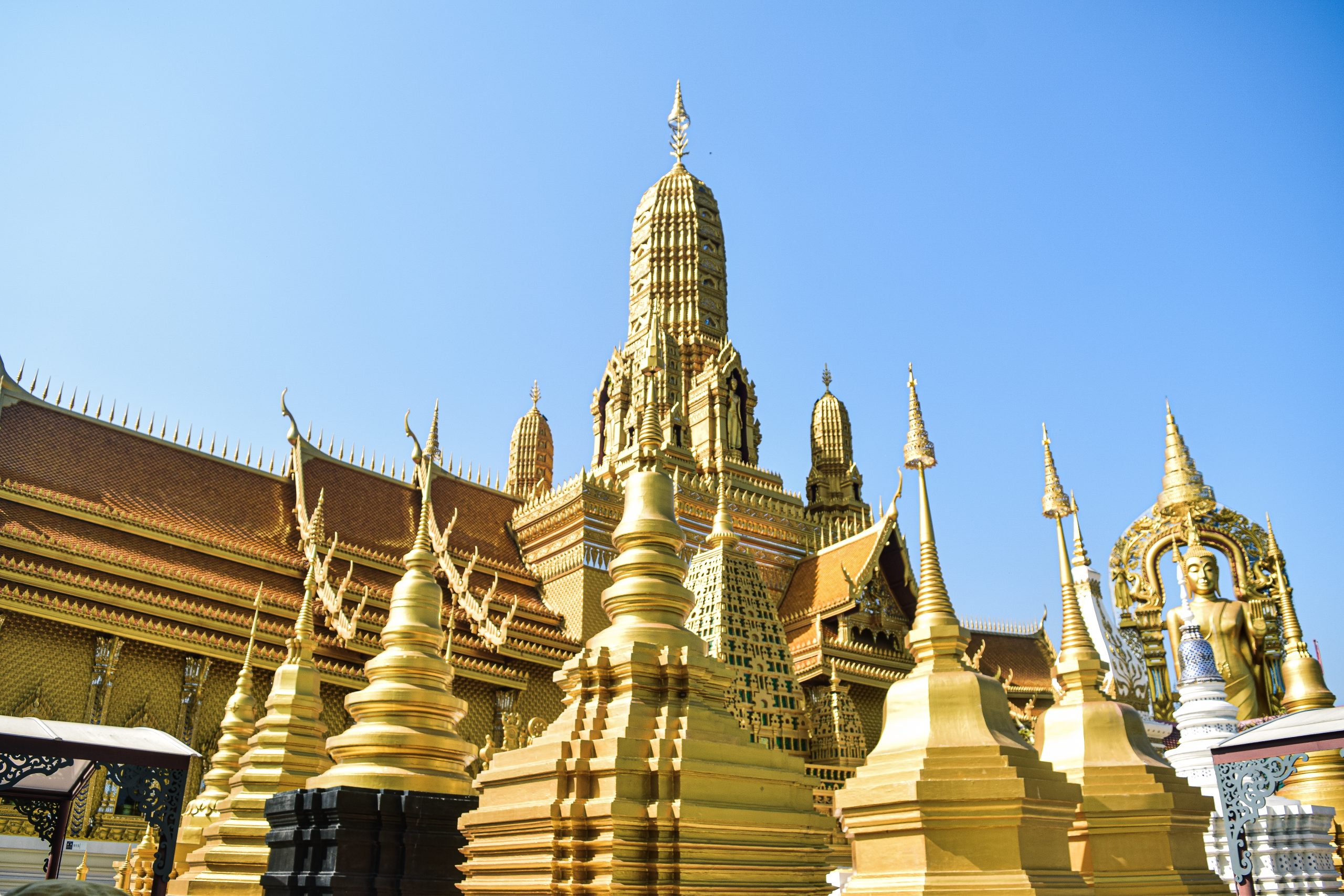 What makes it Best from the Rest:
The variety of meticulously-designed attractions from across the country, the feel and natural vibe of the park will make you feel as if you have toured entire Thailand in a day. We traveled to Bangkok during the new year season, due to which we came across a wave of tourists in every main attraction we visited in the city. Surprisingly, this park was not at all crowded, probably the size of the park played a role in that. We could freely enter inside all the prime palaces, wats, pavilions without facing any sort of crowding. Although you can take many amazing day trips from Bangkok, if you have to choose only one, we strongly suggest taking this trip!
It took us more than half a day and an episode of losing and finding our camera, nevertheless it was all worth it.
Author: Sourab