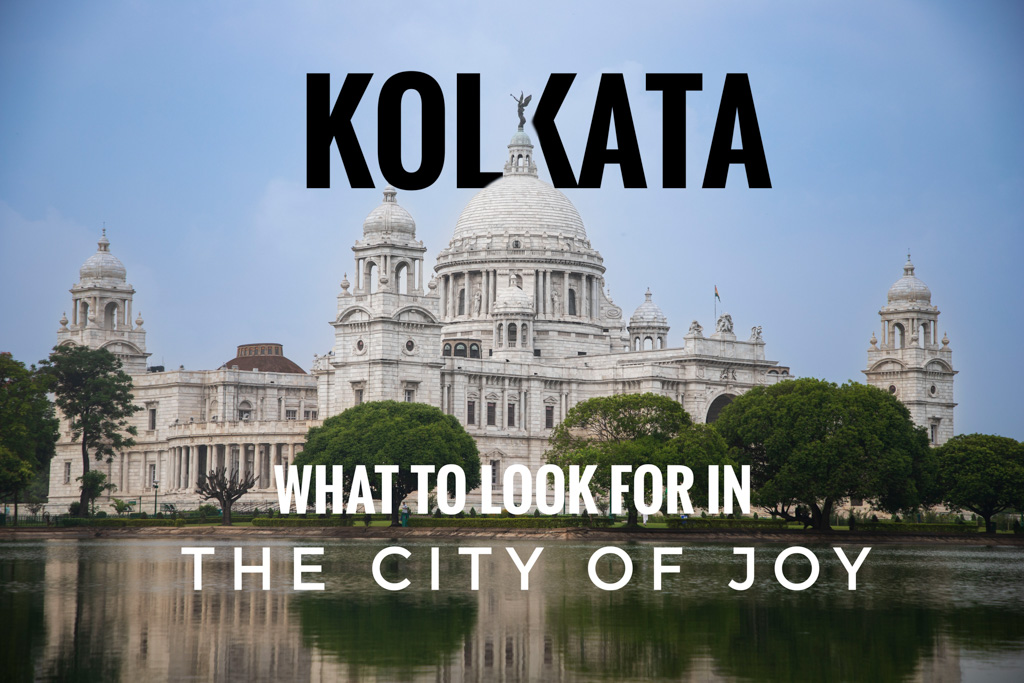 Kolkata – What to look for in the City of Joy
What do you think of when you hear Kolkata? Roshogolla, Victoria, Yellow cabs, Rabindra sangeet, Howrah Bridge?
Kolkata is all of these and so much more. The narrow lanes of college street, the cycle, and hand-pulled rickshaws, the sweet shops on every corner with sweets you wouldn't even have heard of, art displays on walls and coffee shops, shopping at New Market, stroll at Hooghly ghat, I can go on and on about it. In reality, Kolkata is an emotion for both of us. My native place is West Bengal, all my summer holidays were spent running in the fields, chasing cattle, and plucking mangoes from trees around our ancestral home in Tarakeshwar. Having grown up hearing stories about Kolkata from my father and grandparents about how they commuted in the first underground metro, took a ferry ride across Howrah bridge, visited the breathtaking Victoria memorial, and shopped for the latest collections in Gariaghat, I naturally longed to visit this place and experience all of it myself. Sourab who had been to Kolkata several times before painted me a beautiful picture whenever he so fondly spoke about this city.
As the opportunity came up this year, we jumped right into it, carving up a few days from our engagements to explore the city I had long dreamed of.
Let me tell you, Kolkata is not like any other metro in India. This city is from a different era altogether. Sometimes we felt like time just froze and preserved everything, every memory from my grandparents' stories. Ancient buildings, some so old that trees have engulfed them, the same yellow ambassador taxis running the streets, old sweetshops previously run by forefathers of the same family, busses with wooden seats and colonial architecture adorns the city. There are also modern elements like cute little cafes, art galleries, sky-rise buildings, and malls that make for a brilliant fusion of both worlds. Overall Kolkata is a fable where art and culture meet delicious mouth-watering food meet magnificent landmarks and together, they blend into a colorful metropolitan.
History of the City
Kolkata is known by many names "The city of Joy", "Cultural Capital of India" "City of processions" etc. The history of this city ranges back centuries from when the Bengal Sultanates and the Mughal empires ruled India, later by the British Empire when "Calcutta" was developed as a colonial city by the East India Company. At one time Calcutta became the capital of British India.
How to reach
The city is well connected by all means of transportation. Howrah Railway station is the oldest and the largest complex in India connecting many cities all across.
Netaji Subash Chandra Bose Airport, located 15 km from the city center connects to major domestic and international destinations.
Kolkata has a good network of busses connecting nearby states like Orissa, Assam, etc.
Places to visit
We had 7 days to spend in Kolkata all while working our full-time jobs remotely. So our time to explore the city and its landmarks was limited to early mornings and late evenings. It was also the time when a cyclone hit West Bengal and it was pouring all day long. It was a small window of sunshine between thunderstorms and we had to make the most of it. Here are all the places we got to visit.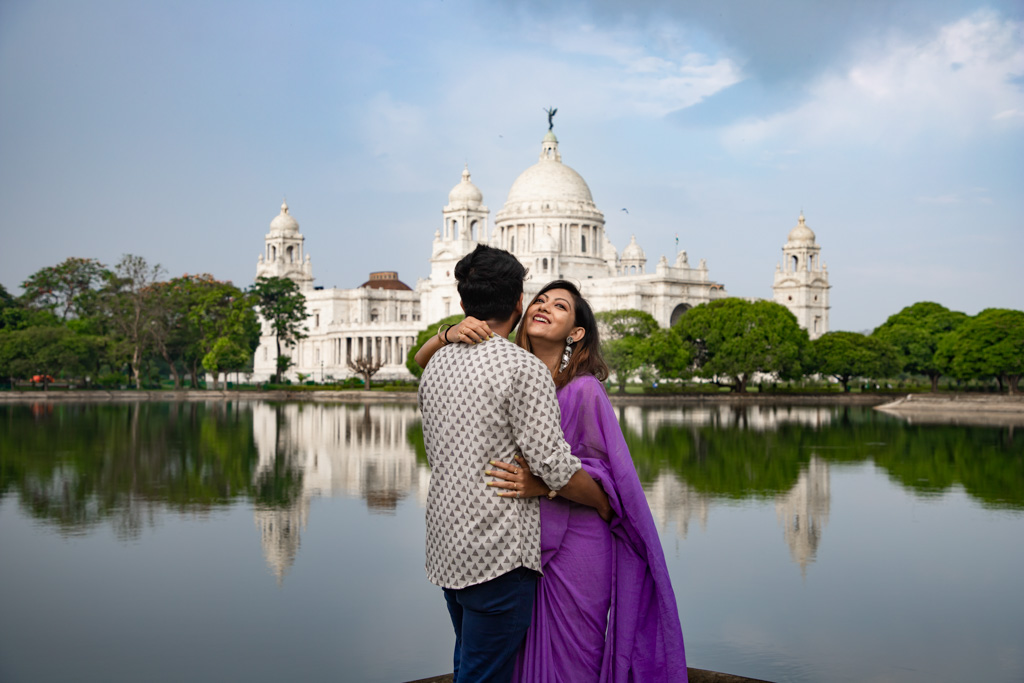 Victoria Memorial
This is one monument that is referenced in various Bengali romantic songs, one of my favourites being "Victoria e badam bhaja" translating to munching peanuts in Victoria (memorial lawns). One of the popular tourist spots, this stunning marble monument was built as a memorial to the Late Queen Victoria. Now a museum, surrounded by gardens spread over 64 acres and a beautiful lake from where a reflection of the grand structure can be seen. The architecture of the monument is inspired by various styles and is a splendid fusion of several elements. There are 25 galleries inside the memorial with remarkable collections of artifacts, weapons, paintings, statues, etc. What intrigued us the most was a life-size map depicting the escape route of Subash Chandra Bose. The spectacular light and sound show is held every evening bringing alive the history.
Opening Hours: 10:00 AM to 6:00 PM (closed on Mondays and other national holidays)
Ticket Price: Museum- INR 30 per adult for Indians
Gardens – INR 20 per adult for Indians
St Paul's Cathedral
This Indo-Gothic style architecture is located at walking distance from Victoria Memorial, next to the Birla Planetarium. Founded by Bishop Daniel Wilson in 1847 this cathedral is not just a religious site where one can offer prayer but it is also known for the marvellous architecture that resembles England's Norwich Cathedral. The interior of the cathedral comprises floral designs on the walls, paintings depicting the life of St. Paul, sculptures, and pre-independence artifacts.
Opening Hours: From 9:00 AM to 12:00 PM and then from 3:00 PM to 6:00 PM on all days except Sunday. On Sundays, it is open from 7:30 AM to 6:00 PM.
Entry fee: INR 10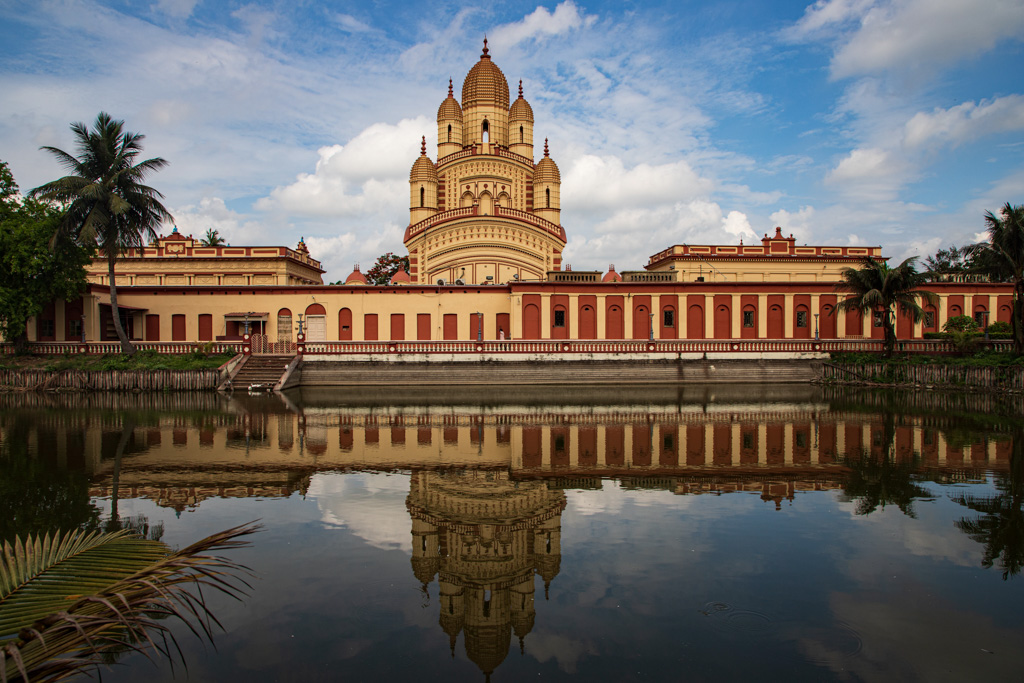 Dakshineshwar Temple
One of the famous temples in India devoted to Goddess Kali is the Dakshineshwar temple. Situated on the banks of river Hooghly, this sanctuary was built by Rani Rashmoni after a vision from the divine goddess herself. This was also the home of Ramkrishna Paramhamsa and his wife Sarada Devi who were ardent devotees of Goddess Kali. The main temple is built in Navaratna style where the idol of Goddess Kali- Bhavatarini is installed. A row of 12 identical Shiva temples reside on either side of the ghat and a temple dedicated to Lord Vishnu can be seen on the northeast side.
Opening hours: 6 AM – 12:30 PM, 3 PM to 8:30 PM
Entry fee: Free
Belur Math
A quick 20-minute ferry from the Dakshineshwar temple will take you to Belur Math located a little distance away on the other side of river Hoogly. It was founded by Swami Vivekananda and is the headquarters of Ramakrishna Mission and Ramakrishna Math. This place is tranquil to infuse the spiritual side in you. The stunning architecture is a fusion of different styles to create a sense of oneness. The main complex hosts a marble statue of Sri Ramkrishna Paramhamsa. A pleasing walk through the sprawling gardens takes you to a temple where Swami Vivekanada's remains were cremated and another temple dedicated to Sarada Devi. On certain special occasions, Belur Math hosts lunch for all the visitors which is a must-try. The delicious spread of simple vegetarian dishes consumed sitting on the grass while the cool breeze from the river lifts your spirits is all you need on a sunny day.
Opening hours: 6:30 AM to 11:30 AM, 3:30 PM to 8:30 PM
Entry fee: Free
Prinsep Ghat
It is named after the renowned Anglo-Indian Scholar and researcher James Prinsep. The beautiful white palladium porch stands on the banks of the River Ganga with the Vidyasagar Setu in the backdrop. This place is quite popular for photography and having a peaceful stroll on the riverside. A short walk from the Prinsep Ghat is the Babu Ghat from where ferry rides are available.
This is where we would like to warn you to be careful of swindlers. This is our account of the experience we had with the ferrymen. You need to haggle for prices as they start from INR 1000 and then come down to INR 600 per hour. Before taking the ride please RECONFIRM if taking pictures and videos are allowed and if they will take you close to both Howrah Bride and Vidyasagar Setu. Our experience was disappointing as we did not feel it was worth taking the ride in the morning. The ferry kept circling the banks of the river where people were bathing and waving at us. When we asked the ferryman to take us closer to the bridge, he took us only a little distance away and came back. We paid for an hour's ride but got on 40 minutes as he kept saying there are police patrolling boats and we cannot go any further (didn't understand this part as they are ferry companies. Shouldn't they have permits?)
We did read a lot of articles about the glorified experience; hope you have one of those if you ever decide to try the Babu Ghat ferry ride.
Mullick Ghat flower Market
Did you know that this is Asia's biggest flower market? And one of the oldest too. This 130-year-old market opens up in the wee hours of the morning and the business winds up at 10 AM. If you want to witness the market in action and its full glory, make it to this place by 6 AM and you might be lucky to catch the sunrise at the Chotelal Ghat. Beautiful scenery unravels on the ground covered with flowers of various kinds as the sun rises to light up Howrah Bridge in the background.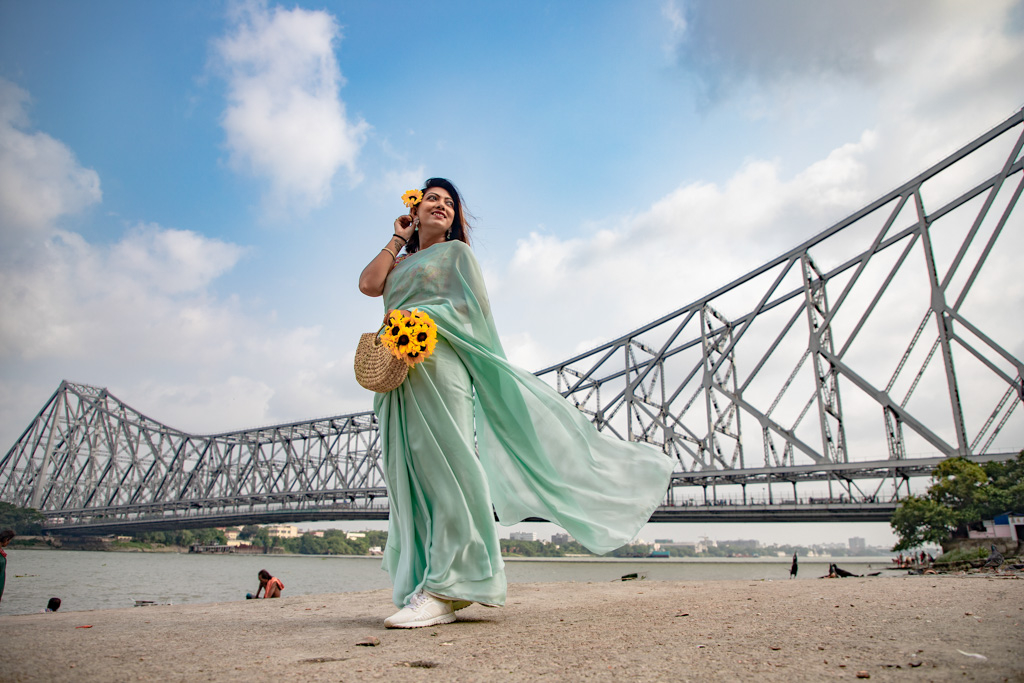 Opening hours: Starts around 5 AM and winds up by 10 AM
Entry fee: Free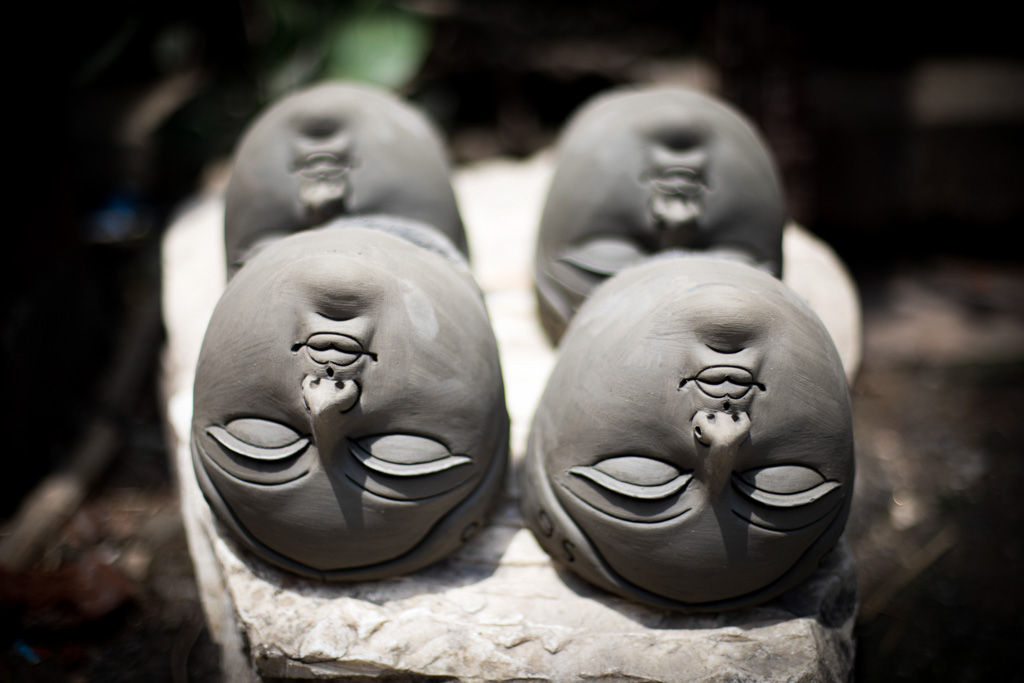 Kumortuli
Walking the streets of Kumartuli -Potters' colony and watching the artisans in awe turning earth and straw into these beautiful masterpieces is an experience you shouldn't miss in Bengal. If you are interested in arts and culture, there could be no better place than this to immerse yourself in witnessing skillful artisans in action where every part and every piece is handcrafted with patience and passion. Do take a cultural tour and learn a great deal about the art of making clay idols. We had a wonderful time walking the lanes, exploring the areas, and having a hearty talk with the locals there to learn about their stories.
Opening hours: Open all day long
Entry fee: Free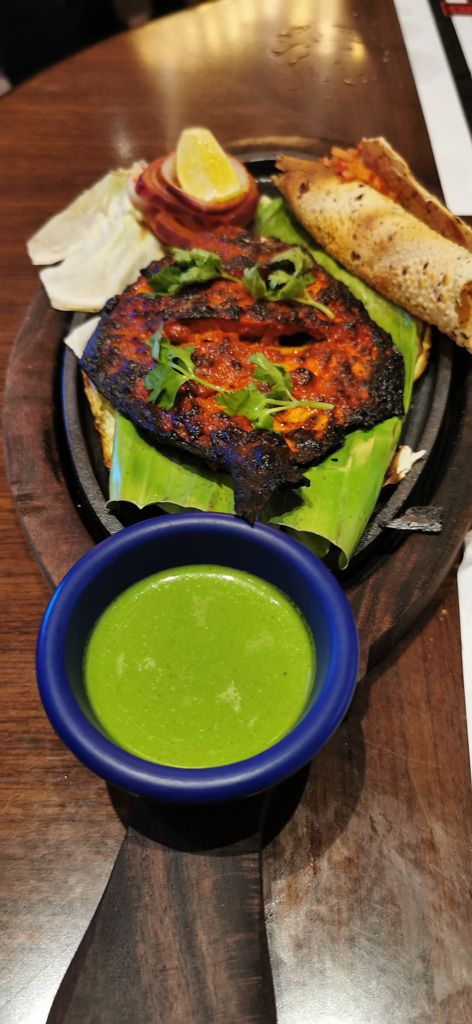 Where to eat
A trip to Kolkata is incomplete without a food tour. Kolkata- A gastronomic heaven, every street has a food joint and mouth-watering delicacies on every corner. Sourab- who is a foodie took me to some wonderful cafes, restaurants, and street shops and treated me to a hearty meal every day. Here are some places we loved(or not).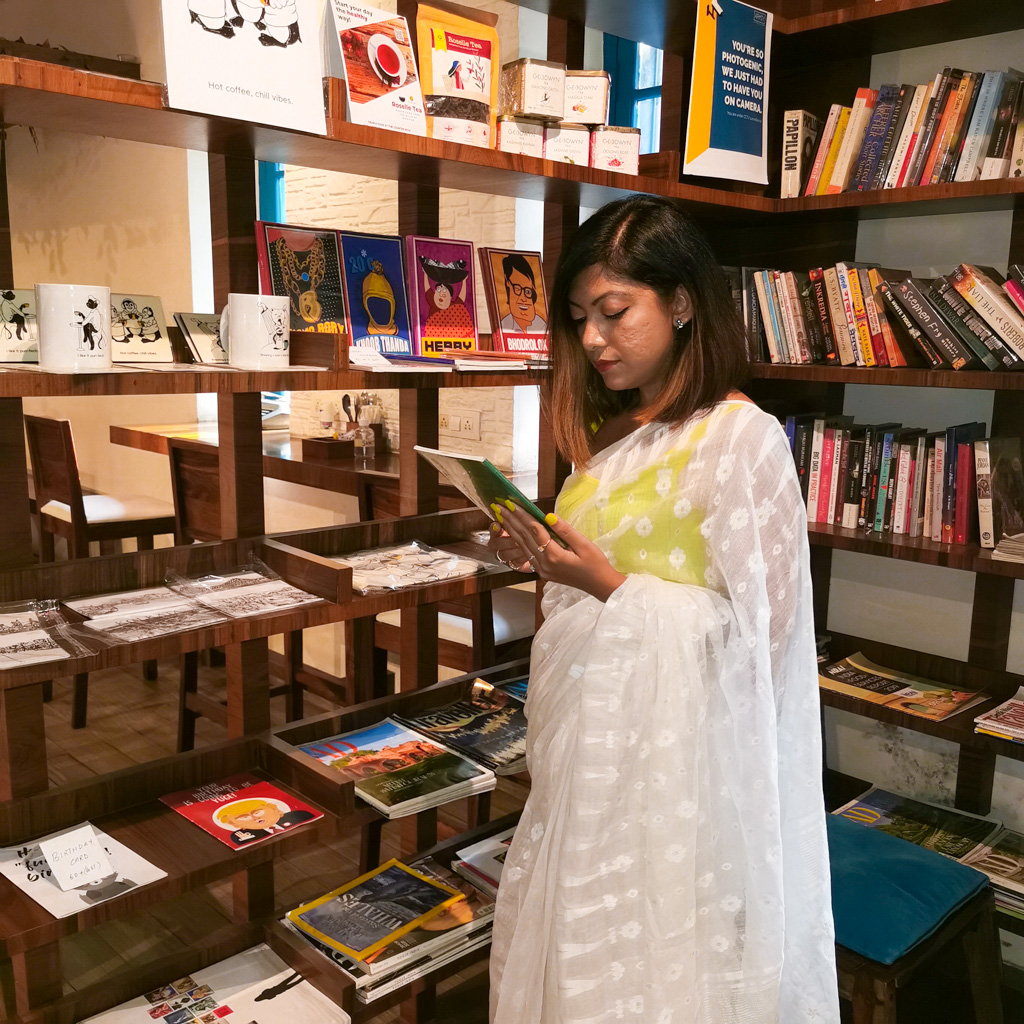 Artsy Café – A cute little café close to Rabindra Sadan Metro station serves great food with a side of captivating art. The interiors are aesthetically done with beautiful art pieces by local artists displayed on the wall. A nice book corner and a range of souvenirs to pick up. This is a picture-perfect, Insta-worthy cafe in the city.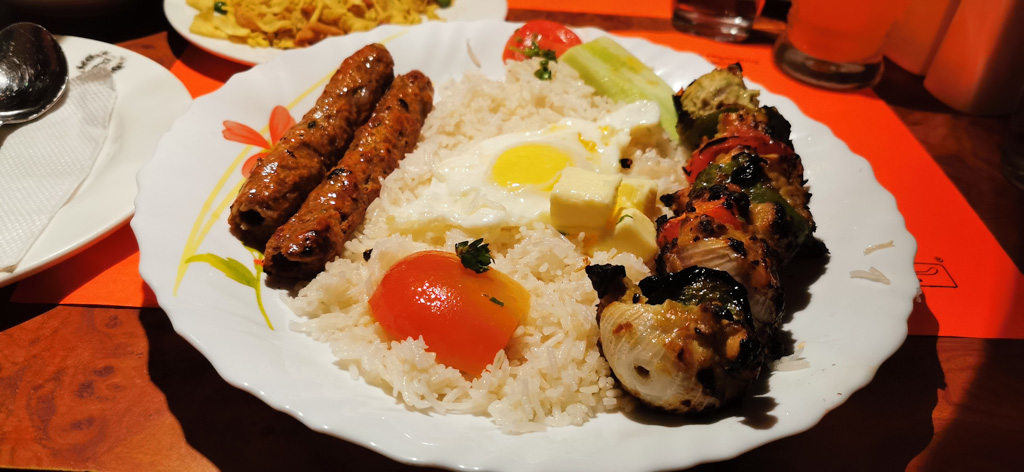 Peter Cat – Located on Park Street, this restaurant is famous for its Chelo Kebabs. Book a table in advance or else you might have to wait for hours on the street outside like us. It doesn't matter as the food here is so delicious that it's worth all the wait. We tried the Chelo Kebab and Chicken Biriyani, and needless to say, we were licking our fingers by the end of it.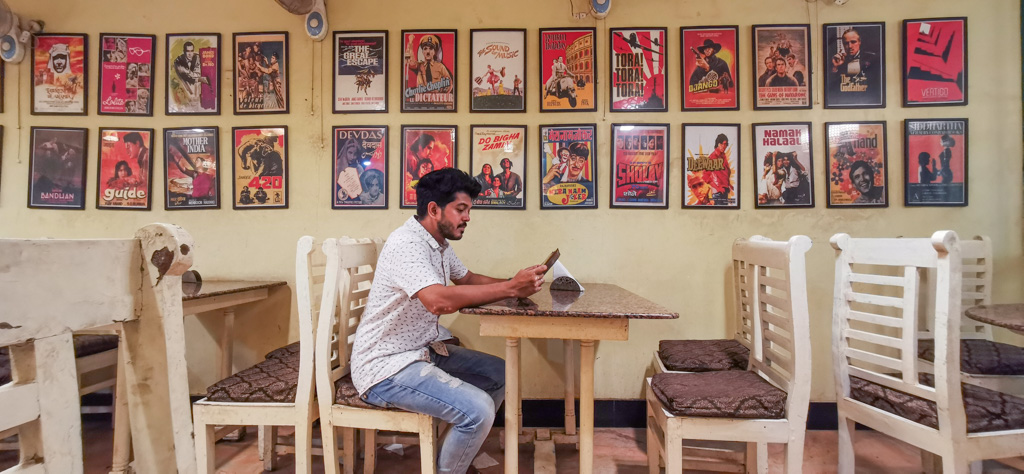 Nizam's – This is famed to be the birthplace of Kaati rolls. A nice little joint in New Market promises you the taste of Bengal with several options of rolls available. Take a seat while the ambiance takes you back to Kolkata in the 80s and enjoy the appetizing food.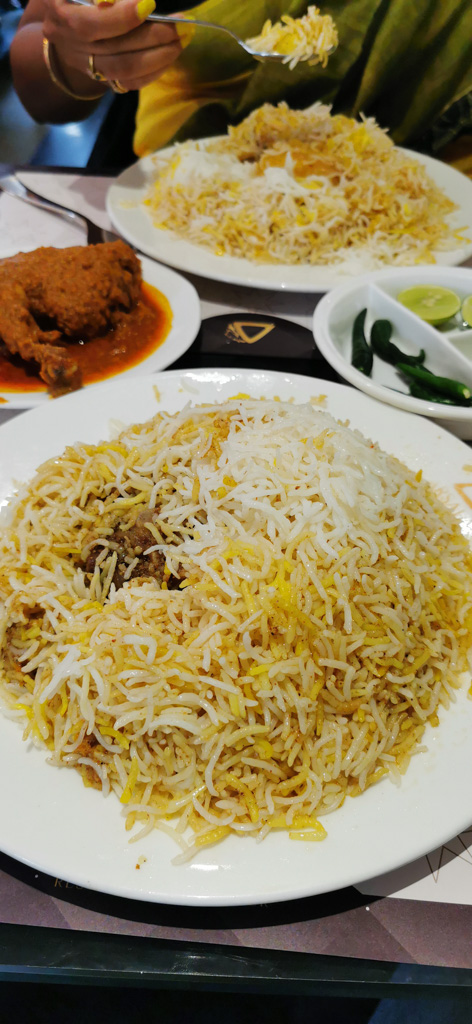 Arslan Biriyani – Heard of the famous Kolkata biriyani with a big size potato in it? This is where you can try it. They serve Mughlai and north Indian dishes which are delicious and mouth-watering. Trust me when I say even the boiled potato in Biriyani is full of rich flavors.
Coffee house on College street – It was nothing like what I had imagined from the Bengali song "Coffee house er sei adda ta". It was like the whole of Kolkata was confined within the four walls of the Indian Coffee house. The crowd, the smoke, and the lack of fresh air made me feel a bit claustrophobic. I hope the delicious food compensates for all of this. Well…I will never know because we never got to the food part at all. We had to leave as the service was delayed and we had to get back home to our son. So maybe next time around.
Sweets at Balaram Mullick & Radharam Mullick – How can you do a food tour without treating your tastebuds to famous Bengal sweets? There is a whole world outside of Roshogollas and Rasmalais for you to explore. We had our lunch at Balaram Radharam which consisted of all sweet dishes. Try their Mango mishti doi, Daab Sandesh, Baked Mihidana, Chhena pora, Gur tabak Sandesh, and Lyangcha.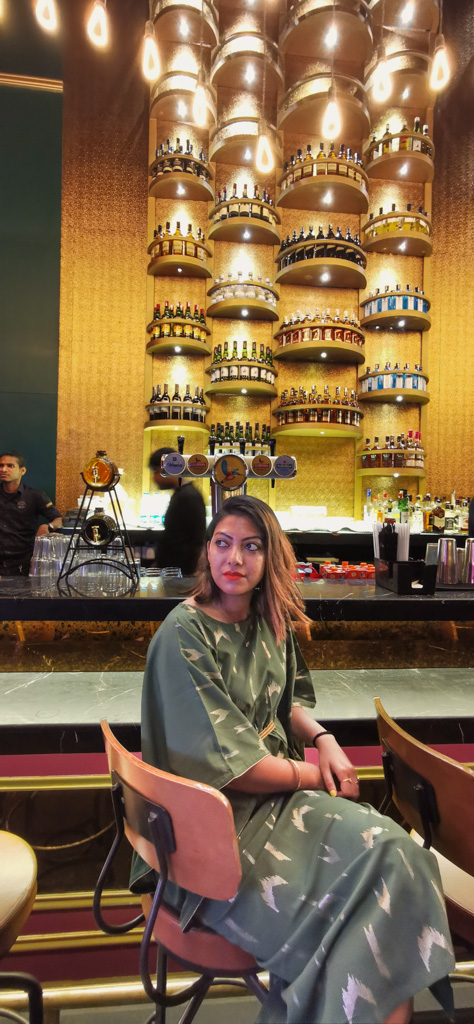 Lord of the Drinks – This is one of the best places to experience nightlife in Kolkata. The food, the music, and the vibe of this place will guarantee you a memorable evening. Unfortunately, the whole food fest in Kolkata gave me food poisoning and by this time I could only risk having light beverages. I went in for a cocktail while Sourab treated himself to a whole range of starters and a delectable mix of drinks.
Street food – As good as the restaurants and cafes are in Kolkata, the Street food experience is something not to be missed. Try Ghoogni, Puchka, Jhaal muri, Luchi-Alur dom, Momos, Rolls, and Chowmien in the lanes of Newmarket, College street, railway stations, and near the ghats. Tip- If you have a strong stomach, forget about the hygiene part for a while to wholly enjoy the street food.
Must have Experiences
A ride in Ambassador Taxi – The colour Yellow is synonymous with Kolkata. When out on the streets it's hard to miss these vintage ambassador taxis. Post-pandemic the number of these iconic taxis has reduced due to the increased popularity of app-based cab services. Hope it doesn't turn into just another heritage service like the Trams today.
Short travel in rickshaws – Until a few years ago the only way to commute from the bus stand to my dad's home in the remote village was by Hand-pulled rickshaws. Then came the cycle ones and now the cute, cozy little autos. Not sure how I feel about the changes, but I was thrilled to see these rickshaws everywhere in Kolkata. More than commuting, I was excited to get into one of these and relive the memories of my childhood.
Shopping at Newmarket – We stayed at an Airbnb on Chaulpatty Road in Beleghata, so for every attraction, we went to, we had to cross through New Market. An evening here is wholesome with a streetside shopping experience and several food options available to treat your tummy at the end of a long tiring walk.
Stroll at Prinsep Ghat – Buy a packet of Jhal-Muri (spiced puffed rice) and walk along the Ghat munching all the way, watching the sunset while the soft gentle breeze caresses your soul. I can imagine listening to a couple of Rabindra sangeets (probably singing too), sitting down at the steps leading to the river.
Festivals – I have always heard my grandmother say "Baro bochor e tero parbon" which translates to "Out of 12 months in a year, we celebrate 13 festivals". If you are interested in seeing the city of Joy in its full glory, visit during Durga Puja- One of the biggest, grandest religious festivals celebrated for 10 days. The whole of Bengal comes alive during the festivities and it turns into a massive extravaganza. The other prominent Hindu festivals celebrated in Bengal are Kali Pujo (Diwali), Bhai Phonta (Like Rakshabandhan), Lakshmi Puja, Doljatra (Holi), Saraswati Puja, and many more. There are other non-religious festivals celebrated on a grand scale too. Like Sourab's favourite one- Jamai Shashti, Pochis e Boishak (Rabindranath's birthday), Poila Boishaak (Bengali New year) among others. And it goes without saying, every single one of these celebrations is incomplete without the famous Bengali food fest.
Art and music show – In Kolkata, you will find music in the air and feel it in your veins. Coming from a family of music enthusiasts, I can't help but hum a tune now and then. This is heaven to nurture the music worm in me. Kolkata is known to be the cultural center of India and has rich traditions, and art reflected in music, dance forms, and folklore. Here are some of the events you can visit to explore the arts, culture, and literature side of the city.
Dover lane music festival, Calcutta book fair, National theatre festival, International history and heritage exhibition, light and sound show in Victoria museum.
Author: Gloriya