Kashmir – What makes it our most favorite destination?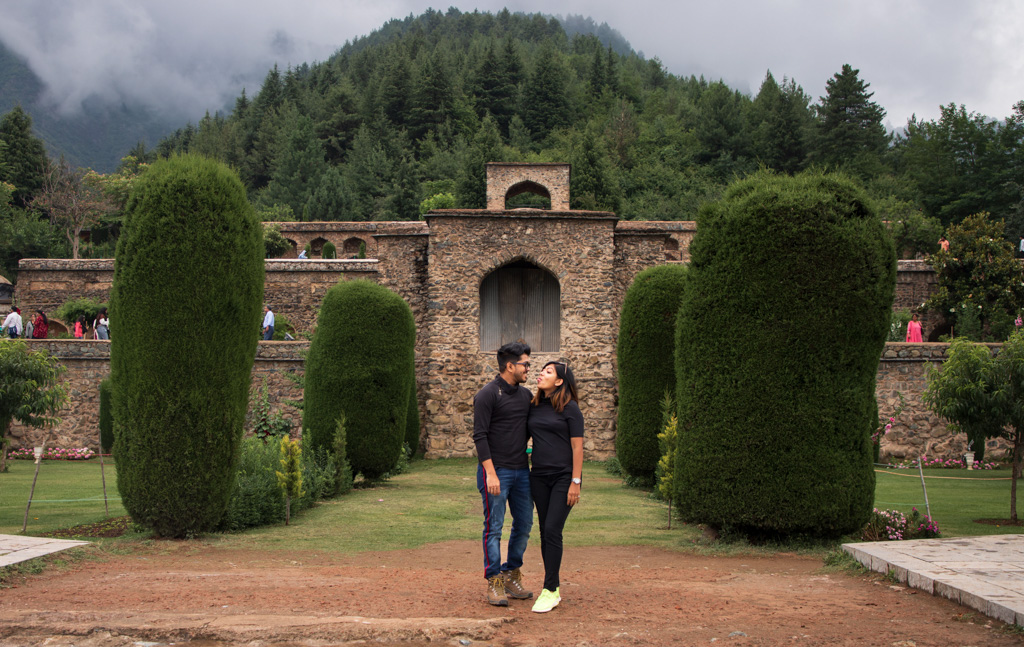 I was waiting for this day with a lot of anticipation. So much has been said and narrated about this place which supposedly is the "Heaven on earth" as well as the most disputed region in India. I finally had the opportunity to encounter this famed land to write my narrative.
By this time, I had travelled to 16 countries and over 10 states within India. I had seen the stunning blue waters of Maldives and been to the tallest building on earth in Dubai, explored the vast landscapes of Iceland and listened to the Viking stories in Norway, tasted street food in Vietnam, and walked the tropical gardens in Singapore. I wondered how would this place surprise me anymore.
I looked outside the window and saw a vast expanse of Ice-capped peaks, as far as my eyes could see. I glanced at my diary one last time to go through the itinerary for the day and kept it back in my bag. Right then the Pilot announced to the staff "Take your seats for landing". It was story time.
Well, where can I start? Kashmir is every bit of what I had imagined and everything I didn't. 
There is no place that I could compare to or even come close to the gorgeousness of Kashmir. It's like walking into a painting, like being in a movie where every part, every element has been artistically set up, like listening to your favourite music playing on a loop, like poetic romanticism in the air, like finding inspiration everywhere you look, like exquisite pieces of art scattered all around.
It's like coming home.
Kashmir happened to us as part of a five-day photography workshop, we added two more days to explore the city on our own. We were expecting bright and sunny weather as per the forecast, but as soon as we landed it started raining, which continued for the next few days. Rain or storm, sun or snow Kashmir is heavenly in every season. By heavenly, I don't just mean the landscapes, it's the people, their hospitality, the food, and everything. One of our best experiences has to be the hearty conversations with locals. I haven't met anyone as loquacious and charming as the Kashmiris. The innocent smiles of the children, the stories from the taxi drivers, the warmth of the Shikarawallahs, and the kindness of strangers who went out of their way to help us are just some of the many reasons that make us want to go back. Kashmir is still an incomplete narrative in our travelog, we are left insatiable, wanting more of this abode and we do not know how many more sojourns will finally put a full stop to this tale. If there ever is one.
If by now you are inspired to pay a visit, read on to plan your travel.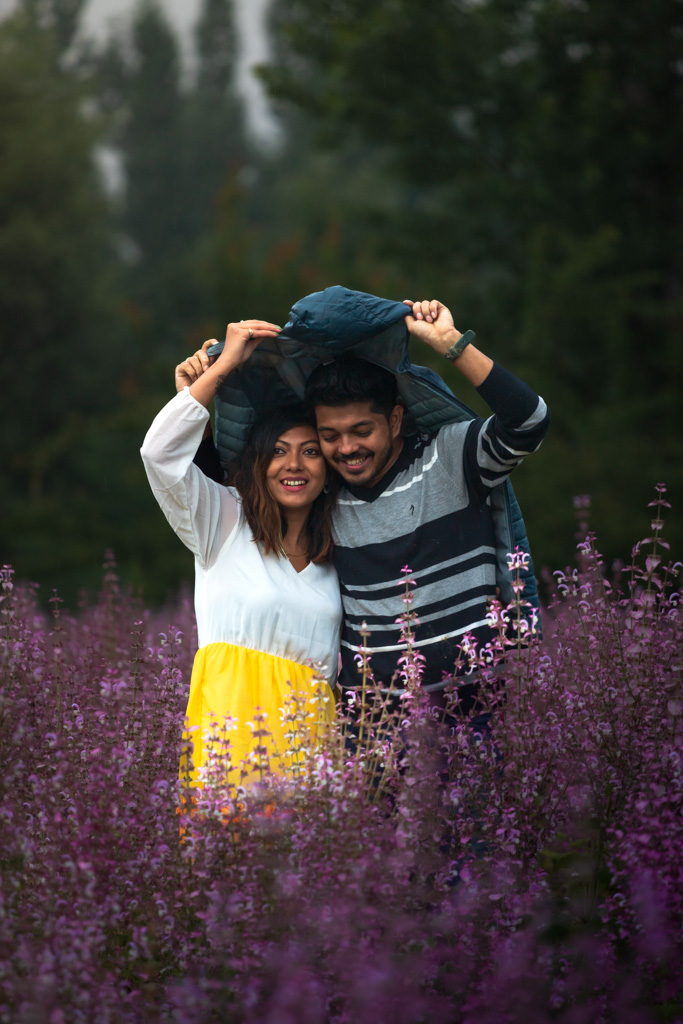 How to reach?
By air- There are direct flights available from Delhi, Chandigarh, Amritsar, and Jammu. International visitors can take a connecting flight from Delhi. The schedules change according to the season so check out the latest flight connections before traveling.
By road- Srinagar is well connected by road from nearby cities. There are bus services from Jammu, Leh, Delhi, Kargil, Pahalgam, Sonmarg, and many more inter-state locations. Check out the JKSRTC website for updated information on bus routes. 
https://www.jksrtc.co.in/passenger.php
If you are up for an adventure, road trips can be a good way to travel from your city and within Kashmir. We booked local cabs to travel to Sonmarg and Gulmarg which cost us approximately 2500 per day. For travel within Srinagar, there are app-based taxi services available and can be booked through an app called JUGNOO.
Where to stay?
Srinagar has many types of stay options based on your budget.
One such stay we would recommend is the houseboats in Nigeen lake. Stay a day or two and immerse yourself in the tranquility that the picturesque lake has to offer. We stayed at the Peacock houseboats, our room had a view of the cloud-covered mountain ranges and resound melody of water ripples from the rowing shikaras. An experience not to be missed. You can also stay on the houseboats on the bigger and more popular Dal Lake but we found the atmosphere in Nigeen lake placid and quieter.
There are stunning Airbnbs, budget hostels, and luxury resorts to choose from too.
What to expect?
Summer, winter, rainy, or autumn, expect to have a good time in Kashmir. By now our readers would already know the love-hate relationship we have with rain. But, if there is one place I'd rather be during the rain, it would be here.
Expect the weather to change without notice. The days to be warm and evenings to be chill or even vice versa. We had to carry warm clothes even in summer and trust me, it was our saviour.
While staying in houseboats expect to do some in-house shopping. You'll see a lot of floating businesses carried on the lakes and the merchants coming up to you for trade which would lead to buying some beautiful Kashmiri Artefacts.
Expect your Camera or Phone to be out of memory as you will end up clicking so many pictures, and rightfully so.
While you can expect to be blown away by the beautiful landscapes, also expect to see a lot of military personnel everywhere. They are stationed on streets, highways, mountains, attractions, and most of the places we visited in Kashmir. It's hard to miss the line of convoys passing through the highways while traveling to Sonmarg/Gulmarg. It is advised not to converse with them as they are on duty. Something we have to respect about Kashmir.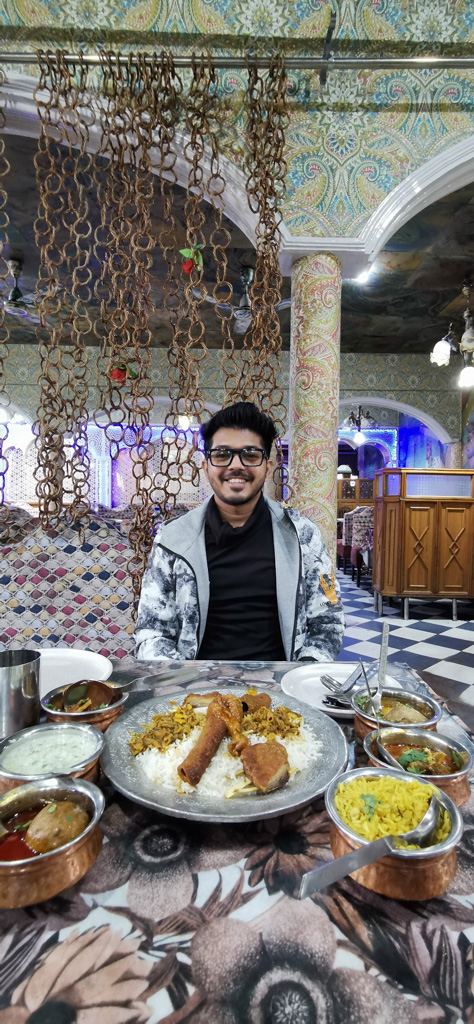 What to eat?
Kashmiri cuisine is rich in flavours and colours with a distinct taste that would linger. Try the Kashmiri Wazwan- An assortment of meat-based dishes. This multi-course dish contains many tempting dishes some of which are like Tabakh Maaz, Aab Gosht, Goshtaba, Rogan Josh, Kashmiri pulao, Yakhni, and Phirni. One Wazwan would easily serve two unless you are like us sharing one plate amongst four. That's how heavy it is on the tummy. Mughal Darbar is the best place to try Kashmiri cuisine.
Kahva is a herbal-infused drink made with a variety of spices, saffron, crushed nuts, and honey. This generally serves as a warming drink to withstand cold winters. We found it extremely refreshing and ended up consuming more than our regular cups of tea.
Nadru Yakhni is an appetizing lotus stem curry that has a yogurt base infused with spices like cardamom, bay leaf, and cinnamon. Best enjoyed with plain white rice.
I found a few vegetarian options in the restaurants and had to specially request our houseboat host to prepare some. The aloo paratha with dahi was the best I ever had. We also loved Kashmiri Baingan and Kashmiri Rajma.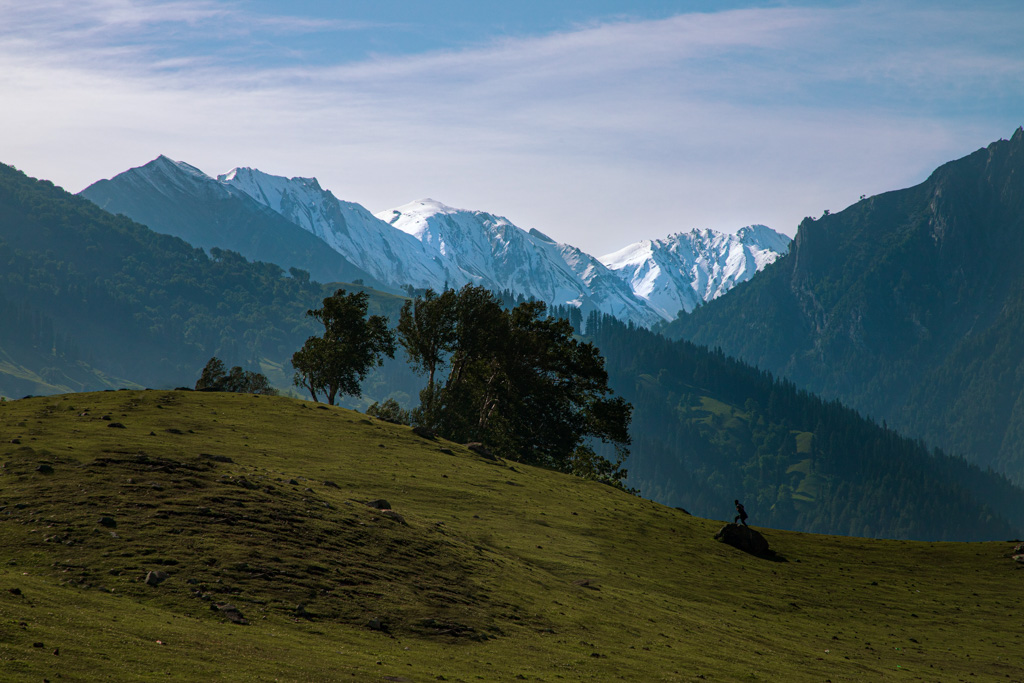 Places to visit
In the itinerary below, we will take you through the best tourist places in the city and a few more away from Srinagar that you can visit in 5 days.
SRINAGAR
Srinagar is the summer capital of Kashmir, during winter the capital shifts to Jammu for the smooth running of trade and business. If you are visiting Kashmir during May- October which is ideal summer, keep 2 days to explore Srinagar.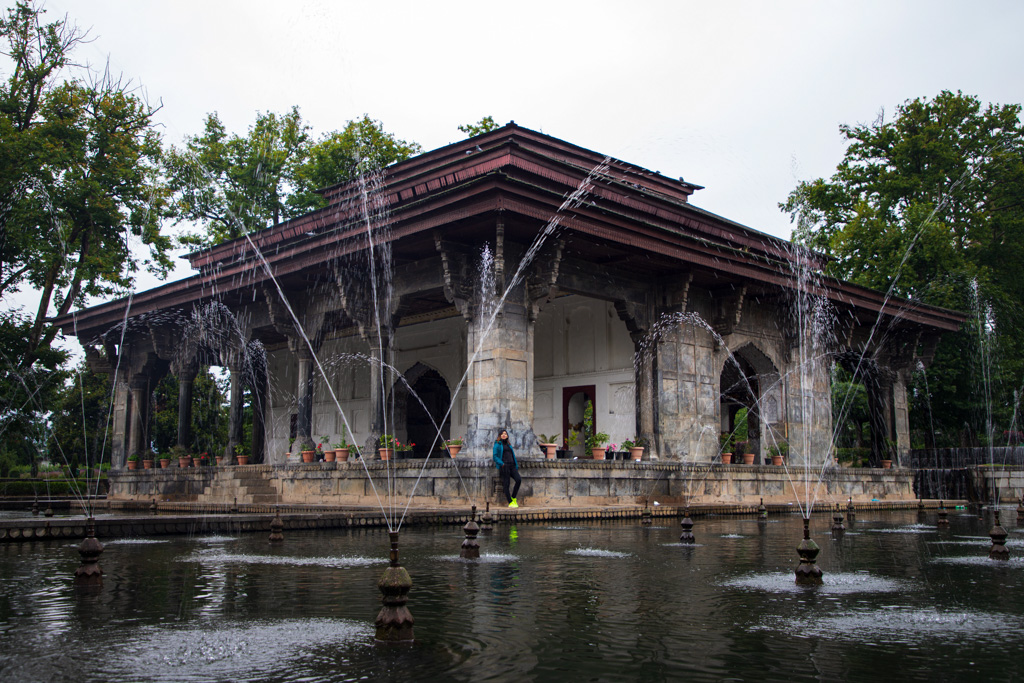 Shalimar Bagh  
It is a Mughal Garden built by Emperor Jehangir for his wife in 1619. Lined by rows of flowering bushes, fountains, and Chinar trees at the entrance with a silhouette of mountains far behind is a beautiful view to have while promenading. The best time to visit is during Autumn when the leaves of the Chinar trees change colours.
Opening Hours: 9:00 AM to 7:00 PM
Entry fees: INR 24 per person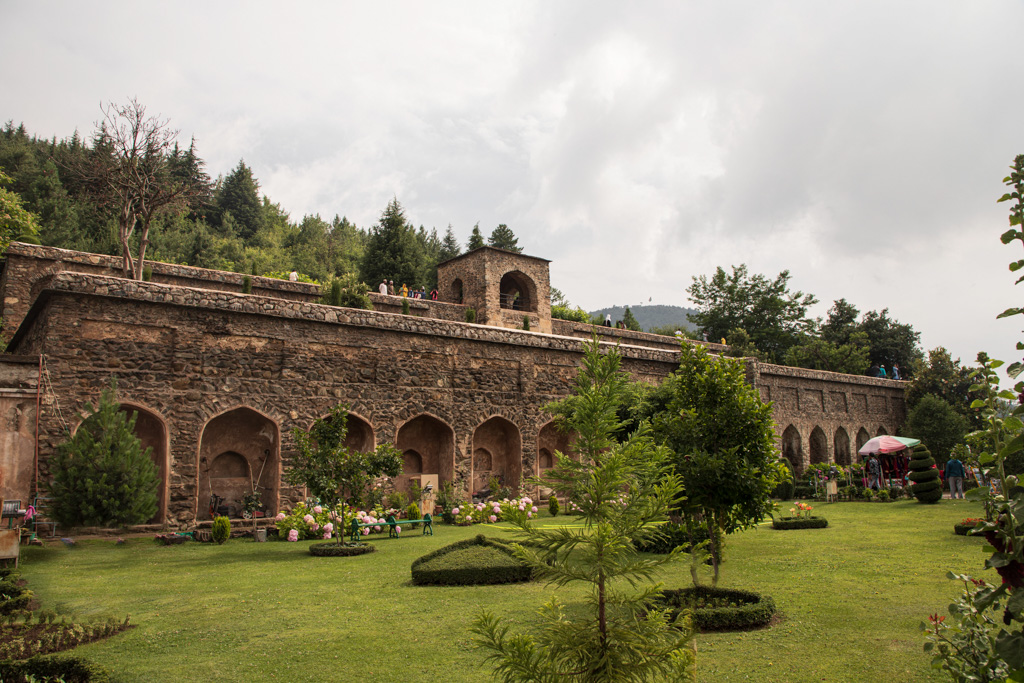 Pari Mahal
Which translates to The Palace of Fairies is a seven-terraced garden located on top of the Zabarwan mountain range overlooking the city of Srinagar and Dal lake. You can either take a short hike to the top or hire a taxi to reach Pari Mahal. We reached there in the evening and could catch the reflection of the sun glistening in the waters below while the moving clouds brushed past us.
Opening hours: 9:30 AM to 7:30 PM
Entry fees: INR 25 per person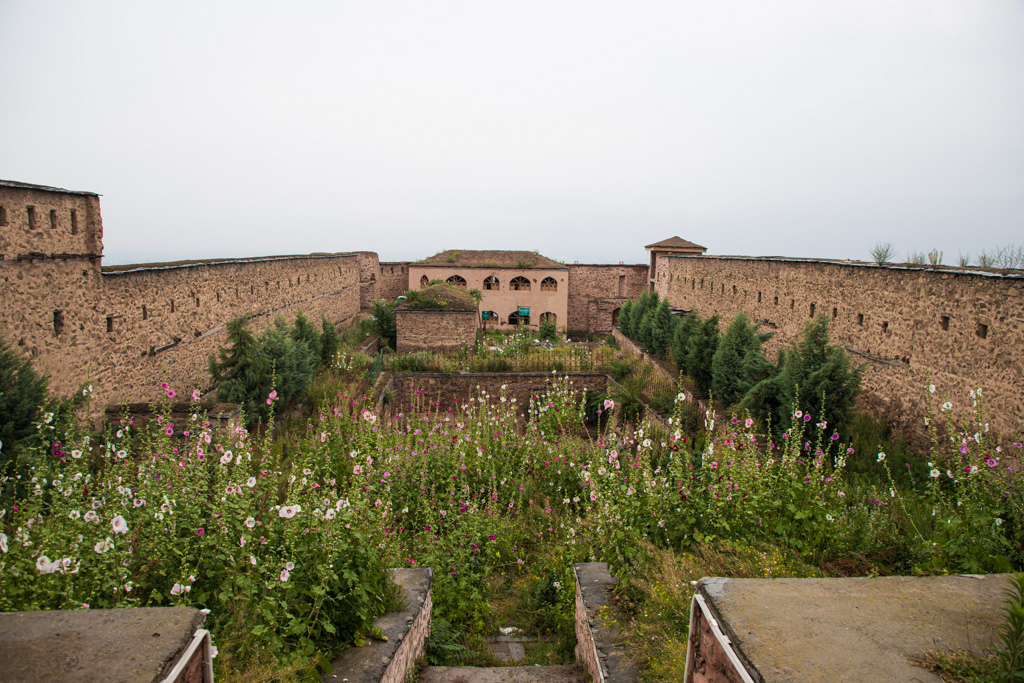 Hari Parbat fort 
Is located on top of a hill providing a panoramic view of the city of Srinagar. This place is managed by Army personnel and has checkpoints located along the path. So be cautious while photographing to not capture any of the tents. There are quite a few steps to climb to reach the top so carry a bottle of water along. We found it quiet and serene mainly because we were amongst the first ones to reach there.
Opening hours: 9:30 AM to 5:30 PM
Entry fees: INR 50 per person
Shikara ride in Nigeen/Dal lake
A trip to Kashmir is incomplete without a Shikara ride. I got to live my Kashmir Ki Kali (a Bollywood movie) dreams wearing a Phiran and sailing through flower boats narrow streams lined by small houses, and crossing bamboo bridges and lotus beds. Our Shikarawalla was so kind to make me a lotus garland with the bloom freshly picked from the lake which surprisingly stayed fresh for the next couple of days.
If you are interested in witnessing the hustle and bustle of the floating market, request your Shikarawallah for an early morning pickup around 4 AM (Yes, that's how early you have to wake up)
Price- Around INR 800 to 1000 per hour
Hazrathbal Masjid 
This is known to be the holiest shrine in Kashmir and it is believed that a strand of Prophet Mohammed's hair is preserved here. Only men are allowed in the inner halls and women can visit the outer hall. Outside the gates of the Masjid reside a flock of over a thousand pigeons. Visitors often provide food to the birds who fly away in unison after feeding- a beautiful sight in itself.
Opening hours: 9:30 AM to 5:30 PM
Entry Free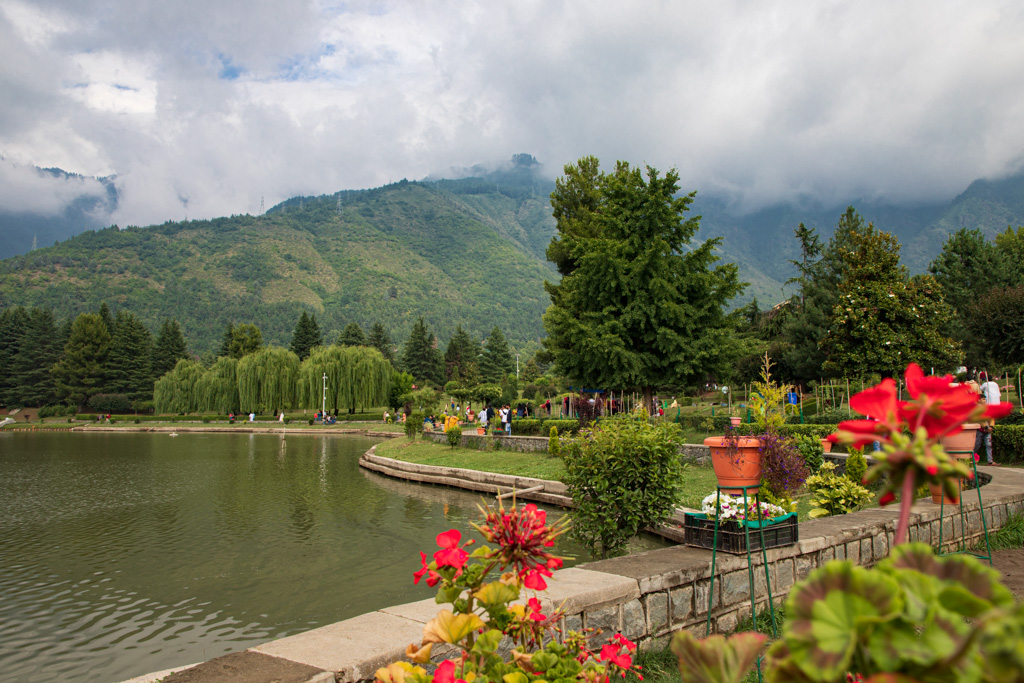 Jawaharlal Nehru Botanical gardens
Located at the foot of the Zabarwan mountain range near Chashm-e-Shahi built in memory of India's former Prime Minister. Spread across 197 acres of land, this huge garden is home to several unique varieties of plants and trees. This is a place to relax and rewind after a long day.
Opening hours: 9 AM to 7 PM
Entry Fees: INR 25 per person
SONMARG
Sonmarg translates to the Meadow of Gold. We had to take this trip twice as the first time it was raining non-stop and we could hardly experience anything. The second time around, we did a small trek uphill and witnessed the beautiful phenomenon as the last few rays of sun hit the mountains, which felt like molten gold flowing down from the tip of the peak.
Sonmarg is located around 80 km from Srinagar and takes about two hours to reach. We did a day trip both times and were back in our hotel by late evening.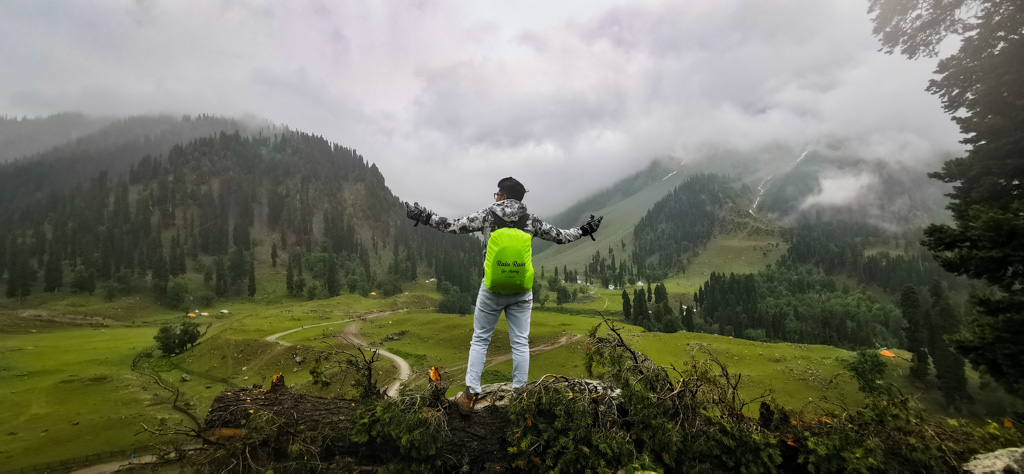 Thajiwas Glacier
As our local driver dropped us off at the tourist entrance near Thajiwas Glacier, we were surrounded by guides offering pony rides to the viewpoint. They started with a price range of INR 2500 per person that included Gumboots, a Down jacket, and a raincoat. However, we decided to skip the ride and trek to the viewpoint ourselves. A little further ahead we encountered a few other guides who were offering the same ride for INR 700. The path to the viewpoint was muddy and slippery. Without the right footwear and attire, it will be difficult to trek on your own. But if you decide to do so, follow the pony path and keep walking adjacently till you reach your destination at a distance of 5 km. The glacier is surrounded by tall conifer trees, meadows, and lakes and throughout the path, there are several picturesque spots for photography.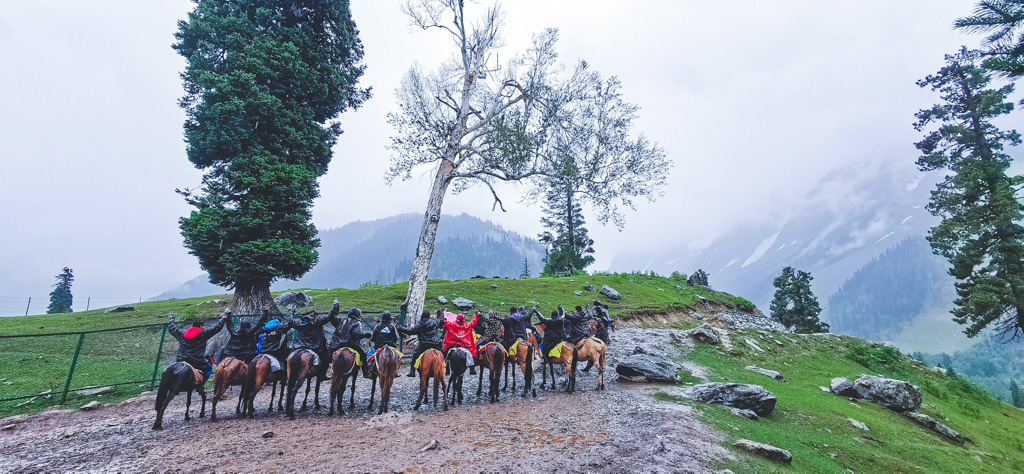 Opening hours- The pony rides and tour are available from 9 AM to 5 PM
Price- Varies on how much you can haggle.
Zoji-la Pass, Zero point
It is a high mountain pass located 11600 ft above sea level in the Kargil District of Ladakh. It is believed to be one of the most dangerous yet scenic routes. Zero point refers to the freezing temperatures which make it impossible to survive. The pass is closed during winter due to heavy snowfall, so it is recommended to plan the trip only in summer. The guides offer rides from the Thajiwas Glacier entrance and charge about INR 5000 for a trip to Zero point and back. The distance of 24 km to Zero point takes about an hour to reach and probably is the only place where you'll find snow in summer.
Opening hours- There are no definite opening/traveling hours as such. Check with your guide as roads are subject to unpredictable conditions and the tour might change according to that.
Price- Varies on how much you can haggle.
GULMARG
Means meadow of flowers, Gulmarg is a popular hill station and skiing destination in Kashmir. It is located at a distance of 51 km from Srinagar and takes about an hour and a half to reach. There are wonderful stay options available in Gulmarg if preferred, however, we did a day trip and were left wanting to explore more. The route to the top is charming throughout, especially during summer when you can find all kinds of colourful wildflowers and Lupins along the path. 
Gondola ride
It is Asia's largest and highest cable car ride and a top activity to do in Gulmarg. 
Phase 1 is from Gulmarg to Kungdoor station which is at an altitude of 3100 meters. The second phase goes until Apharwat mountain top which is at an altitude of 4115 meters. The third phase is a Chair car ride to the topmost point from where the Line of Control is visible. Throughout the journey sit back and enjoy spectacular views of Kashmir and if you feel particularly adventurous, indulge in the winter activities at the intermediate points. It is advisable to book the tickets online at the link below.
Opening Hours- 10 AM to 5 PM
Ticket price- Check the website above
St Mary's Church  
Have you seen those postcard places, a Victorian-style house amidst meadows, and wondered if such places exist in reality? Wonder no more.
Located on a vast golf course, this church is known to be over a hundred years old. A grand wooden structure with dark green tiles peeping from behind two tall trees, and if you are lucky to visit in summer, you'll find the church surrounded by lupins and wildflowers. We walked around the church looking for photography inspirations and found so many. Climb down a bit and find a scenic pond from where the church is best viewed with a chain of mountains serving as the backdrop.
Opening Hours- 7 AM to 5 PM
Entry Free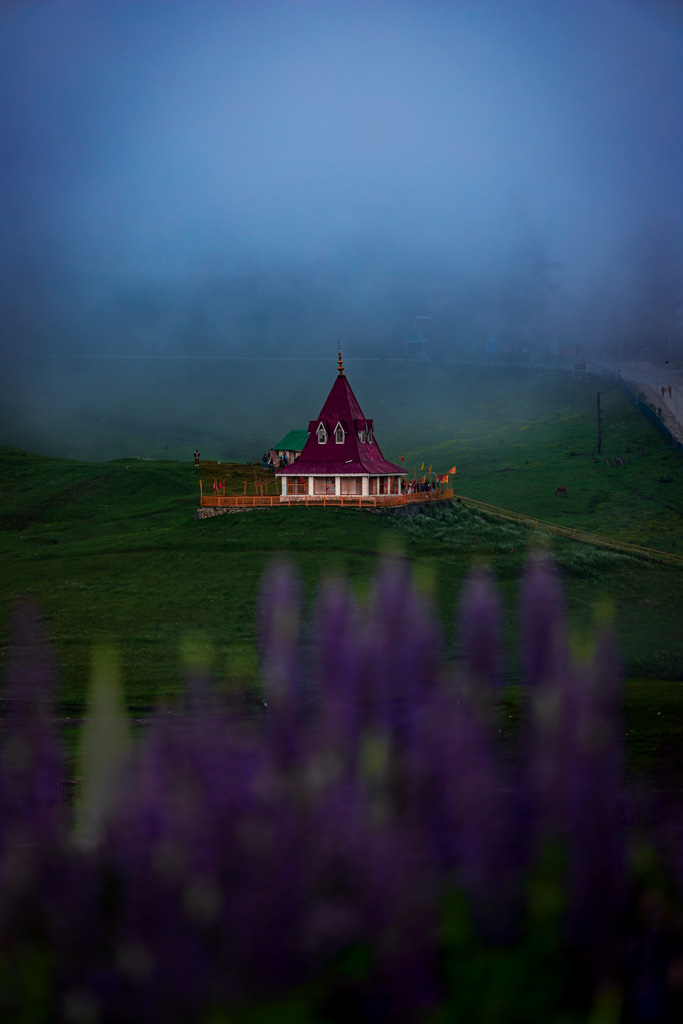 Rani temple
Also known as Maharani Temple or Shiva temple is located on a small hill in Gulmarg and is visible from all sides. The temple was built by Queen Mohini Bai Sisodia, the wife of the former king of Kashmir in 1915. Since then, it has served as a place of worship and a popular spot for tourists.
Opening Hours- 24 hours
Entry Free
We couldn't visit Pahalgam due to harsh weather conditions and the roads being closed. This is among the must-visit places in Kashmir along with the above.
On the last day as we were headed to the airport, our taxi driver asked us a significant question "Aap phir kab wapas aayenge Janaab?" – When will you return?
In my heart, I wished if only I could stay here forever.
Author: Gloriya