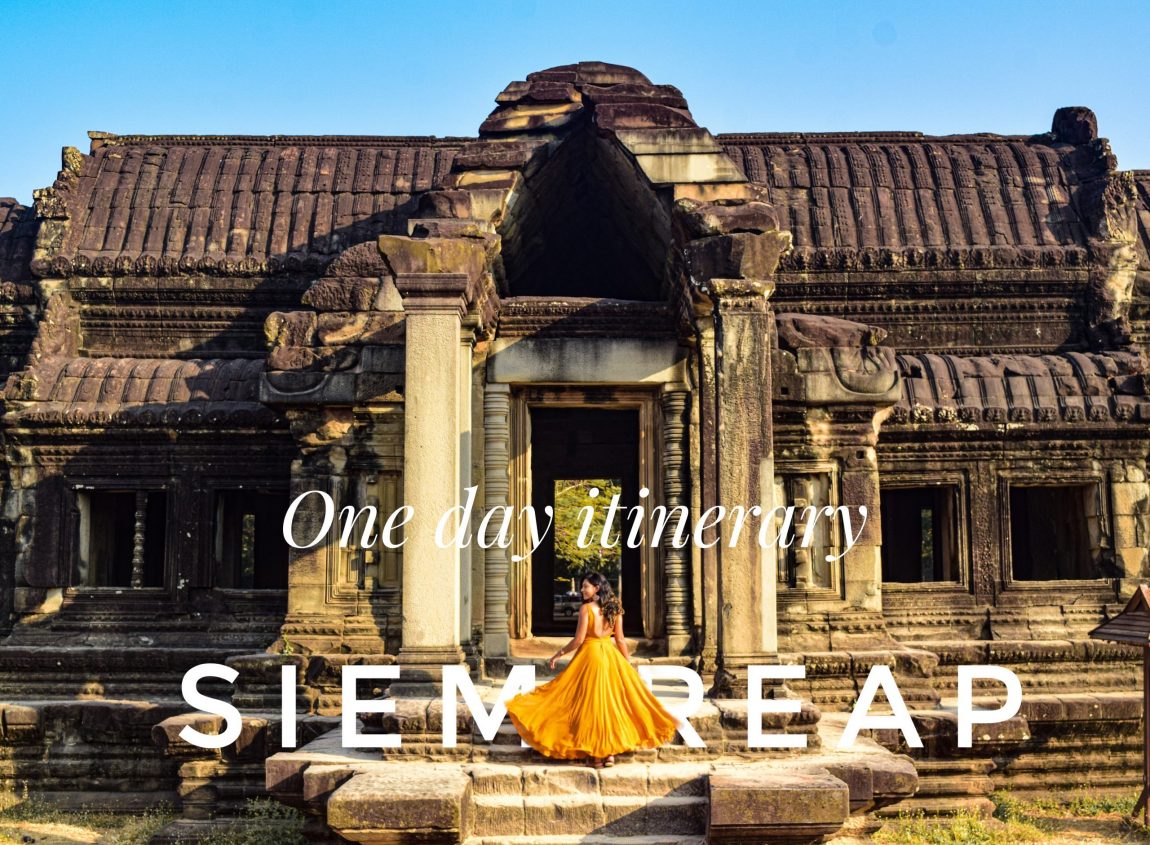 How to explore Siem Reap in one Day – All you need to Know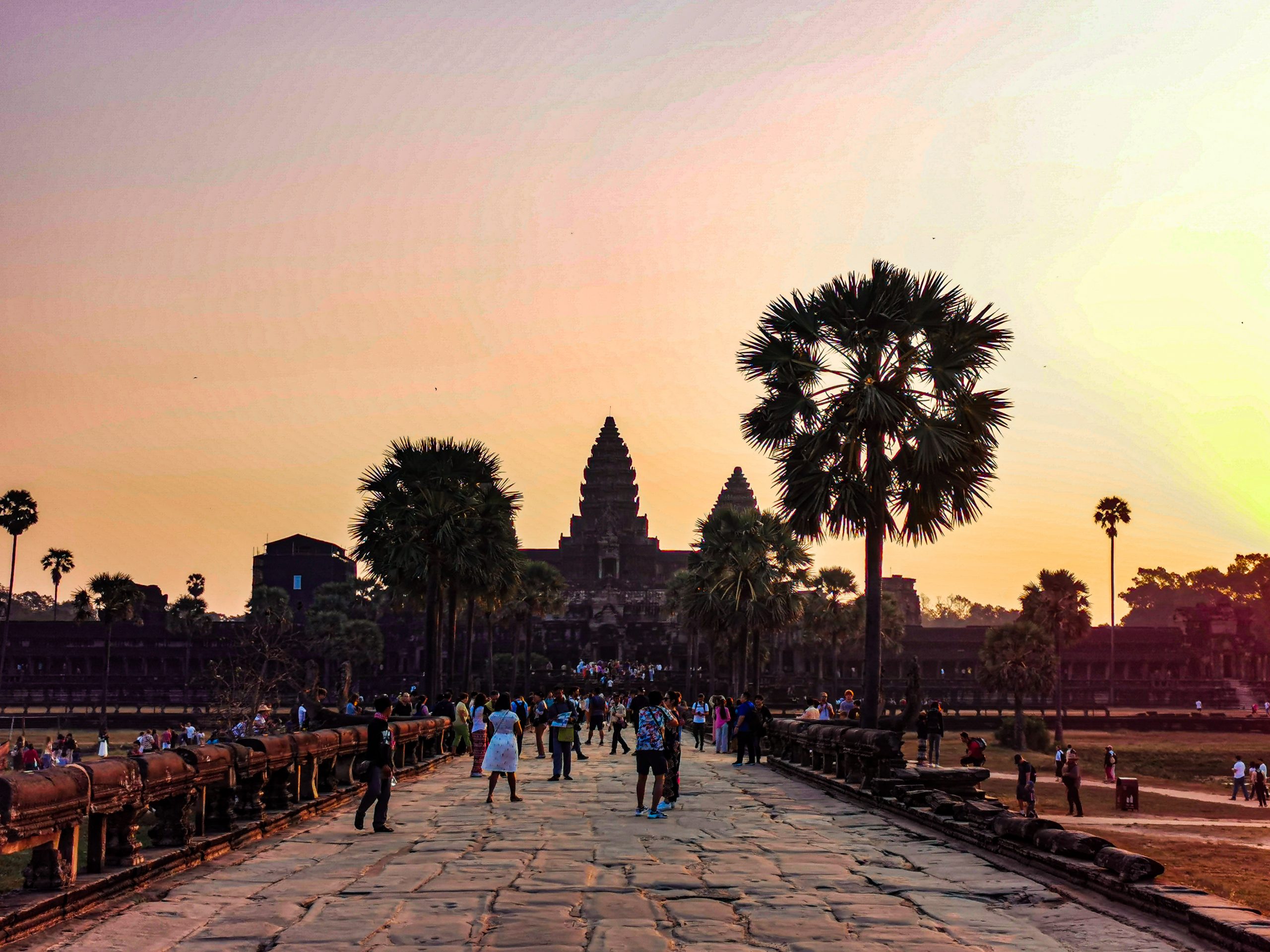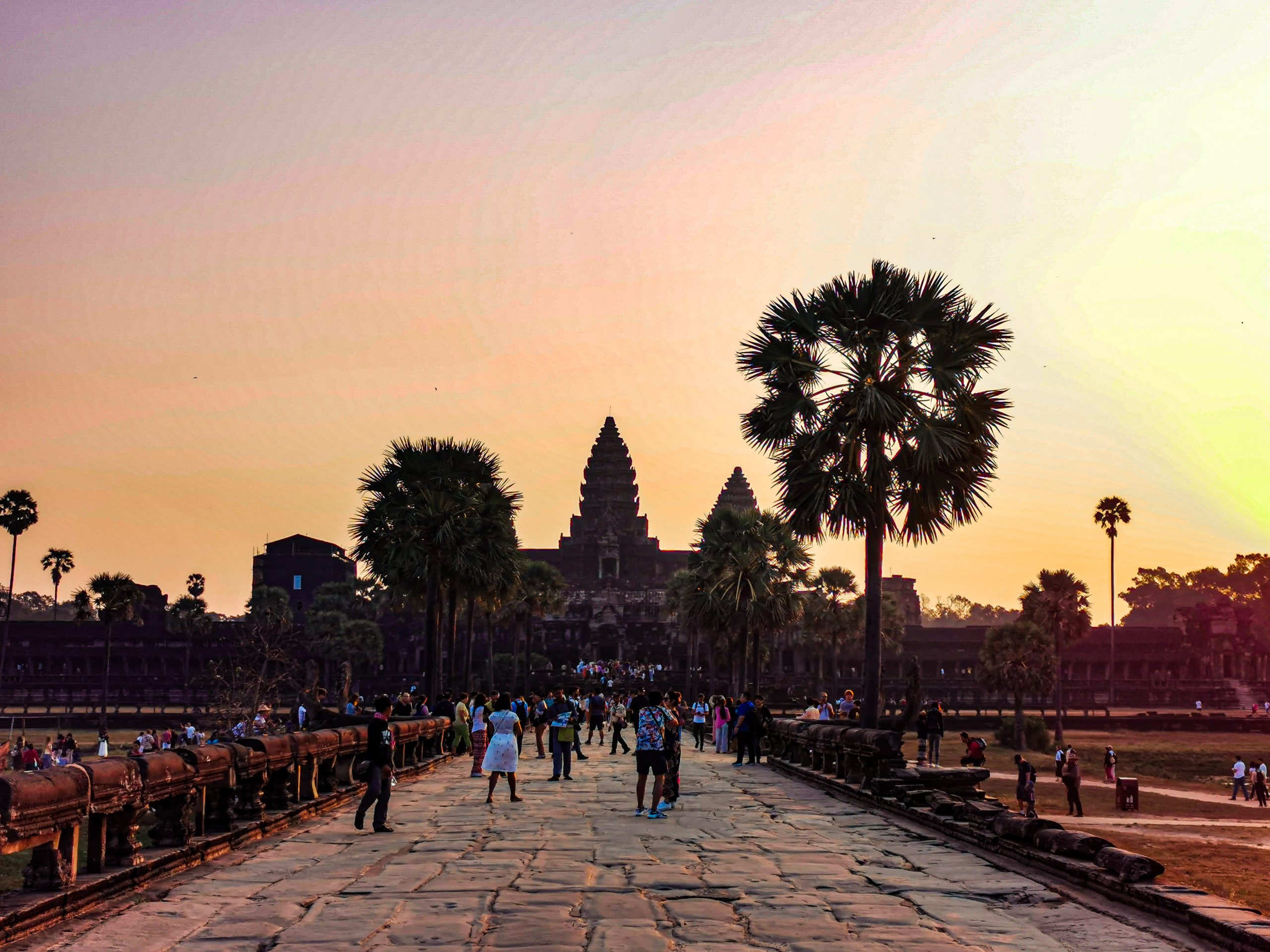 Do you remember the magnificent stories of rise & fall of different empires, ancient architectures and monuments of World heritage, archaeological discoveries that we read about in our childhood? Didn't the historical facts once fascinate us and transport us to a bygone era?  It surely did. As we grew up, those facts might have ended up being just words inscribed in our text books. But what if, the images from those history books that stirred your imagination back in the day, one day comes alive! Won't that be magical?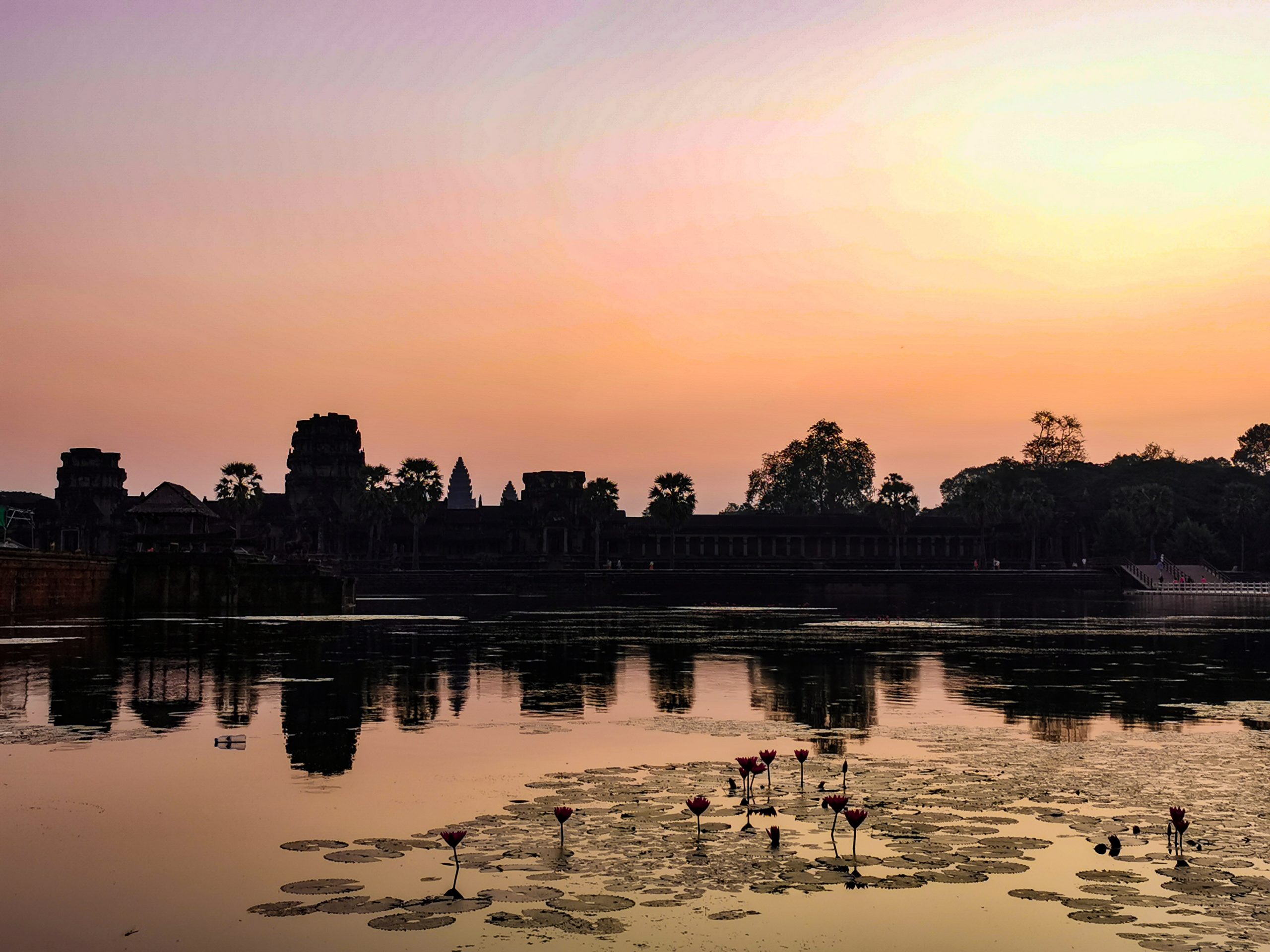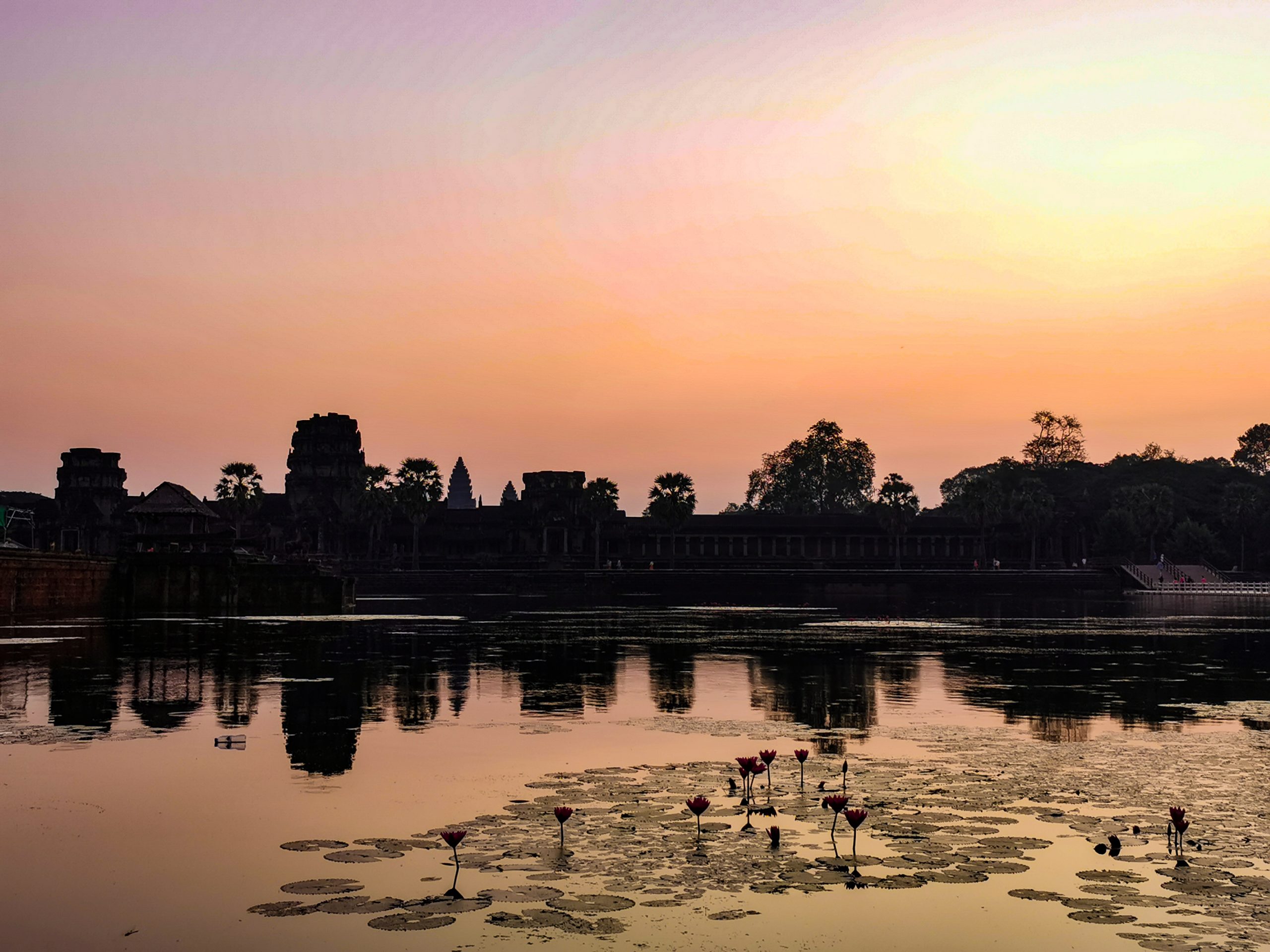 A peek into our journey
One early morning, lifting the dark misty blanket of night as the Sun peeked through; uncovering the silhouette of a sandstone temple structure with lotus-bud shaped towers, creating a surreal reflection in the moat nearby; it gave the impression of divinity. The hues of the sky at the crack of the dawn, the greenery of the surrounding forests, the darker shades of the monumental structures only added to the uniqueness of the place.  Sitting by the stairs of the pond as you begin to wonder at the splendid sight and start to recollect the columns from your books, you realize any words won't do justice to this unbelievable creation of Angkor Wat. Such is the splendour of entire Angkor archaeological park and that's the glory of Siem Reap, Cambodia.  
Almost on a month-long trip we had only planned a day in Siem Reap, which in anyway wouldn't be enough or fair to explore the city as there were many places to cover. Ideally you would need 4-5 days, but if you only have a day then here are the places to visit and things to do. 
Getting to Siem Reap:
There are no direct flights available for Siem Reap from India. Jet Airways, Singapore Airlines, Silk air, Thai Airways and some other airlines offer connecting flights through Singapore, Bangkok and Kuala Lumpur to reach Siem Reap. As we were touring the South East Asia, we flew from Luang Prabang, Laos. You can also ride a cross-border bus to enter Cambodia from Laos, Thailand or Vietnam.
Travelling within Siem Reap:
Whether you are travelling solo or in a group, whether you prefer convenience over a budget, depending upon that different mode of transportation can be availed in Siem Reap.
Tuk-tuks (motorbike taxis) are the easiest way to get to the temples of Angkor Wat, Ta Prohm, Bayon, Banteay Kdei. For a half-day tour standard cost is 15 USD whereas for a full-day it is 20 USD. With an early morning pick up at 4:30 AM to see the beautiful sunrise at Angkor Wat, tuk-tuk drivers might charge 5 USD extra. However, we negotiated with a driver and managed to make a deal for 18 USD for full day trip with Sunrise view (he had dropped us from airport to hotel for 5 USD). They may ask anywhere between 6 to 10 USD for transfers to city centre/airport, so try negotiating with drivers before finalizing. You can often find tuk-tuk drivers near your stay or in a touristy area as well. Fix on any one driver for all the travel.
Taxis are expensive than tuk-tuks. For a full day tour around Angkor Wat and other nearest attractions (excluding sunrise) price is 30-35 USD. 8-12-seater minivans charges 45-50 USD.
To get to the attractions outside the city like Bantaey Srei temple, Kbal Spean hill, Kulen Mountain there are additional charges for both Tuk-tuk and Taxi, which can be 10-15 USD extra to trip cost.
Bicycle is the most budget-friendly option to rove the streets between different complexes. However, it can be very tiring in the scorching Sun. You can rent a bicycle for as less as $5 USD a day from rental shops. Some hotels offer free bicycle rental.
How to get Visa for Cambodia
:
When we travelled to Cambodia in 2019 pre- COVID, citizens of the most countries including Indians could get a Cambodian Visa on arrival for 30 days stay at a fee of 30 USD. There were no additional processing charges taken.
Note: Currently during COVID-19 Visas to Cambodia can only be obtained at a Cambodian embassy or consulate, and tourist visas are not available. Visa exemptions, visa-on-arrival, and electronic visas are currently suspended indefinitely.
Land borders with Thailand, Laos, and Vietnam are closed, but those with proper visas and travel documents can still enter Cambodia by plane. Check any country specific guidelines and restrictions before applying for visa or booking any tickets. General rules are one need to have a negative COVID test certificate no longer than 72 hours prior to the date of travel, proof of health insurance with $50,000 medical coverage.
What currency to use:
Though the official currency of Cambodia is Riel (KHR), USD is widely accepted by all shops, hotels, restaurants, street vendors, public transports. In fact, it is easy to pay in USD rather than Cambodian Riel (KHR).
When to visit Siem Reap:
With a tropical climatic condition where average temperature doesn't fall below 30°C (66°F) in any month, the city of Siem Reap is generally hot throughout the year. Keeping in mind the months between May and October being the wet season, the best time to visit Siem Reap would be December, January and February, when the days are sunny and dry. These are also the months that sees the maximum tourist footfall as the weather is bearable.
On the contrary the visiting during Low seasons of monsoon is not completely a bad idea, if you have more days in hand to spend and wish to avoid the heavy crowd. Even though the mercury level might soar above 40°C (104°F) on certain months of the wet season and occasional afternoon downpours might seem like undesirable on a vacation, the fact is that it's unusual for the rain to last more than an hour or so. Hence, with necessary arrangements and right attire roaming around Siem Reap during rainy days is completely doable. Not to forget, the glory of an overcast sky and moments of sunlight, green and fertile landscape around world famous ruins making the scene picture perfect, the price drops and promotions in accommodations, restaurants can turn into an advantage for many vacationers.
What budget will you need:
Siem Reap is definitely a budget friendly place for visitors in terms of stay, food and travel. The overall budget depends on the kind of accommodation you choose from, your mode of travel and the number of days on itinerary. That said, average per day spend can range anywhere between 55 USD for a backpack budget to 180 USD per person for a luxury budget.
The lion's share of the per day budget is due to the Angkor ticket and Tuktuk hiring charges for roaming the archaeological complexes. With our 135 USD budget for two people we easily managed to book a comfy double bed room in a nice hostel, could savour lot of delicious foods from street stalls and roadside pub-restaurants.
With a higher budget, beside staying in grand hotels with all the amenities, eat and drink at lavish restaurants one can have the luxury of hiring private taxi and book more guided tours, explore more places and shows in a short span of time.
Excluding the flight fares, here's a breakdown of budget for our one-day itinerary:
Accommodation at 5 Gorhome hostel: 8 USD/Night (Double bed room)
Ticket Entrance (Angkor Pass): 74 USD (one-day pass for two)
Tuk-tuk Driver to explore Angkor Wat complex (small circuit): 18 USD for one full day (including sunrise)
Food for two: Breakfast – 6 USD, Lunch – 7 USD, Dinner – 7 USD, snacks/street foods/water/souvenir – 5 USD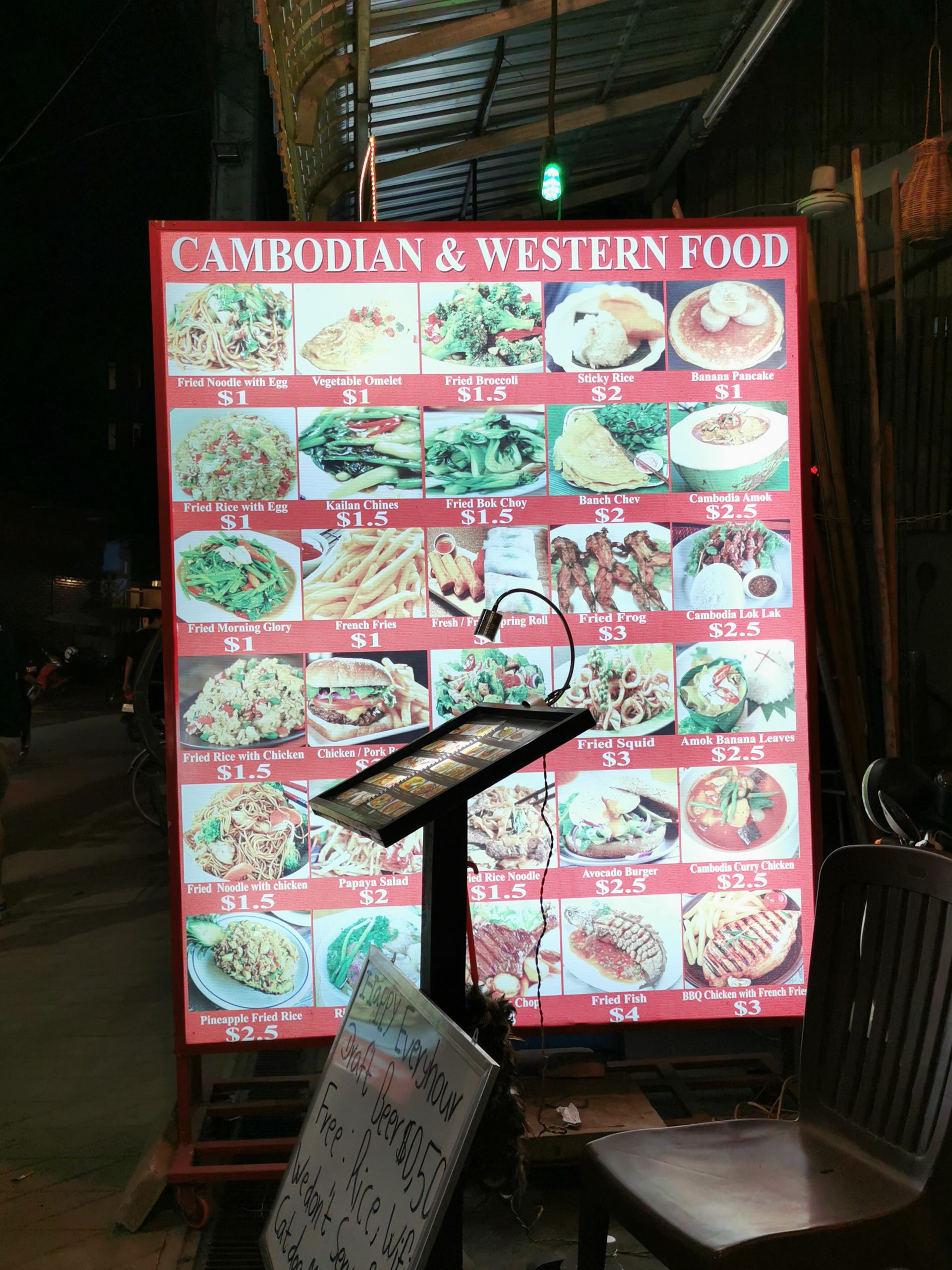 Transfers from airport and to Bus station for two on Tuk-tuk: 10 USD
Of course, if you choose to watch events like Apsara dance performance, Cambodia dynasty shows, fight/wrestling events, visit museum and food tours the budget would stretch further. Although, visiting the glamorous, graceful and traditional Apsara Dance show was part of our original itinerary and plan, unfortunately we couldn't make it as Gloriya fell terribly sick during our trip to Siem Reap. We somehow managed to explore all the main temples with her soaring temperature.
Apsara dance performances are one of the highlights of Cambodian tradition and would highly suggest it if you are planning a trip there. We got to know from our driver cum guide that there are several places where you can see this style of dancing, but Apsara Theatre is one of the best. Tickets costs under 30 USD.
How to manage your one day itinerary:
Siem Reap has become the heartland of Cambodia owing to the presence of UNESCO World Heritage site Angkor Archaeological Park. Though there are several temple ruins and other attractions that lies in and around Siem Reap city, the place that allures major visitors is Angkor Wat and the surrounding temple ruins. If you are staying for several days (at least 4 nights) then it gets easier to plan your daily itineraries and to cover all known attractions and activities, however if you just had a day to spare then it might be confusing, especially for any first-timers in terms of which route option to choose from, where to start from.
To make the life a little easier for all first-time visitors, Angkor tours has been divided into two major routes that covers all the prominent temples of the Archaeological park.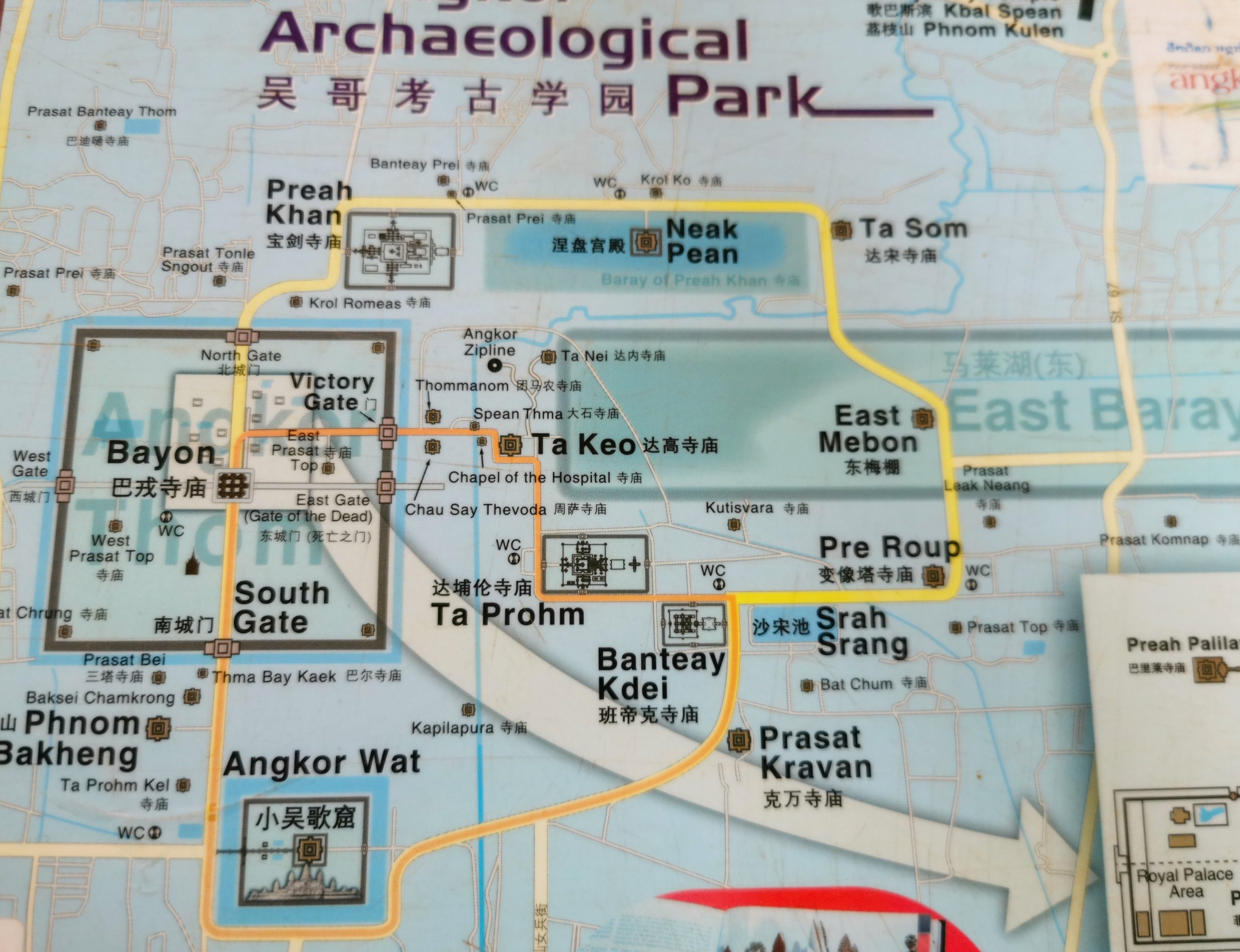 The Small Circuit is a 17 km route that covers the must visit places Angkor Wat, Angkor Thom, Ta Phrom and few more. For a one-day trip this is the best option where you need to be selective and yet you can see all the glorious monuments. Also, this route is easily doable in 8 to 9 hours and doesn't make you too tired.
The Grand or Big circuit is 26 km long and is an extension to the Small Circuit as includes few of the sites from the short circuit (including Angkor Wat, Angkor Thom) and additionally Preah Khan, Neak Pean, Ta Som, Pre Rup and Krol ko. Generally, two days are recommended for this circuit if you wish to explore in a relaxed manner while spending enough time at each location. Nevertheless, if you rent a tuk-tuk or a taxi then it is possible to cover the circuit over a span of 12 to 13 hours.
Beside these if you have a third day then as a long trip you can explore the outlier temples such as Banteay Samre, Banteay Srei and three Roluos temples Bakong, Lolei, and Preah Ko, Cambodia Landmine Museum, Angkor National Museum.
Angkor Entry Pass – Where to get it:
Except Cambodian citizens, all visitors of the temples in Angkor Archaeological Park need to purchase a ticket called Angkor Pass. This Pass is also valid at the outskirt monuments like Phnom Krom, Wat Athvea, Kbal Spean, Beng Mealea and the Roluos Group.
The Angkor Pass can only be purchased at the official ticket centre known as Angkor Enterprise, located 4 km away from Siem Reap town on the corner of Road 60 and the Apsara Road. It remains open from 5 am to 5.30pm, 7 days a week. Tickets issued post 5pm are valid for the next day. Tickets purchased from elsewhere (hotels, tour companies and other third parties) are not valid.
Note: Tickets are non-transferable and there are no refunds. If it is lost, you must buy another one. Also, tickets are checked at many points across sites, so keep it safe with you at all times. If anyone is found without a ticket, heavy fines would be imposed. Children under 12 don't require a ticket.
If you are renting a tuk-tuk/taxi, the driver will take you to the ticket office (even for sunrise tours) for buying tickets, before commencing your park exploration. Upon reaching the ticket centre, go to any of counters and let the ticket issuer know for how many days you would need. A photo will be taken and then printed on the card so that anyone else won't be able to misuse it.
Tickets can be bought in cash (Khmer Riel, US Dollars, Euros and Thai Baht are accepted) or by using credit cards (All major cards like Visa, MasterCard, UnionPay, JCB, Discover and Diners Club cards accepted). There are many ATM machines available on site if you need to withdraw cash.
There are 3 types of passes available;
1-day pass – USD 37 (Valid for one day only)
3-day pass – USD 62 (valid for any three days during a 10-day period from the ticket issue date)
7-day pass – USD 72 (valid for any 7 days within 1-month period from the ticket issue date)
For Beng Mealea, Koh Ker and Phnom Kulen national park requires a separate ticket priced at $5, $10 and $20 respectively.

Angkor park opening hours:
Angkor Park Pass Ticket Counter: Daily from 5.00am to 5.30pm
Angkor Wat and Srah Srang: Daily from 5.00am to 5.30pm.
Phnom Bakheng and Pre Rup: Daily from 5.00am to 7pm.
All other Temples remain open daily from 7.30am until 5.30pm. (Except for Phnom Kulen and Beng Mealea)
What to wear:
In a hot and humid weather such as Siem Reap's you would definitely be accustomed to wearing shorts, sleeveless tops which is completely alright. Although, while entering the Angkor temple premises, as a sign of respect and traditional values, you are expected to wear appropriate attire that will cover your shoulders and knees.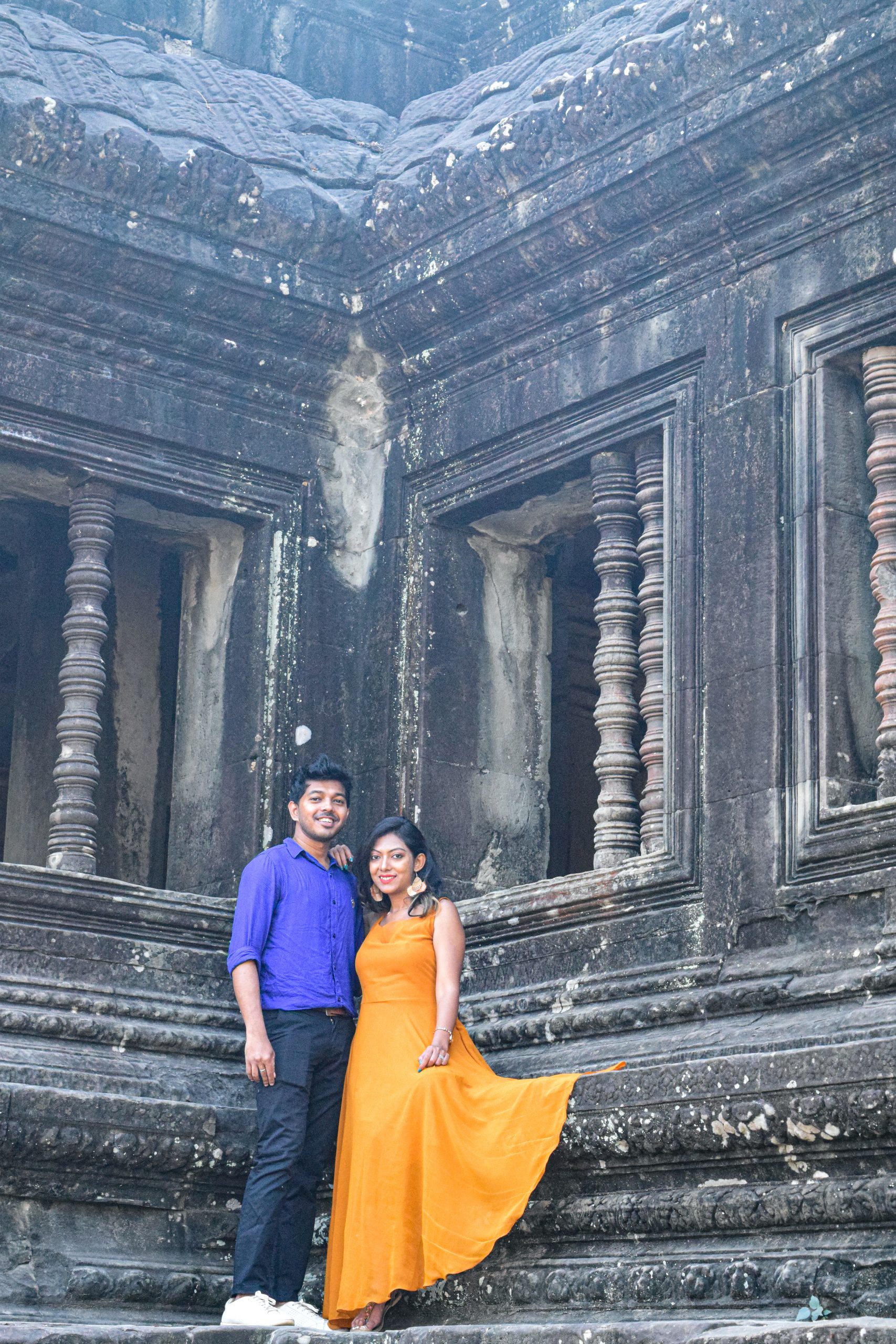 Skirts, shorts, tank/crop tops, sleeveless tees/shirts or any other form of revealing clothing are not allowed within temple grounds. Men can wear below knee length or long pants and half sleeve shirts/tees. Women can wear similar attires or any long dresses, if not preferably carry a shawl to cover shoulders and a sarong to quickly wrap up around knees.

What places to cover in one day:
To utilize one whole day, we had reached Siem Reap the day before. We boarded our flight from Vang Vieng, Laos and touched down Siem Reap around three in the afternoon. After finishing the immigration and visa formalities, we headed straight to the hotel. Gloriya looked absolutely knackered from her fever yet she wanted to go out for dinner. For a while we walked around the night market, parceled our dinner and returned early to the hotel by 7 pm. As her fever was rising, she took medicine and slept with an undying spirit and hope of pulling it through the next day. I kept thinking of cancelling all the plans for the next day to let her rest, before finally dozing off.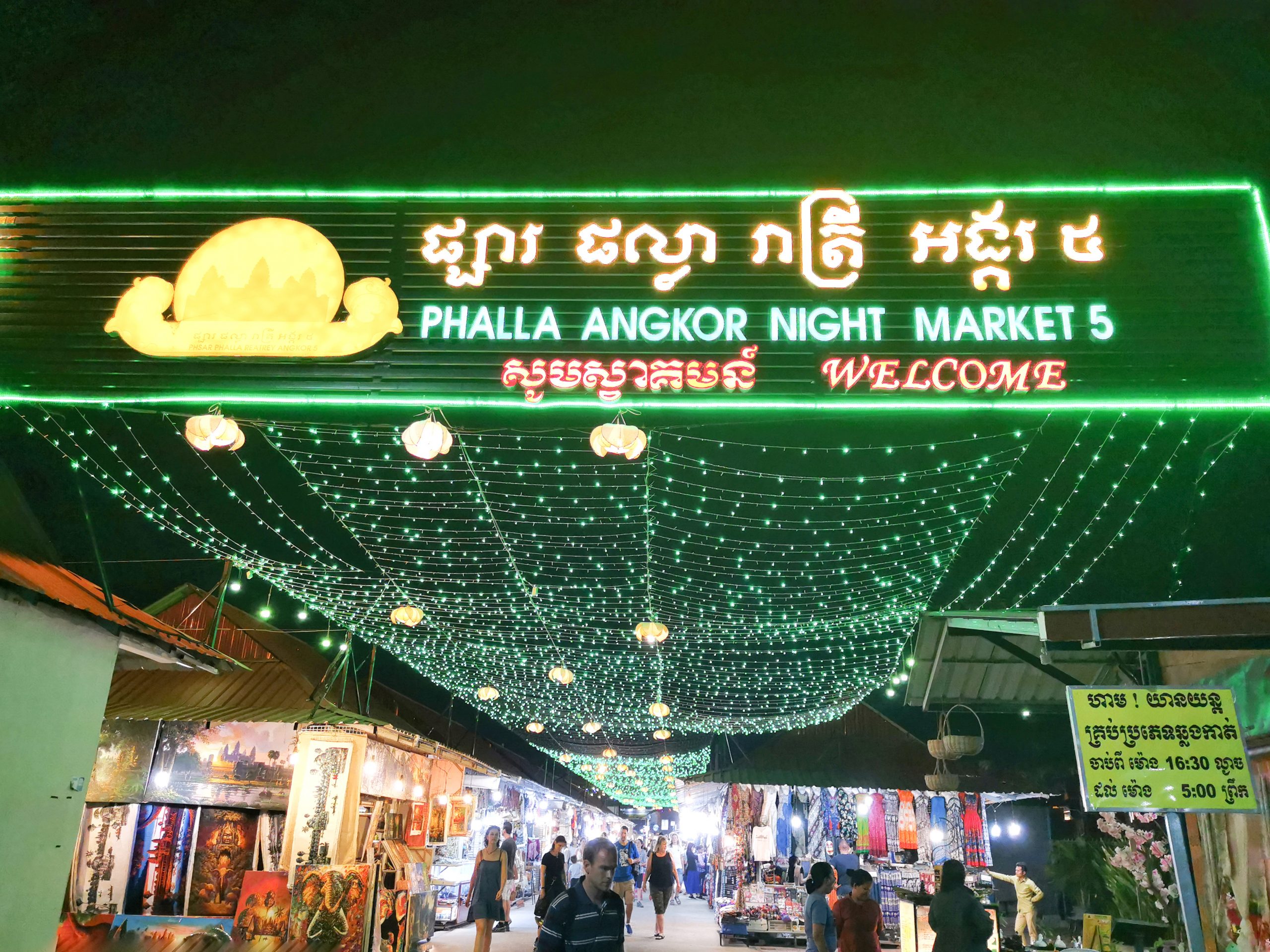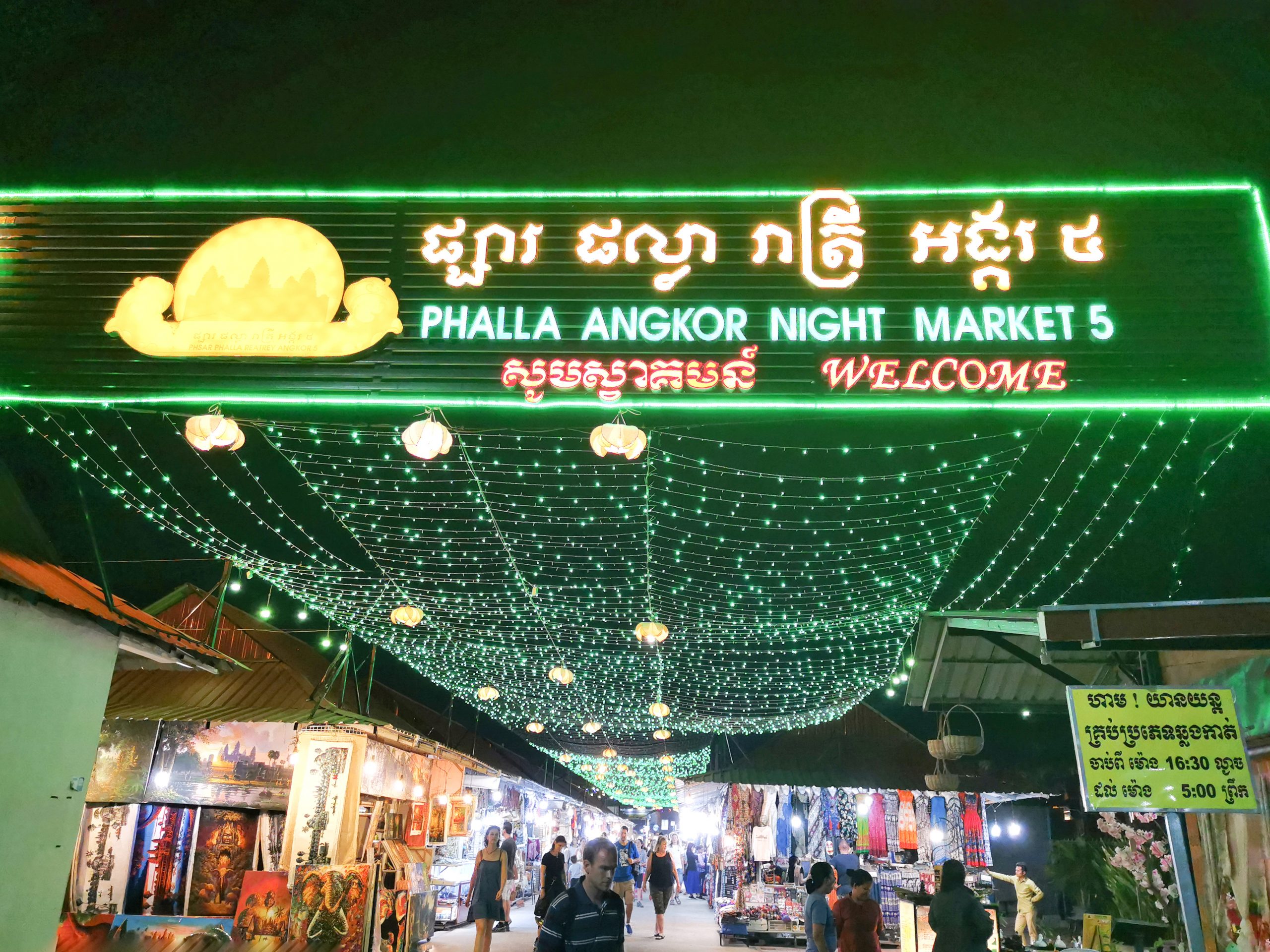 If you are not facing a similar plight or not too tired from your journey then probably take advantage of the evening to try out some of the best-known evening activities. Exploring the local foods scenes on your own or just take a guided Street Food Evening Tour from some of the local organizers. Head towards most renowned shopping venue and Siem Reap's first night market Angkor Night Market (https://angkornightmarket.com/), you can find rows of local vendors selling a wide range of handmade Cambodian arts and crafts, souvenirs, clothes. If you are hungry, there are also several street foods karts and eateries in the market, where you can enjoy live music performances, local and western delicacies. If you are still not white-eyed and want to make the most out of your limited time then go to Pub Street, where Siem Reap's nightlife booms after twilight. With several buzzing nightclub and bars, restaurants, pubs, this is the most happening and go-to-place for any party animals.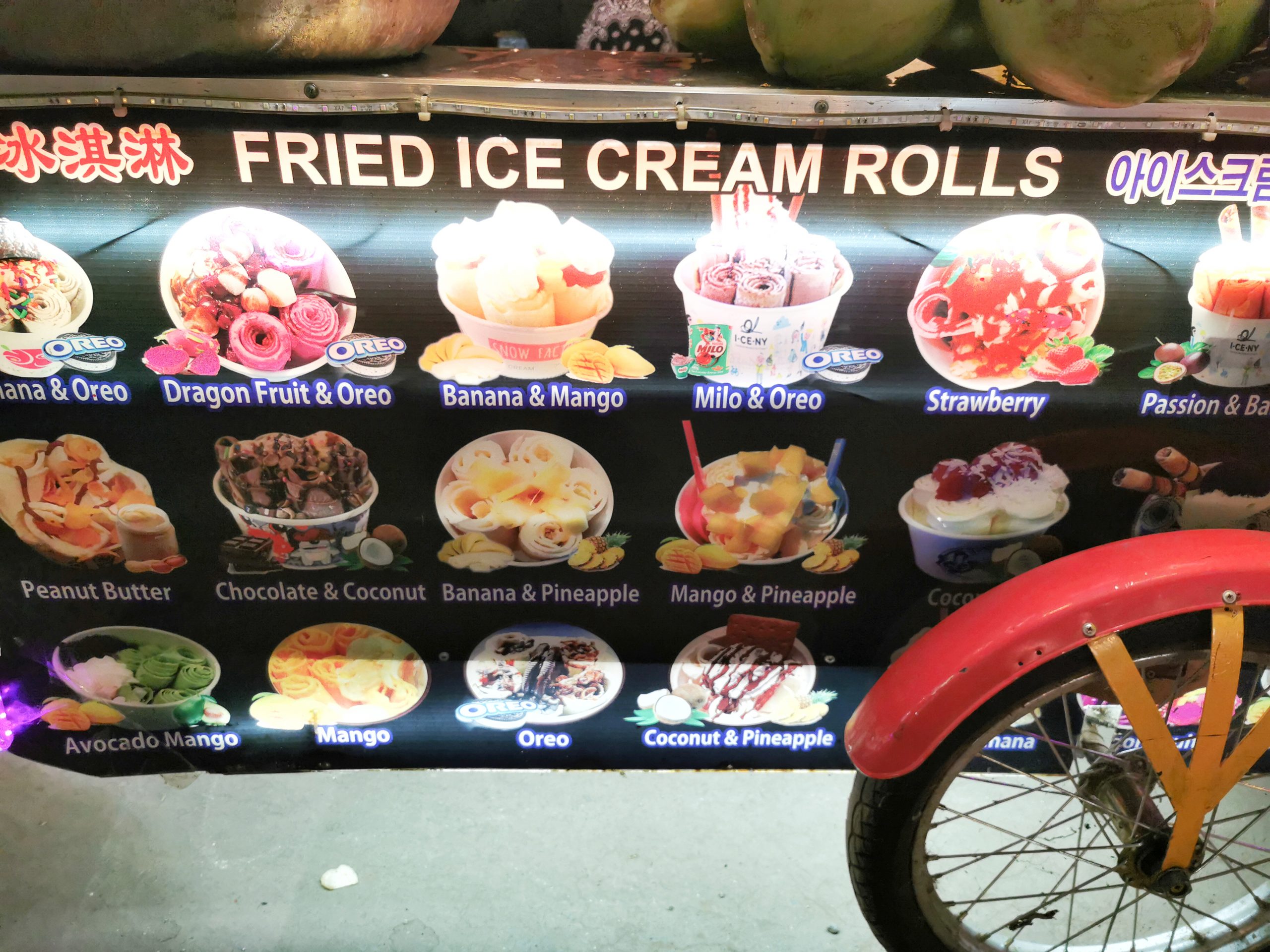 The next morning, we woke up as early as 4 am. Her fever was seemingly low, yet she was looking pale. We decided if she doesn't feel good then we would come back to hotel. Swiftly we left our room around 4:45 am and got picked by the same tuk-tuk driver who had dropped us till hotel the previous day. After collecting the tickets from Angkor Enterprise, it took about 15-20 minutes to arrive at our first destination of the short circuit tour.
From the parking lot we walked towards the entrance. My watch showed 5:45, still it was too dark to see much. We sat on the stairs of the moat, waiting for the Sun to rise and shine. And we were not the only ones, there were many like us from across the world, to witness the epitome of Cambodian architecture and history at its golden hour.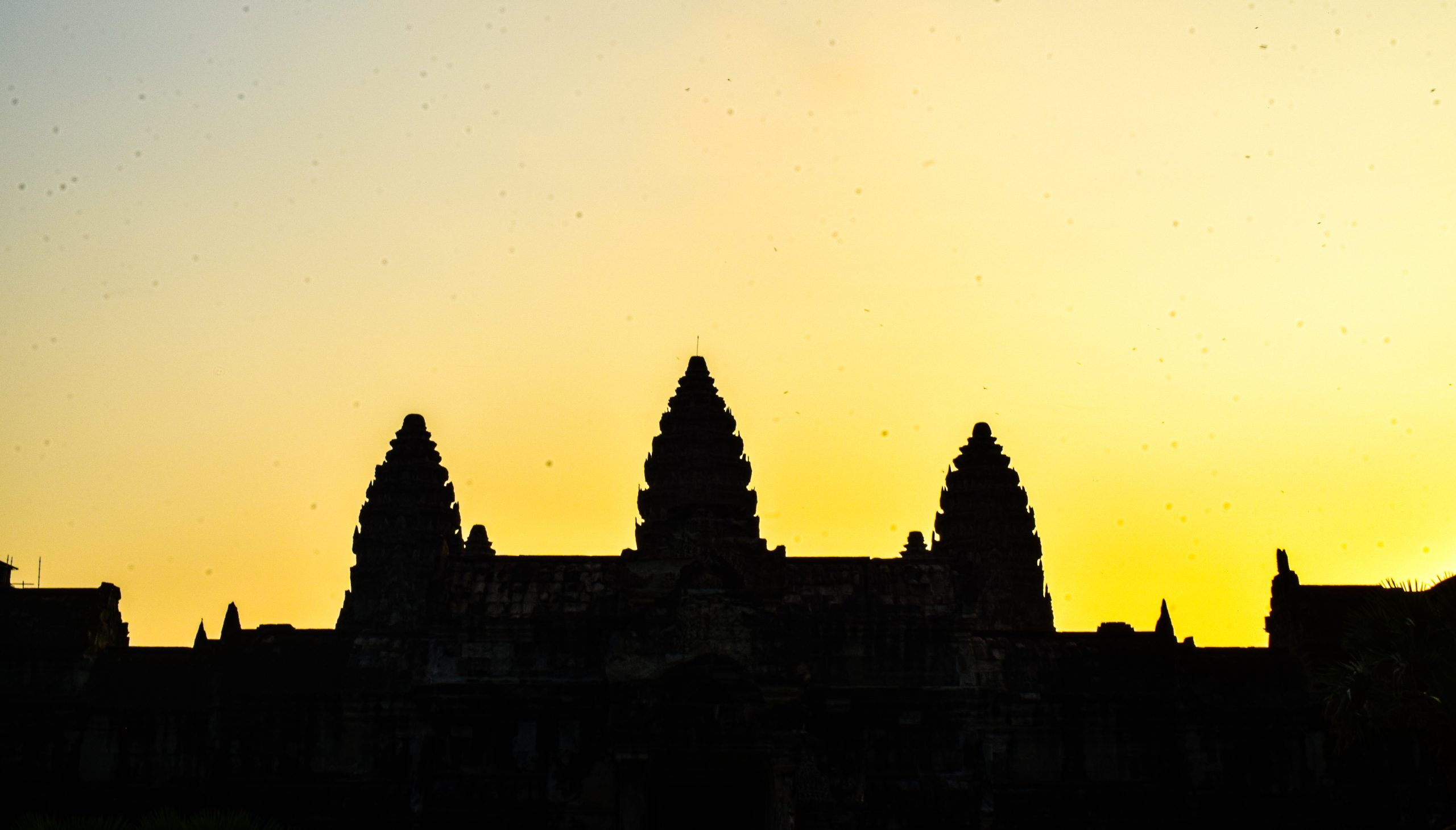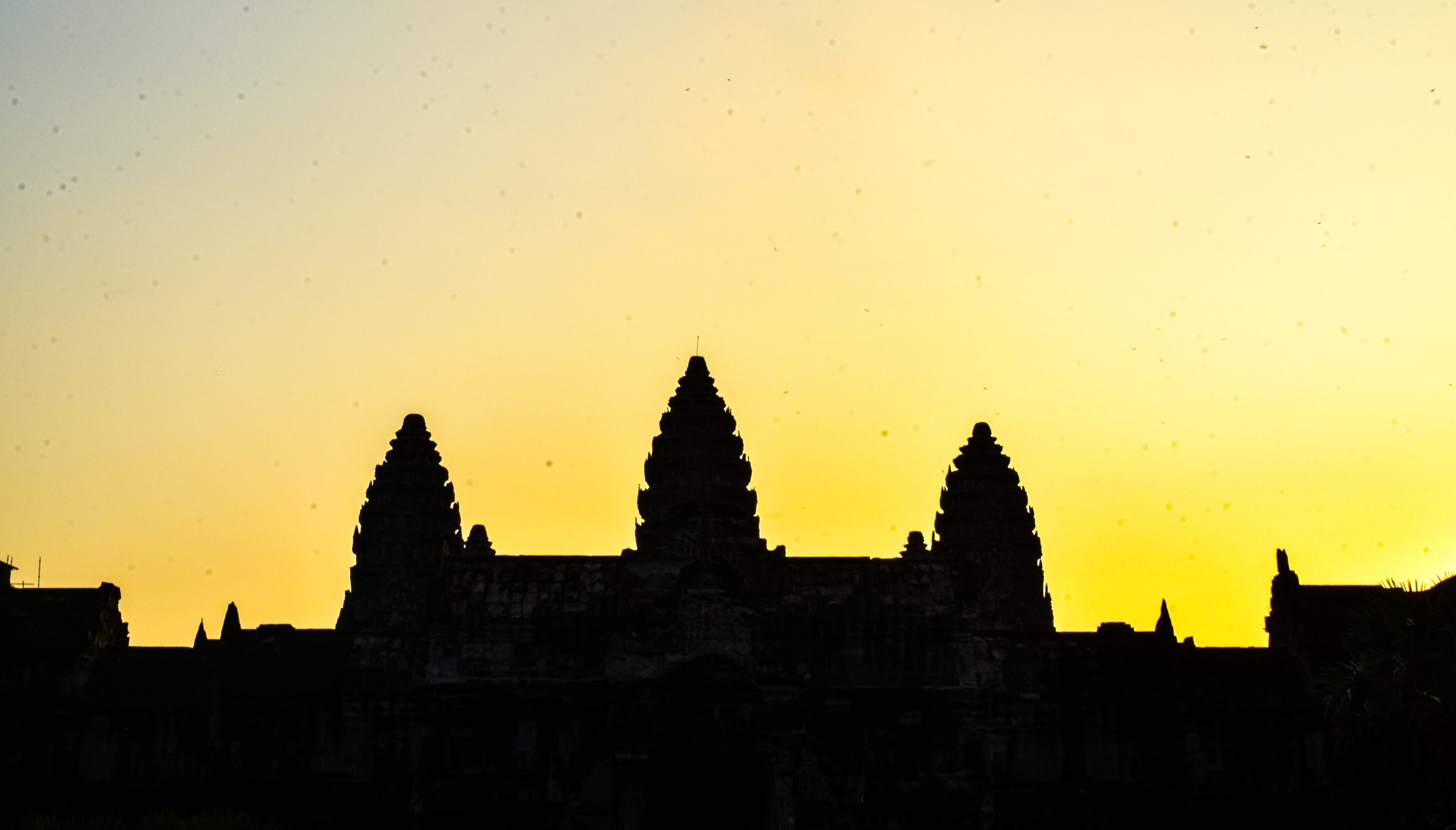 Every sunrise starts a new day in our life but how often those aureate light brings to you the mystical tales of a lost world that would have existed some 900 years ago? Answer is 'Rarely' but not when you're standing in front of the largest religious monument in the world, "Angkor Wat".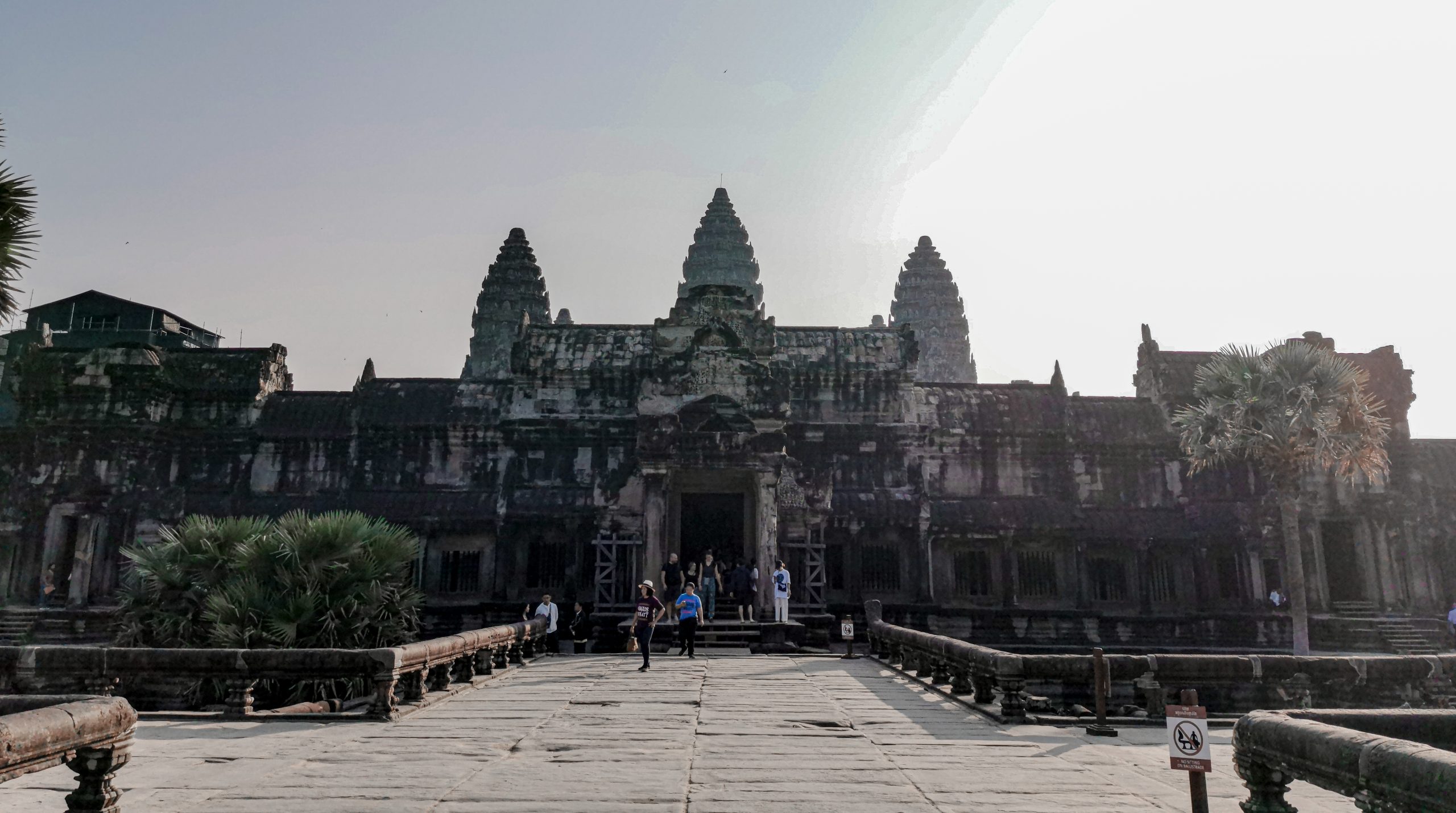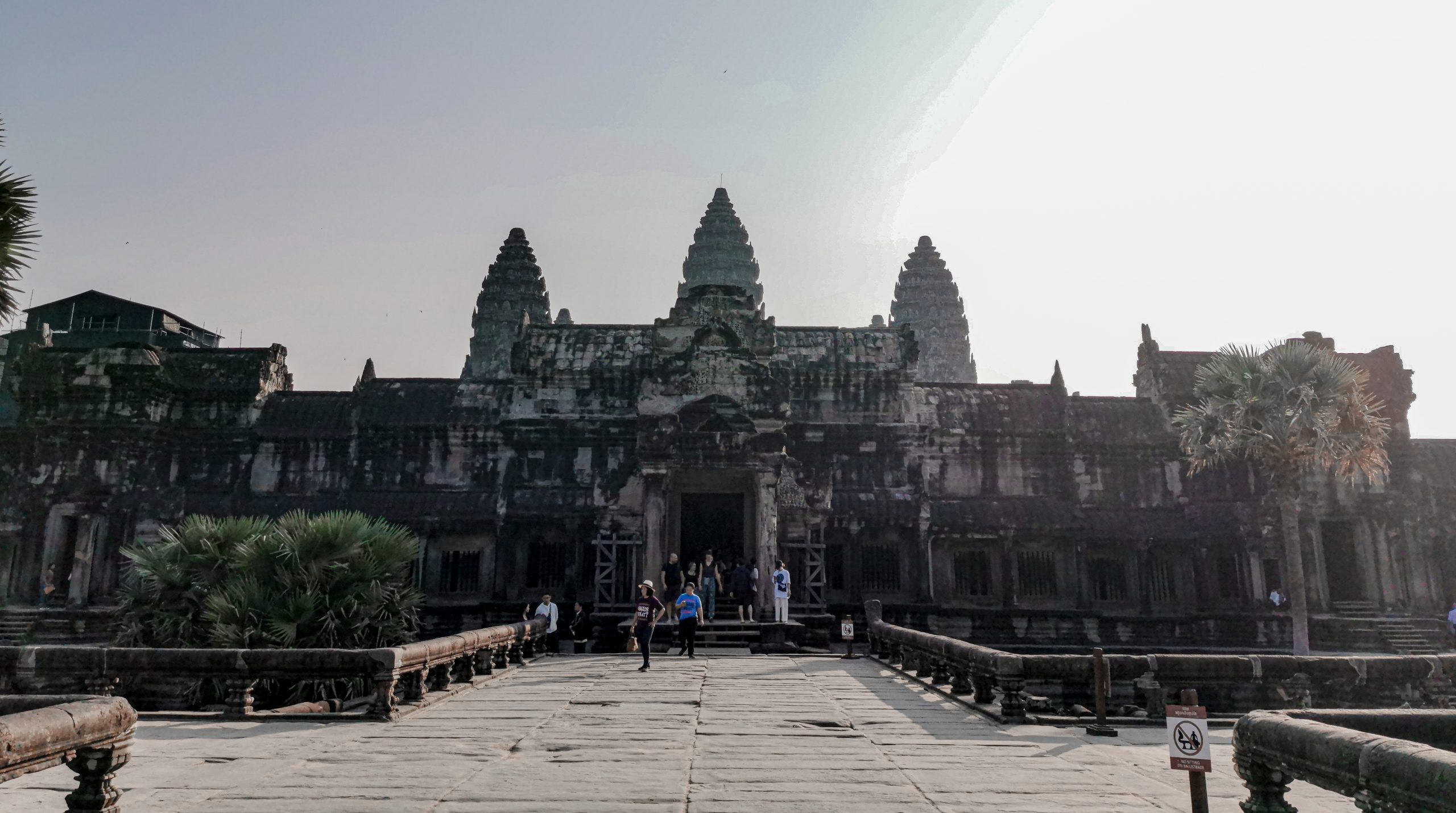 Location 1: Angkor Wat (6-9 am)
Angkor Wat is the biggest ancient temple in the world, built under the reign of King Suryavarman II in the early 12th century as his state temple and capital city. The monument stands out as the crown of Khmer architecture and its sheer size will astonish you at the magnitude and miracle of construction work carried out at that period of time. Literally no stones were left unturned to ensure that this was not just another piece of temple among the hundreds other. Initially when the foundations were laid, the temple was dedicated to God Vishnu of Hindu mythology and later transformed into a Buddhist temple towards the end of the 12th century.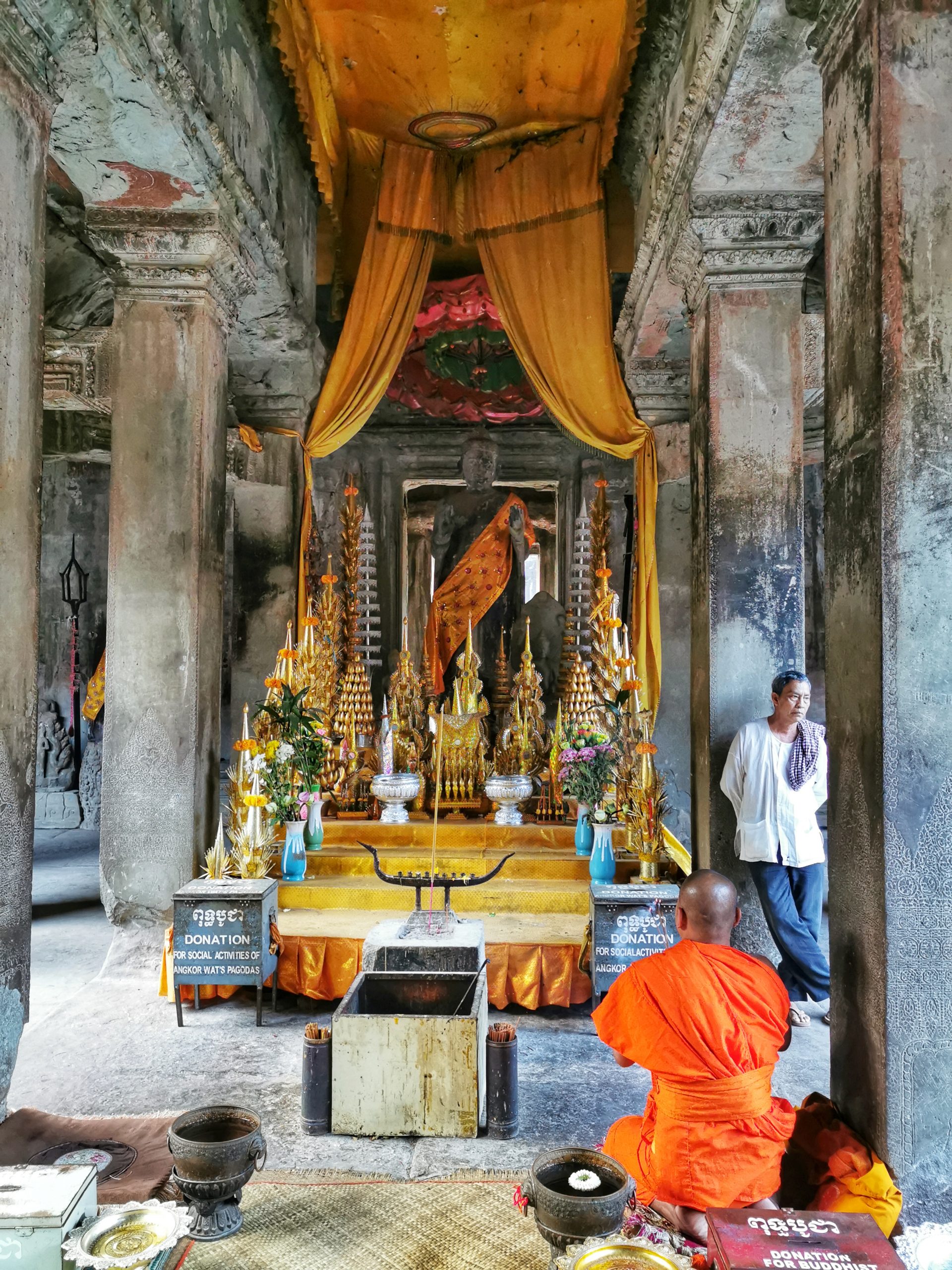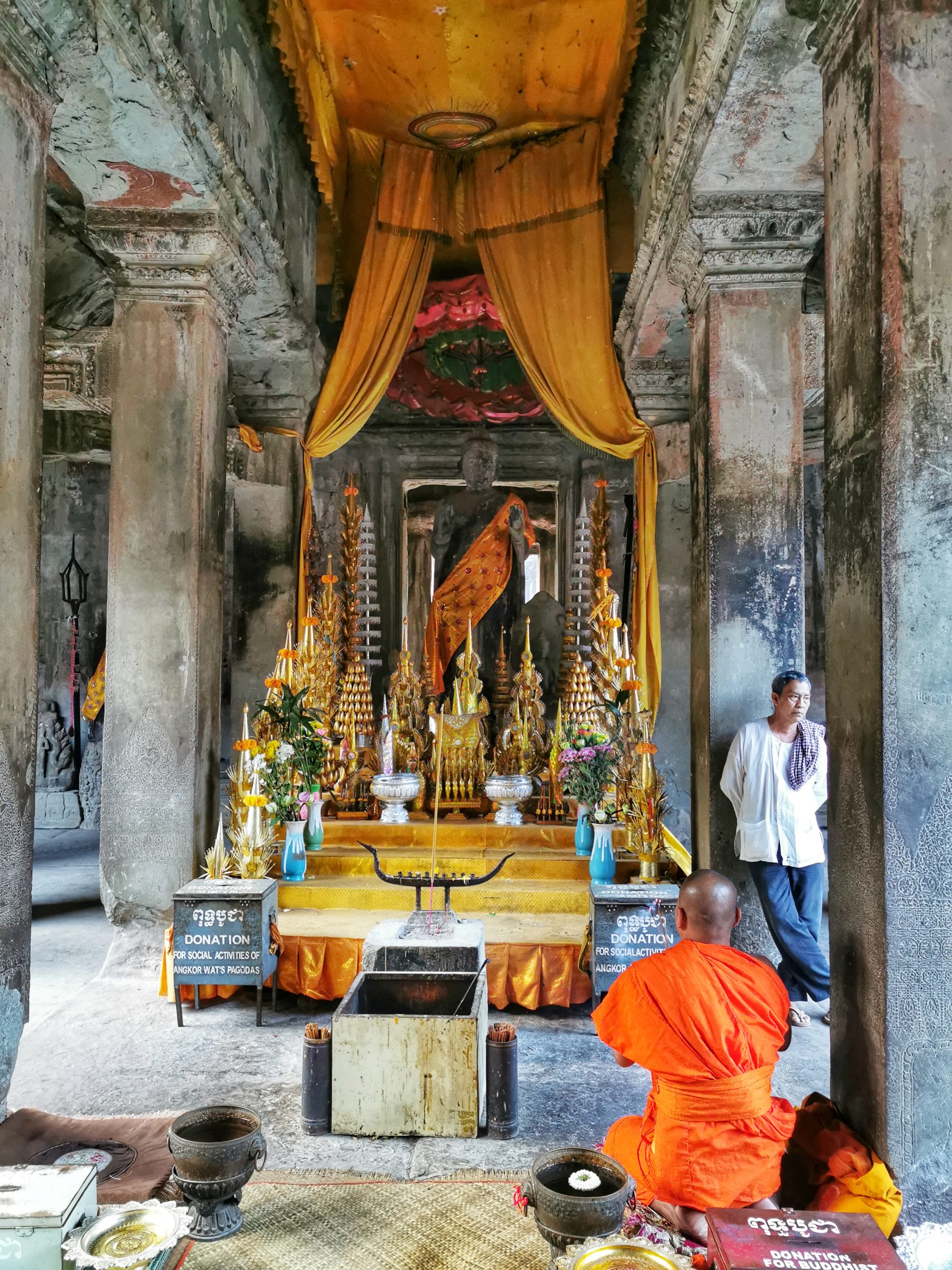 Surrounded by a 5 km long moat and 3.6 km long outer wall from all sides, the central temple area consists quincunx of towers, half-galleries to broaden passageways, decorative elements of devatas & apsaras (deities and angels), wall carvings with scenes narrating Hindu epics the Ramayana and the Mahabharata. The central tower was designed to represent mythical Mount Meru, the supreme abode of the devas (Gods) in Hindu mythology.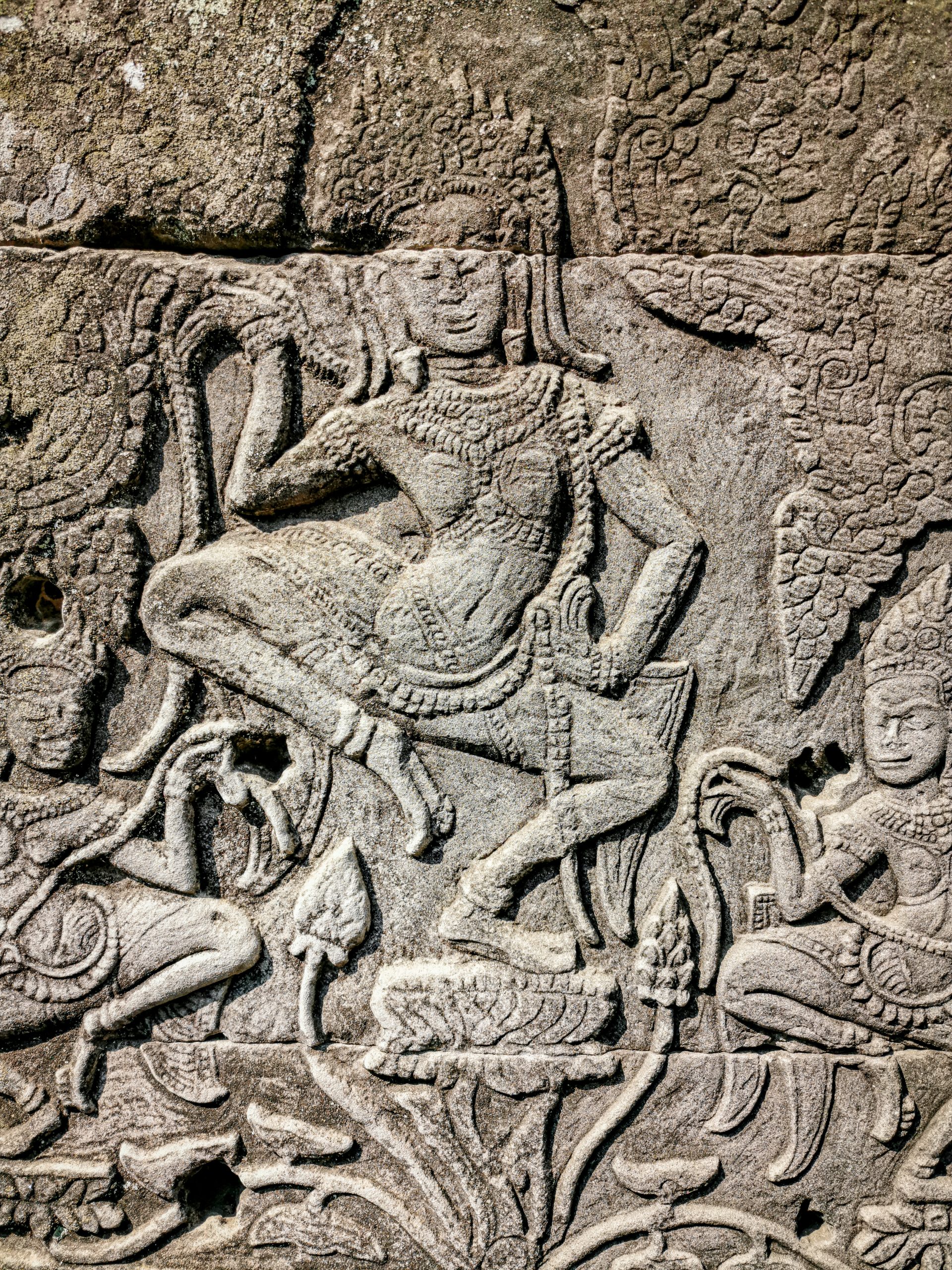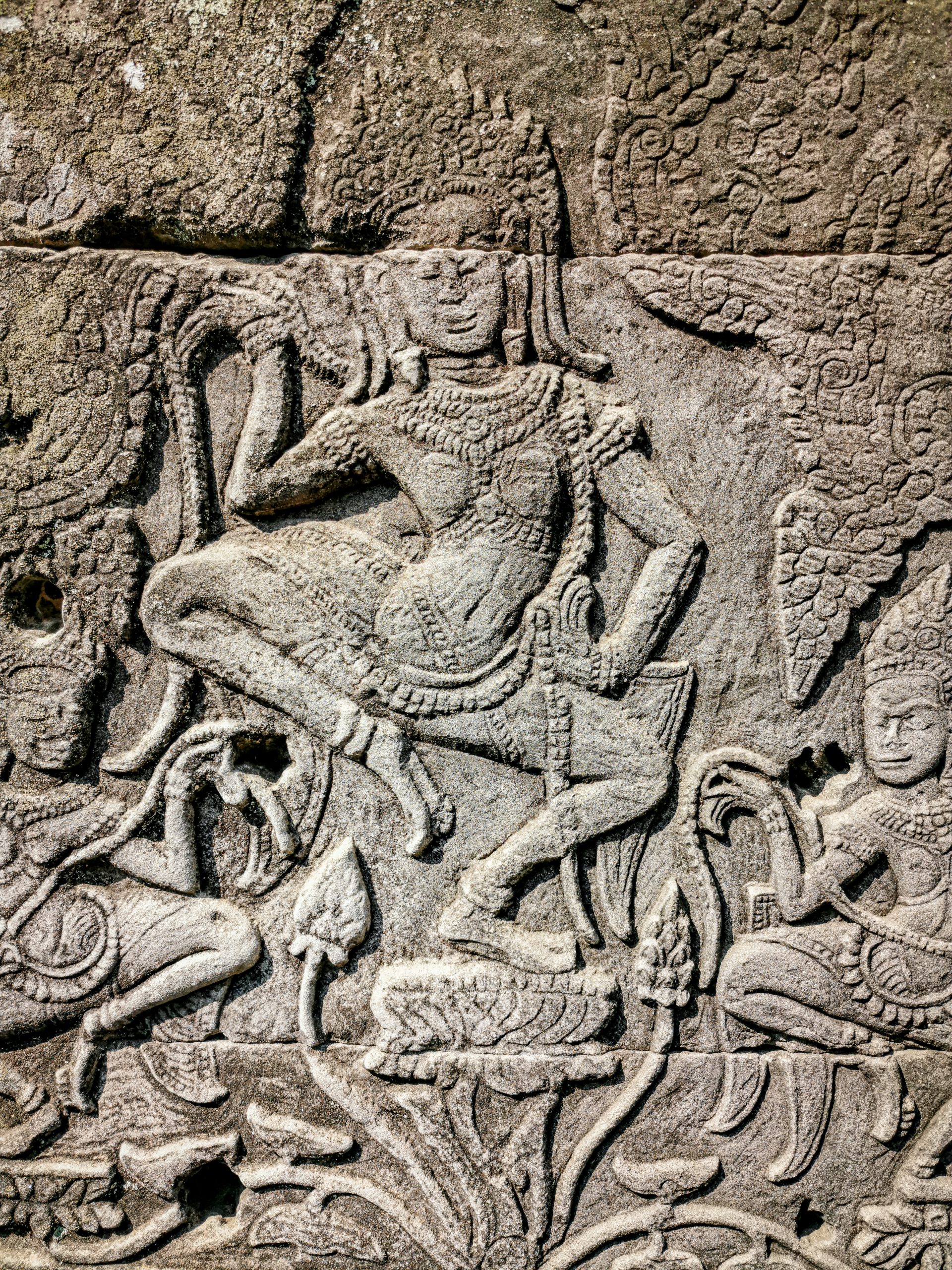 As you pass through different gopuras (entrance tower), corridors, chambers, levels and courtyards, as you brush/glide your hands over the centuries old stone carvings and arts, as your eyes glance through the different corners, pillars, bas-reliefs, idols, you get more intrigued and overwhelmed. You cannot help but imagine and get lost into thoughts of how this place would have felt at that age. For a brief moment you become one with history and get transported to a different world.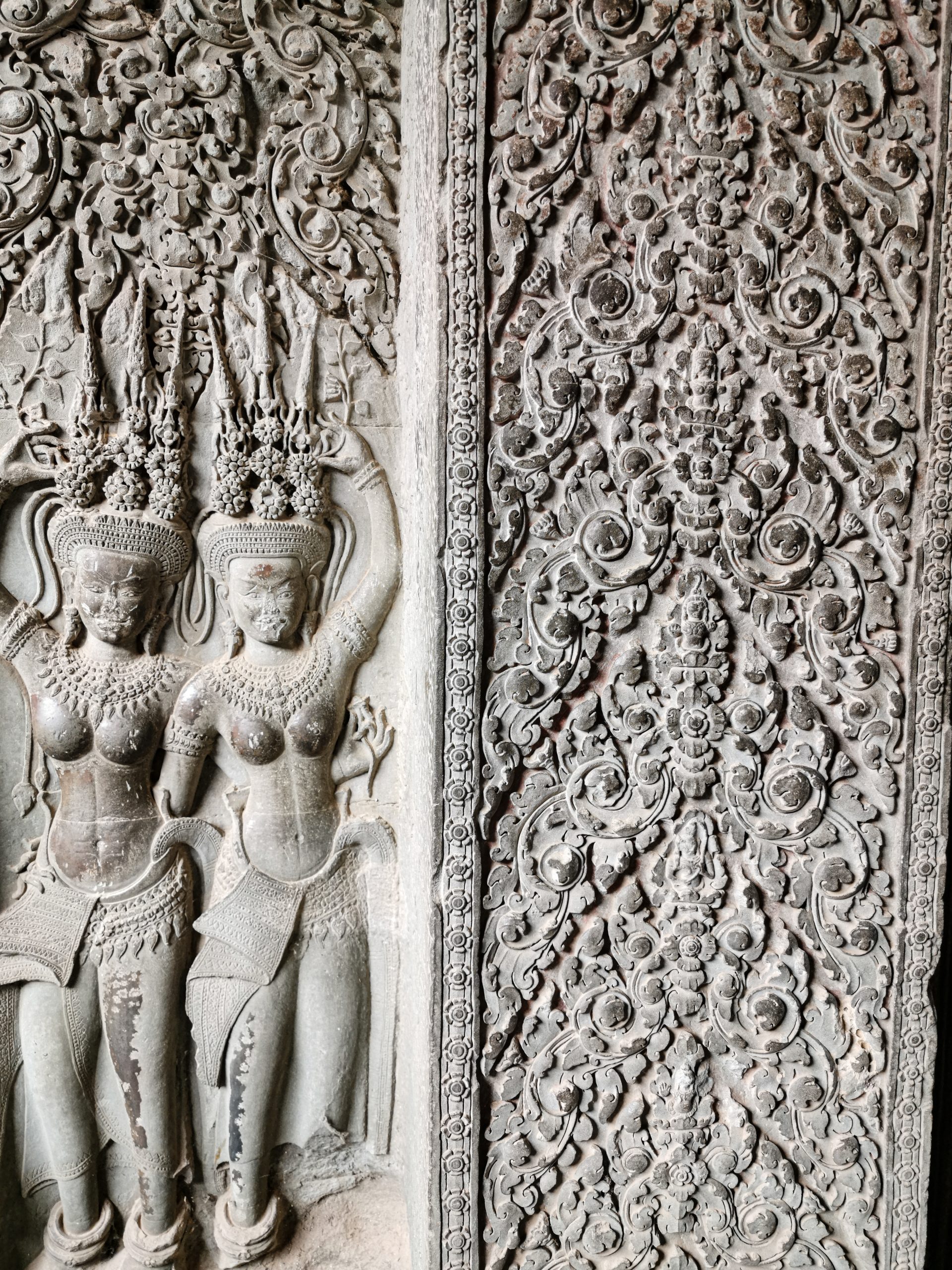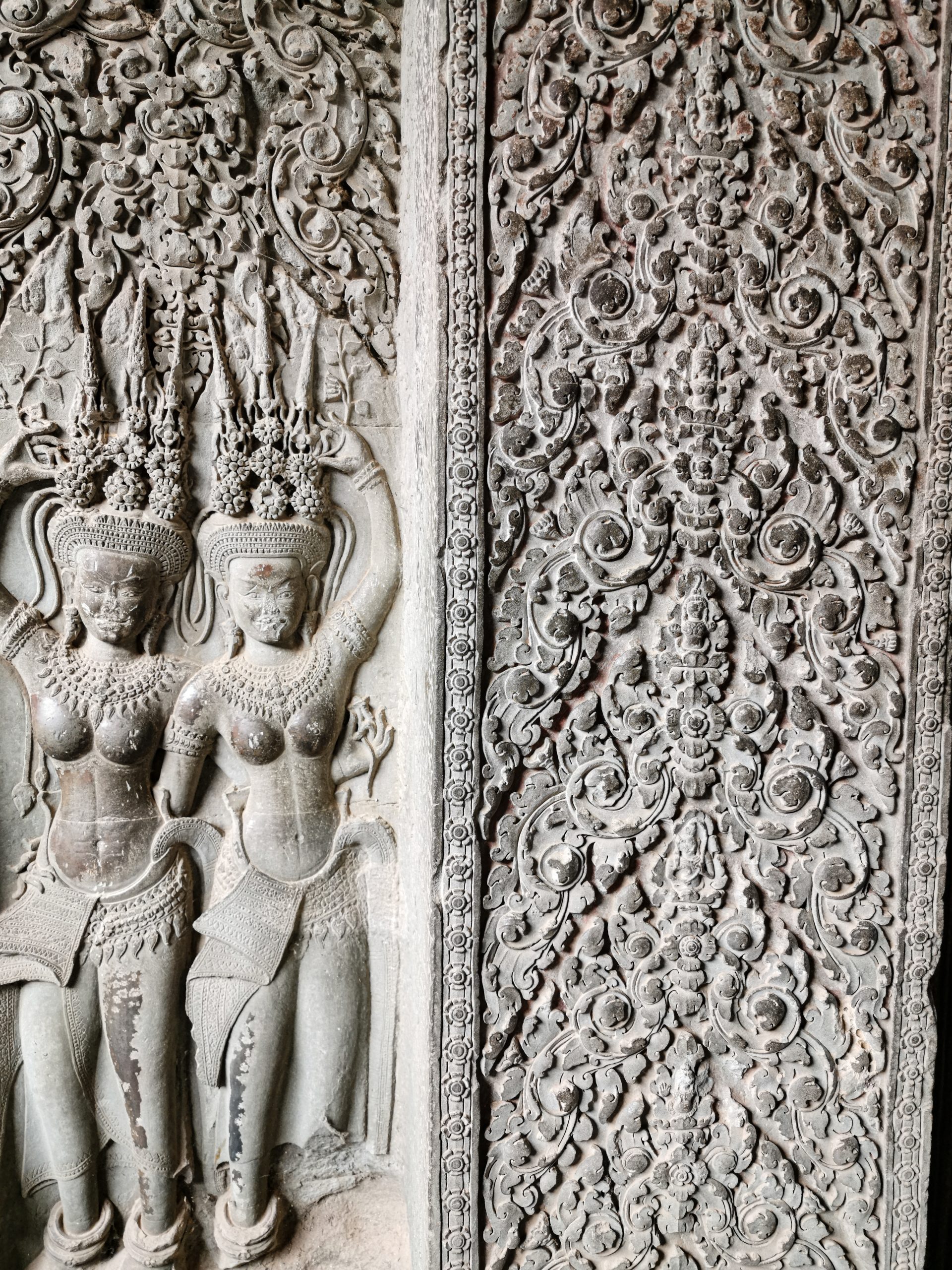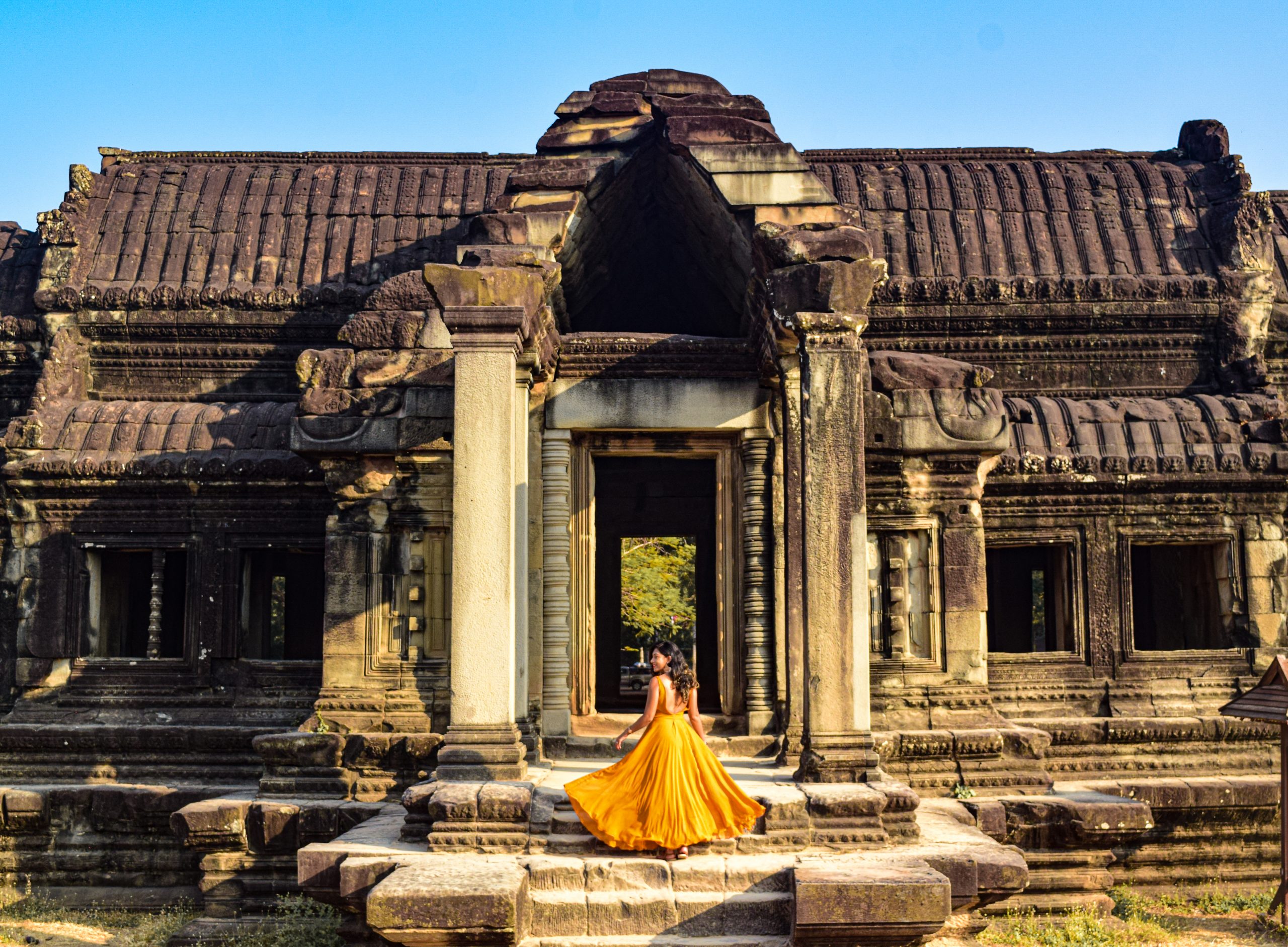 The intricate details of battles between gods and demons on the walls, the inscriptions on the scale of its construction, coexistence of Hindu epic tales alongside Buddhist influences, the legend of it being constructed in a single night by a divine architect, the fact of it withstanding the test of time, the grandeur and harmony of its design has only drawn praises from everyone who ever visited Angkor Wat. It is not just a symbol of political, cultural or commercial significance, but truly a sign of power, pride and divinity for World heritage.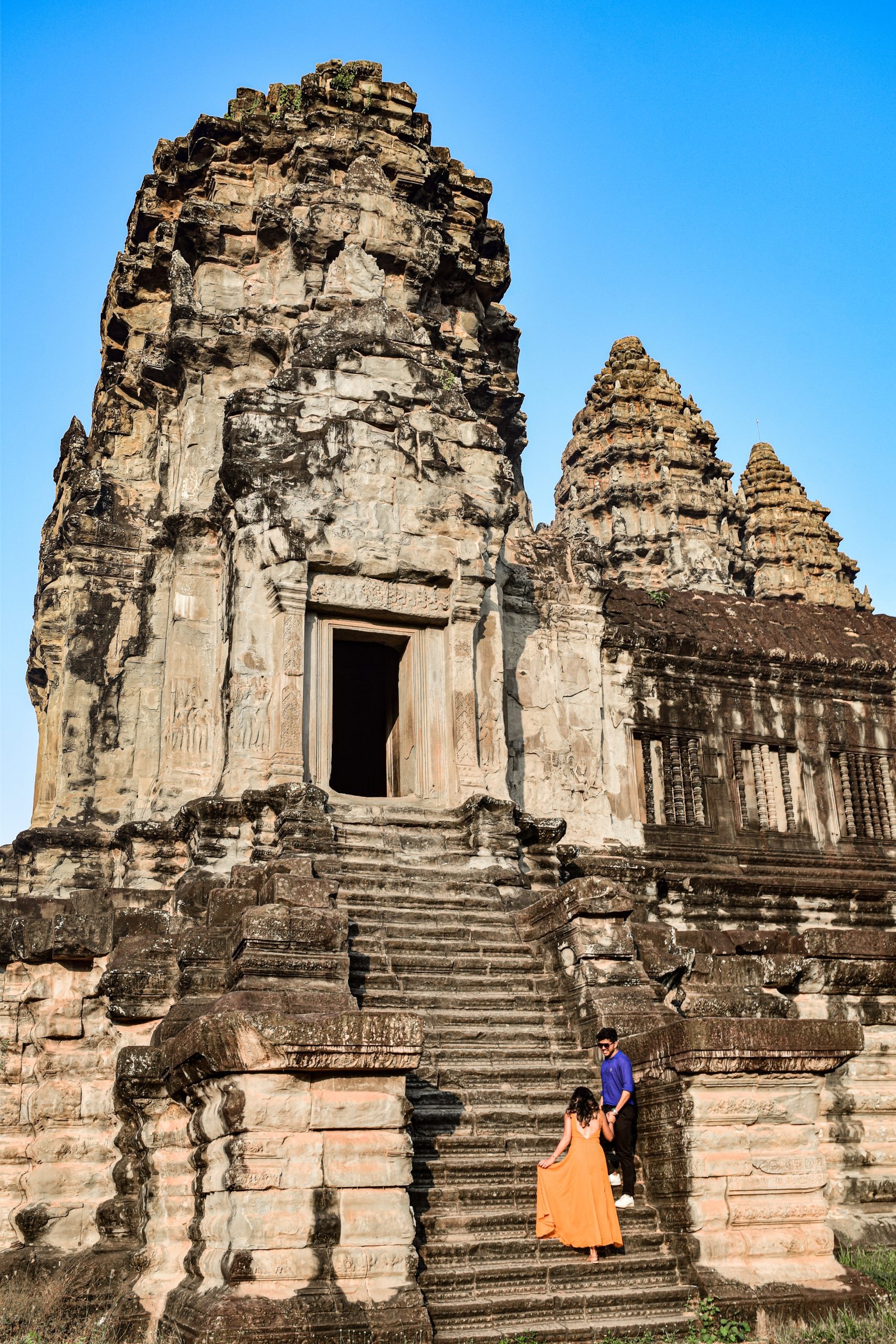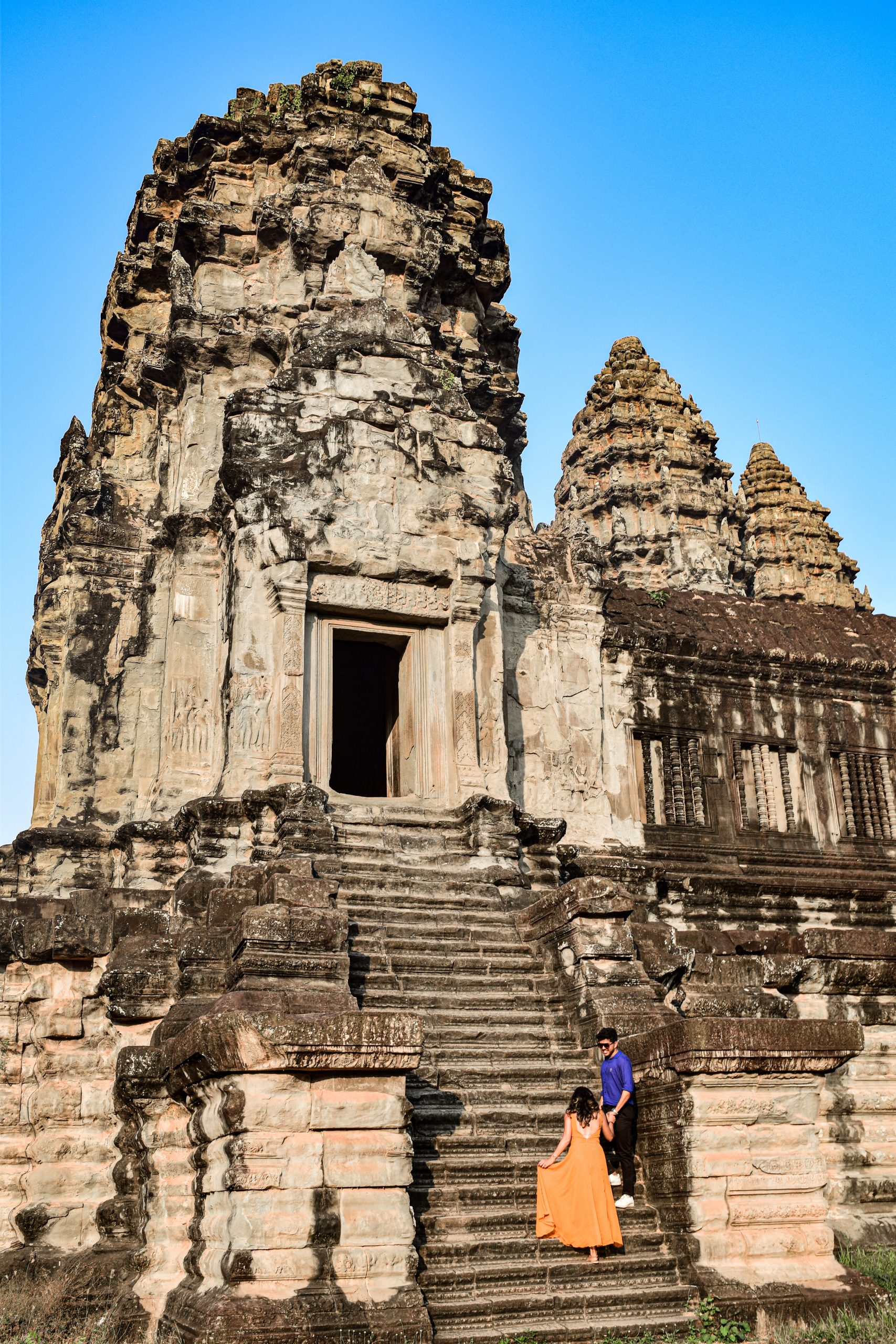 Note: Around 3 hours should be good enough for you to explore the site, though to be honest even half a day exploration will keep us mesmerized.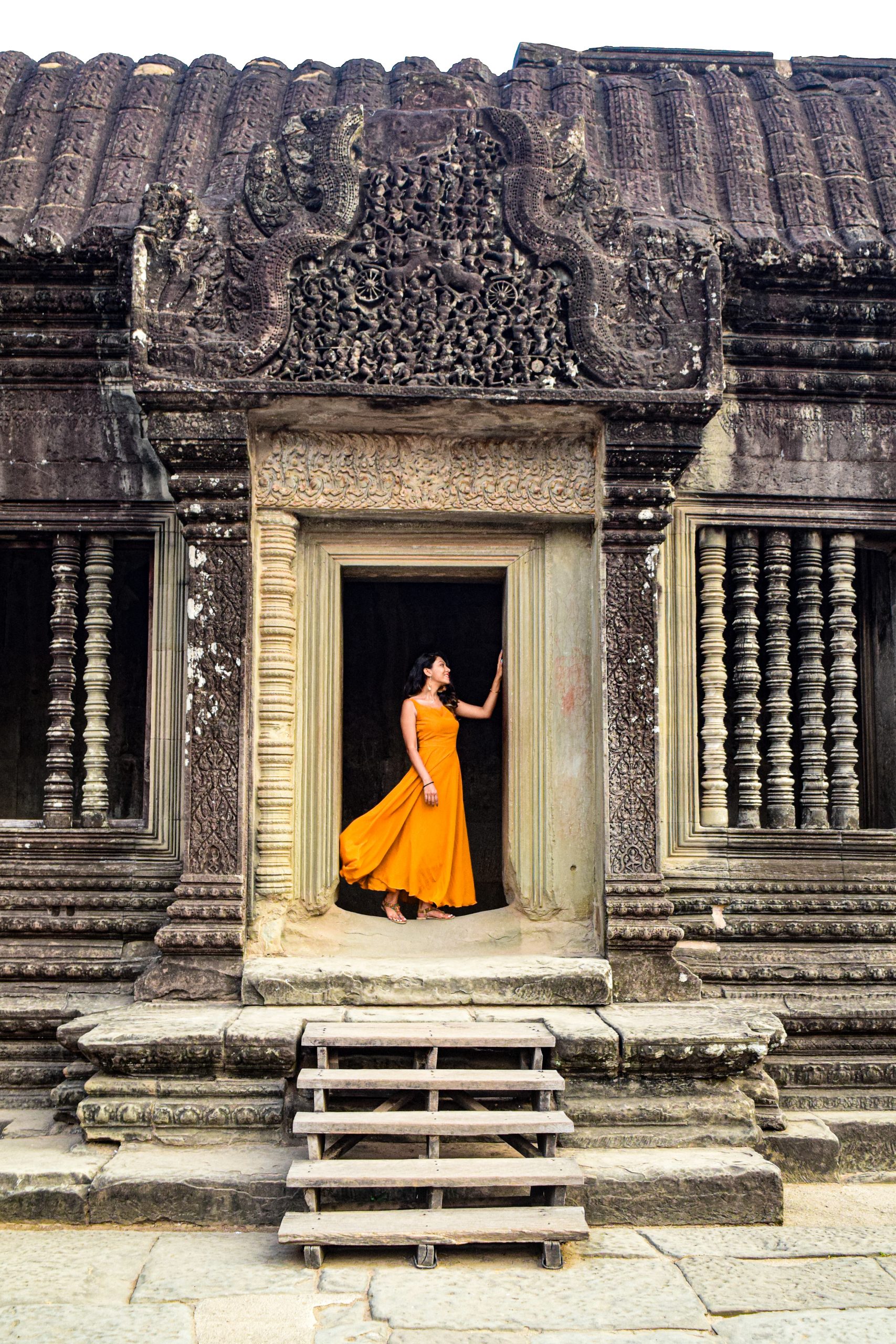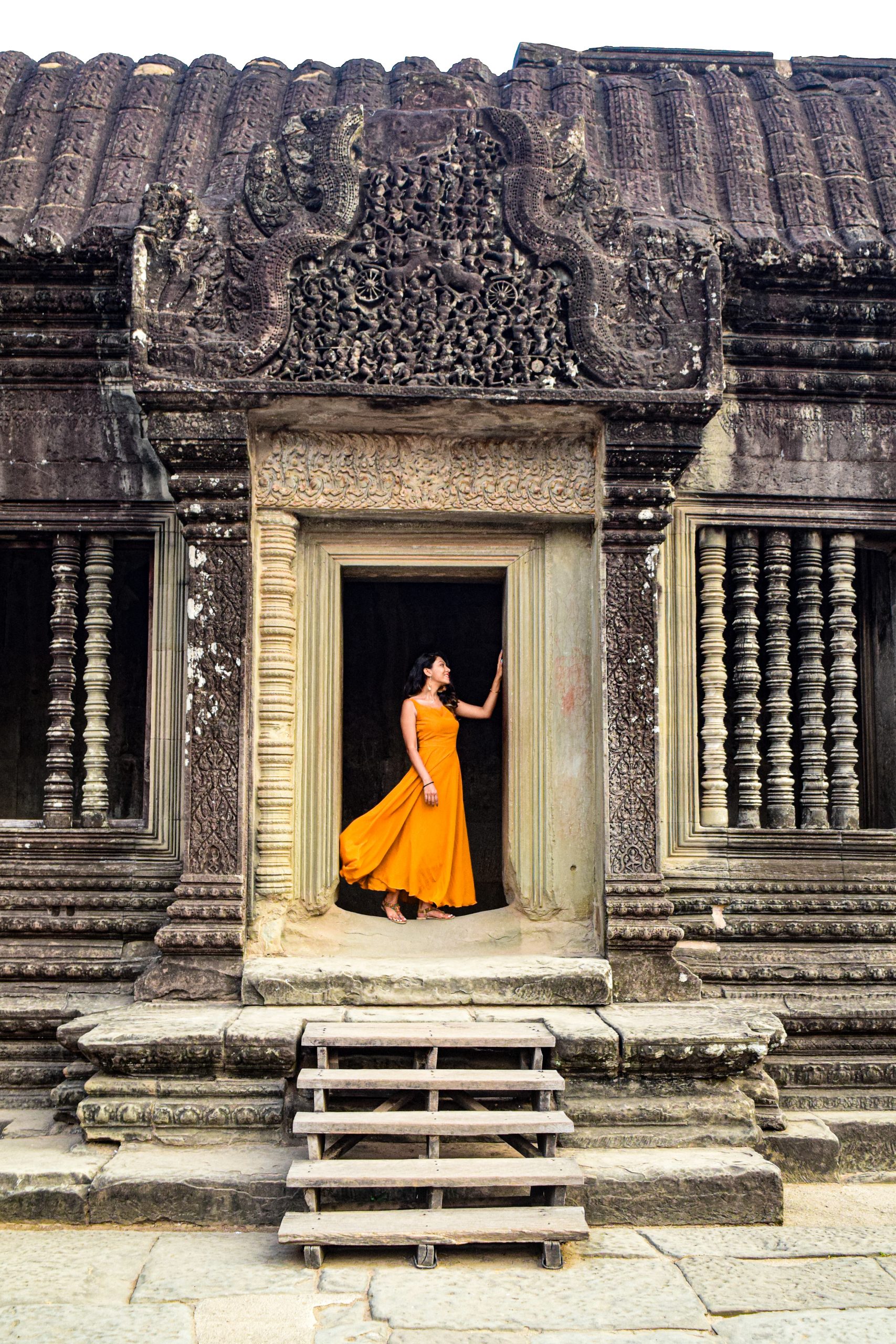 Keep in mind that over the years sunrise at Angkor Wat has turned into one of the world's most iconic travel images. So, don't get hassled if you see thousand other shutterbugs waiting to capture the spectacle. If you prefer to avoid too many tourists then visiting at late afternoon is also a good option where you can experience the Sunset. Seeing the sunrise was on our bucket list like many others, so regardless of crowd we visited as early as possible.
Try avoid visiting at the middle of the day due to scorching sun and extreme heat.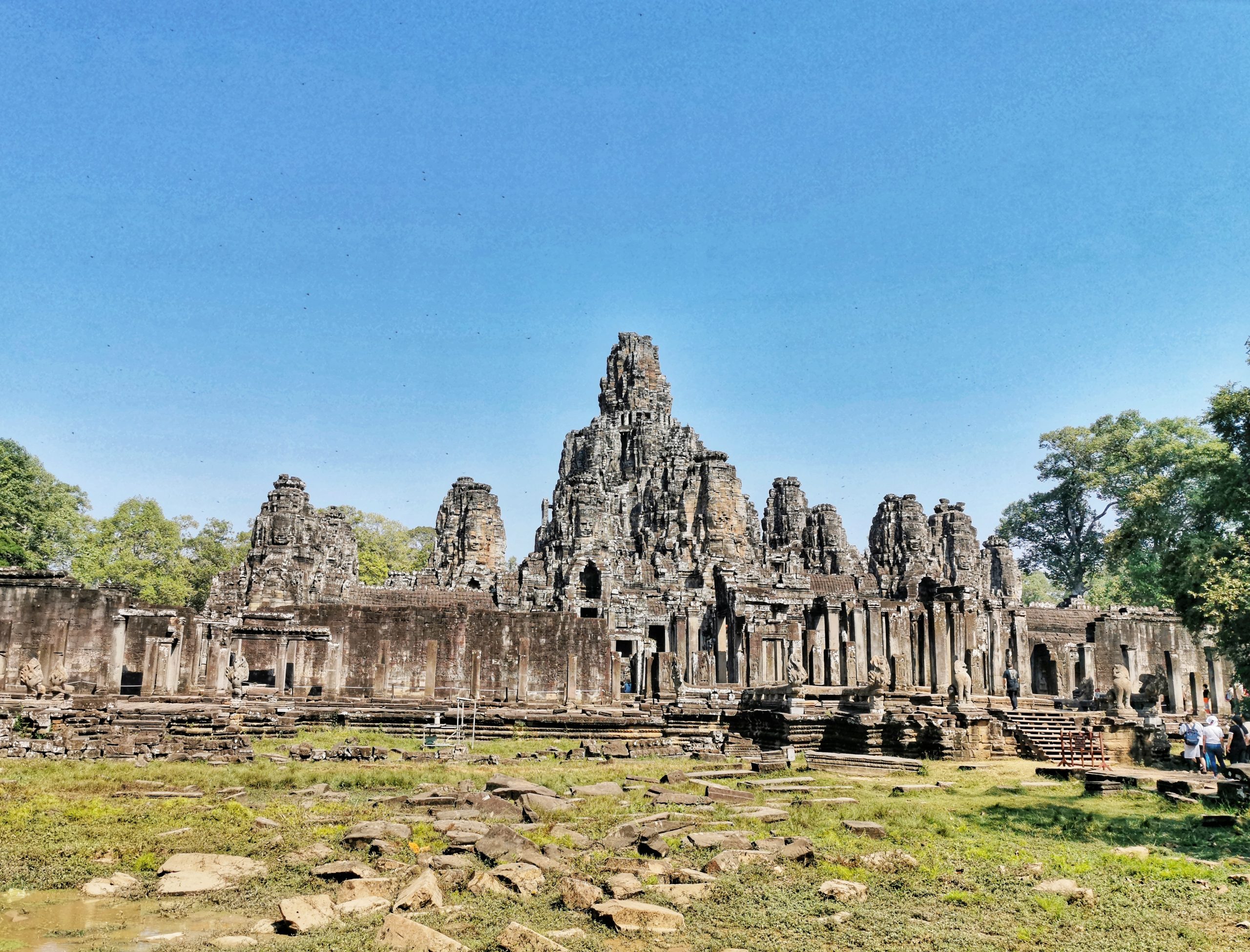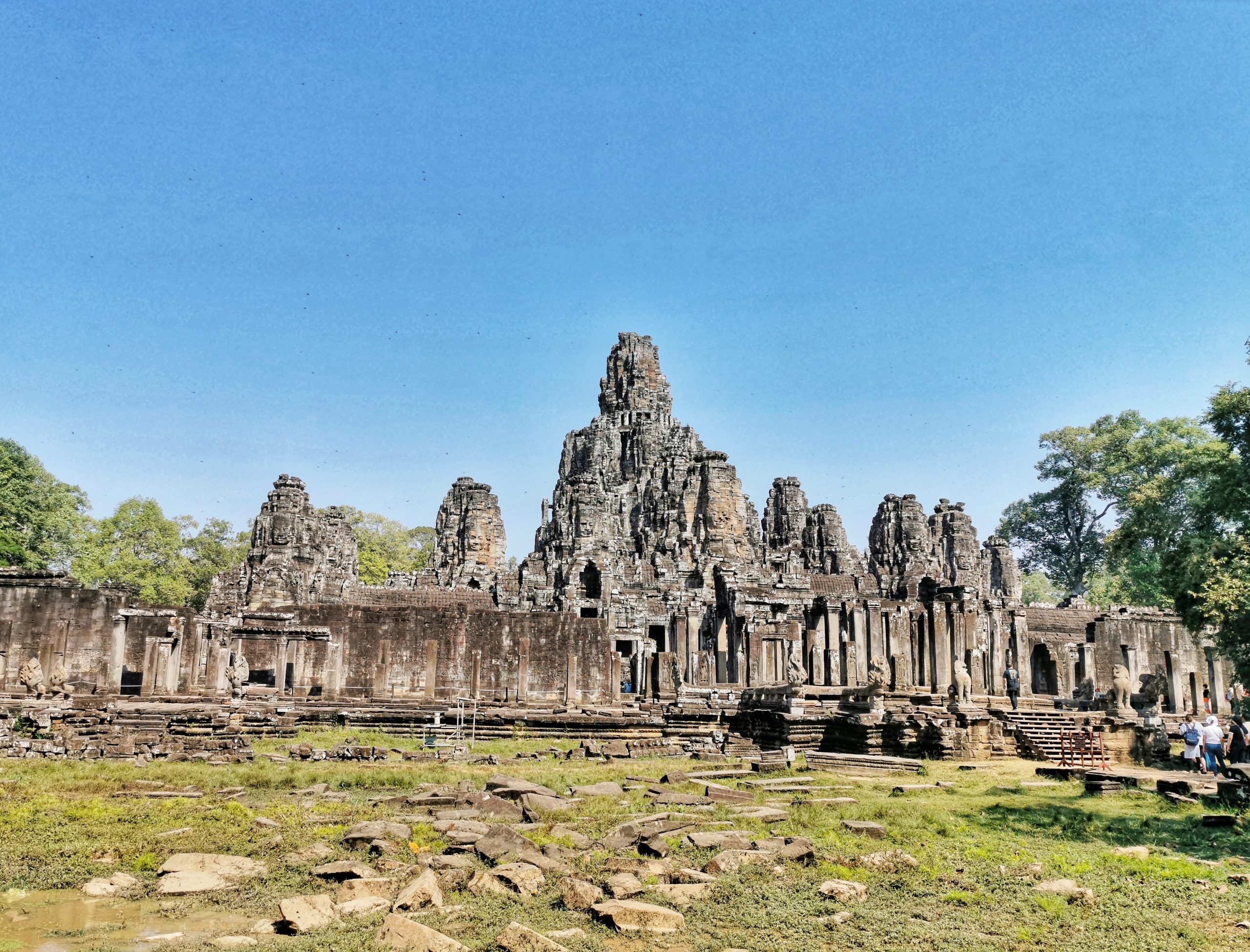 Location 2: Angkor Thom (9:30- 11:30 am)
Angkor Thom means the "big city". This is the largest site in the archaeological park of Angkor. Built during King Jayavarman VII's rule, it was the last great capital of the Khmer Empire. Similar to Angkor wat, Angkor Thom is surrounded by high defensive walls and flanked by a moat. However, what distinct Angkor Thom from its contemporary cities are the "face towers".
The city has five gates, one at the centre of each of the surrounding walls, an extra one (the Victory Gate) that extends from the compound of the Royal Palace of Angkor Thom, next to the Terrace of Elephants, past the Suor Prat towers, and then eastwards toward Chau Say Tevoda temple.
Each entry gate has a tower of four large head sculpture, from which roads lead to centre of the city at the Bayon temple. These heads face four cardinal directions representing Lokeshvara, the Bodhisattva of compassion, the central tower contains 2 faces looking in opposite directions, the smaller towers have 1 face each looking in one of the remaining two directions.
On the either side of the bridge towards the gates, you will notice a balustrade of fascinating stone sculptures representing devas (gods) on the left and asuras (demons) on the right. Each row creating the impression of a tug-of-war by holding a naga (serpent) and symbolizing the famous churning of the Sea of Milk as per Hindu mythology, jogging our memory of watching the Hindi mythological series on television during teenage years.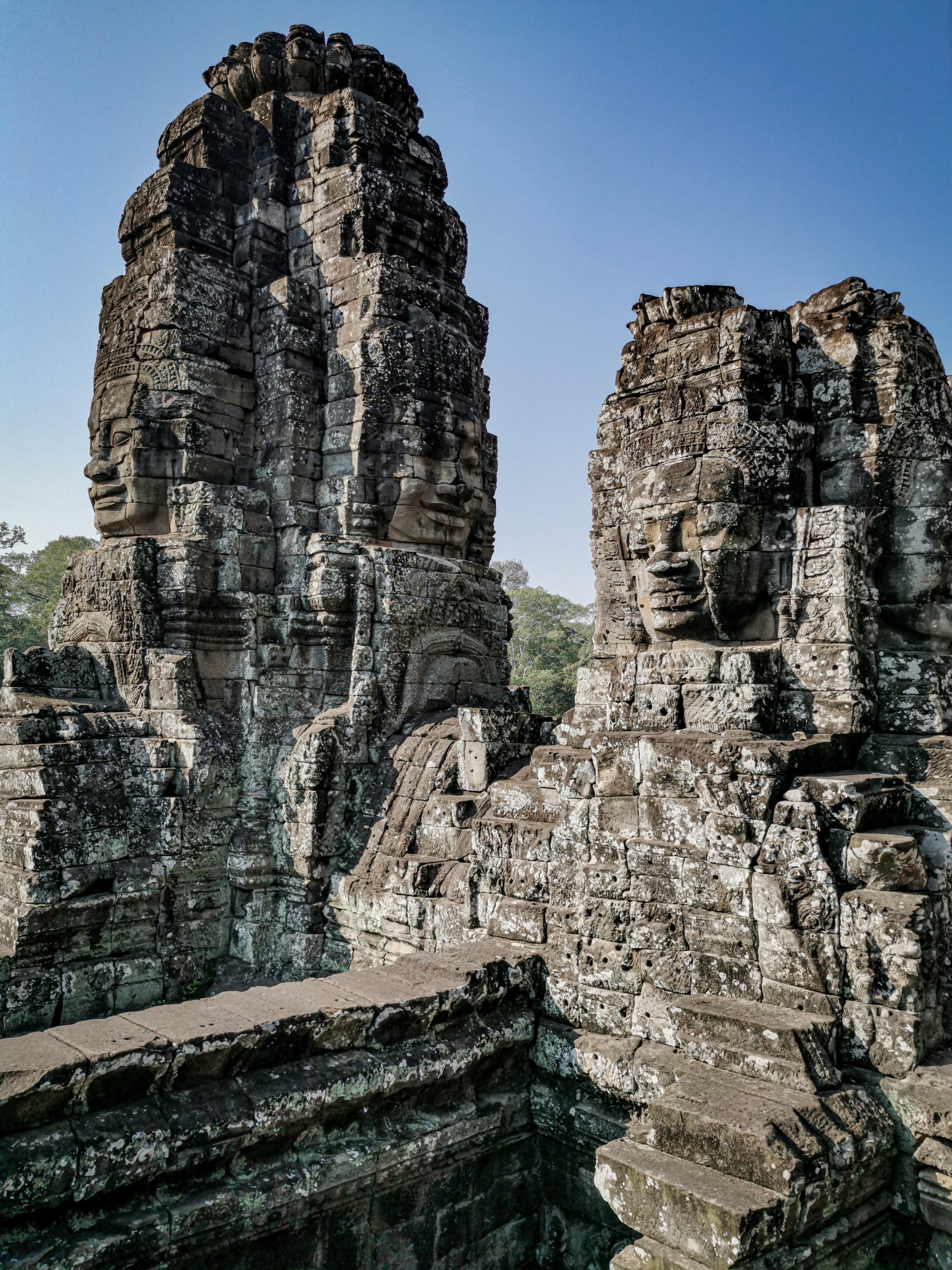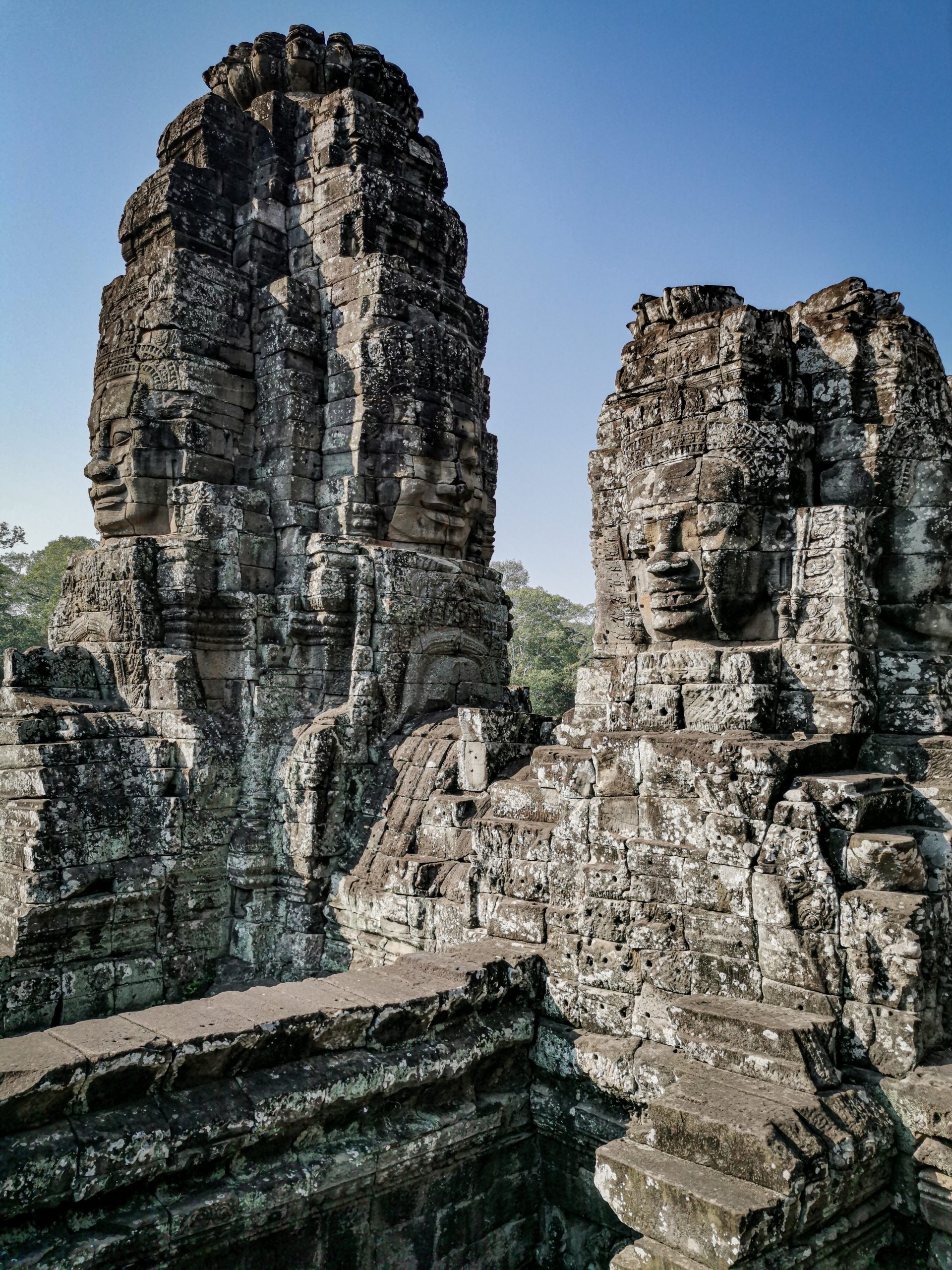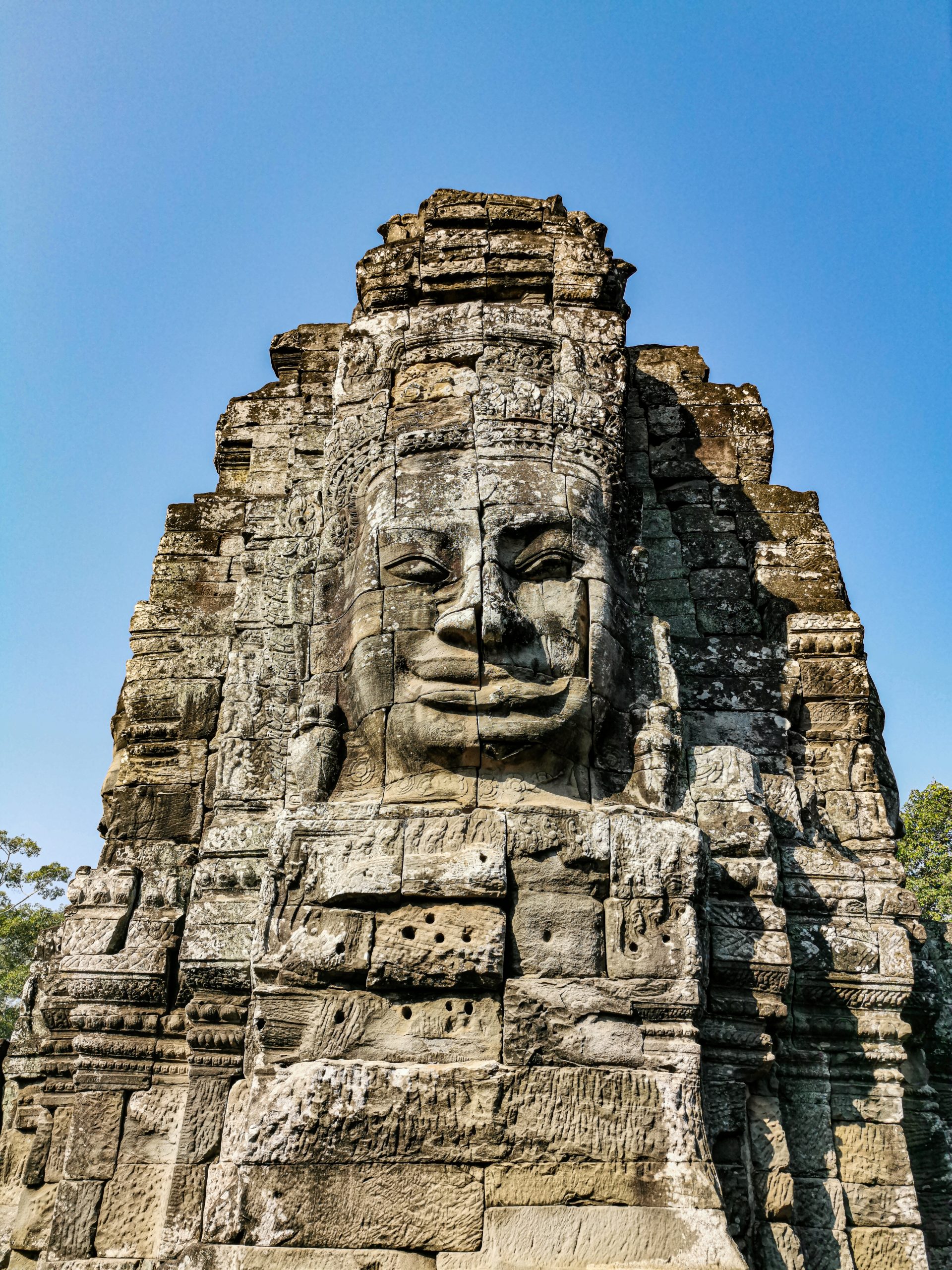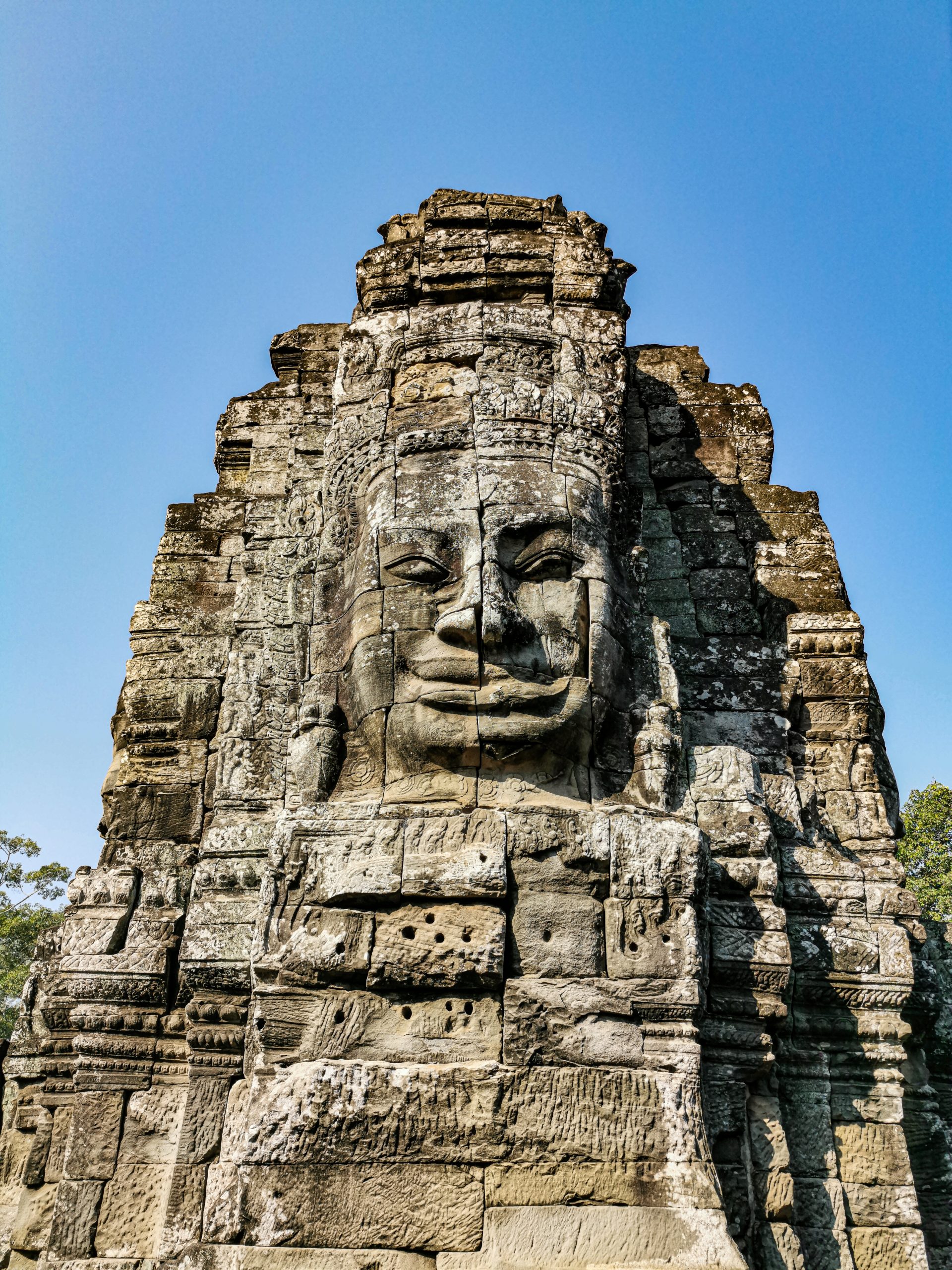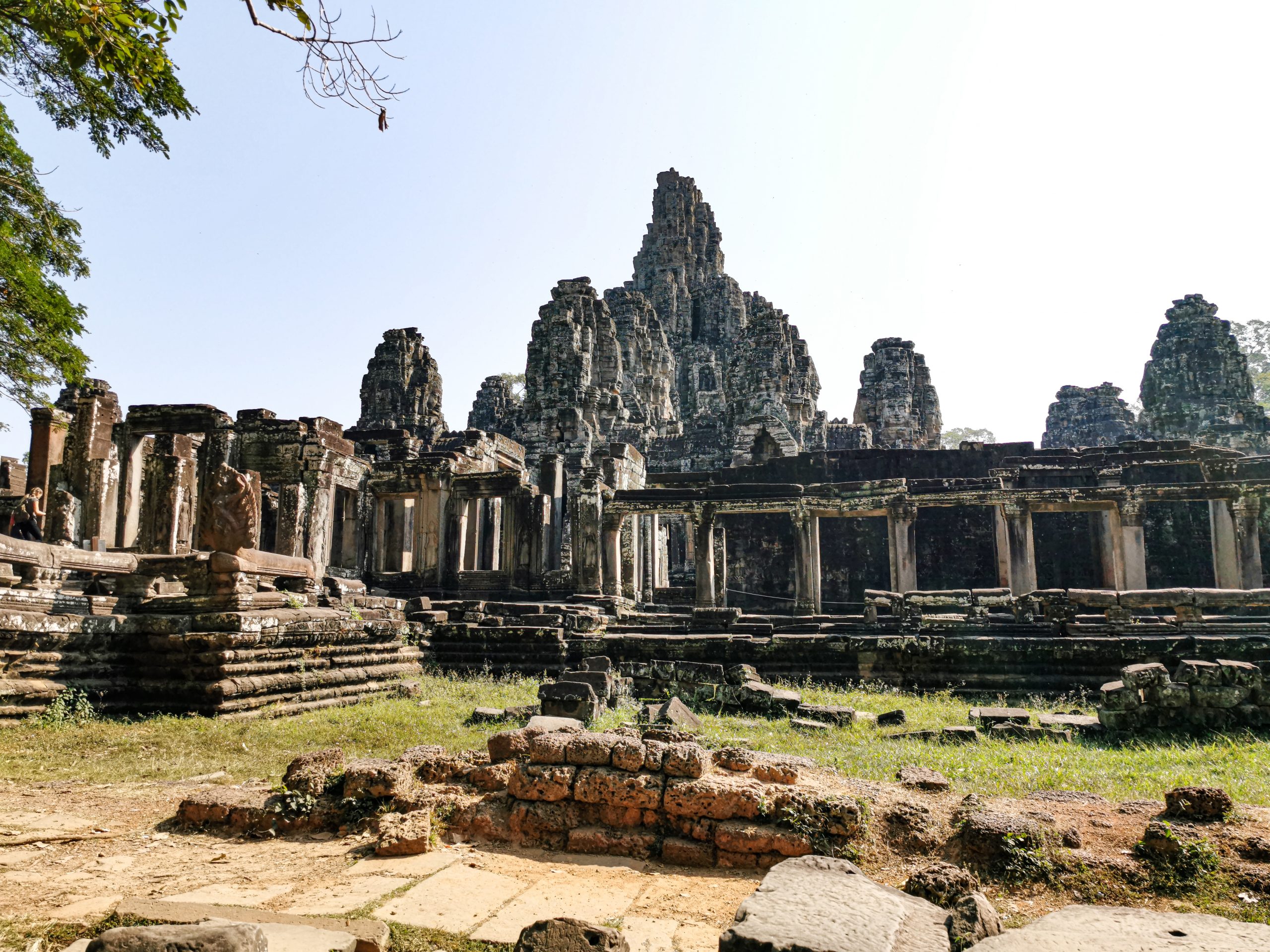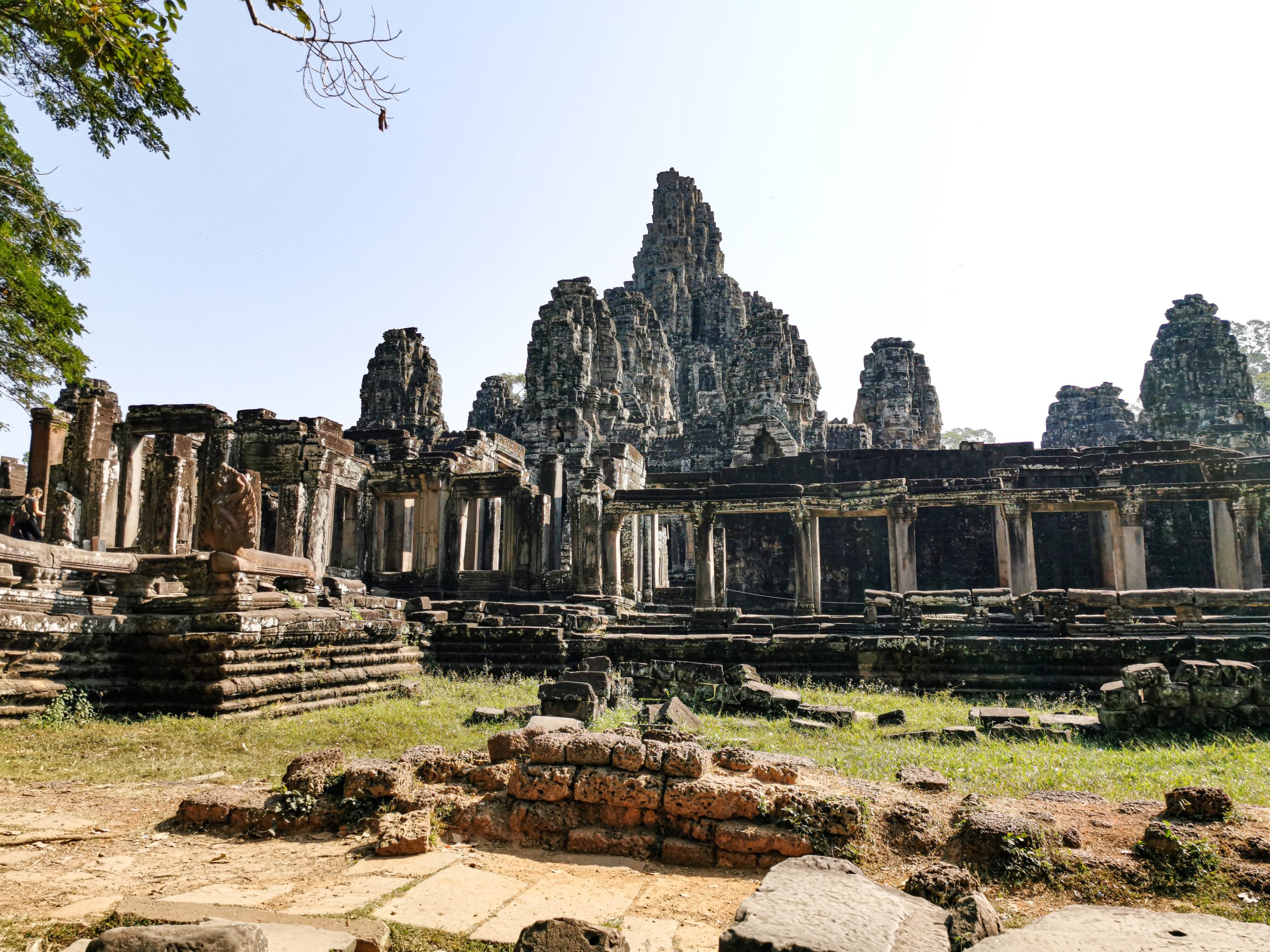 Bayon: As you cross the south gate and entered Angkor Thom, you come face to face with main attraction of the city – the Bayon temple, notable for its mysterious face towers. Built as a Buddhist temple, the structure has many towers, decorated with large carved faces looking into each of the four cardinal directions.
The Bayon has three enclosures. Two concentric galleries are sculpted with bas-reliefs. The inner galleries contain mainly religious and mythological scenes, while the outer galleries mainly show historical events, battles and scenes from daily life.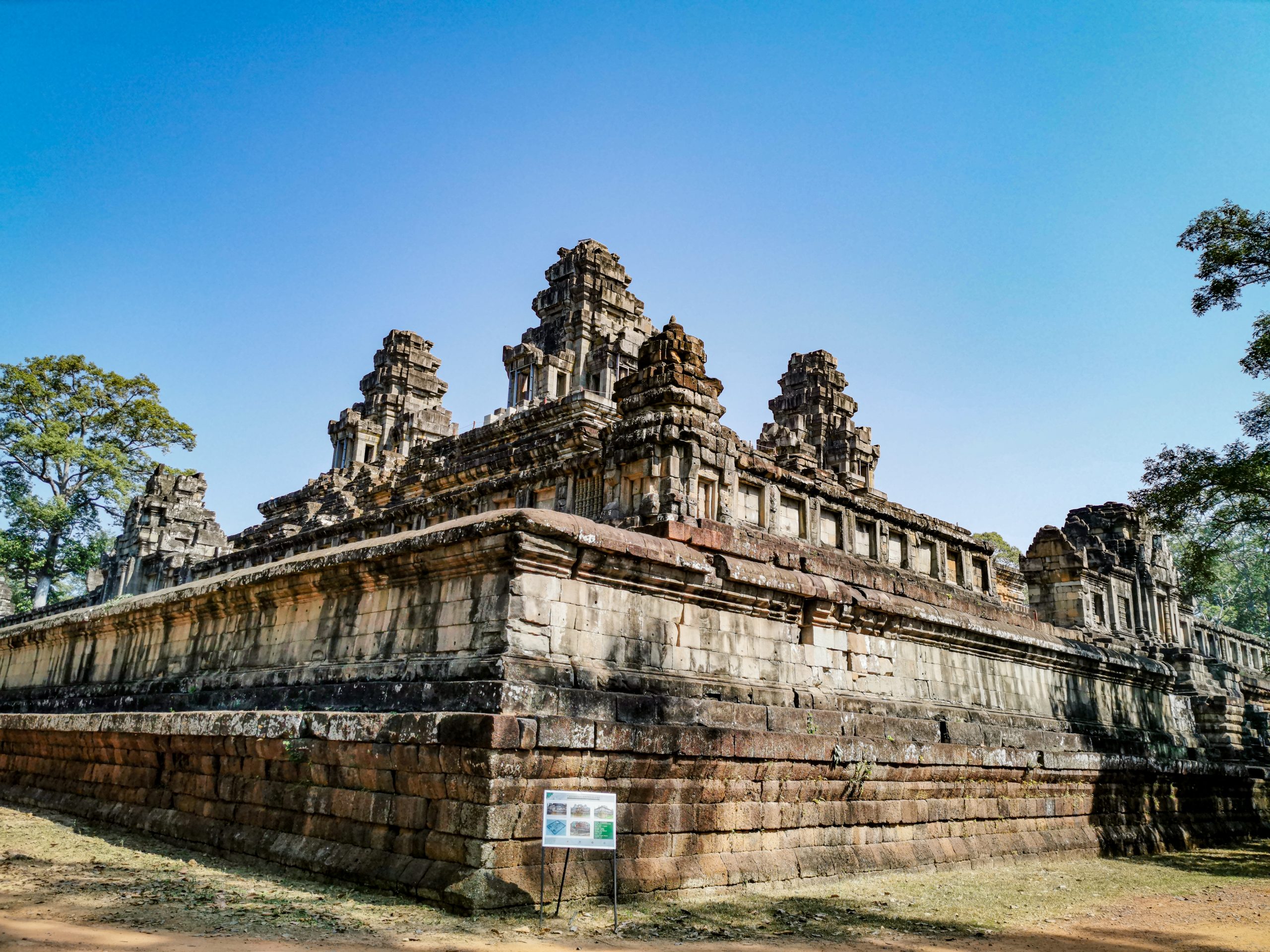 Baphoun: Located between the Royal Palace and the Bayon this sandstone stepped and mountain shaped monument was erected in mid 11th century when King Udayadityavarman II was ruling. Though initially dedicated to Hindu god Shiva, later in 15th century a part of it was demolished and converted to a Buddhist temple.
As you cross through the long sandstone walkway from the entrance gate, then the pavilion and eventually pass through different enclosures, you can notice crafting of Lotus, animals, figures of hunters, warriors and gods, even army on the battlefield on the walls.
At the top of the structure is a platform that houses a single sanctuary prasat which treasured the Linga – the representation of Shiva. The surrounding view from the top is quite enchanting.
Besides the Bayon and Baphoun, this walled city contains the ruins of a large number of temples, royal terraces and palaces of different ages and styles such as Preah Pithu group – a cluster of five temples at the North East of the Royal Palace, Royal Terraces – comprising of the Terrace of the Elephants to the South and the Terrace of the Leper King to the North, form the Eastern boundary of the Royal Palace grounds, Prasat Chrung – small temples at each of the four corners of the walls surrounding Angkor Thom, Phimeanakas – that translates Celestial Palace, a three stepped pyramid shaped Hindu temple of 10th century, Preah Palilay, Tep Pranam.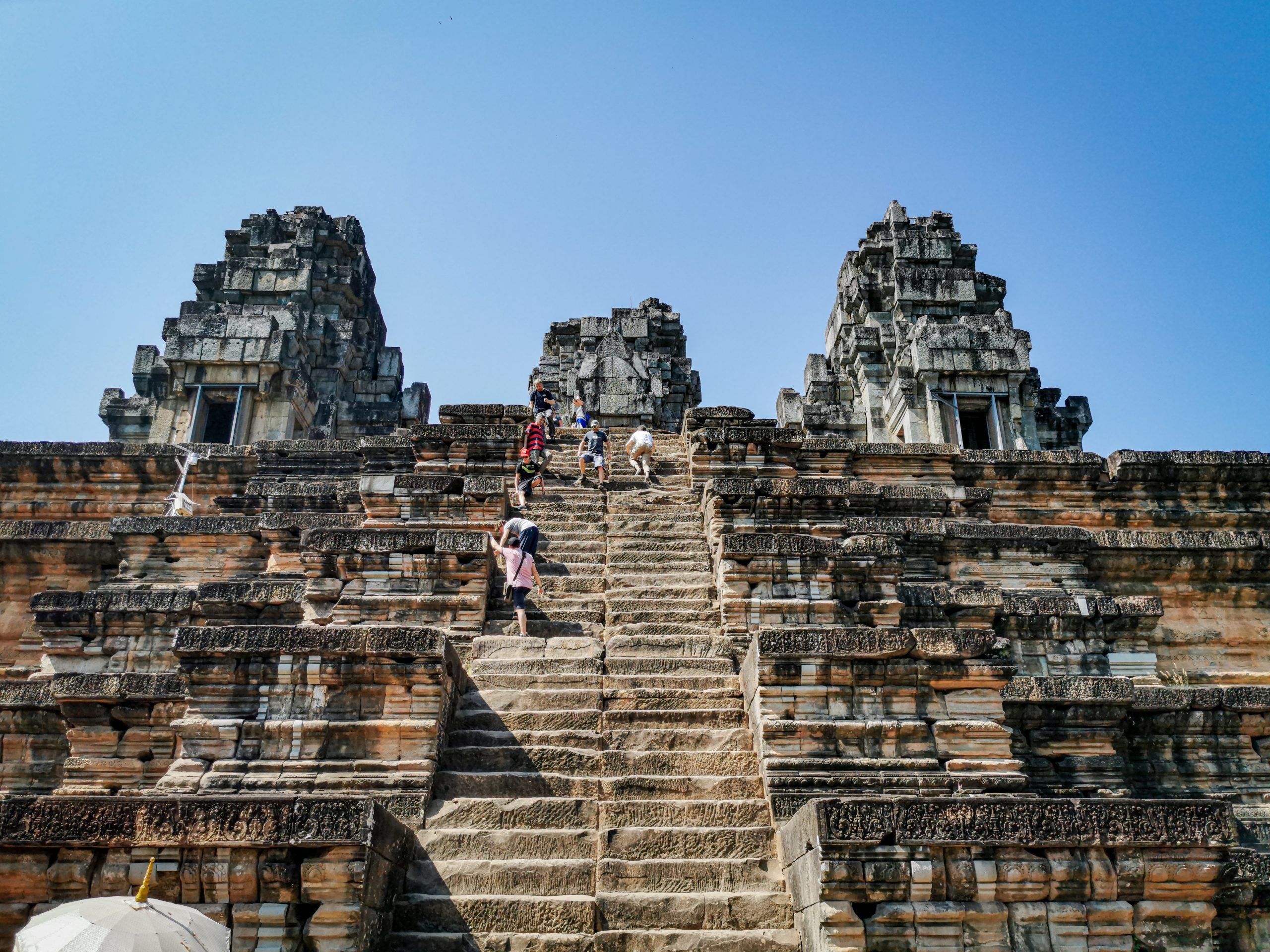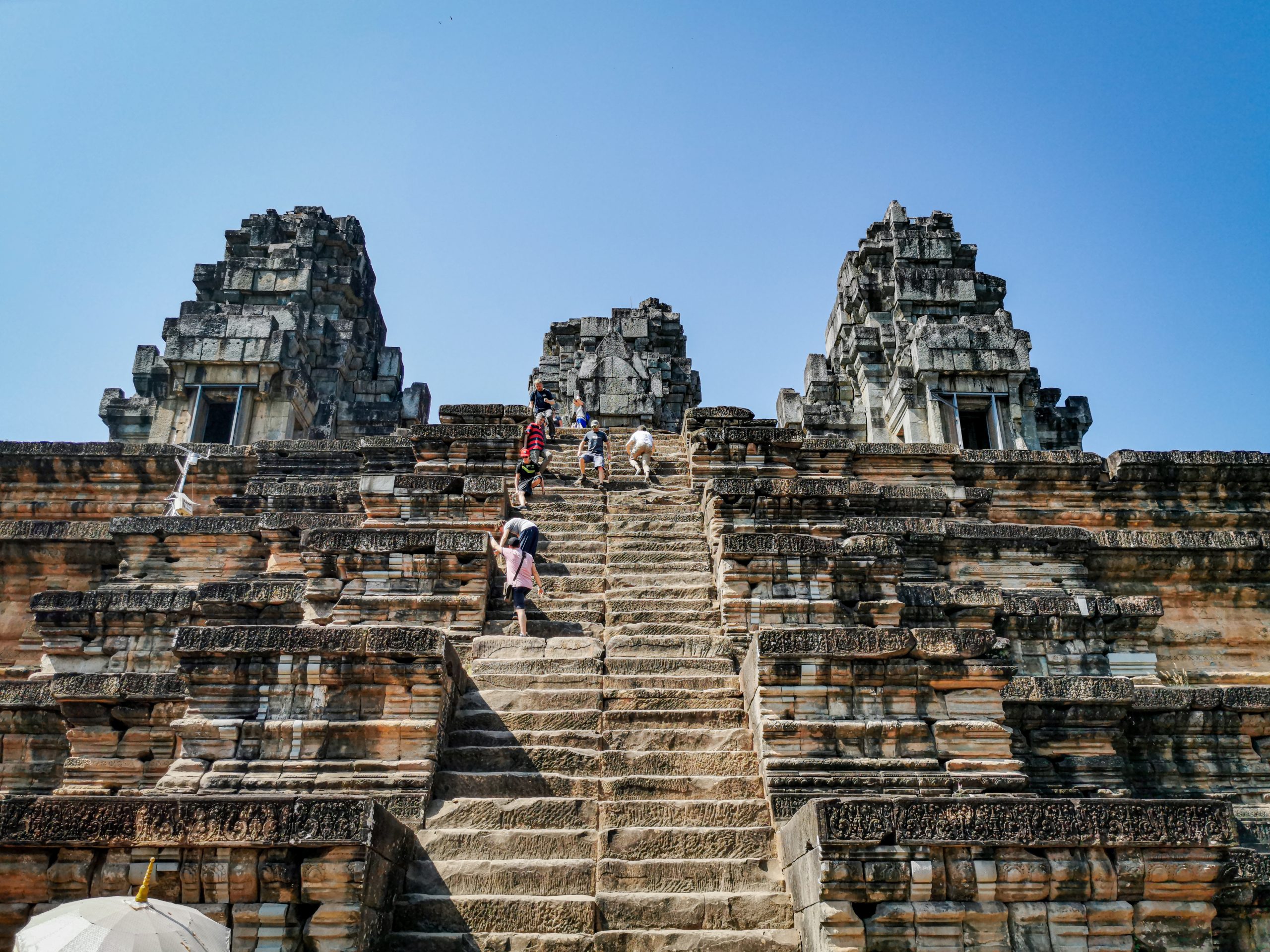 Location 3: Ta Keo (11:45 – 12:30 pm)
Considered as one of the tallest temples of Angkor, construction of Ta Keo was started by King Jayavarman V in 975 AD. It was built to represent Mount Meru and several years later it was dedicated to Shiva. It has five sanctuaries/prasats arranged in a quincunx like Angkor Wat, built on the uppermost level of five-tier stepped pyramid. The largest sanctuary was in the center, four smaller ones at the corners of the platform.
The absence of external carvings indicates that the construction was left unfinished. According to an inscription a lightning had struck the temple during the beginning stages of decoration and considering that as a bad omen construction was abruptly stopped at the start of 11th century. Though another reason could be the death of the king Jayavarman V.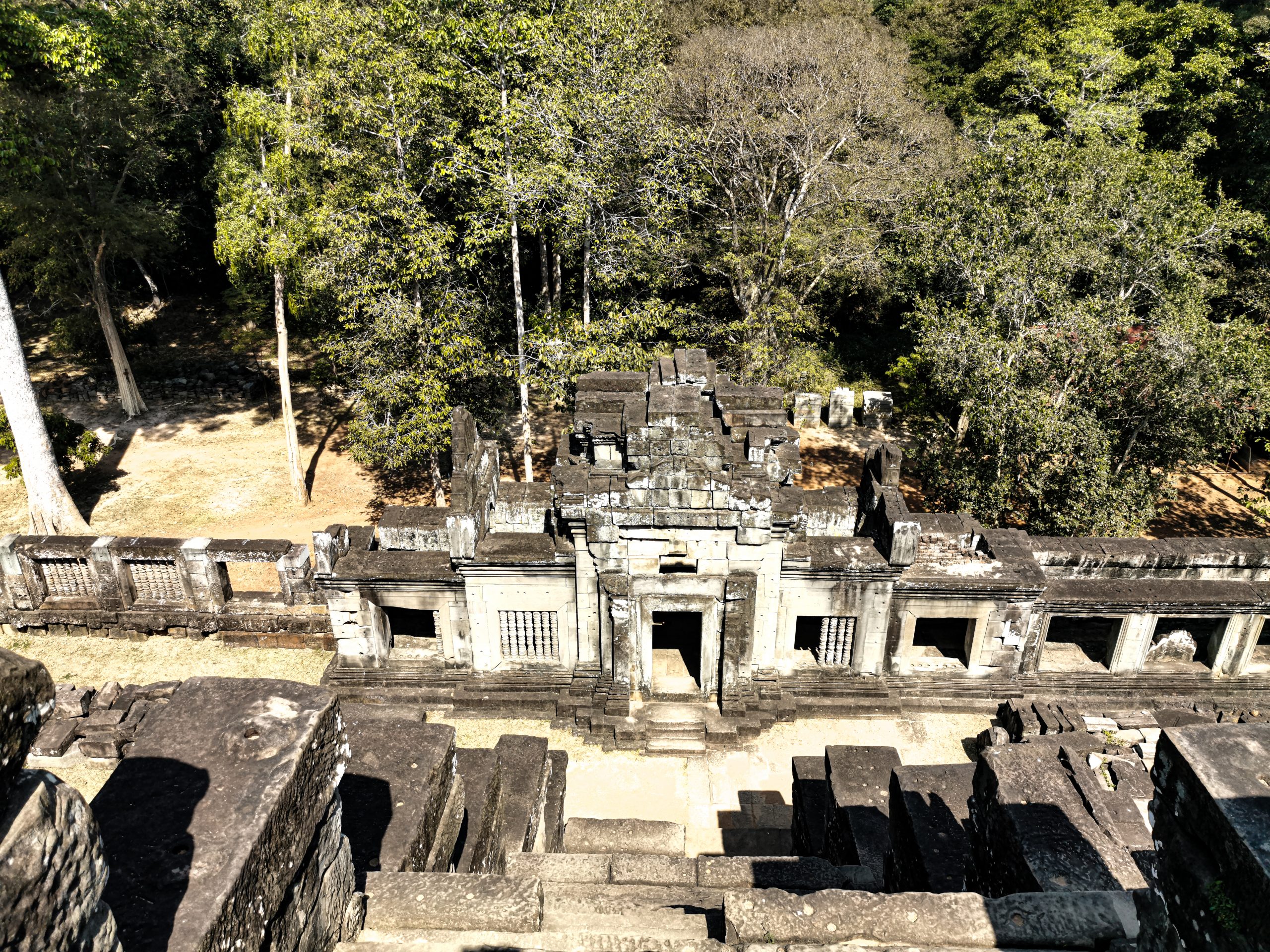 Irrespective of the missing decorations this is still an interesting monument to visit.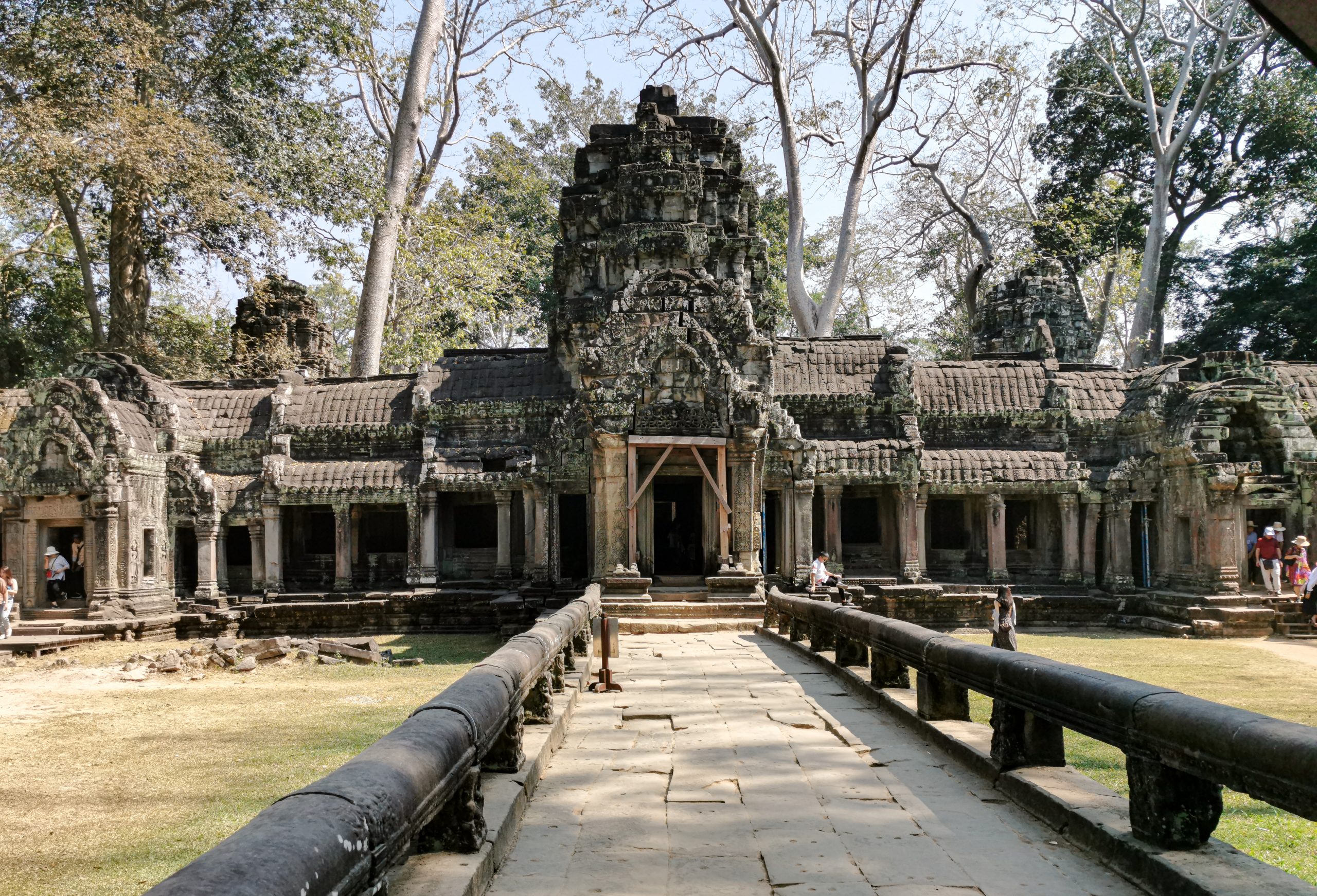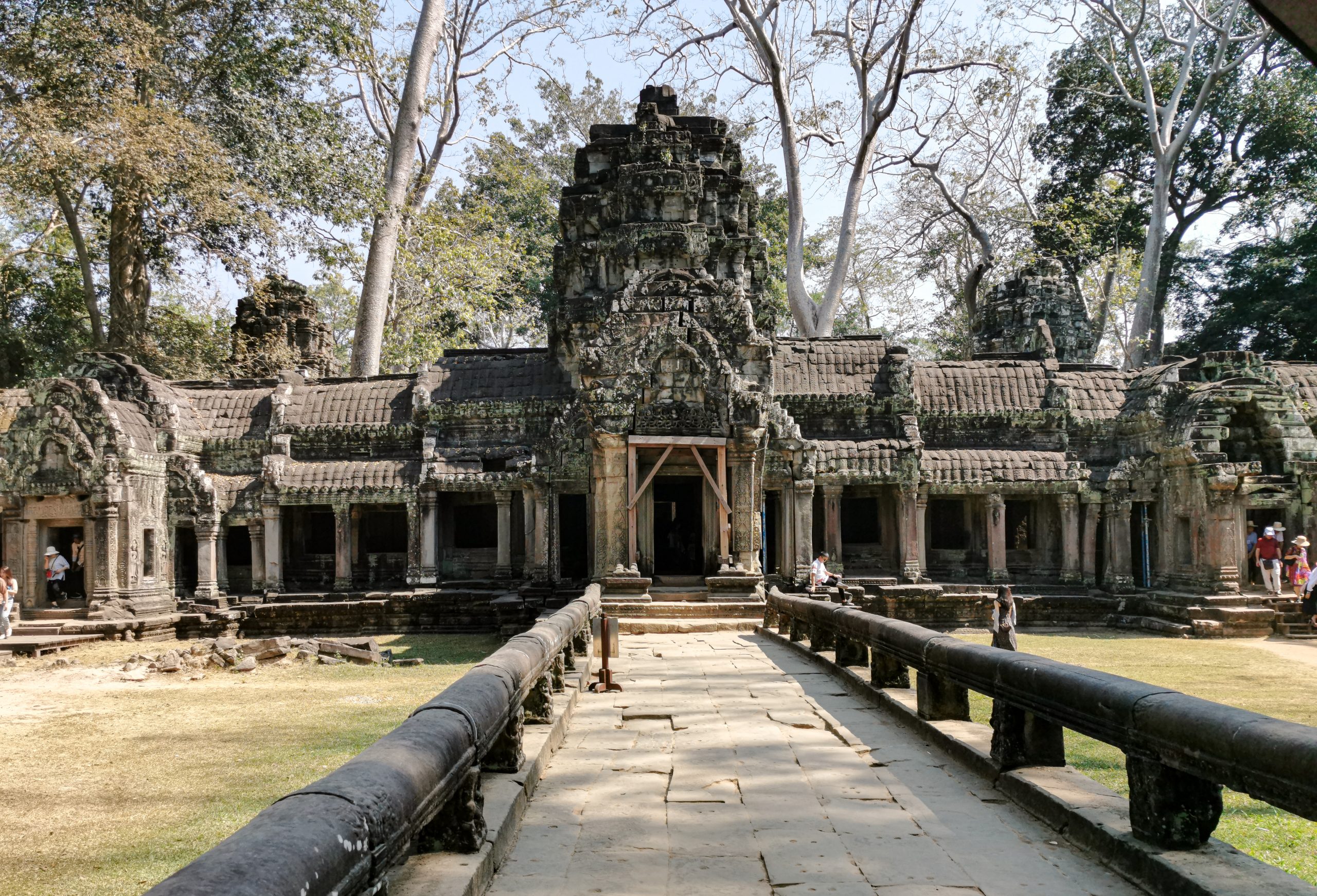 Location 4: Ta Prohm (12:30 – 02:30 pm)
Now this was definitely the second on our list after Angkor Wat and there was no way we could miss this one. Why? Ever since I had watched the adventure movie "Lara Croft: Tomb raider", I was fascinated by those action scenes shot in a dense jungle against the backdrop of some ancient temple with many face sculptures. Although until years later I didn't believe a place like this could have existed and believed it to be a place of imagination and magic of Hollywood CGI artists. When I came to know the fact that it was an actual location in Siem Reap, Cambodia where movie crew had shot, I was relieved and dreamt of visiting there someday.
Obviously when I shared this trivia with Gloriya before our trip planning, she was also excited to see this place (Fun fact: even though we both loved exploring this mythical jungle temple nicknamed as 'Tomb Raider Temple', she is yet to watch this movie till blogging this article).
Half the day was over, two more places to visit. She was looking tired yet not ready to return to hostel. So, we proceeded towards the Ta Prohm.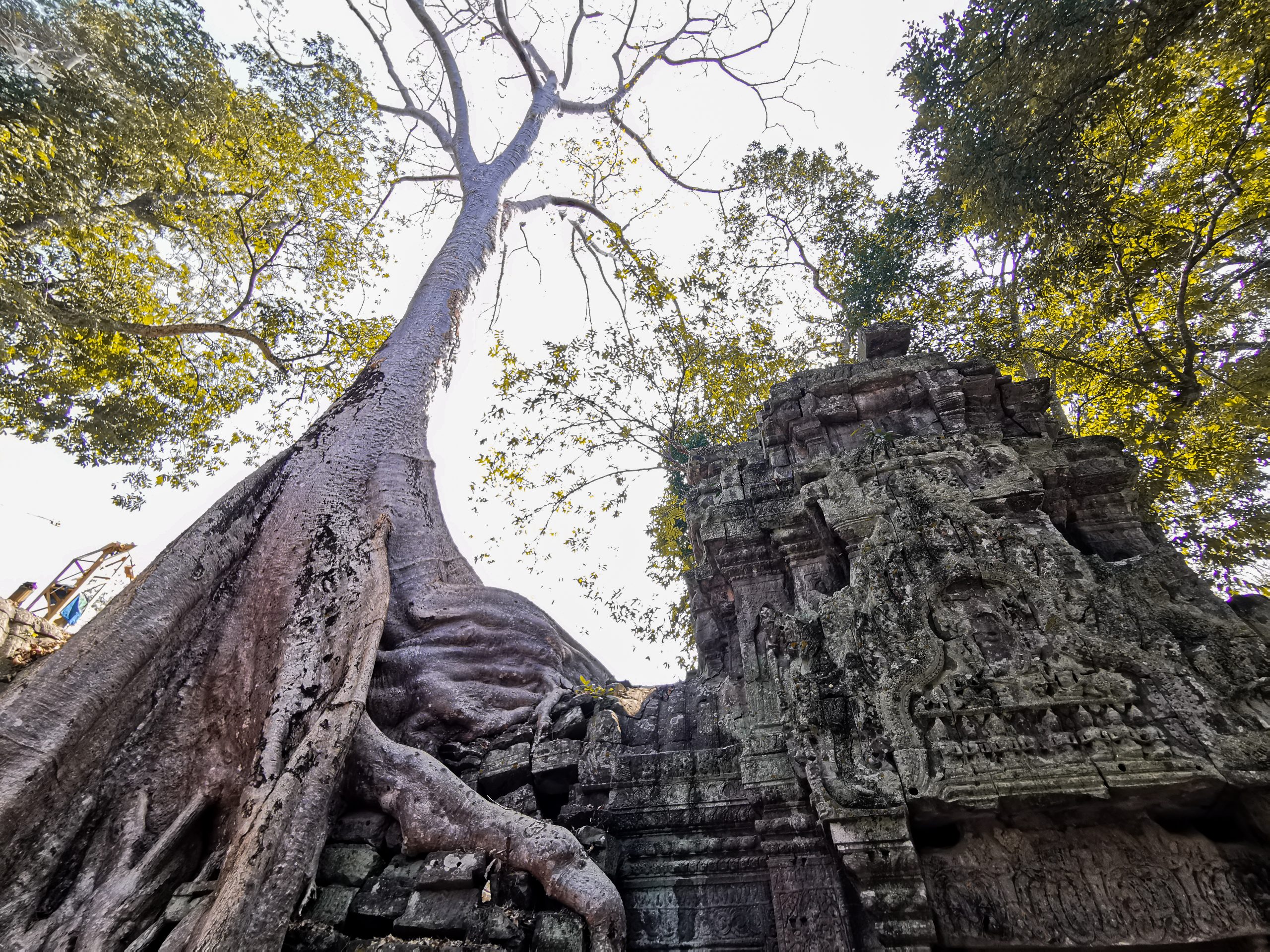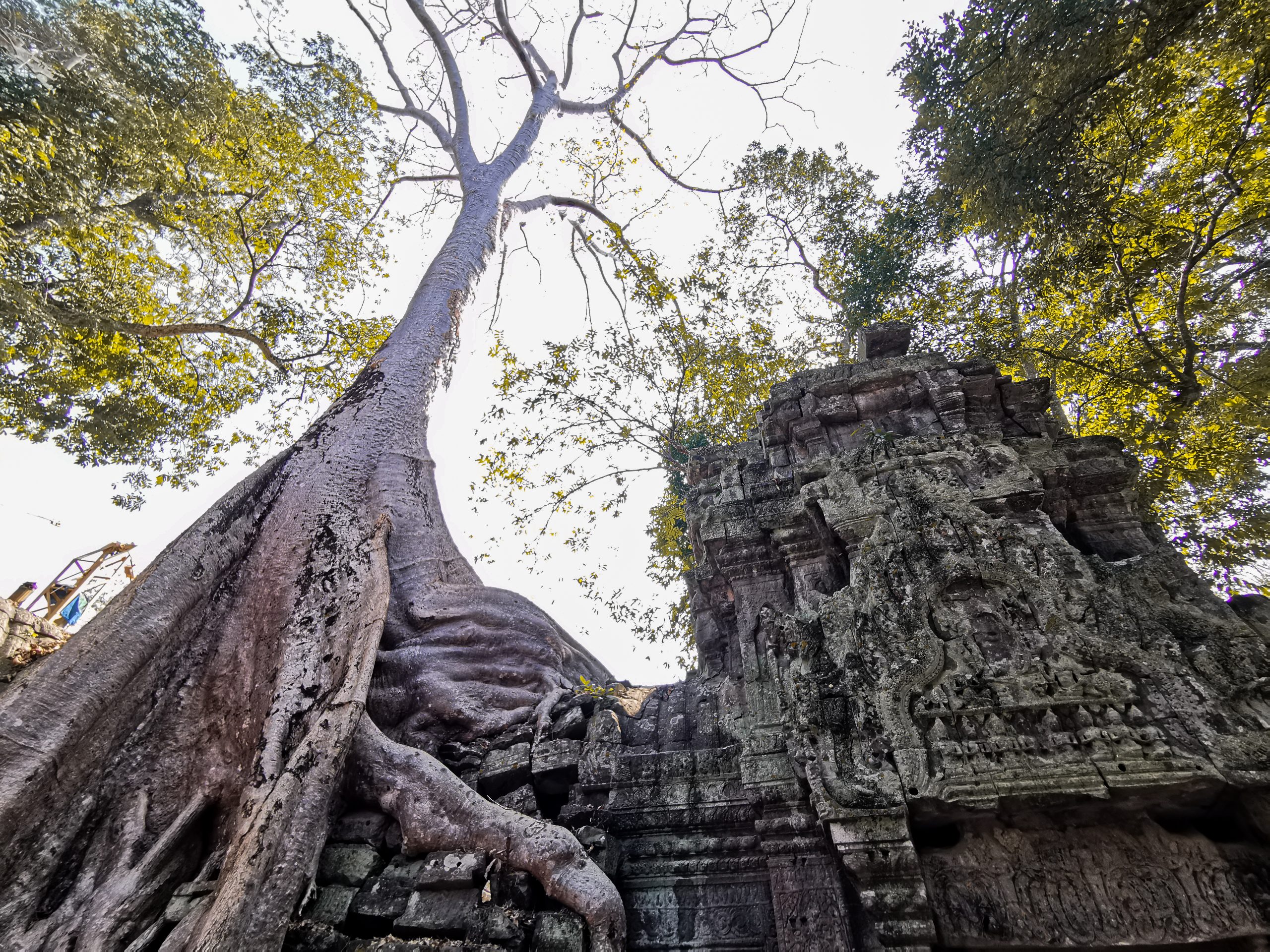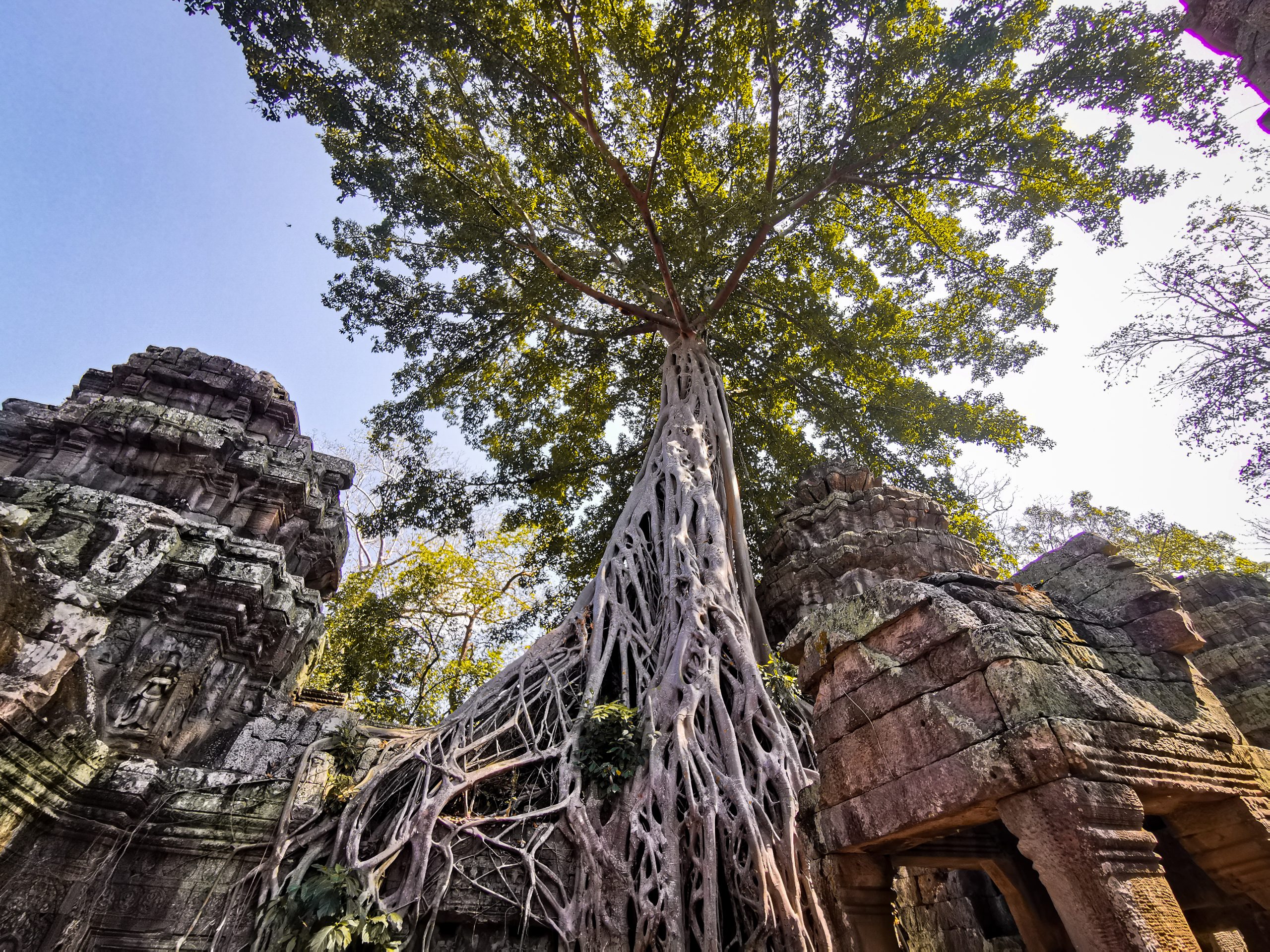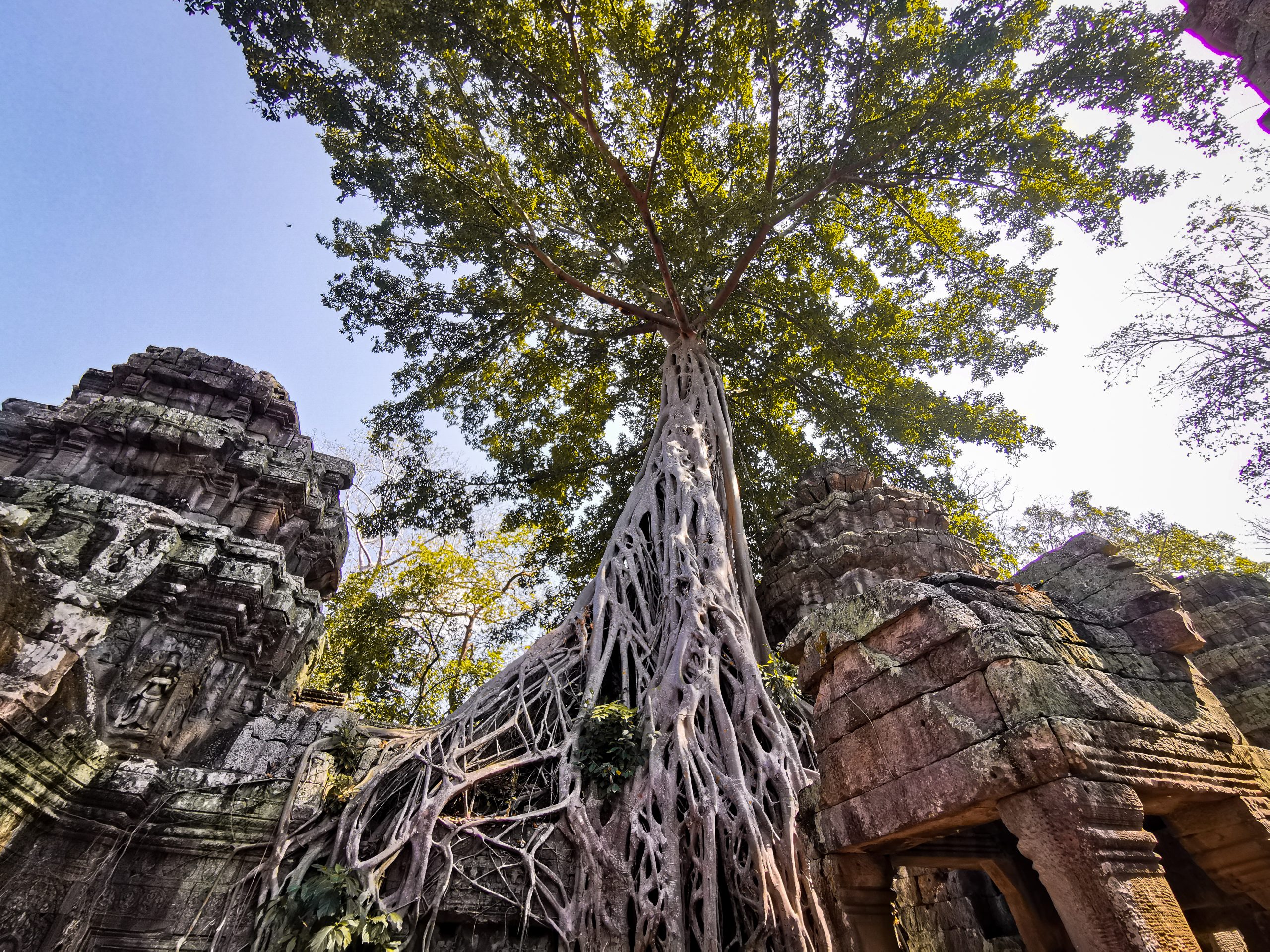 Undoubtedly a vivid and one of the most photographic temple ruins in the whole of Angkor complex in terms of its appearance. Engulfed in a nexus of muscular roots cracking the stones of the remaining temple towers, branches and leaves of the gigantic banyan and kapok trees casting a shadowy spell against the midday sunlight, Ta Phrom gives an otherworldly experience reminding us about the power of nature.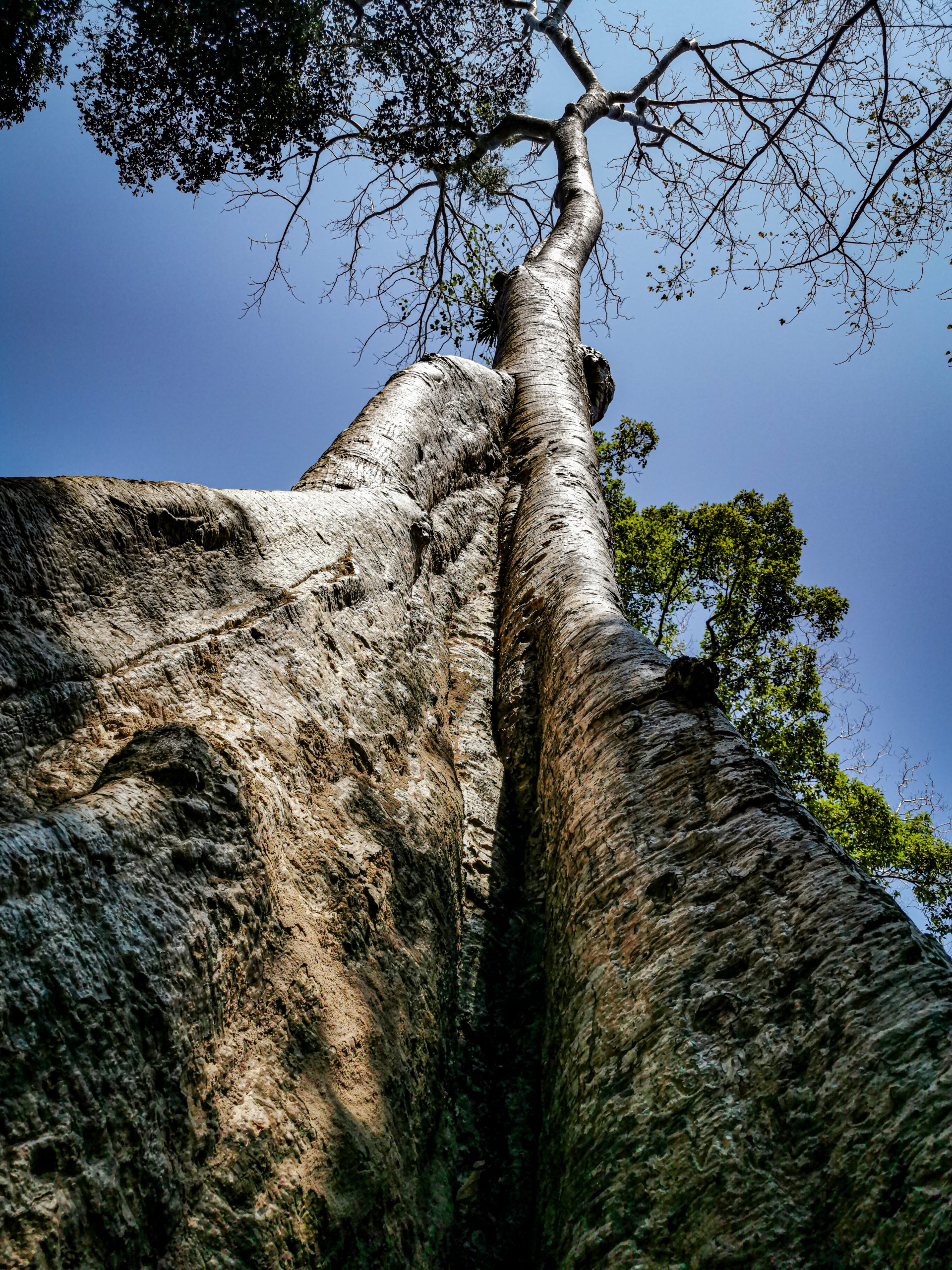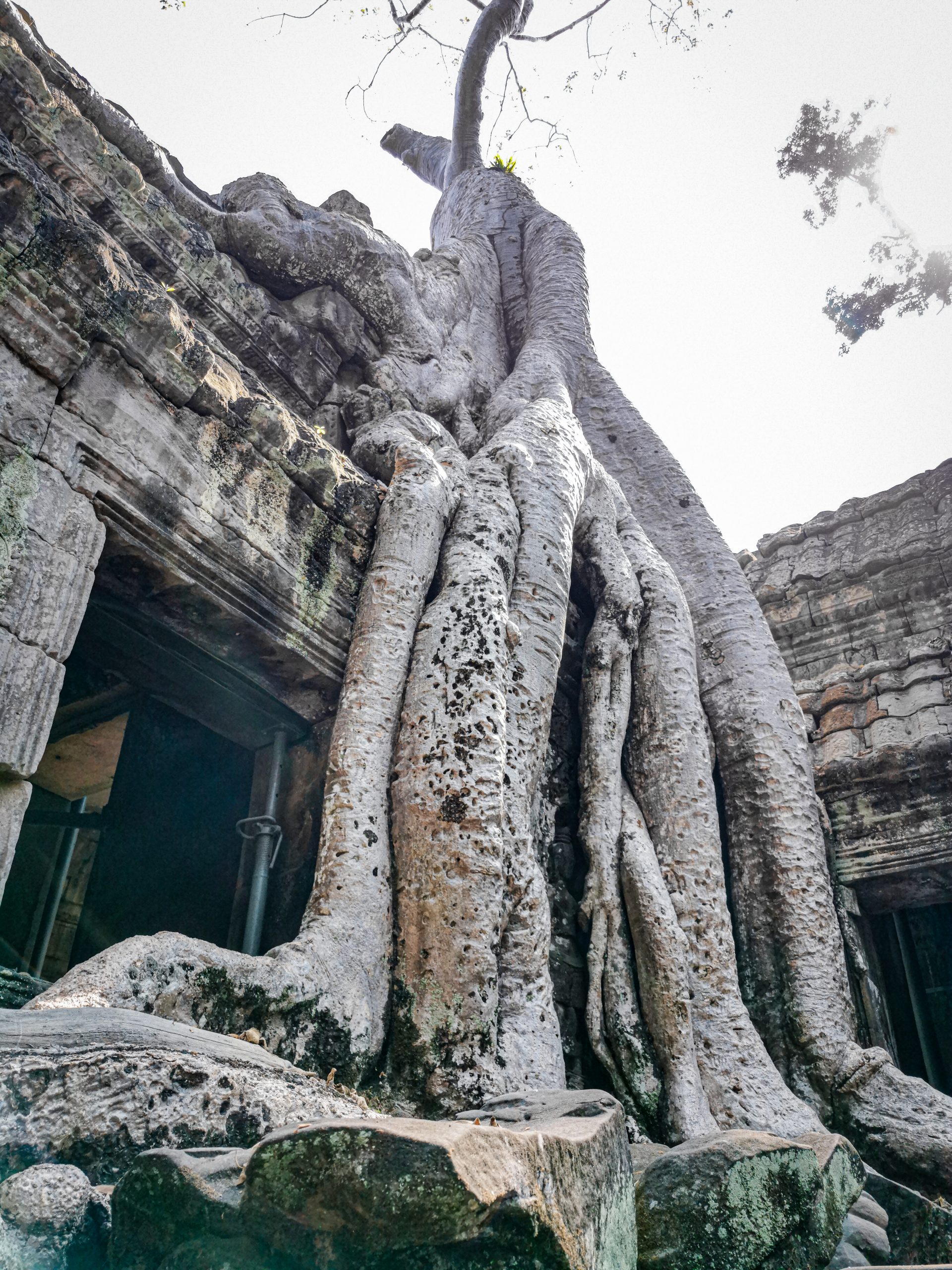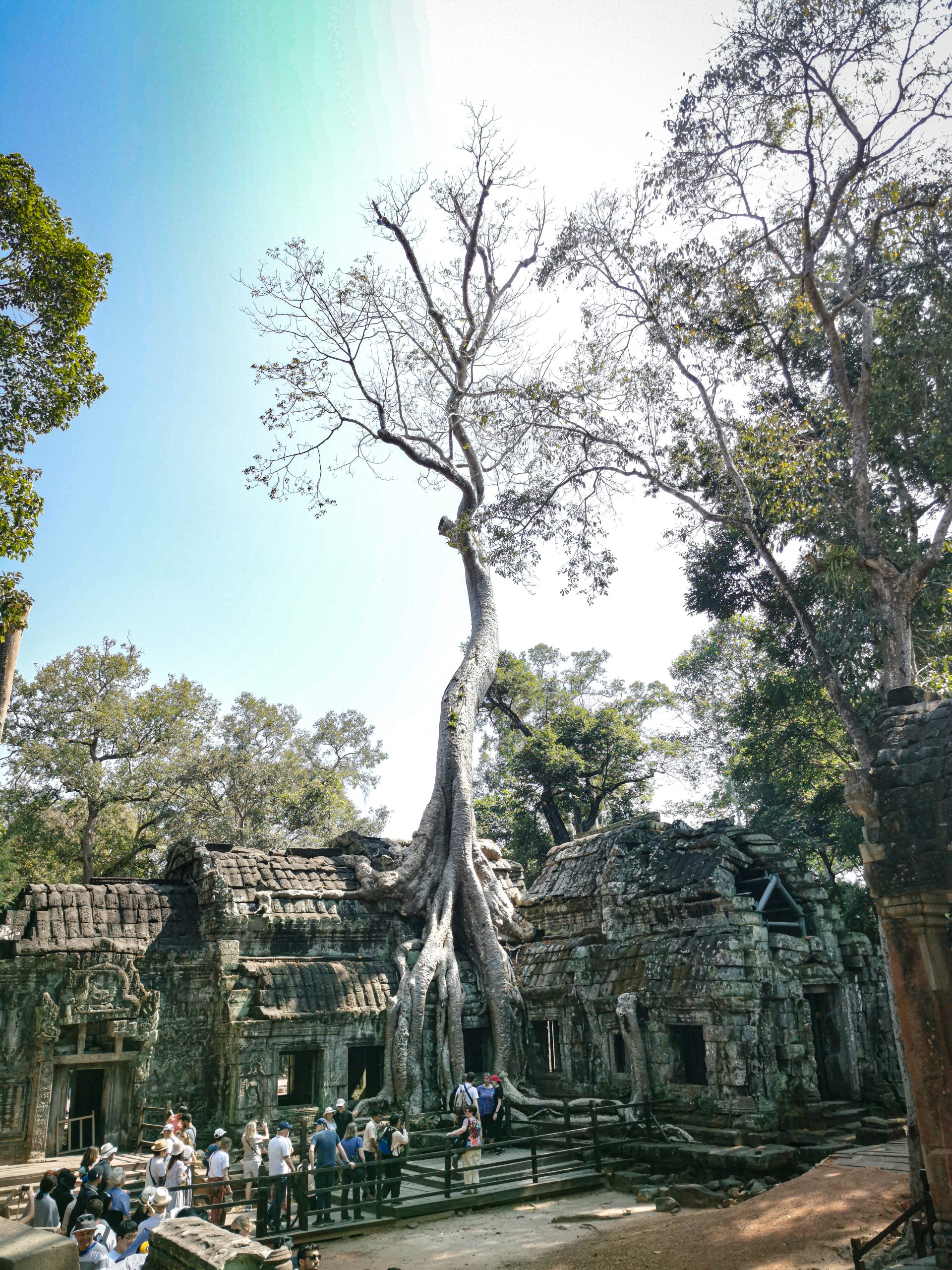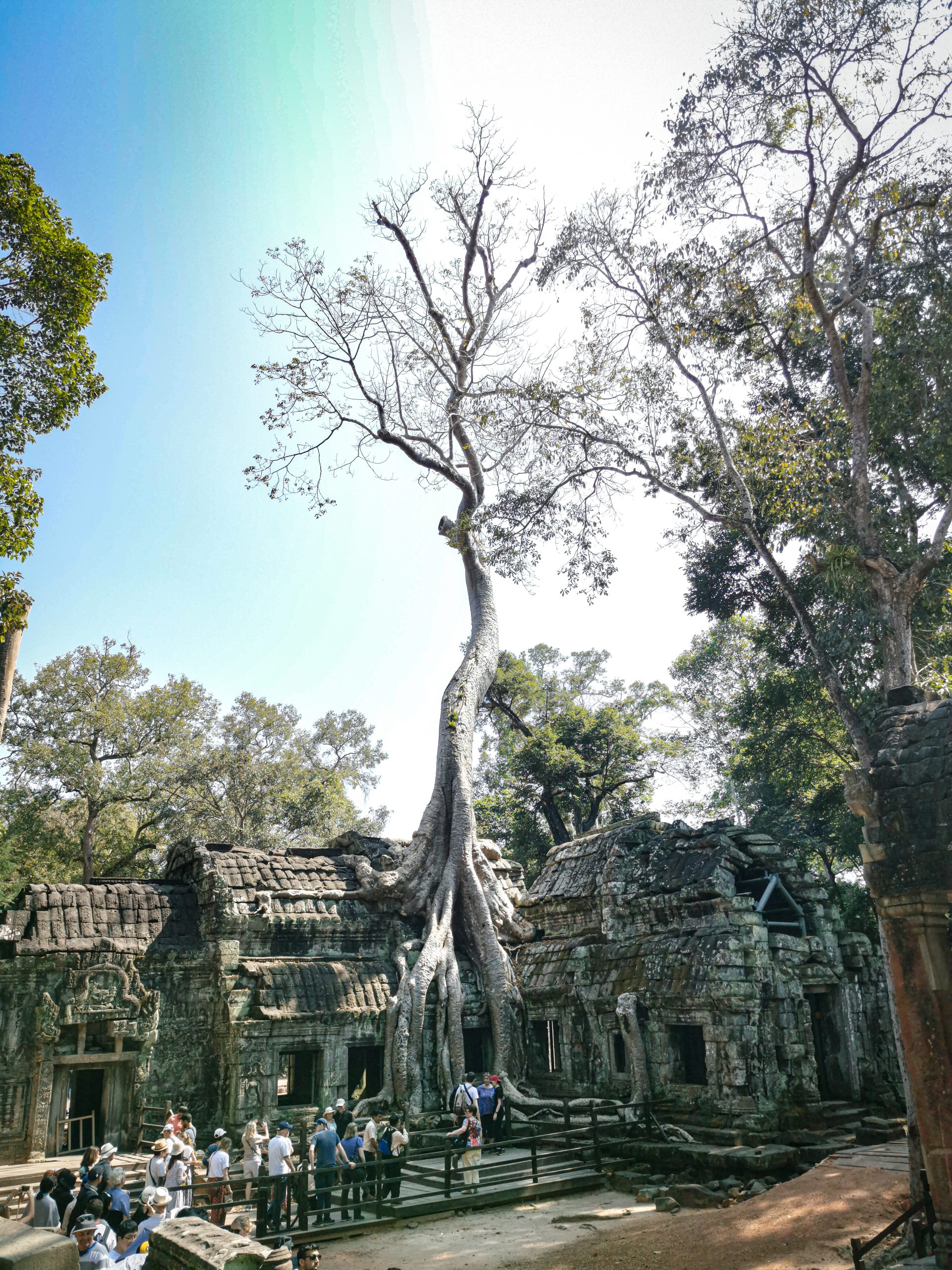 Built from 1186 and originally known as Rajavihara (Monastery of the King), Ta Prohm was a Buddhist temple dedicated to the mother of Jayavarman VII. It is one of the largest monuments in the entire complex. We get the idea about the massiveness of the structure from a Sanskrit inscription on stone found there. It included 260 statues of gods, 39 towers with pinnacles and 566 groups of residences. It took 79,365 people to maintain the temple including 18 great priests, 2,740 officials, 2,202 assistants and 615 dancers.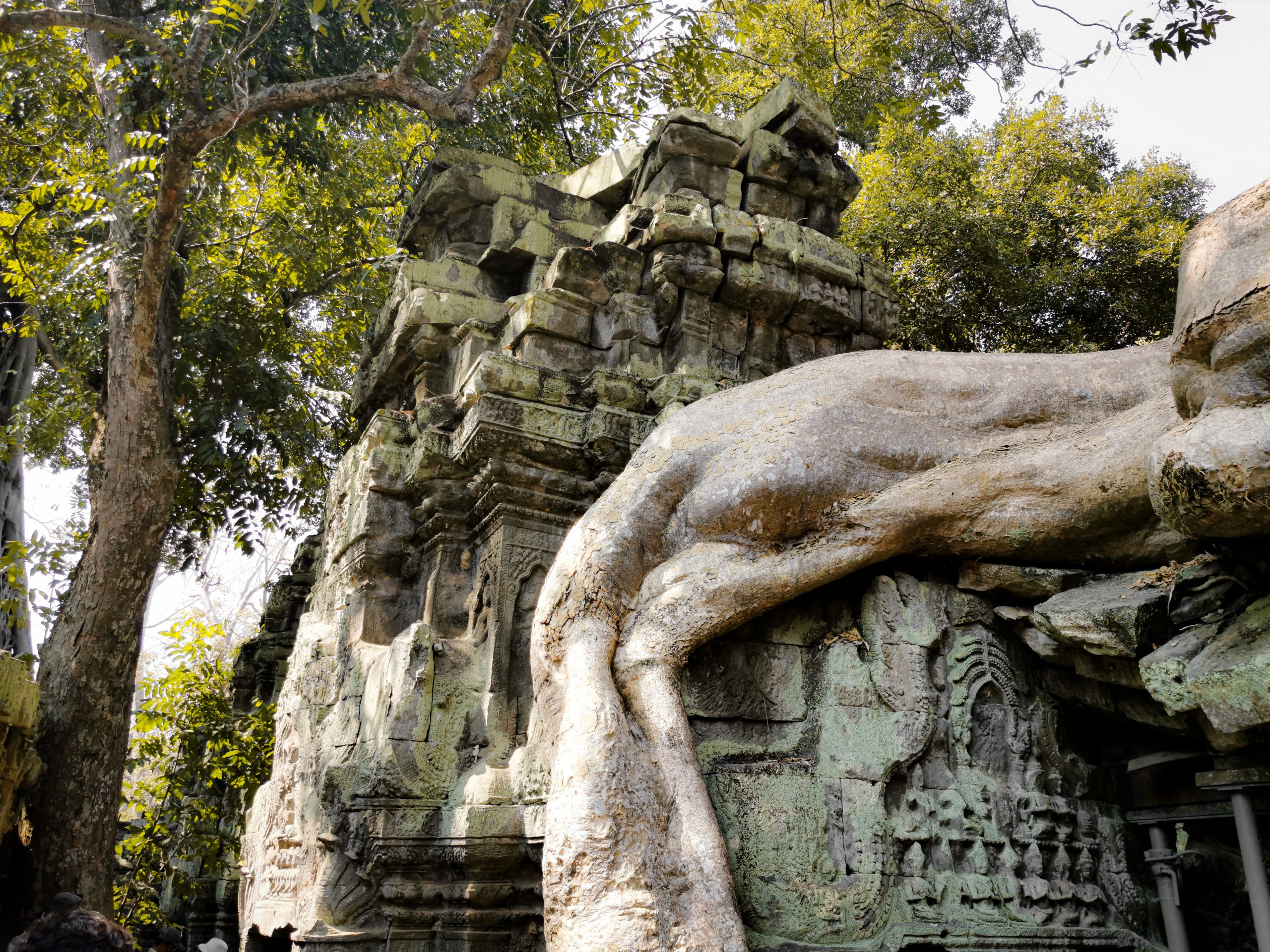 Roaming within the temple complex we noticed many of the courtyards and narrow corridors were closed due to piled stone blocks dislodged by the huge roots, while the velvety mosses shrouded the grey stones giving a greenish hue all over.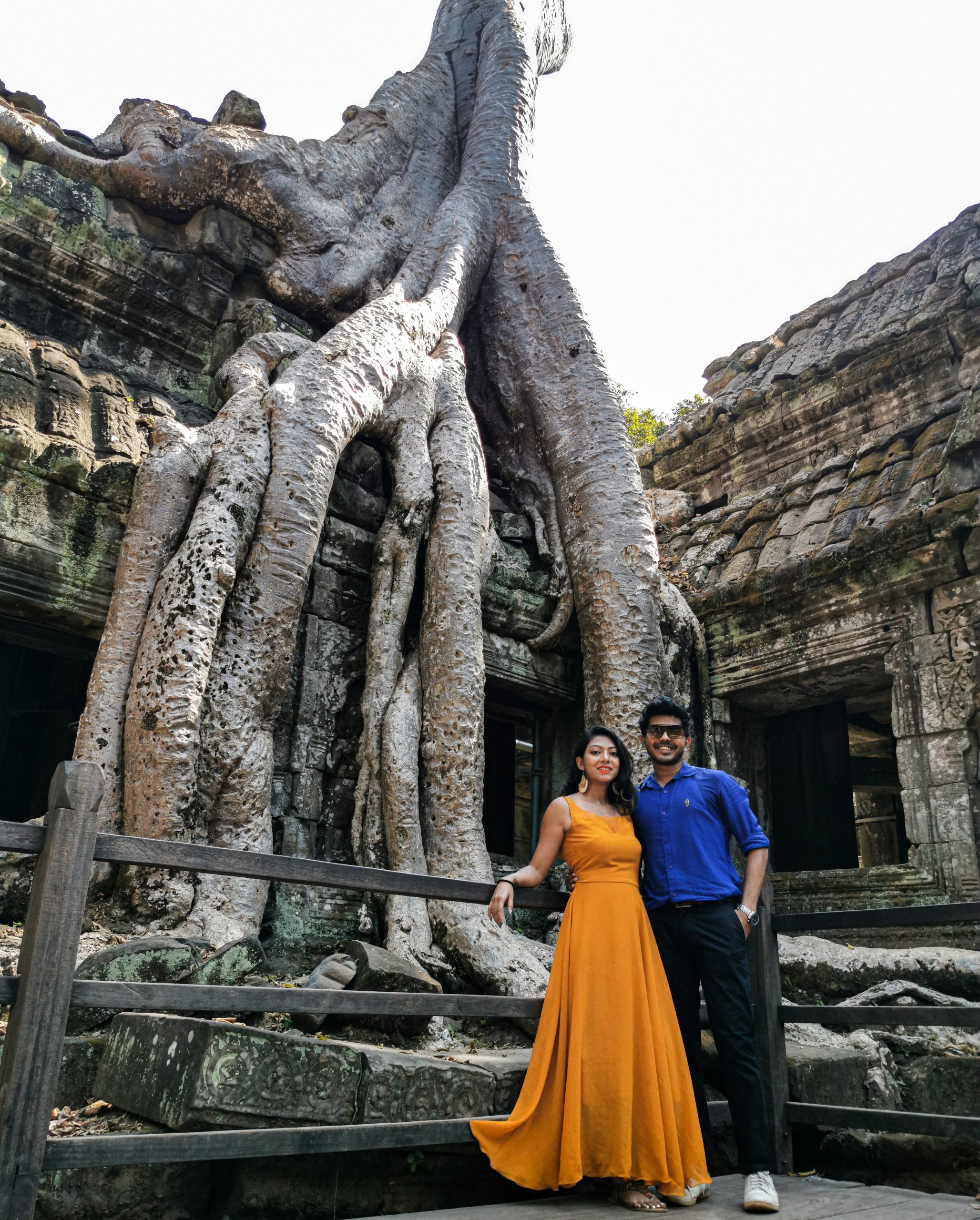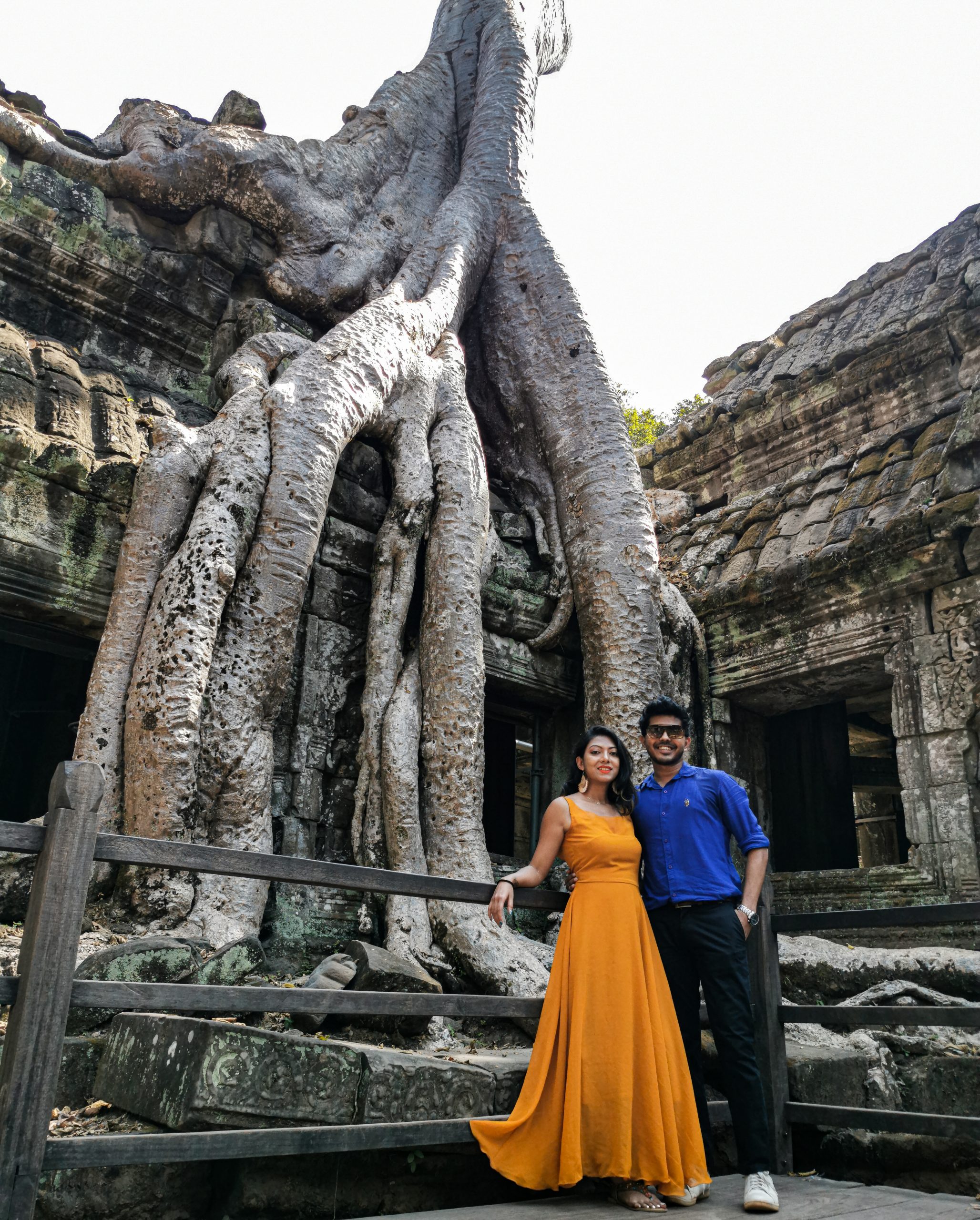 The most touristy spot was certainly the 'Tomb Raider tree' nicknamed as Crocodile Tree, where visitors were waiting in a line to get their chance to click a picture with the famous tree. We couldn't resist either, hence waited for our turn and post that left the temple with a sense of fulfilling a dream.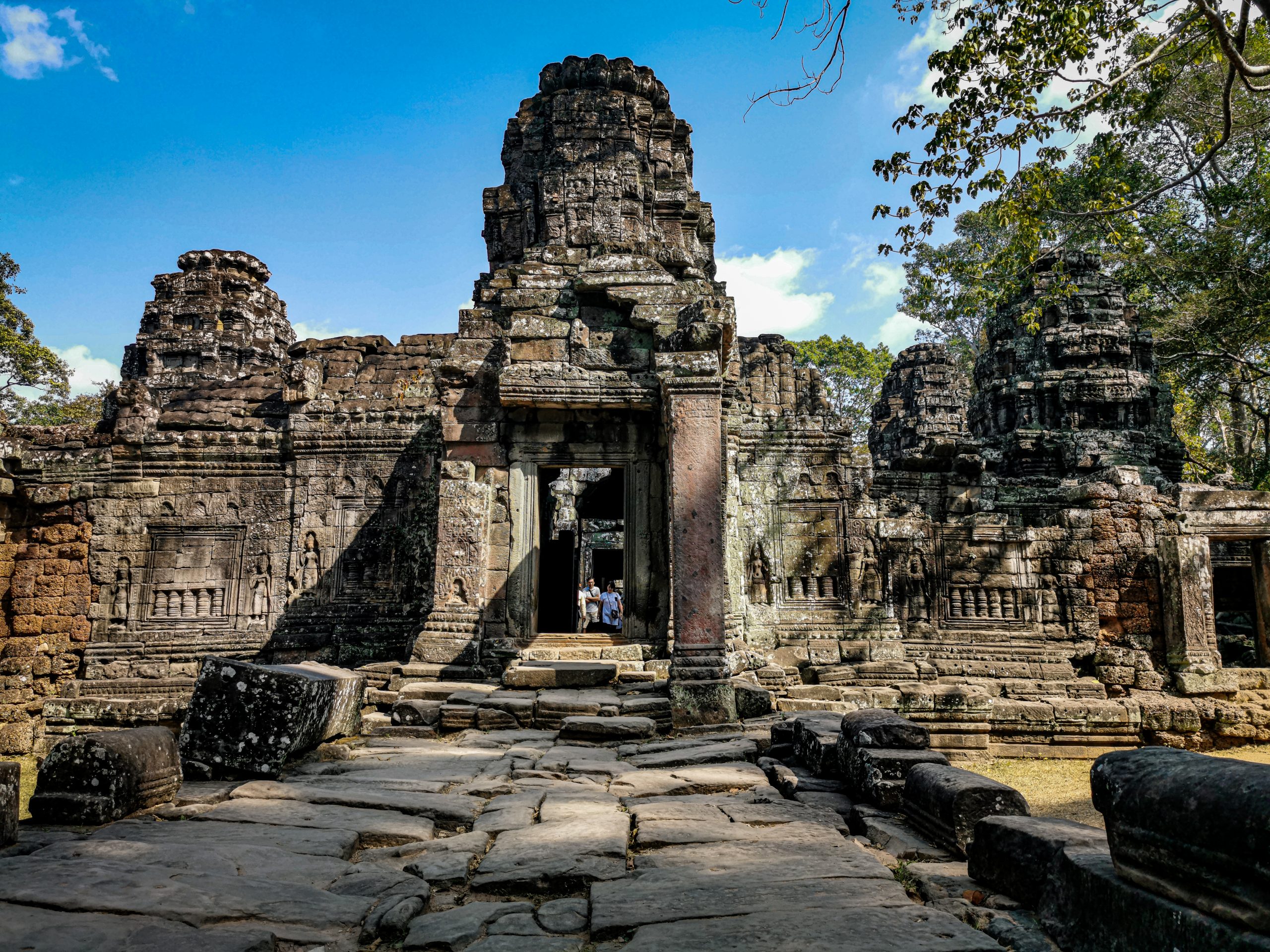 Location 5: Bantey Kdei(03:30 – 04:15 pm)
This was the last location on our small circuit tour. By the time we reached there post our lunch, Gloriya began to feel weariness and drowsy. She was no longer in a condition to walk further. I decided to return to hotel immediately but then she suggested otherwise, that I go and explore the last spot while she takes a nap in the Tuk-Tuk itself near the parking. I didn't agree but she forcibly sent me requesting to click more pictures and videos of the place so that she would see it later. When I asked would you be alright, she smiled and assured me of that.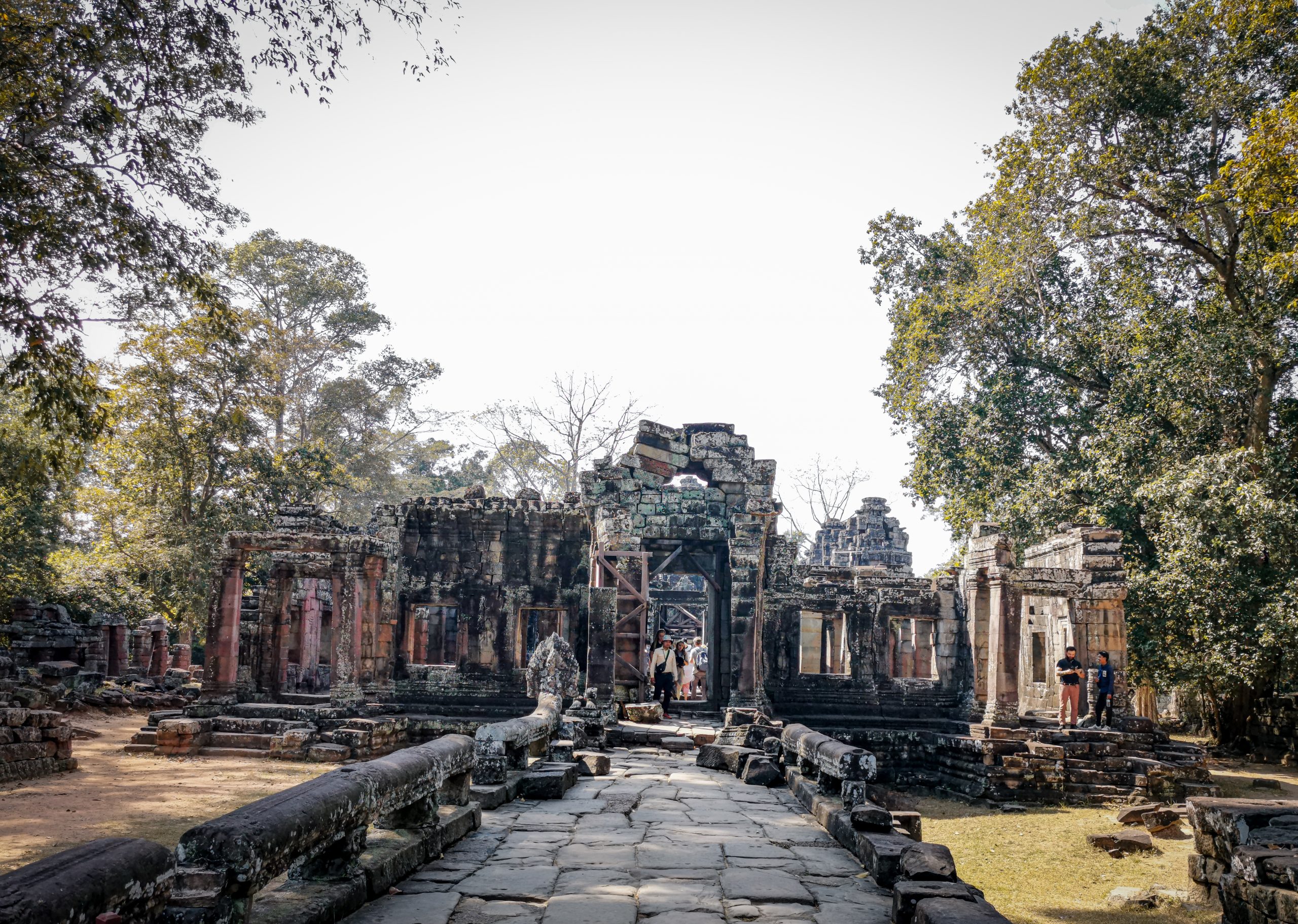 Unwillingly and hurriedly, I started to head towards the temple as she fell asleep in the Tuk-tuk. I decided to cover the place as quickly as possible.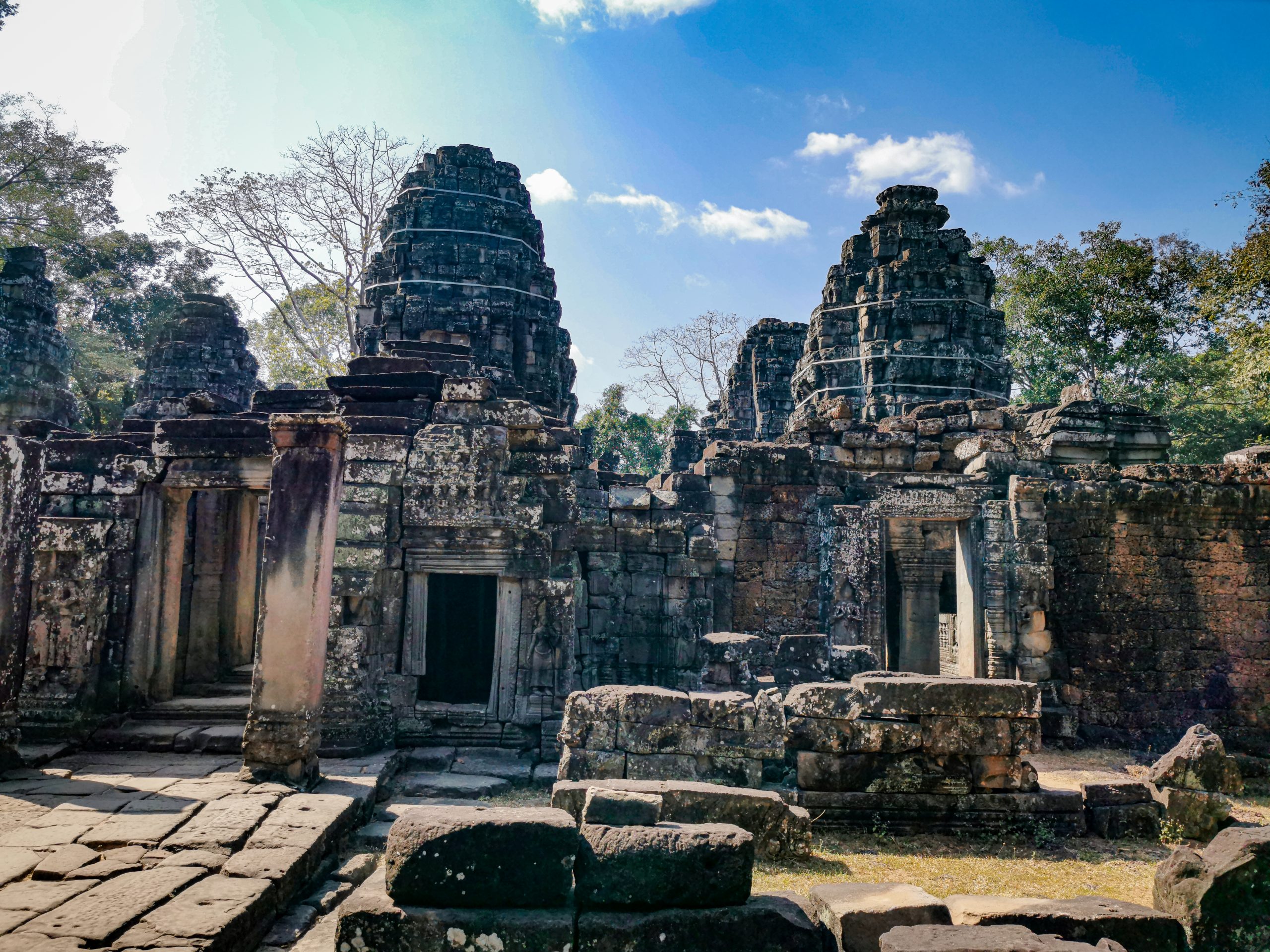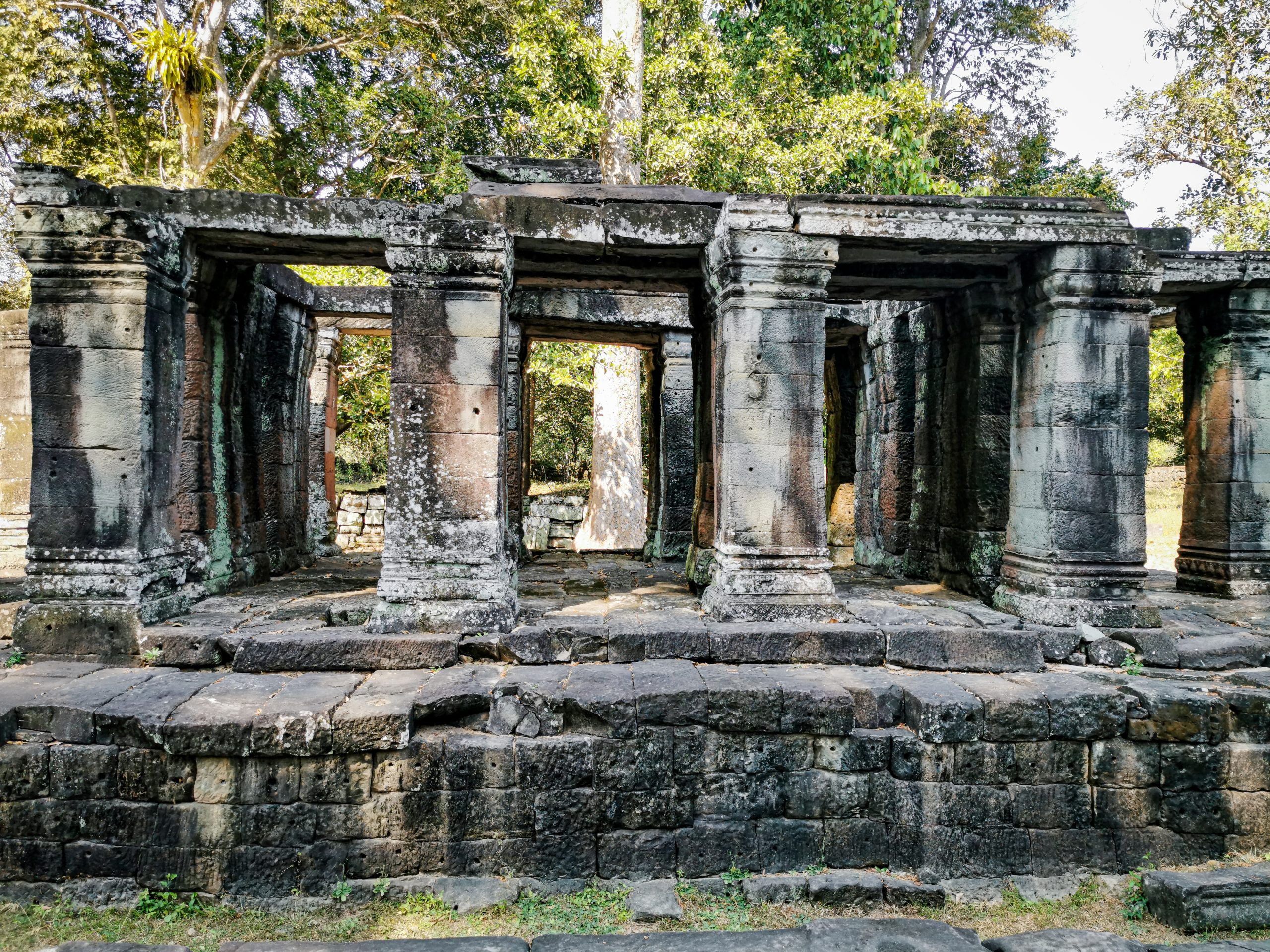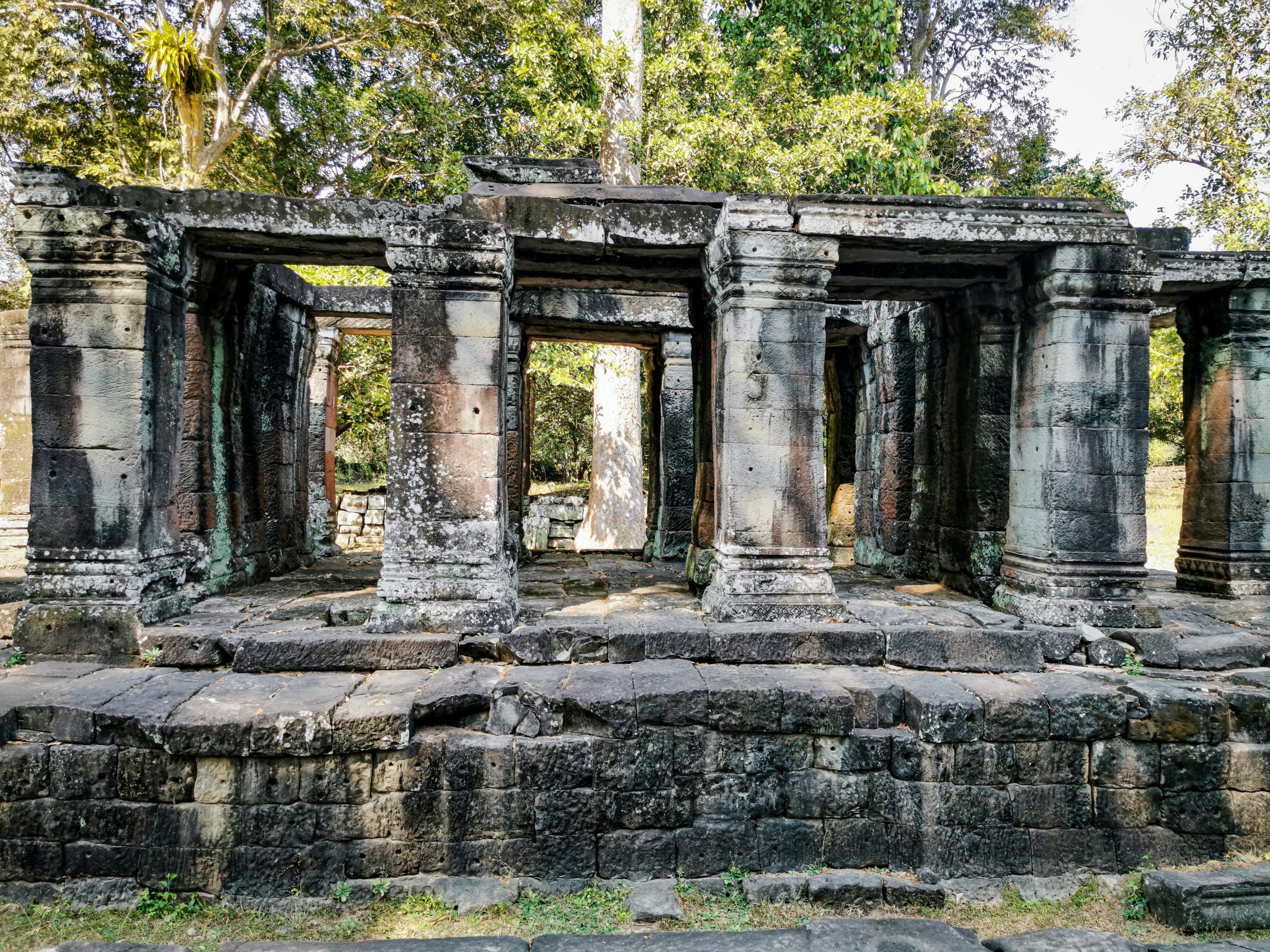 Banteay Kdei temple (Prasat Banteay Kdei), is "A Citadel of Chambers" or "Citadel of cells", that was built between mid-12th and early 13th centuries AD during the reign of King Jayavarman VII. Unlike many other contemporary temples of the Angkor this was constructed as Buddhist temple and not as Hindu temple. It was built in the similar style of Ta Prohm conforming to four concentric walls that enclose the central sanctuary, a surrounding gallery and a long passageway connected to another gallery.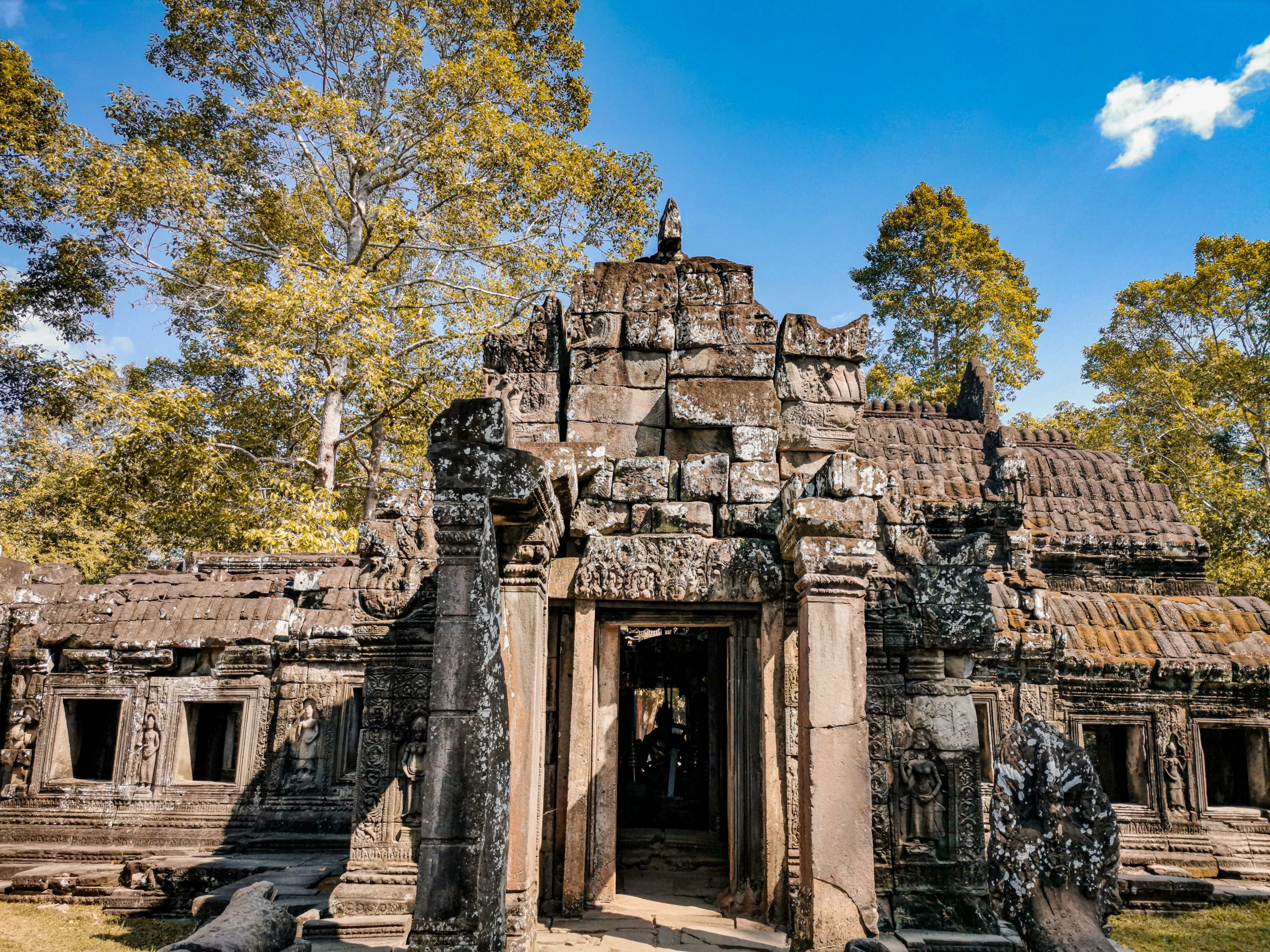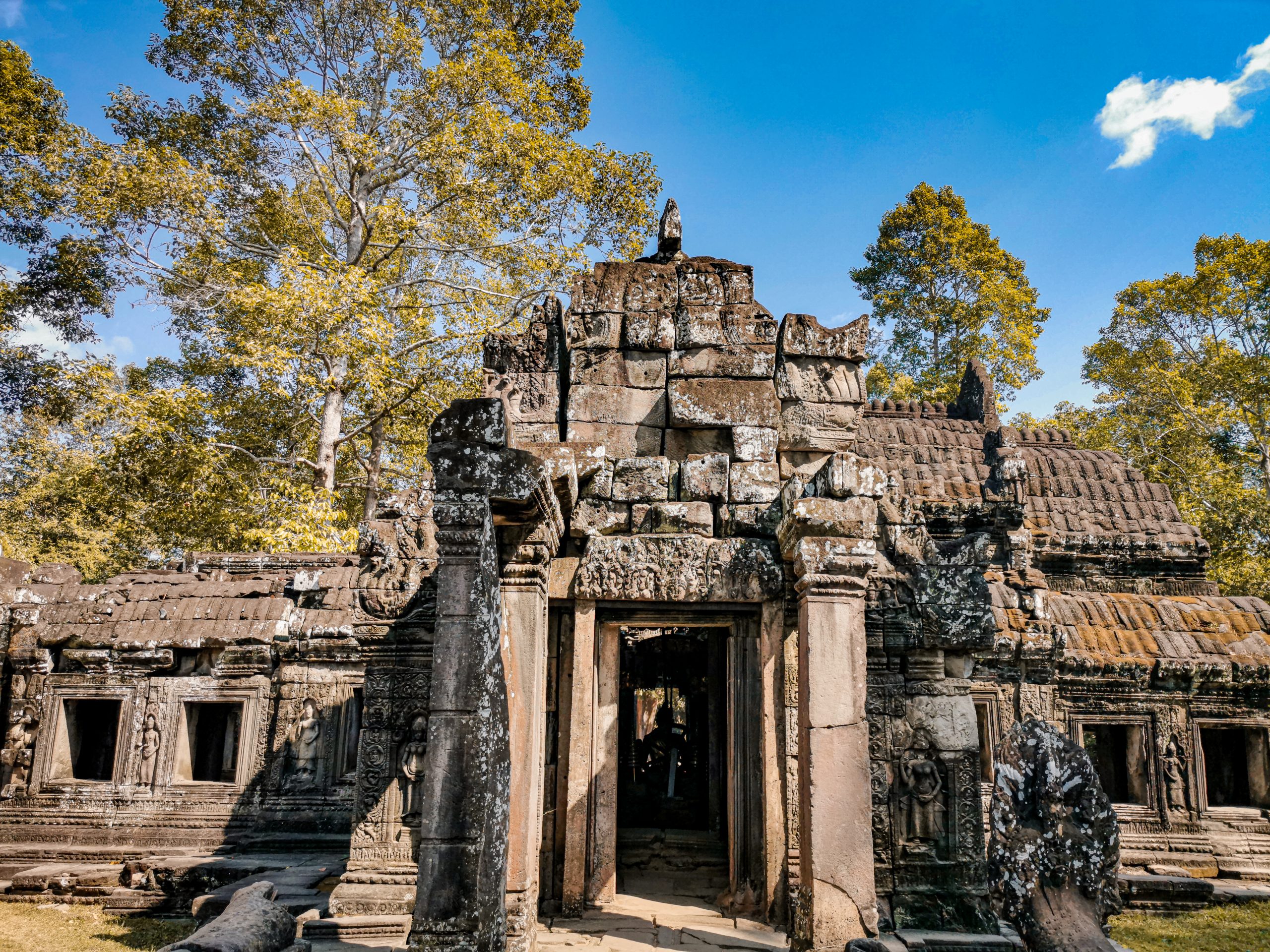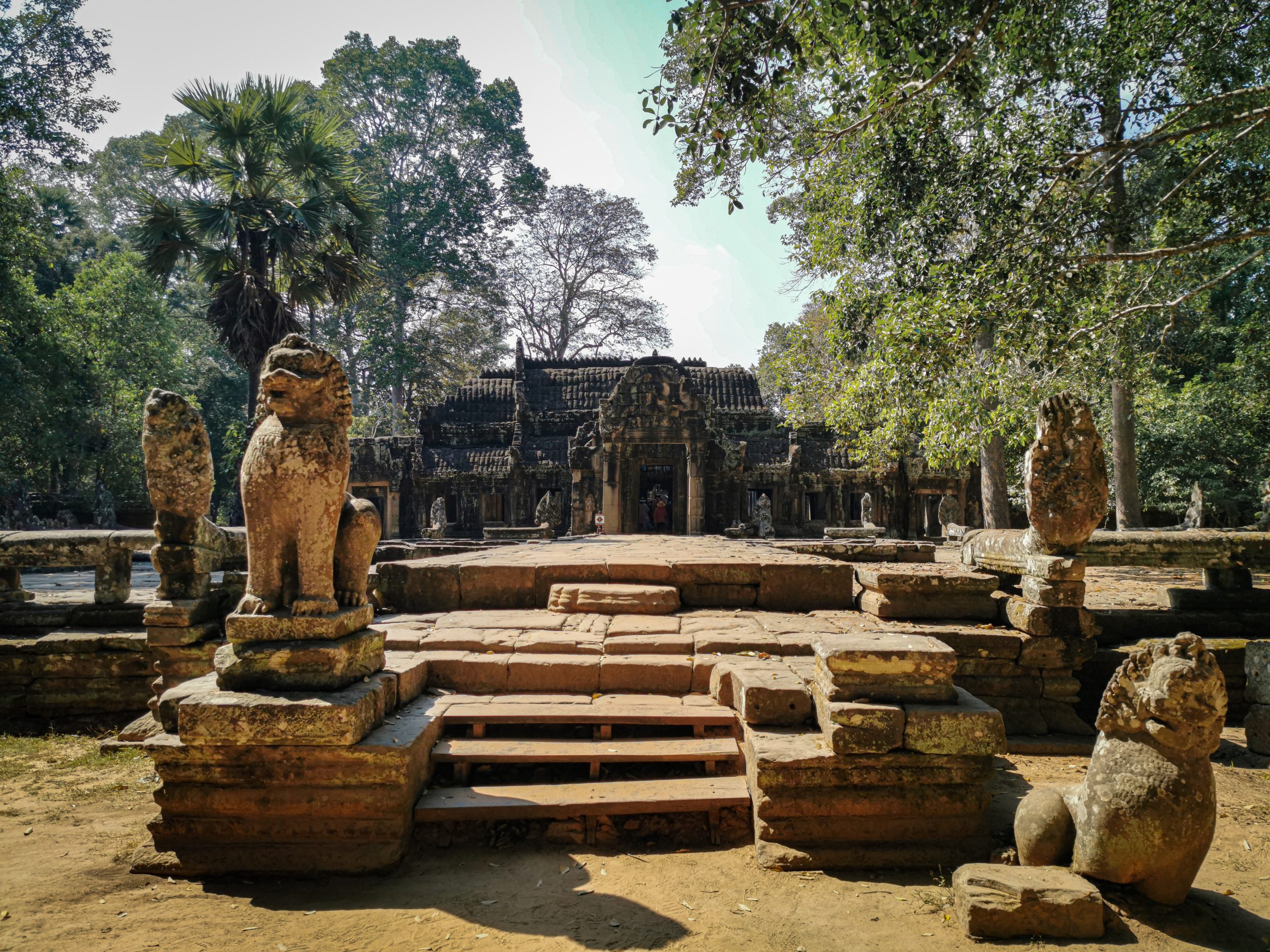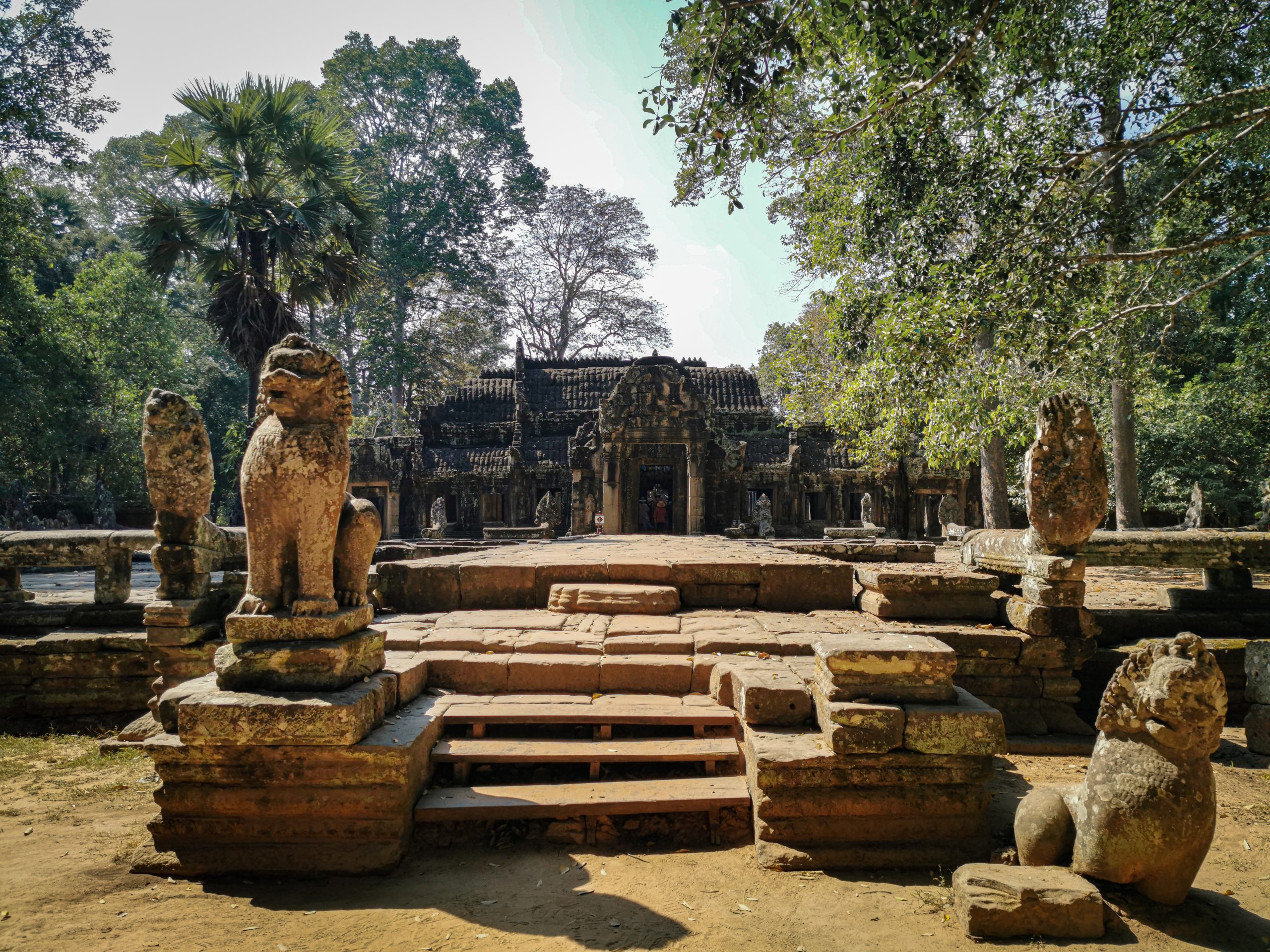 This ground level temple is a complex of three enclosures surrounded by a moat. At the entrance near moat there were statues of Lions and Serpents. In third enclosure there is 'Hall of Dancers' depicting dancing apsaras in the pillars. In the walls of the second enclosure also several images of apsaras were carved out nicely. The innermost enclosure was for the main temple sanctuary with Buddha statue. This is indeed a beautiful temple, a part of which was vandalised ages ago.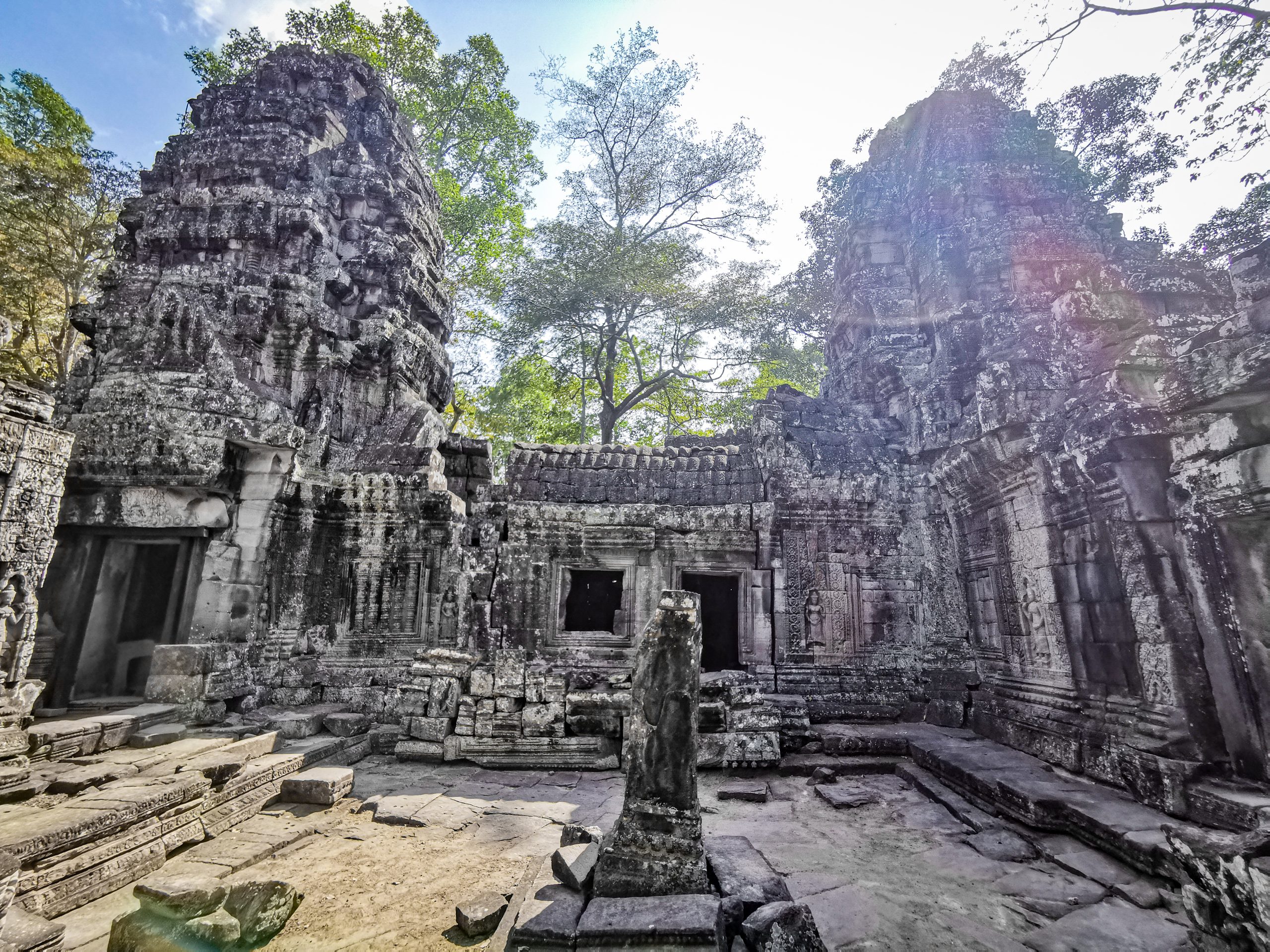 It would ideally take between 45 minutes to 1 hour but I covered it in less than 30 minutes as I had to rush back to her.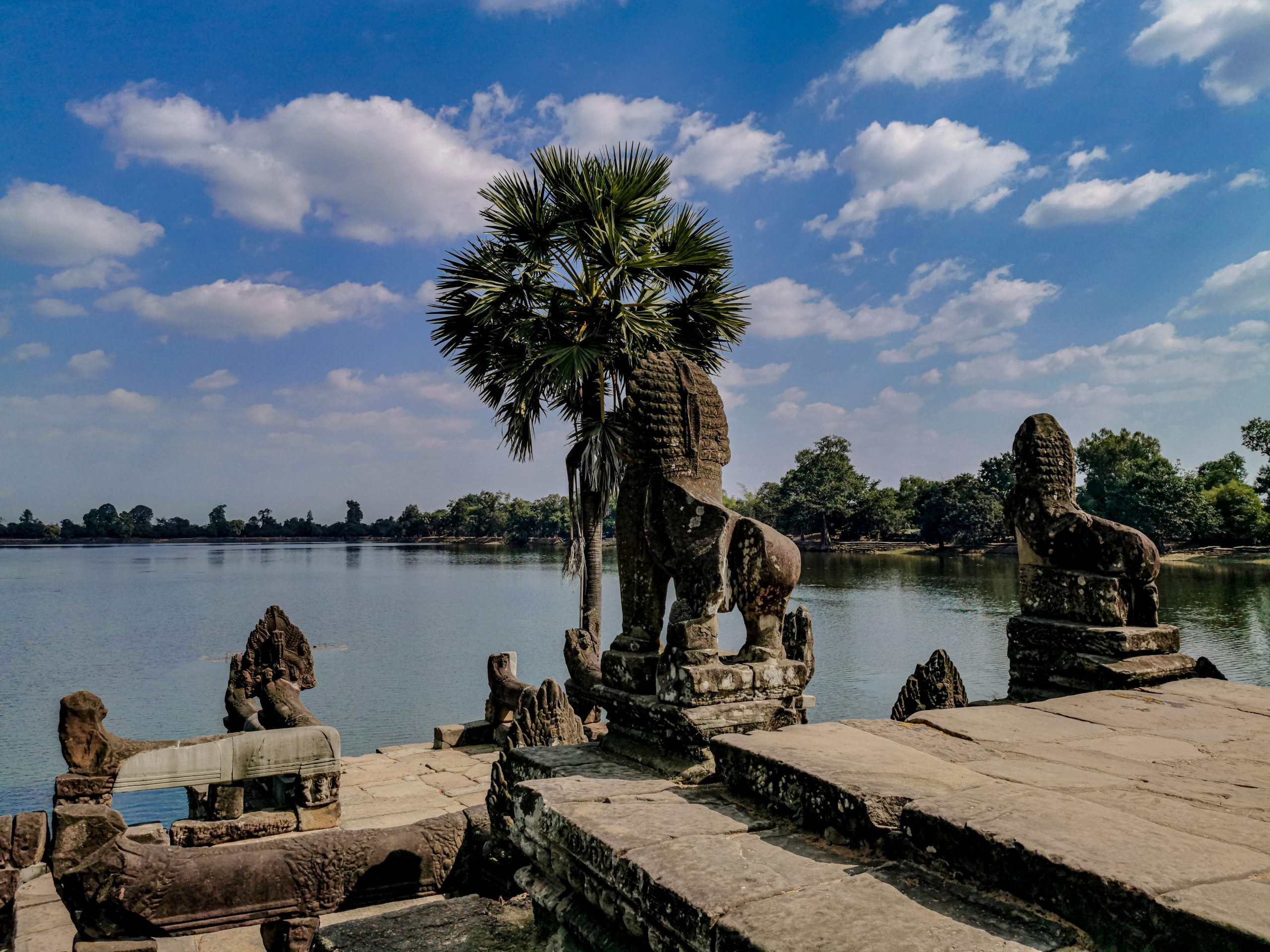 Srah Srang: Just after exiting the complex of Banteay Kdei, on the opposite side to the east you can visit the historical reservoir Srah Srang which is ideal for catching the hues of setting Sun. Originally dug in the 10th century; it was later modified in the 12th century. The landing stage towards the reservoir is lined with serpent balustrade with Garuda statue mounted. The steps further down to the water are flanked by two guardian lions. This area also serves as an ideal platform to sit, relax and enjoy the Sunset. Unfortunately, I missed the Sunset view but our driver depicted the scene how it typically looks with all the colours reflecting on the water.
Once I reached the Tuk tuk, I found her fast asleep. Without waking her up I requested the driver to start the journey. However, she woke up instantly and was looking a bit better. I showed her the pictures and explained how beautiful both the temple and the reservoir looked. She admired the pictures and videos as we headed back to our hostel.
Later that evening we didn't go out anywhere as she fell sick again and her fever returned. Distressed and concerned about her health, I only hoped and prayed for her betterment as we still had the last four days of the month-long trip.
The next morning when we caught our Bus for Bangkok, Thailand from Siem Reap Bus station, she seemed perfectly alright without any sign of fever or tiredness. Thank Heavens! The fever did not repeat and for the next four days we happily explored the attractions in Bangkok ending the year 2019 with a bang.
Read our upcoming blog to know how to have a fantabulous new Year Party in Bangkok should you wish to spend the year end there.
Author: Sourab