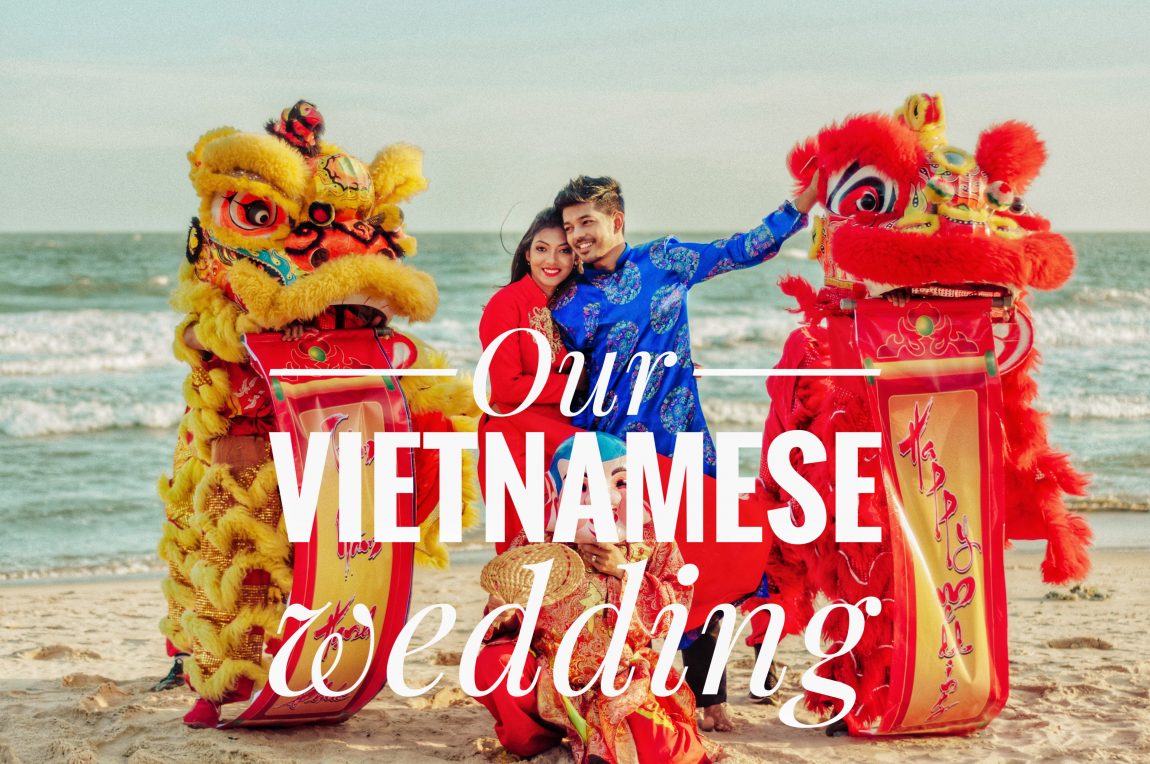 Our Vietnamese Wedding (Renewal of Vows)- #becausemarryingyouonceisntenough
It was around 10 in the morning, I stood at the foot of my bed staring at the contents lying on the mattress. A gorgeous red áo dài was looking at me lovingly while butterflies fluttered in my stomach. "How am I looking?" he said breaking the string of thoughts running through my mind. I turn my gaze from the bed across the hall onto him. There he was standing near the mirror looking dashing in his royal blue Áo dài and turban more like a Vietnamese prince and wearing his million-dollar smile. "Oh!" was all that came out of my mouth, as I looked into his glistening eyes my knees went weak, it was like falling in love all over again. We were doing it for the 3rd time now, as promised as delivered.
The idea of having a Vietnamese wedding stuck my mind when I was reading through an article that explained how elaborate and beautiful the customs and traditions are. A proper wedding is an extravagant affair spanning a few days consisting of several ceremonies like asking permission to receive the bride, the wedding itself, the tea ceremony, moving to the groom's home, and the reception. I knew we might not be able to have such an elaborate wedding, but I wanted a part of it to be part of us when we visit Vietnam. So when we decided to go backpacking through Southeast Asia, I started looking out for wedding coordinators immediately.
Thankfully we found one within our budget and we started conversing immediately. Our Coordinator Svetlana is a sweetheart. We had quite a few questions in our minds and wanted the affair to be an authentic one. She explained to us clearly what we would expect from the wedding ceremony and took care of all our requirements. So we went ahead blocked the date by paying an advance amount. All we needed to do now was wait.
We reached Mui Ne the night before, 3 AM to be precise. After a lot of chaos, we managed to wake up our hostel owner who then gave the keys to our room. We were so sleepy that in no time we crashed on our beds and drifted off to sleep. The next morning we were woken up by Svetlana on our door holding our traditional attires for the day. She explained how to wear them and said she will be back to pick us up at 11 am. Rubbing our eyes we pushed ourselves to the bathroom for a quick shower and to get ready.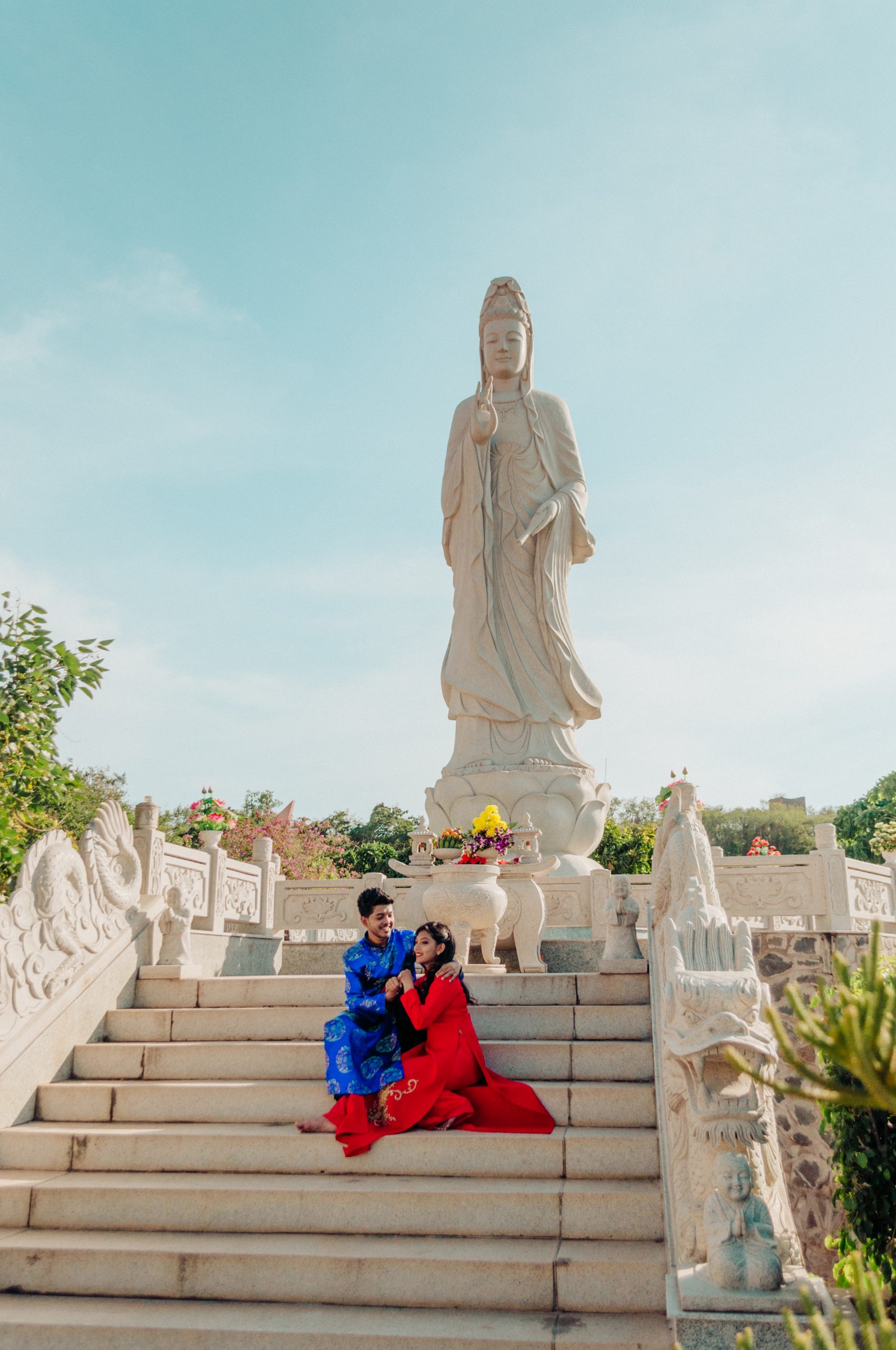 After a quick round of hair and make-up and re makeup (As I managed to spray my face with water instead of the setting spray) I stood at the foot of our bed staring at the beautiful dress lying there. By now we had one proper wedding and a renewal of vows already. But somehow the whole experience of renewing our vows in a different country in a different tradition brings in a surreal feeling. It still feels like the first time I looked into his eyes as I slowly lowered my hands holding the betel leaves covering my face. As though the world stood still, the voices faded in the background and his face glowed till everyone faded away and he was the only person I could see there. The jitters happen every time, we fall in love all over again and rise as a new person from this whole experience. Renewing our vows is not just a formality for us, rather a promise to cleanse our souls and start a new chapter every year with a clean slate, to get entangled more and more within ourselves and walk out being stronger than ever together, a declaration that we would follow our dreams and assurance to be with one another through thick and thin.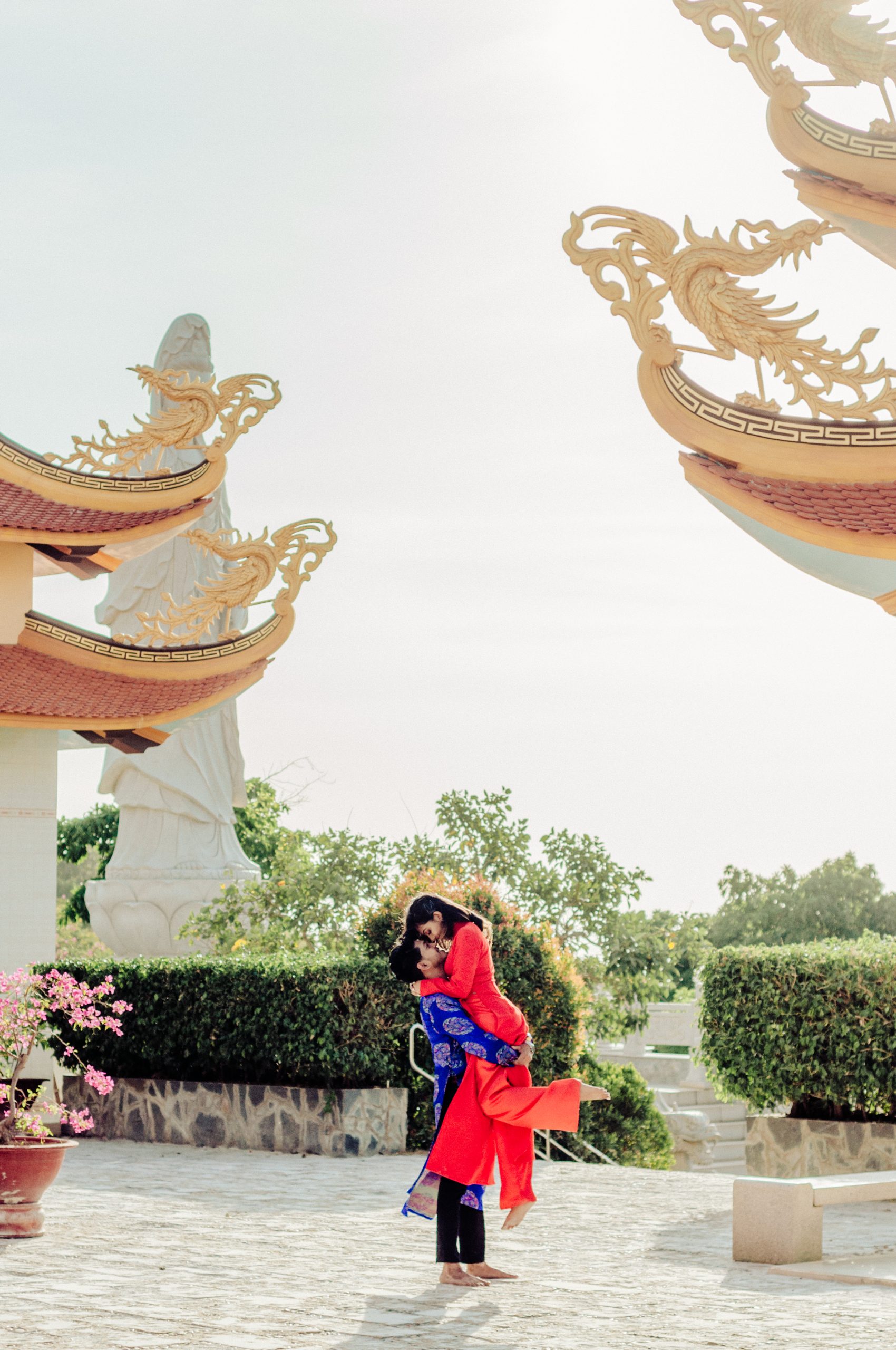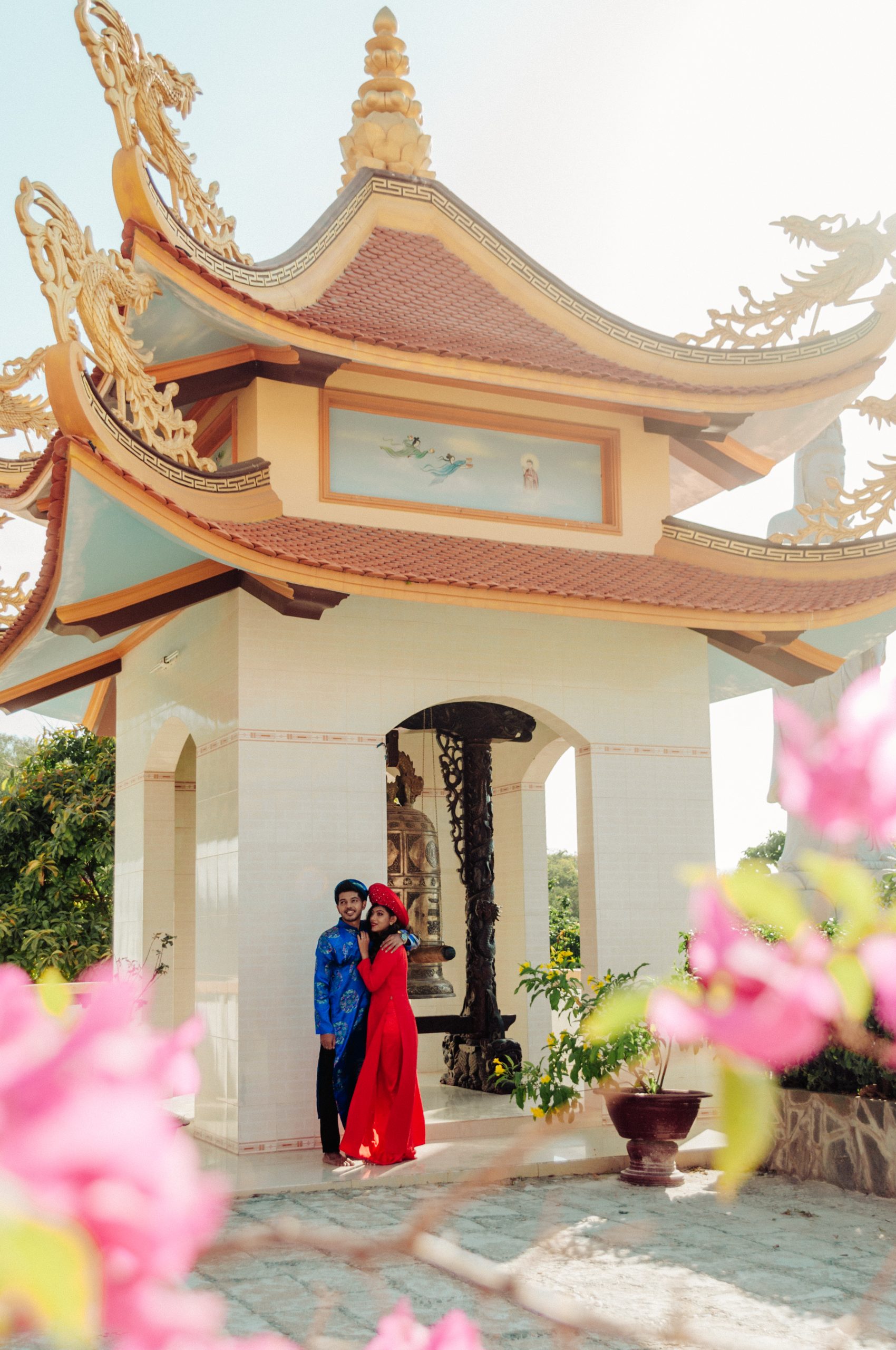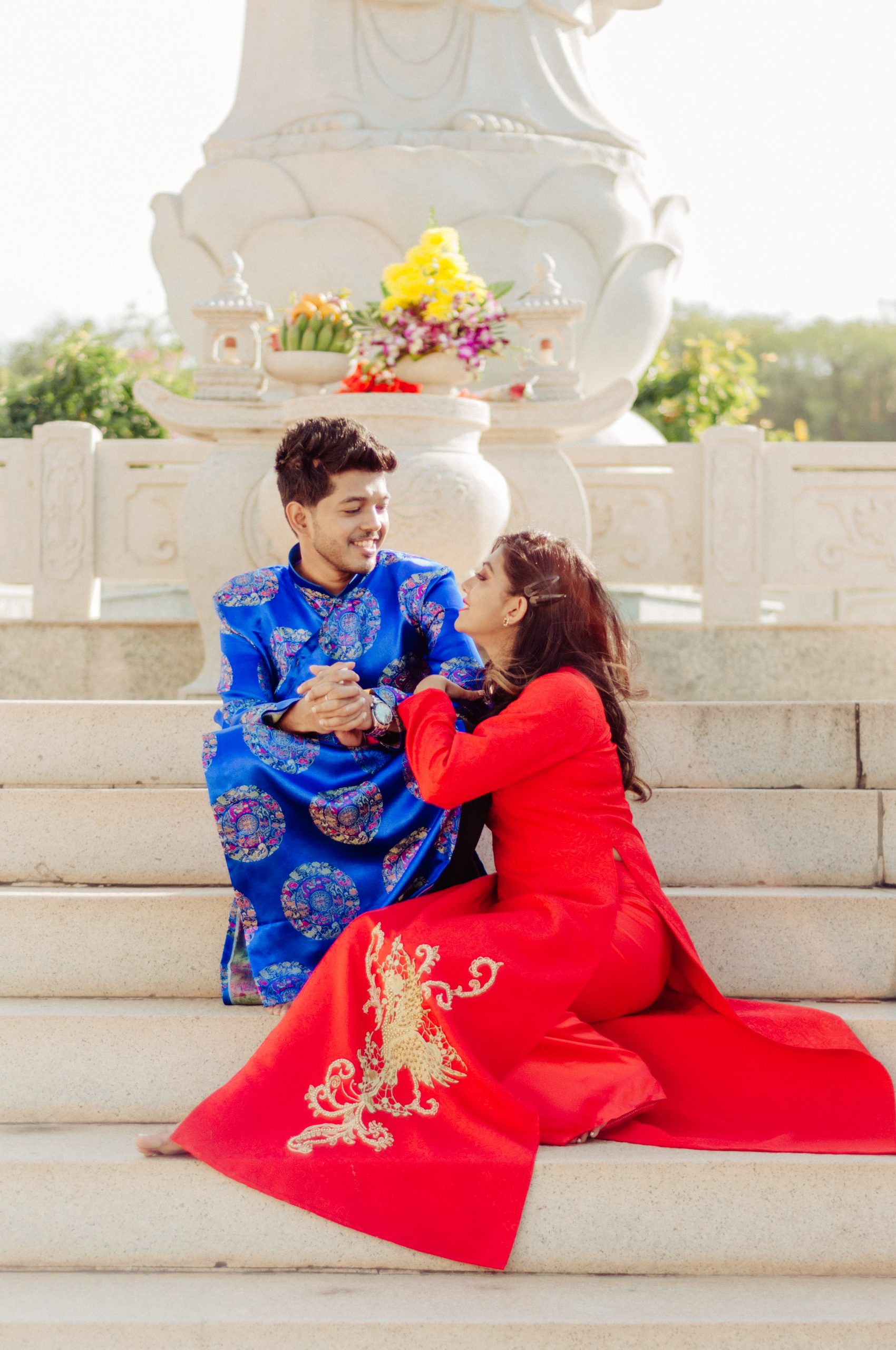 As we got ready, Svetlana picked us up on our ride to a Pagoda where our ceremony would commence. Once we reached there we waited outside in the gardens while Svetlana spoke to the monks there and readied the hall for the ceremony to begin. Meanwhile, we took the opportunity and clicked a few pictures in the surrounding areas.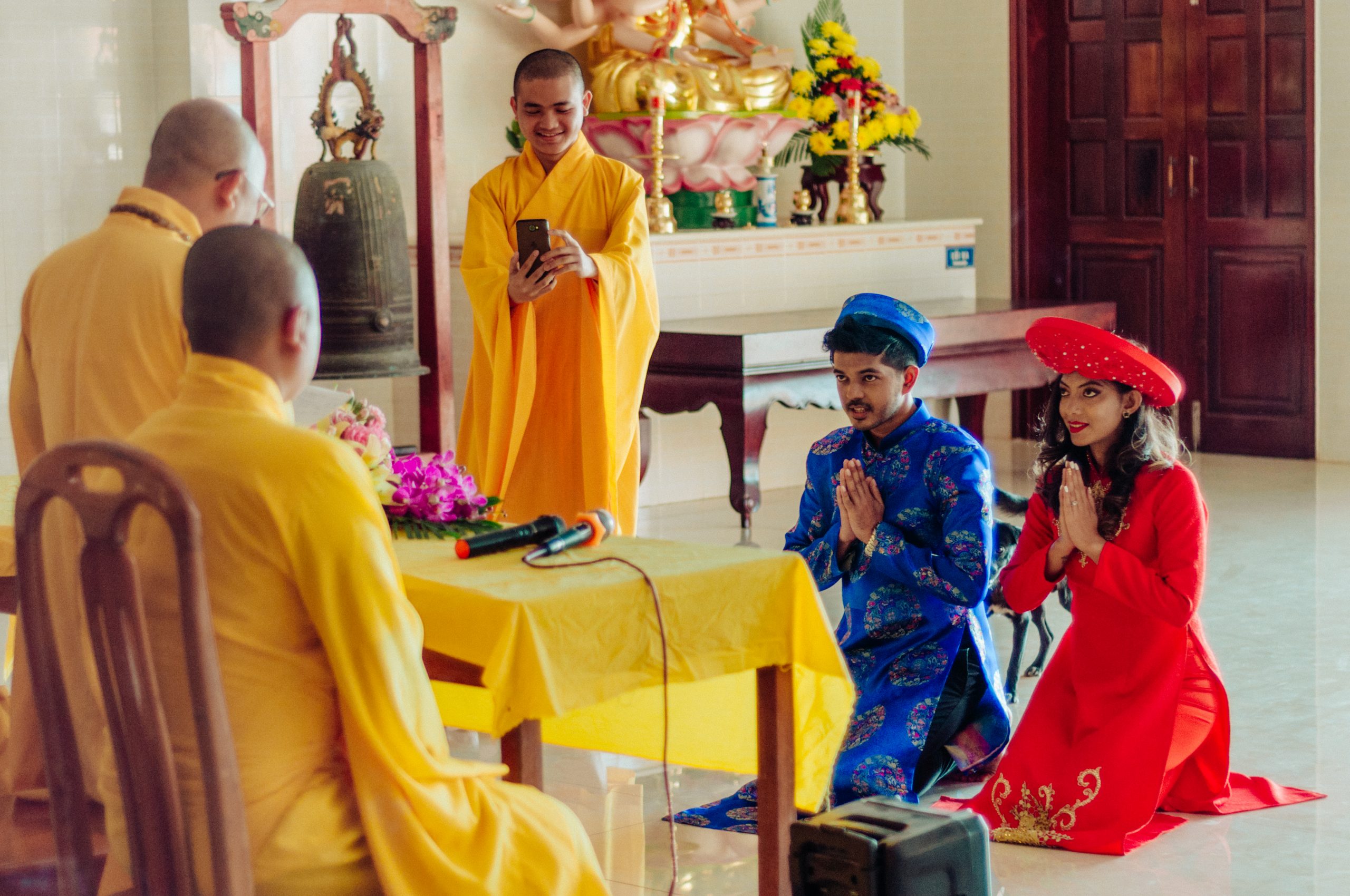 We were then escorted to the great hall where the monks were all standing in front of us and the head monk ushered the translator to explain to us that we would start with the rituals now. We were asked to kneel and join our hands together while the monks chanted verses. The sweet smell of incense filled the room and a strange sense of tranquility filled our souls. We looked ahead at the huge idol of a golden Buddha reaching the ceiling, calmness and serenity filled the room as the monks chated away. A little while later, the head monk turned towards the translator and asked him to start translating the verses to us. One by one he went on to explain the importance of holy matrimony, the duties of a husband towards his wife and vice versa, the conduct both need to follow, the importance of wedding rings, expectations from life from there on, having faith in each other, losing our partner to death and a lot more. I felt chills as I listened intently hanging on to each word, and strangely I could feel myself welling up inside. As if a honey has been poured through my ears as if the words from the mouth of the monk were going through my veins and cleansing my soul. I was lost, lost in tranquility, lost in the moment, lost in the vast vast universe only to be brought back in reality with his touch when we were asked to stand up and hold hands.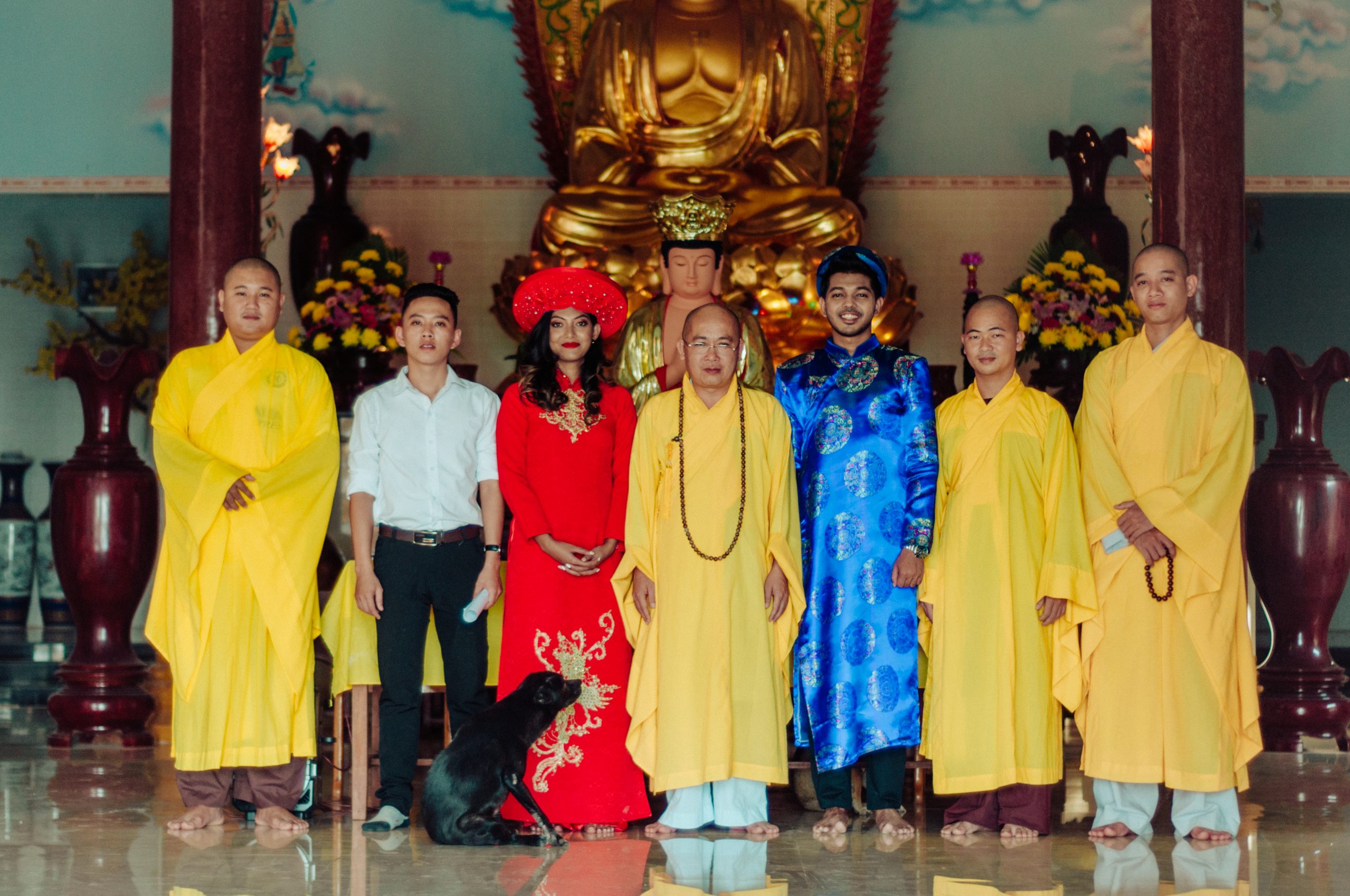 The ceremony went on for another 30 mins while we sought blessings from Lord Buddha and each of the monks. We clicked pictures with them and expressed our gratitude and they in turn expressed how happy they were to have a foreigner couple give tribute to their culture by getting married in the pagoda with proper rituals.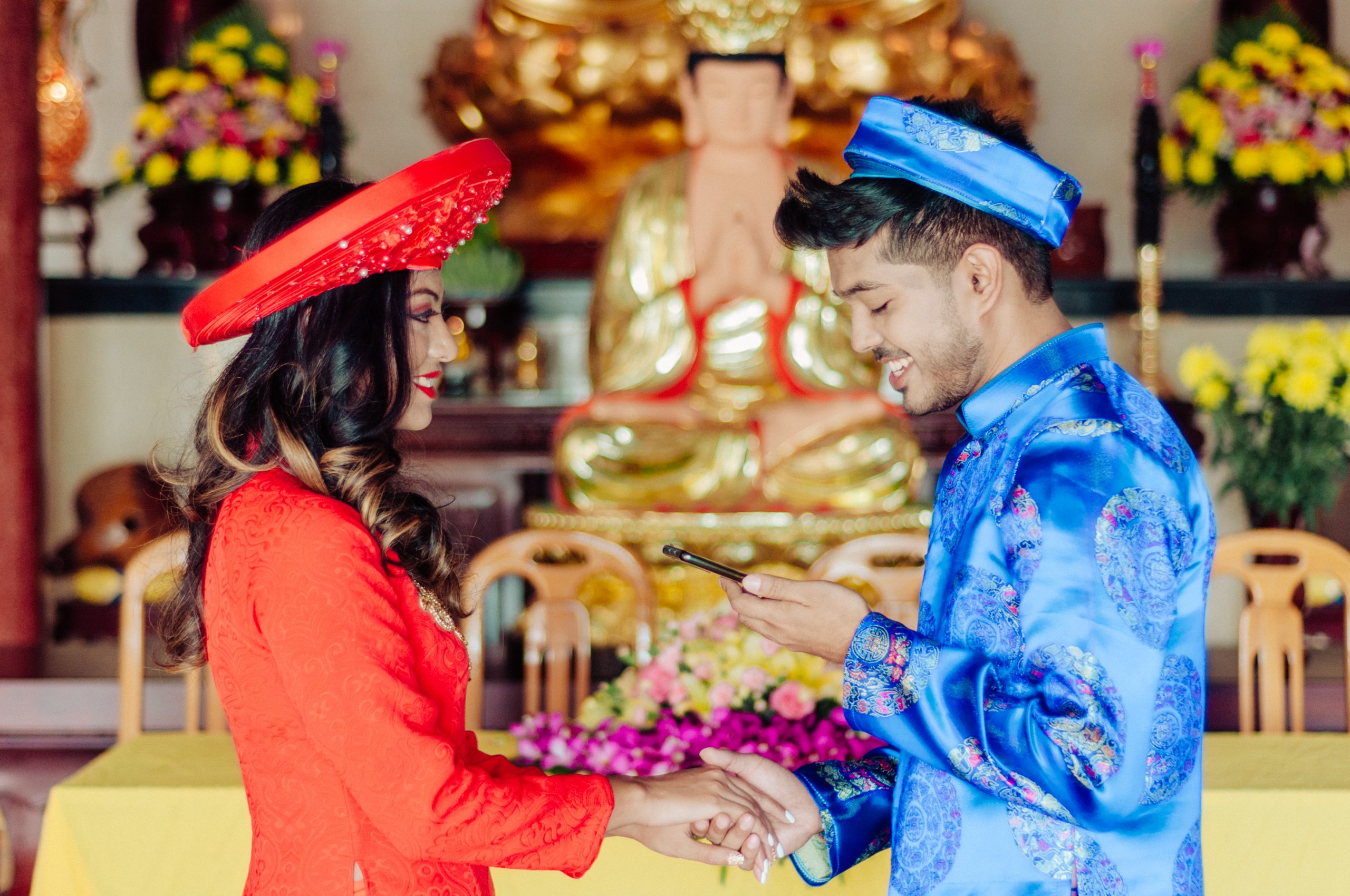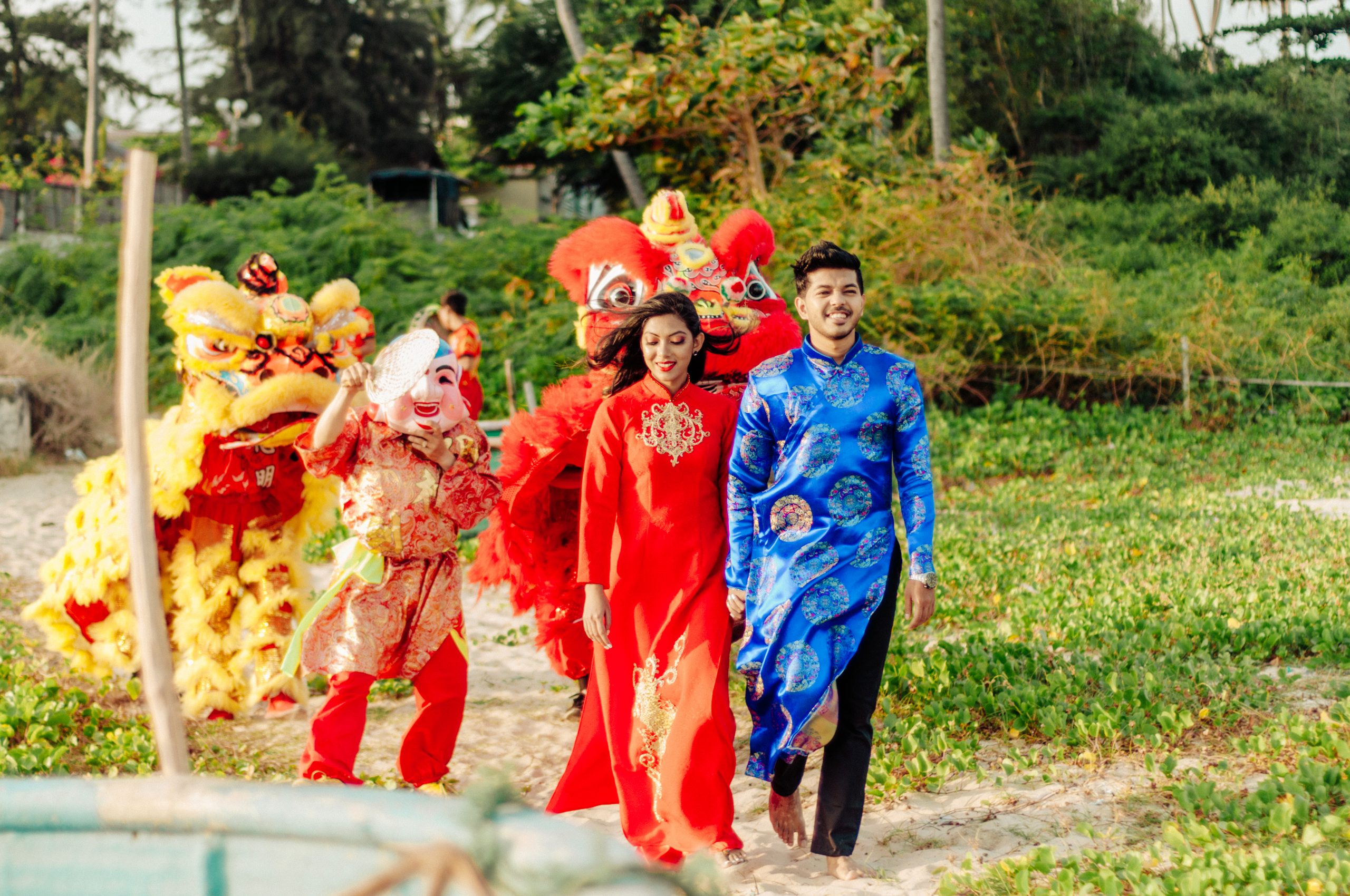 We then read our vows to each other and left towards the beach where the dragon show awaited us. As we walked down the sandy path onto the beach, the entourage of band members and dancers walked beside us.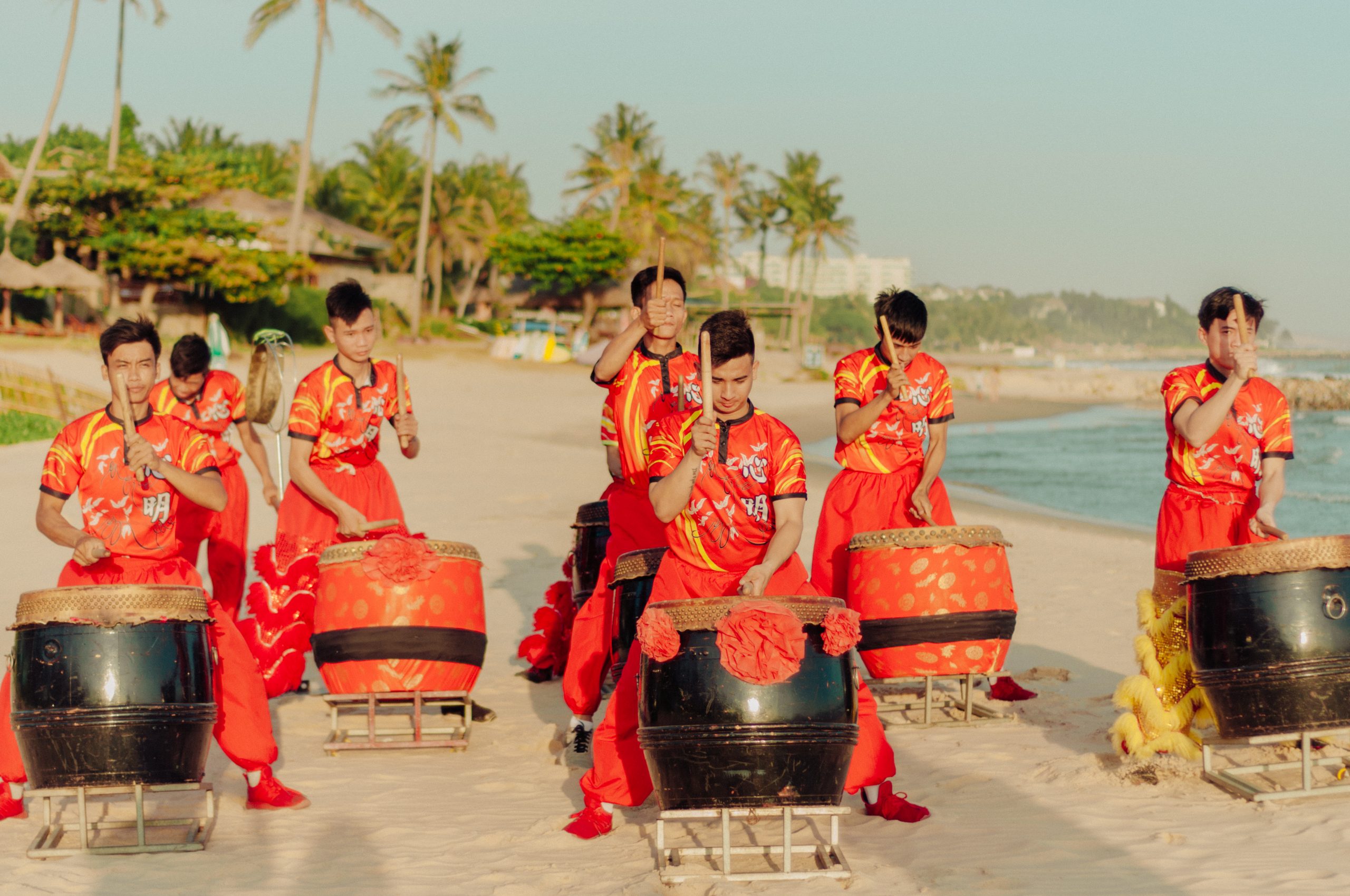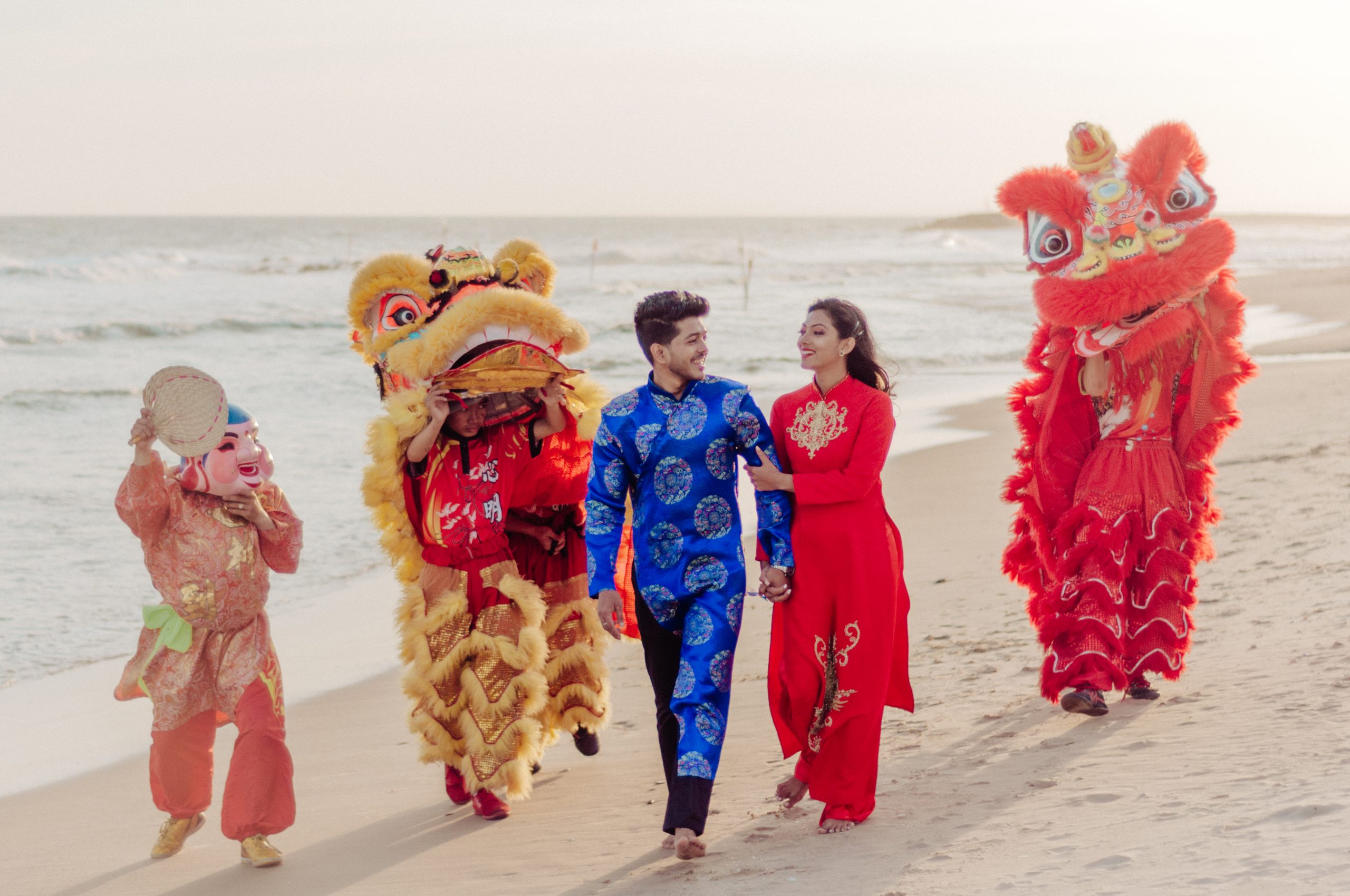 They took up their positions in front of us and startled us with their amazing session with the drums. Our heart matched their beats as we swayed to the sound of the boom. Then followed the storytelling with the dragon show. What an amazing display of colors, coordination, and music, we were left perplexed. The sun was setting on the other side as we were surrounded by beachgoers and tourists trying to capture the spectacle and Svetlana was trying her best to move them away as it was a private affair. We didn't mind though. The show concluded with us rubbing the belly of the laughing buddha for luck and thanking the band members for putting together a beautiful performance and then we proceeded for some final photo session on the beach with the last light.
We then exchanged some stories, hugged them goodbye, and left for our hostel. Looking outside the window of our car to the changing landscapes holding each other's hands, we felt a rush of love pass through us, it was going to be the three of us from there on, we were so happy and content that nothing else in the world mattered anymore.
Planning a Vietnamese wedding:
We booked our package from ibride (https://ibride.com/packages/in-vietnam/) , there is a range of options to choose from. Be it a wedding with sea views, on the beach, a traditional wedding in the pagoda, a private romantic wedding in a villa, or a luxurious wedding on a yacht, you have all these choices available with a click.
All you need to do is create an account which is free of cost and then start conversing with the agents who would then connect you with the wedding co-ordinator (in our case it was Svetlana). We requested some customization according to our budget which was very well honored. We then had to book our dates and the package selected by paying for it in advance. We then got access to her contact details to carry on the conversation outside the website. Our measurements were sent and we could select the áo dài of our choice, make other decisions like the number of band members, a dragon show on the beach or at our hotel, choice of flowers, and thereon. The ceremony was smooth, hassle-free and one of the best ones we have had so far.
There are other websites and sometimes hotels themselves offer such packages, which mostly are for a huge number of guests including catering, venue decoration, and all. Below are some of the options we found that could help in planning a gorgeous wedding.
Author: Gloriya