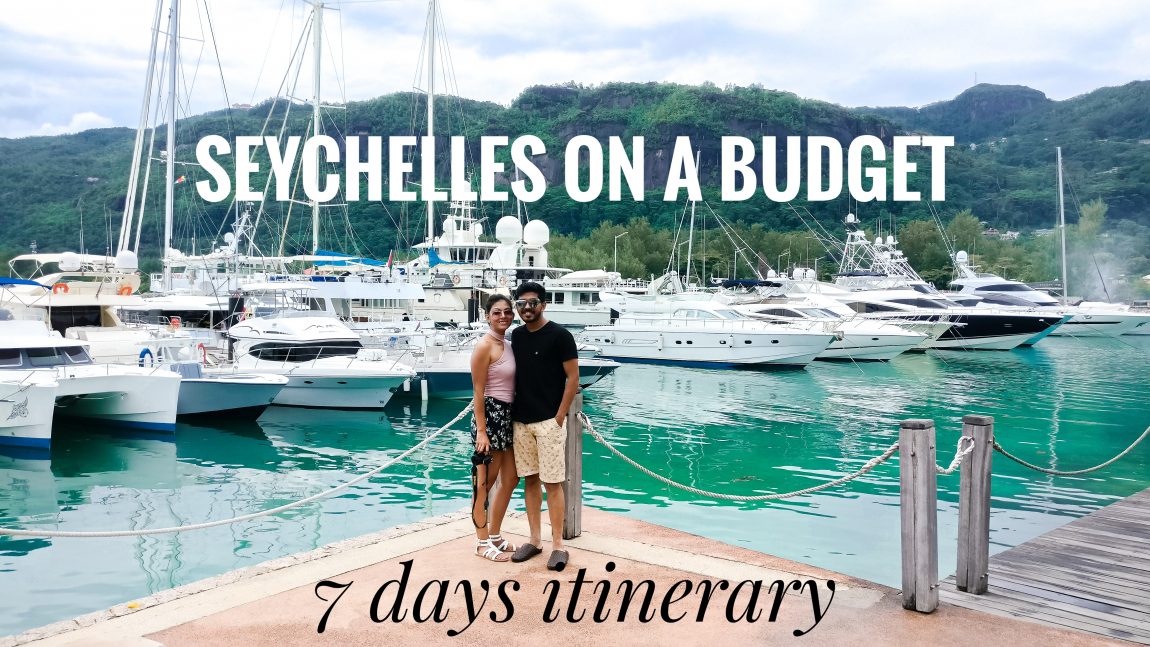 Seychelles : Without a hole in your pocket

Dining on the beach under the starlit night sky with your soul mate/better half might have been on the bucket list for many of us. The sound of the first wave of the rising tide crashing on the pebbly beaches, the rustling of leaves in the wooded steep caused by the sea breeze, the sight of million stars illuminating the night sky somehow mysteriously multiplies the level of romance, isn't it? Now imagine the pristine sandy beach is replaced by the deck of a private yacht anchored in the open sea between two small islands, you sipping on delicious wine while contenting your taste buds with some authentic cuisine, the sound of waves continuously splashing against the hull of the yacht, as you look far ahead thousands of tiny city lights of mainland shines like crystals. For a moment everything appears to be so surreal that you begin to ask yourself 'Is it really happening' and then the very next moment you realize it is not a dream because you are in the  Indian Ocean and the nightscape in front of your eyes is that of Mahe Island's. Yeah, this was one of the many experiences that Seychelles offered during our recent trip. 
The Seychelles is a country in the Indian Ocean off East Africa, comprising of 115 islands. Being a tiny dot on the World map, many probably don't even know about Seychelles and those of us who even heard about it, perceive it as a luxury destination. Yes, it is true that Seychelles has some of the most expensive and super luxurious resorts and hotel chains but if you plan right and in advance it can be well within your budget. And for a fact it is home to some of the best beaches in the world, coral reefs, as well as rare plants, animals and birds, all the more reason to make it your next holiday destination.
It had only been nine months since we got back from our Scandinavian honeymoon trip, so I didn't quite think we would plan another international destination so soon. But it being our first wedding anniversary, my wife had different plans which I was completely unaware of. So, couple of months ago she asked me 'how about celebrating our first anniversary in a special way with a trip to Seychelles?' At first I was bit dithered thinking that it would be very expensive. So I replied 'why so far and not some nearby country which will not blow a hole in our pocket?' but then I got to know that ever since we got back from our last trip she started researching about Seychelles and that it was on her wish list from long time. Seeing her excitement I began to search more about the fascinating facts about Seychelles and it didn't take long for me to get convinced that indeed this should be the place for our anniversary celebration. And there within a month we were done with all the planning and booking part.
As an anniversary vacation this trip was more about relaxing and spending time with each other while enjoying the enchanting views of the island rather than lot of activities and sight-seeing. So we planned our trip accordingly.
Flight:
Air Seychelles has direct connectivity from Mumbai to Mahe Island (duration 4.5 hours) which fly only on certain days of the week. Depending on the season and how advance you book the tickets, a round trip for two can be as low as INR 29000/ 362€ PP. For us it had cost INR 32250/ 403€ PP when booked two and half months prior through Goibibo. You may find tickets at similar or cheaper price (while searched in incognito browser mode through sites like sky scanner) with other airlines like Sri Lankan Airlines but that with a layover included. So book with caution. There are domestic flights of Air Seychelles that connects Mahe to other major island Praslin (Round trip cost 11000 INR/ 138€ PP when booked through sites like Make My Trip, booking through official Air Seychelles might cost a bit more). And Charter flights can be commissioned to Praslin, Bird Island, Denis Island, D'Arros Island and Fregate Island (you can book charters through official Air Seychelles website https://www.airseychelles.com/en/plan-and-book/book-charter).
PS: If you would like to add some more African countries to your journey to Seychelles, there are some indirect flights from India through Ethiopia (Addis Ababa) or Kenya (Nairobi) which would cost you much lesser on your pocket.
Being an Etihad partner airline, Air Seychelles has direct connectivity with other countries like UAE (Abu Dhabi), South Africa (Johannesburg) and Mauritius and have indirect connectivity with all major cities of the world through code share partner.
Inter Island Ferry:
The three main islands of Mahe, Praslin and La Digue are also well connected by ferries. High speed Ferry operators like Cat Cocos and Cat rose can be booked via below sites
https://www.seychellesbookings.com/cat-cocos or https://www.seyferry.com/en_GB
Mahe to Praslin ferry cost 50€ PP (45-60 minutes), Praslin to La Digue 14€ PP (15 minutes) and La Digue to Mahe 64€ PP (90 minutes with 30 minutes stop at Praslin). So to cover all three islands only ferries would cost around 130€* PP.
*Note: As another available option, an individual tour operator that we met can give one day tour of the islands with sight seeing included at a cost of 150€ PP. More details are mentioned later.
Accommodation:
As mentioned earlier we wanted to make this trip more about relaxing and being lazy, so we decided to stay and explore only Mahe Island for whole one week. Also since we were staying only in Mahe, we thought we would rather book accommodations in different locations.
1. Petit Baie Chalet, Au Cap (3 nights): 255€ (20700 INR) through booking.com
2. Oceanic View Apartment, Bel Ombre (2 nights): 130€ (10500 INR) through booking.com
3. Sailfish Beach Villa, Anse a la Mouche (1night + ½ day extended): 193€ (15500 INR) through agoda.com
Seychelles is a paradise for ultra luxurious accommodations, so if you have a huge budget and desire to experience the same then you can choose from several hotels and resorts like the Four seasons, Maia, H Resorts, Hilton, Avani, Kempenski, Savoy, Constance etc. These luxurious options are available in main three islands as well as in some of the outer islands.
But should you wish to spend less, then there are several budget gems which comes in the form of family-run guest houses or self-catering options like chalets, bungalows and villas. Hotels tend to be expensive if not booked well in advance, so instead you can opt for such accommodations through sites like booking.com, agoda, AirBnB. Expect to pay 65€ or above for a night, depending on the factors like location, amenities and number of guests. Also, if you are travelling solo and looking for some budget accommodations, you wouldn't find any backpack hostels like other countries. So it is advisable to look for lodges a little away from the main city (Eg- Machabee) which would cost around of 45 to 50€ per night. So if you want to bag the best places at best prices, you need to book as far ahead as you can.
Visa:
Seychelles is a visa-free country however upon arrival a visitor's permit will be obtained if you hold a valid passport and your accommodation for the entire duration and return ticket/ticket for onward travel is booked. More details are mentioned at http://www.mfa.gov.sc/static.php?content_id=1
Food:
Some of the hotels do have breakfast included in the price, other meals you will need to buy on your own. However, the self-catering guest houses and AirBnBs come with fully equipped AC apartment and kitchenette with all necessary amenities. So it will be much cheaper if you can buy some groceries and vegetables, fruits, fish etc. from local markets and manage to cook on your own. There are number of local chain stores (e.g. ISPC, Kannus, Kumar & Kumar, TipTop) available around the island. In some areas you might only find tiny grocery stores however from most of these you can easily grab some snacks, packed food items, milk, beer, wine or other everyday stuffs. Here and there you may even find some roadside carts where locals sell fresh fruits, vegetables, fish.
You may also visit the capital Victoria where you can find STC supermarket and many other shops/hyper markets to buy whatever you need. In addition to all these, in popular areas like Beau Vallon, Victoria you can lookout for the takeaways (to give an idea we picked pork noodles, sausage fried rice and fried chicken from a take away near to Victoria bus station for around 140 SCR/9€)
P. S. Even if you buy food from local markets in Seychelles standards it can be quite costly. So we take a different approach when it comes to food . We always pack some ready to eat foods (like instant noodles, soup, ready to eat curries, energy bars) while travelling outside India (especially to expensive destinations). Trust me, this can make your trip a lot more easier and help you to cut down budget by a good margin. We manage 70% of our meals this way during our stay and for the rest we enjoy authentic local cuisine whenever out for sightseeing or some shopping.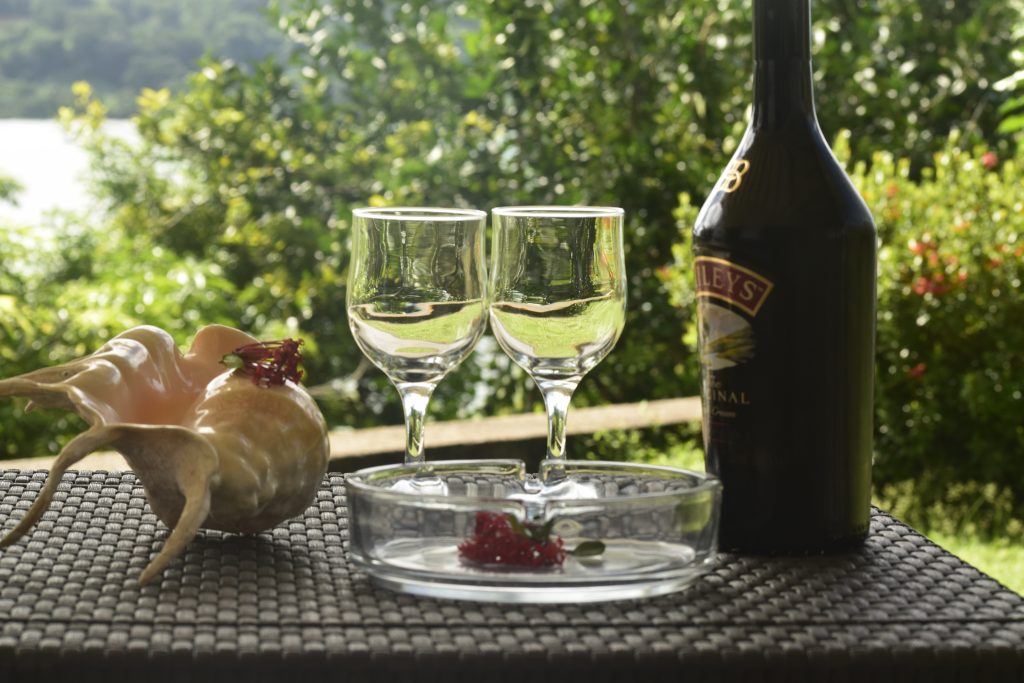 Beverages:
Though the tap water in Seychelles meets World Health Organization's specifications, it is advised to drink bottled water because the chlorinated tap water may not be safe to drink. A 5 ltr bottled water will cost 30 SCR (2€). Seybrew beer and Takamaka rum which is local favorite, are produced on the islands and available in every store for lower price than restaurants. You'll pay around 27 SCR (2€) for a small Seybrew bottle in a local shop. You are allowed to carry up to 2L of alcohol per person from the duty free shops at the airport.
Getting Around:
If you wish to cover every attraction and the remote beaches of the island, renting a self driving car would be good option to explore Mahe and Praslin. Car hire costs starts from 40€ a day, whereas a single taxi trip would cost you the same. Both Petrol and Diesel price fluctuates, you can expect anywhere between 14 to 20 SCR for a litre. However, be aware that self driving can be a bit tough due to narrow mountain roads and hairpin bends.
Since we both don't drive, had to rely on local public transport system of SPTC. The buses cover almost the entire island of Mahe, including small mountain roads. Bus fare is fixed to 7 SCR for a single trip which is much lesser comparatively. There are buses almost every half an hour, the schedule for which you will find in most of the hotels. Bus services operate throughout the day, from 5.30 a.m. to 8.30 p.m. though it is more frequent between 8:00 a.m and 6:00 p.m. It's easy to spot the bus stops as they're painted on the road even if there is no shelter. La Digue is very small, most people get around by bike or ox cart, a few taxis are also available.
More information about Mahe and Praslin transportation can be found at http://www.seychelles-travel.org/index.php/en/transport/bus
Our 7 Days Itinerary:
Day 1: Wine and chill in the land of Sun, sand & sea
Our flight landed in Mahe around 08:30 a.m. Seychelles time. After clearing the immigration as we went out we could see that our host from Petit Baie Chalet was already there to pick us up. Before heading to the car we exchanged some of our Euros to local currency in the Airport Exchange counter (Note: Euros are accepted throughout Seychelles including small roadside vendors however, you would get the changes back in SCR). We were charged 25€ for airport pick up. The advantage of travelling in an island like Mahe would be no traffic signals, so it took us just 10 minutes to reach our self-catering villa in Au Cap. We had booked a large suite – ocean garden gazebo. The villa itself was quite spacious with a big dinning room and attached kitchen, an air-conditioned bedroom and a big enough bathroom. The villa is well ventilated, equipped with every necessary items, has a large veranda overlooking garden. The best thing about this chalet was its surroundings covered in lush green garden. There are many flowers in the garden, including orchids, as well as local fruit trees like Java apple, Breadfruit. Another unique thing about this place is that there are two pet giant tortoises in the garden and in the backyard you can find huge Crabs roaming around in their natural habitat. The beach is right outside the main gate across the road with a beautiful view. A small shop is just around the corner and bus stop few minutes walk away. Also the Takamaka Rum Distillery is at a walk-able distance. Overall this is such a peaceful and quiet place where you can just sit, relax and enjoy the serenity of the space. (So for us the first evening ended with long hours of conversation over a bottle of wine.)
Day 2: A surprise awaiting @ Anse Intendance
Next morningp as we got up , my wife informed that we would be visiting the Anse Intendance beach and that some tour operator would pick us up and drop off later. So we got ready and left around 10:00 a.m. only to find later that my wife had planned the biggest surprise of my life – A stunning Seychellois beach wedding. To know more about read our blog : Seychelles Wedding (Renewal of Vows) #becausemarryingyouonceisntenough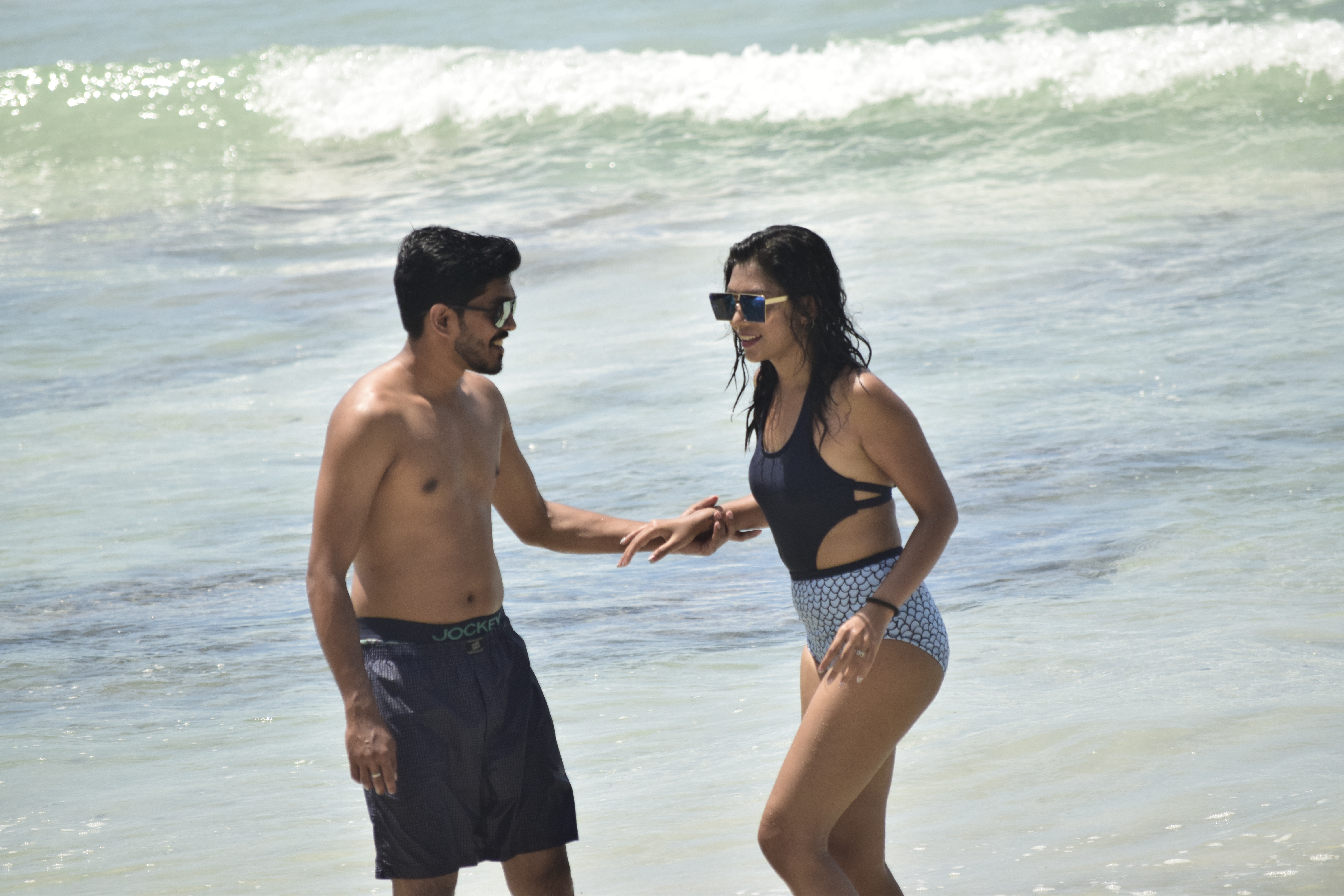 Day 3: A lazy afternoon in Takamaka beach and lunch @ Chez Batista's
We didn't have anything planned for the day so we decided that we would explore what Seychelles is best known for – It's beaches. With powdery sands and lush jungle landscapes, every "anse" (Creole for "bay") is hard to miss in Seychelles, so it gets difficult to choose one. But finally we decided to visit Anse Takamaka which was closer to our location. We took a bus which dropped us right in front of the beach. A few meters walk off the roads through palm and takamaka trees (that give the beach its name) and bam! suddenly we were in the middle of a paradise. The beach is indeed picturesque. With lush vegetation all around (that gives shades to get protection from the Sun), crystal clear turquoise shallow water, sun-bleached golden sand, impressive boulders and this place gives a feeling of tranquility. This seemed like the perfect beach for us to take a dip into the ocean. The water is shallow, warm, and perfectly clear as you start out, but the waves and currents get strong a little ahead. However it's good enough for swimming and snorkeling, we could even spot two guys canoeing. So as long as children and non-swimmers stay in the shallow water, they can bathe in the ocean without fear.
Chez Batista's – a shack restaurant is just around the corner where we enjoyed our lunch with delicious creole cuisine. The restaurant is nice and clean with rustic look, friendly staff , a wide variety of food but quite expensive. For two seybrew beers and two main platters (Octopus Curry and 'Dish of the Day'-a grilled fish, served along side white rice salad lentils creole sauce) we paid around 1000 SCR (63€). We returned to our chalet around 5:00 p.m. and spent the evening tuning with the nature and feeding the tortoises in the garden.
Day 4: Botanical gardens, Eden island, Sauzier waterfall, Mission lodge and a delicious lunch at Del place
During our planning phase we stumbled upon this website named Seytours (https://sey-tours.com/) which provides all sort of tours and transfer in Seychelles islands. The website looked very basic but pricing was very modest compared to all other websites that we had seen earlier. So to get further details we contacted concerned person David through Whatsapp. He has different options for sightseeing based on number of hours which is very competitive, and it's hard to find any other tour operators in his price range. So we had booked one day Mahe City tour for 125€ (around 2000 SCR). The price is charged for private vehicle driver who is a guide also. We didn't have to pay anything in advance.
Our trip was scheduled to start from Victoria bus station from 09:30 am and he was right there before time. He was very accommodating in every aspect, he told that he could easily pick us up from our guesthouse in Au Cap at no extra cost. In that case we could have avoided the hassle of taking a bus to Victoria. Anyways, David was very friendly, extremely knowledgeable about the location and history of Seychelles. He is an expert driver who was driving carefully through narrow and steep mountain roads. So you can just relax and enjoy the scenery and Island atmosphere.
Normally he drives you to the most sightseeing spots on Mahe, few beaches, heritage site, panoramic view, water fall, rum distillery, graph village, garden and Victoria the capital city of Seychelles. It was such an amazing and memorable experience. These were the few places that we covered during our 7 hour trip.

Seychelles National Botanical Gardens: It's not a very big garden, just around 15 acre. It has a variety of native and exotic plants including Coco de mer (a rare species of palm tree native to Vallée de Mai ,Praslin Island-known for its large oddly shaped seed resembling woman's disembodied buttocks 🙂 ). In an enclosed area you can find lot of giant Aldabra tortoises. You can get close to them and feed them by paying an extra amount of 50 SCR (which seemed outrageous in addition to the botanical garden entry fees of 100 SCR).

In this extra fee you get only two bunches of leaves to feed the tortoises. All of them started to walk towards me as soon as they saw the bunch in my hand. This seemed a little odd as if they were not properly fed and also they were cramped into a little space. However, the board in the enclosure mentioned that they were fed ample amount of leaves and nuts, have fresh water source and cleaned regularly. The Thai Garden didn't have any flower or plant worth a mention. Couldn't locate any endemic birds or the fruit bats. And due to sudden rain, we couldn't see 'Chinese Garden' and 'Spice Garden'. Overall, there is nothing much to this attraction, a good 45 minutes walk would be more than enough to look around.
Advice!!! get your mosquito repellent on!!!
Eden Island: Being a man made island it certainly earns the reputation most luxurious spot in entire Seychelles – with newly built complex of sophisticated residential mansions, hotels, restaurants, shopping mall and million dollar yachts docked in harbor, it is truly a must visit spot for exquisite feeling and fantabulous pictures.
TIP: You can get a bird eye view of the Eden island from 'La Misere' viewpoint which is a bit of an uphill drive but worth spending a few minutes to enjoy the sight.

Lunch at Del place Bar and Restaurant: After reading about the reviews about this place in a guidebook, we had pre-decided that we would definitely stop there for a lunch. And believe me, it is not overrated; the place is a gourmet heaven. Nestled on a wooden deck right next to the blue ocean overlooking the island of L'islette and Ile Therese, this bar restaurant serves a variety of local creole cuisine, of ultra fresh seafood along with a number of drinks. Not to forget the amazing dining experience enhances many folds due to the live band playing a number of beautiful songs. The atmosphere is very soothing and relaxed, perfect for groups or as a couple. Prices are expensive but is justified due to the quality of food and ambiance.
Watch out: Post lunch as soon as we stepped out, we had some local men walking up to us and inquiring about our lunch. We could not spot our driver hence we kept walking further. Many others who were stationed at a nearby coconut stall joined him asking for more information. We got scared and started walking back towards the restaurant as it seemed the safest place. However, in a while, we could see David at a distance and he approached us. We got back in immediately. Though we did not have a bad experience, I have heard from a lot of people that these boys scam the tourists in this area in the context of guiding them to the nearby waterfall or selling coconuts. Stay alert!
Sauzier Waterfall: From Del Palace it is around half a kilometer. This is a small and pretty waterfall, nothing special though. From the car parking space you need to walk couple of minutes through a rocky trail to access the waterfall. A wooden viewing platform is there but it being Sunday the place was over crowded with locals (who were partying), very few tourists. please note, there are NO entry fees for the waterfall, it is only the locals who will try to deceive you as a guide. So stay away from them.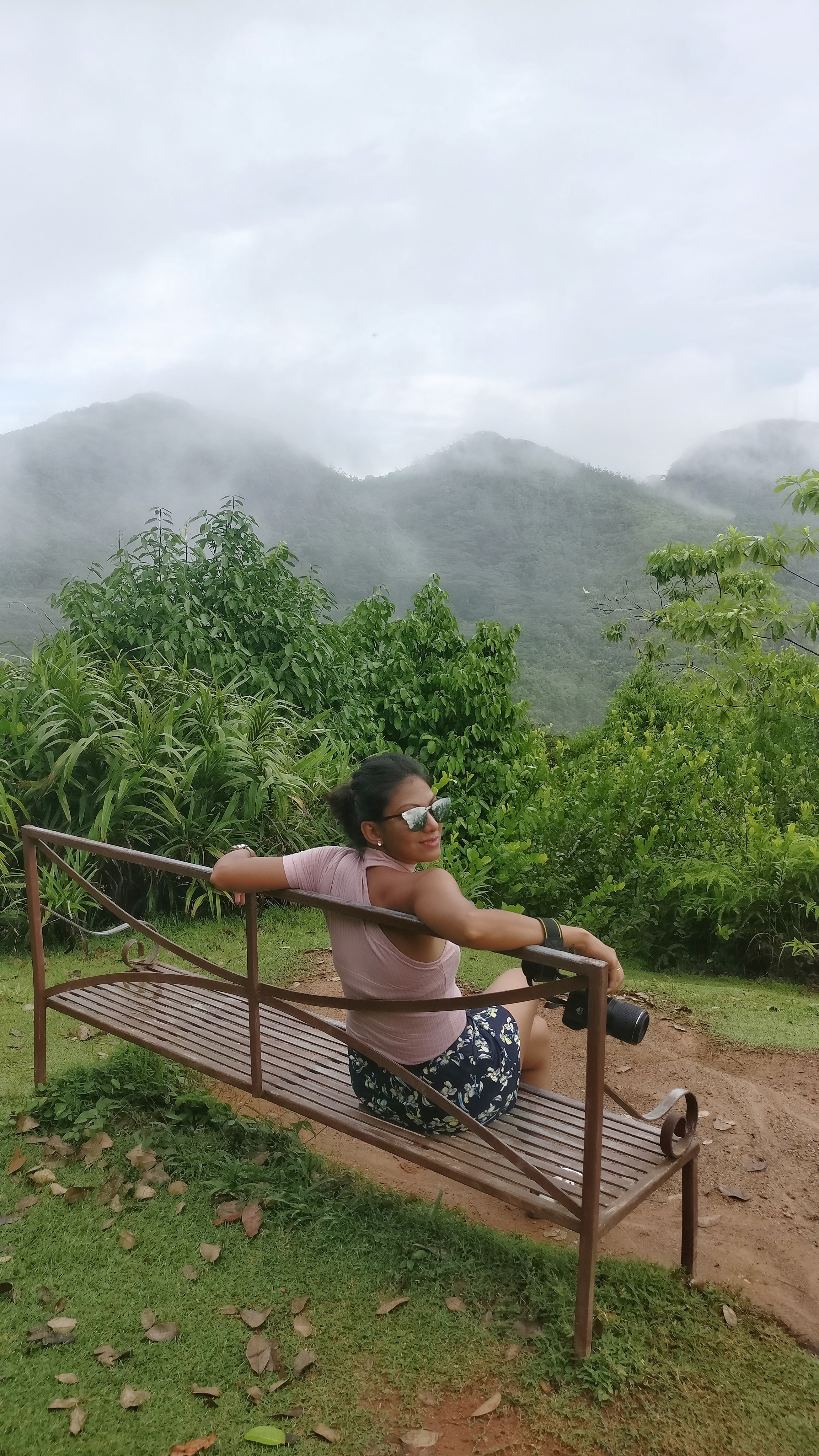 Mission Lodge: Our guide David drove us there at dusk. Situated in Morne Seychellois National Park, this is a place of historical importance and registered on UNESCO World heritage tentative list. You get a spectacular view of the beautiful Mahe coastline & surrounding mountains. It was a cloudy weather and the lodge being located at a higher altitude, we were literally walking through clouds to reach there. A few benches were there for you to sit and enjoy the view. The only thing we missed on such a spot was a cup of hot Tea.
Beside these we visited a few beaches like Anse Intendance, Anse La Mouche, Anse Royale, Beau Vallon. The Tea Factory and Takamaka Rum Distillery was unfortunately closed as it was Sunday.
At the end of tour our guide dropped us at Oceanic View Apartments in Bel Ombre, near Beau Vallon where we stayed for two nights. This is a house within a good locality, the beach and bus stop is located at 10 minutes walking distance. A small well equipped apartment with a large shared balcony from where you could see the blue ocean and the hilly coastline. However, the only catch is that the kitchen space and the bathroom is shared with other guests. Luckily the guests who had booked the other room was out for trip to the outer islands, so we got the whole apartment all to ourselves.
Day 5: Victoria Market to shop and explore the locale
This was a very important day for both of us as we got married on this date exactly an year ago. To celebrate the first anniversary in a special way we had booked a Sunset dinner cruise with Seyscapes. But after a few days of bright sunny weather it suddenly started raining heavily since morning and continued till afternoon. Based on weather forecast, the cruise operator advised us it would be a better idea to postpone the plan to next day. Disheartened we had to agree on the same. With nothing else planned, we visited Victoria market in the afternoon to shop for some souvenirs and to look around. that all the shops in the market closes at 4 PM except for some that are run by Indians. If you are planning to shop there it is advisable to visit in the morning. There is a clock tower nearby which resembles the Big Ben. Do not forget to click some pictures there.
Day 6: An unforgettable evening while sailing through the Indian Ocean
This was super bright sunny morning with no signs of cloud. After checking out from Oceanic View we headed out for our last stay Sailfish Beach Villas. This place was bit remote in terms of bus connectivity. Three different buses, guidance from local residents and a lot of confusion later when we were still figuring out how to reach the place, the host of the resort found us in a nearby bus stop and picked us. Finally as we reached the resort, we found it to be the most beautiful and blissful location during the entire trip. Our duplex villa was humongous, super spacious surrounded by garden and palm trees. Fitted with every equipment and amenities that you would need, with fantastic balcony and private garden space overlooking the mesmerizing turquoise water of the ocean, two fully air conditioned bedrooms, large bathrooms; this place kept us wanting for more. The owners cum hosts are helpful and very knowledgeable regarding area attractions, history, and activities. To our wonder we could spot rare hedgehog-like great Tenrec and fruit bats in the resort compound itself.
After spending a few relaxing hours in the sun decks of the villa we left for our sunset cruise dinner (https://www.seyscapes.co.uk/), another enthralling experience.
You can read about that experience here.
Day 7: Relax and rejuvenate before bidding adieu
Finally the day to say goodbye to a land that would always find a special place in our hearts. Looking at the fact that this place was magical and also had a late night return flight, we extended our stay till evening for half the price of a night's stay. We spent the entire day clicking some pictures, dancing around, doing Yoga in the nearby beach and lazying around. With a heavy heart, lots of unforgettable moments in the form of memories and pictures, we finally boarded the return flight for Mumbai at 10:30 p.m. My wife says that it would be tough to beat the thrills and experiences of this trip…I just smiled and inside I was like 'we shall see' 😉
Though Seychelles is more about sun, sand and sea along with activities like scuba diving, snorkelling, surfing and sailing, for a change you can enjoy few other things such as hiking along the coast or trekking through several picturesque nature trails in Morne Seychellios park, going for local food tasting excursion etc. It's a destination where you need to always pre-plan your entire itinerary as per budget– but it's worth it for a taste of this Indian Ocean paradise.
What we spent:
-Flights(Mumbai-Mahe): INR 64500
-Accommodation 6N/7D : INR 46500
-Mahe day tour: INR 10000
-Sunset cruise: INR 12000
-Food: INR 12000
-Misc expenses: INR 5000
Total cost– INR 150000/ 1200€ for two people
Tips:
-Buy Travel Adapter for charging your devices
-Download Offline Google Maps of the cities you are visiting.
-Shop from local small shops and carts if you are on a budget
-If you are taking the public transport, ensure you return before or around twilight as there are very less options after that
-You can always always manage with free hotel or public space WiFi instead of buying international roaming packs.
Note– The above information is true as of December 2018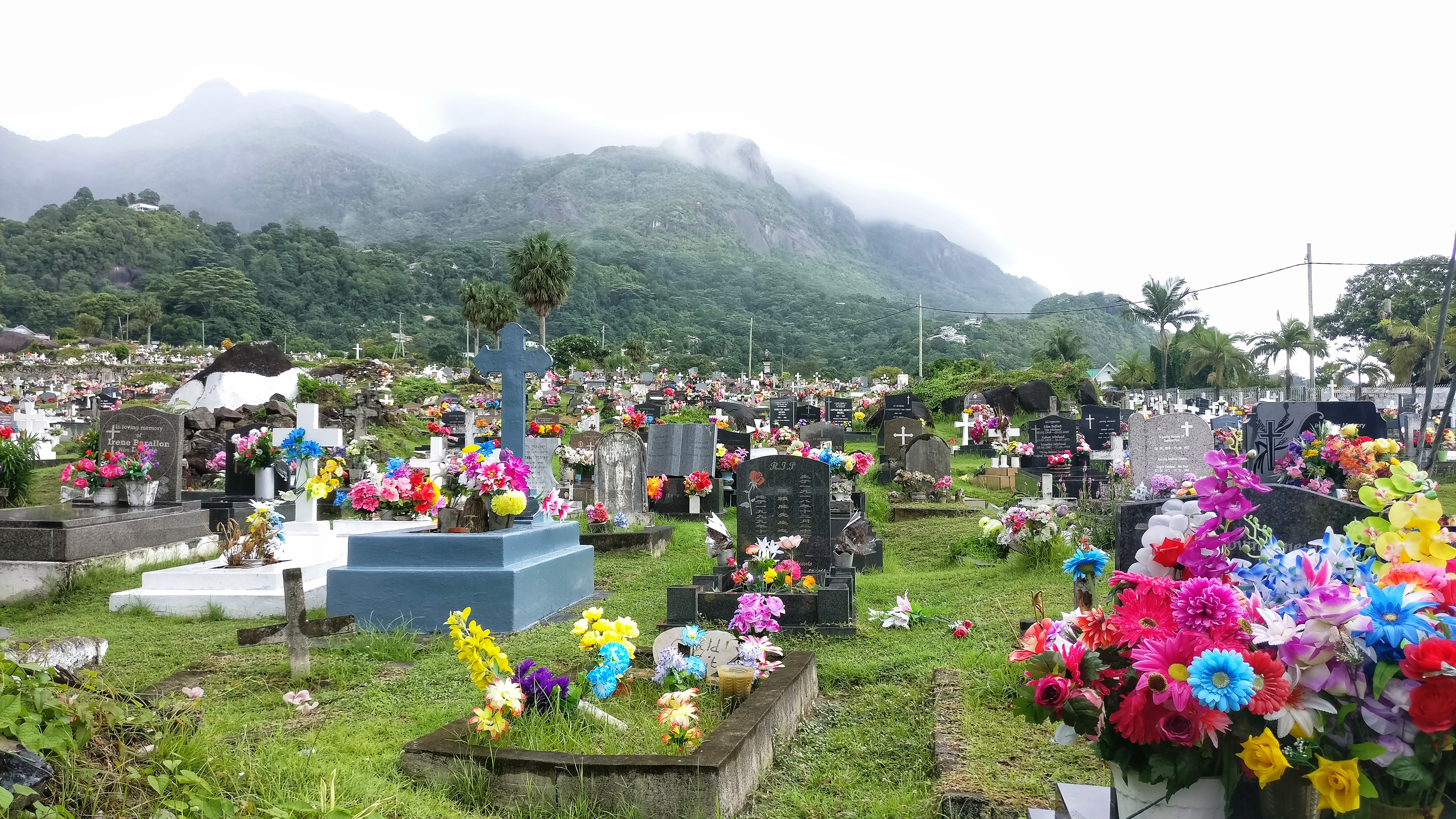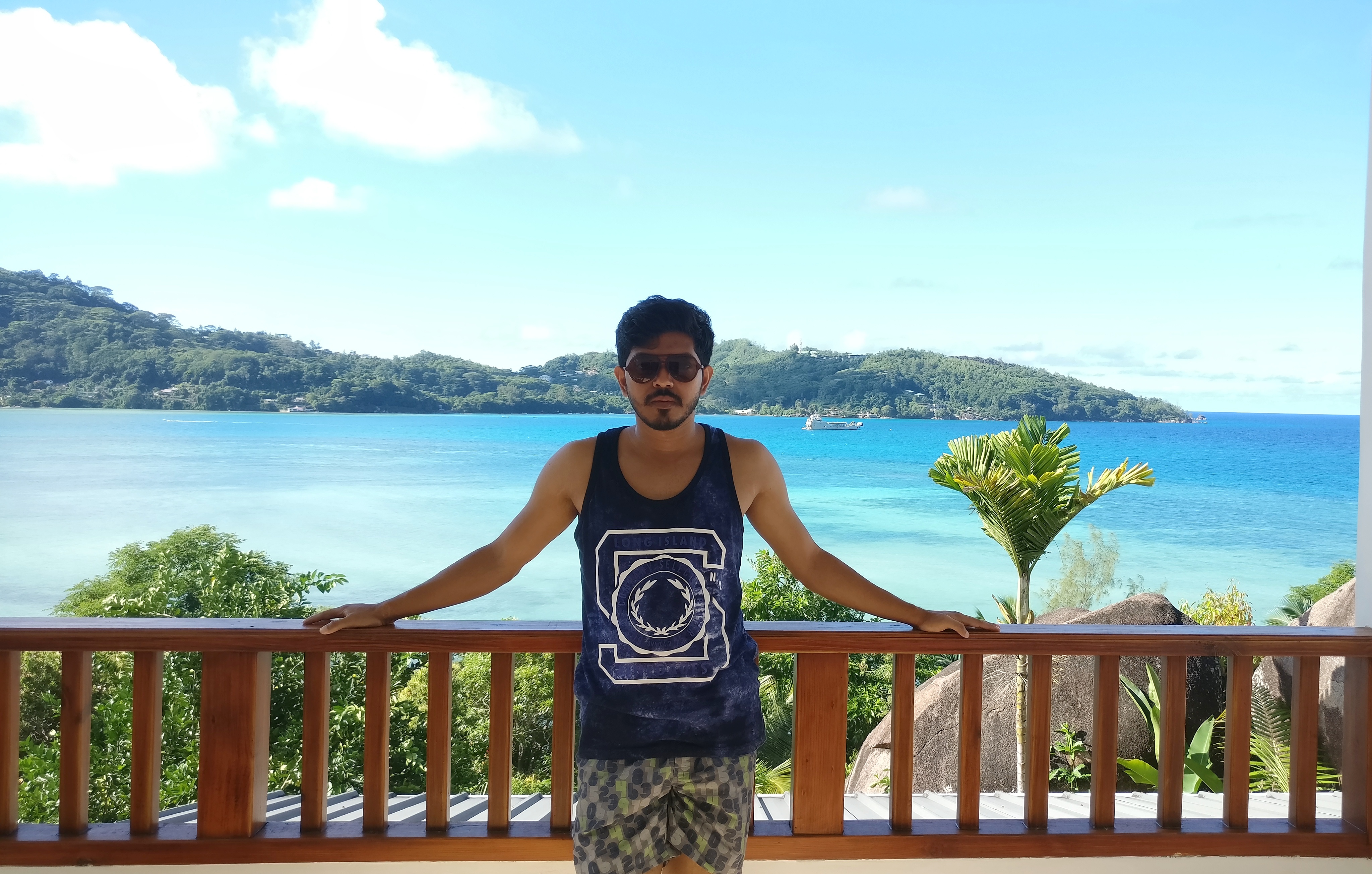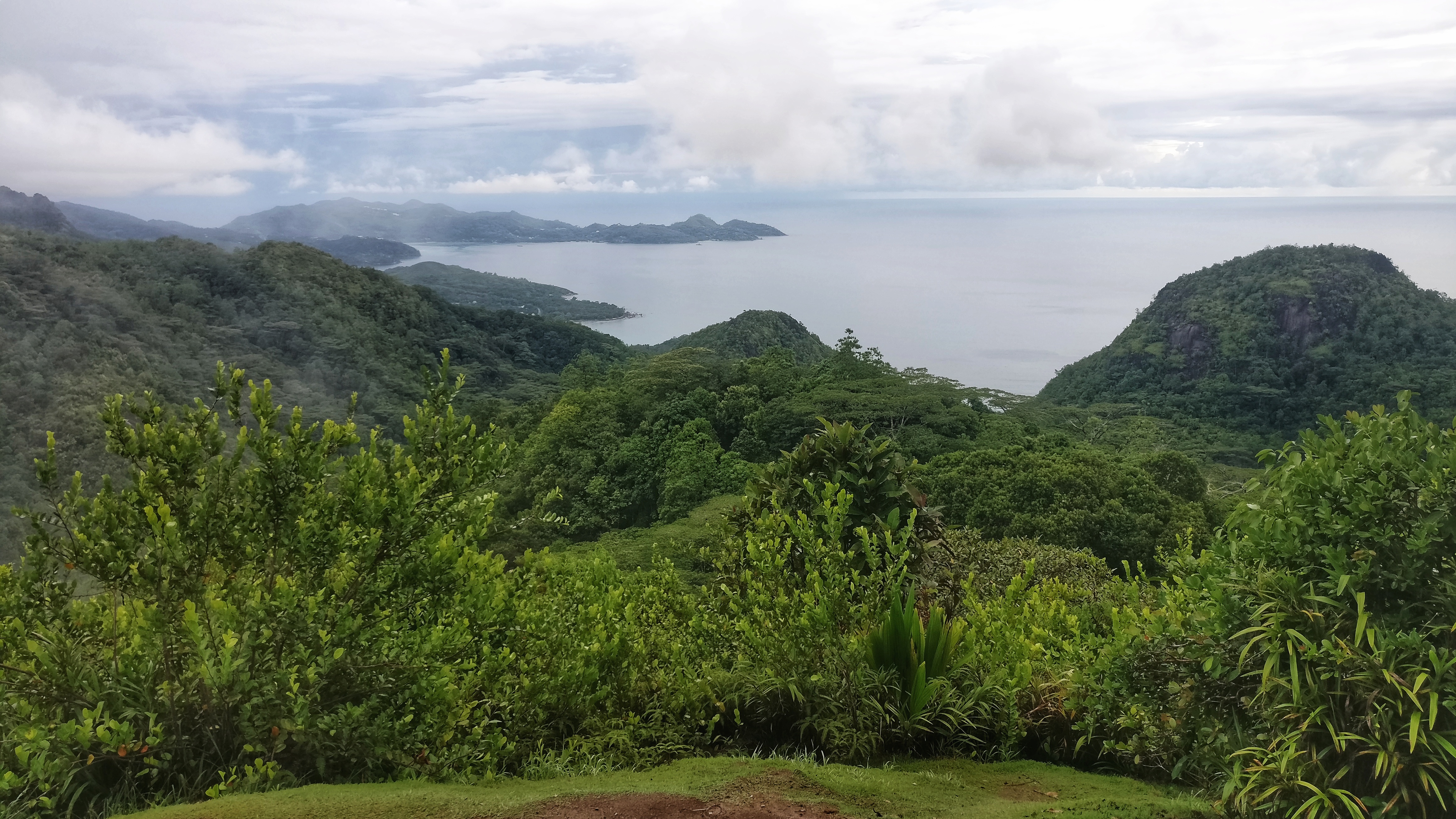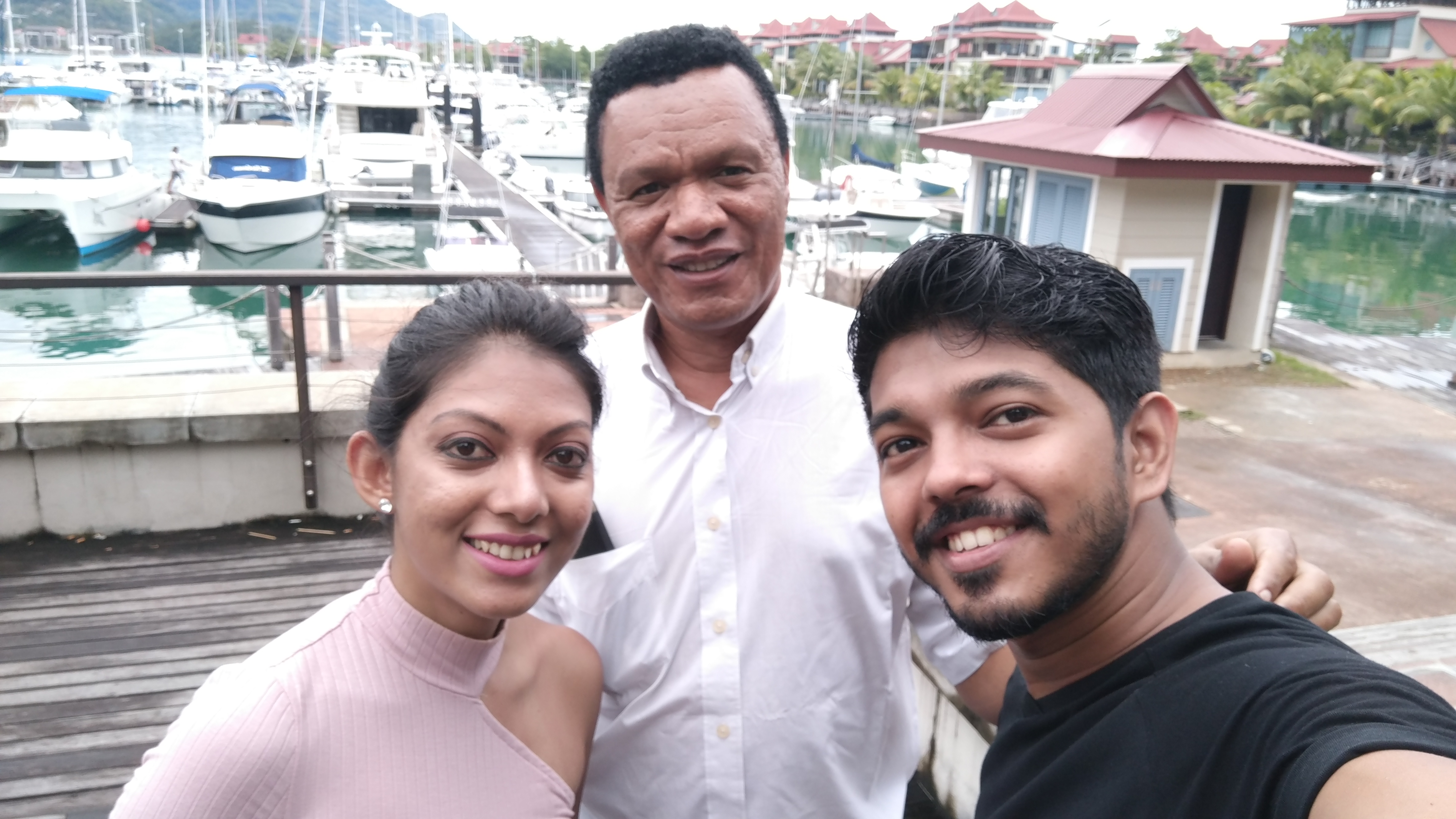 For more pictures visit Gallery
Author: Sourab