Seychelles Wedding (Renewal of Vows)- #becausemarryingyouonceisntenough
"I found a love for me….Darling just dive right in…And follow my lead…-Ed Sheeran" 
The song that played while we walked down the isle hand in hand on the dreamy beaches of Seychelles. 
Months of research, hard work, planning and lying(because it was a surprise) got us to this day. The day was just perfect, we woke up with a hangover. Don't know why that happens with me every time…Boy! remind me to write a blog about my first wedding…It was epic 🙂

Ever since we got back from our Scandinavian trip, I have been planning this day. We had promised earlier that we would get married many times in our life and in different traditions. It was my time to fulfill it and what best date than our first anniversary? I chose Seychelles because of its dreamy beaches and ample wedding options available. I took no time to google all the wedding companies and shortlist some based on my budget. I send them an inquiry, few got back to me. I liked one in particular because of their amazing photography skills and reviews. We quickly decided the theme, colors, flavor of the cake, champagne etc and finalized the date. I then told my husband that I wish to go to Seychelles on our anniversary, had to hard sell to convince him. He would forever be grateful for that I know… 😀
"I found a love for me….Darling just dive right in…And follow my lead…-Ed Sheeran" 
The song that played while we walked down the isle hand in hand on the dreamy beaches of Seychelles.
Months of research, hard work, planning and lying(because it was a surprise) got us to this day. The day was just perfect, we woke up with a hangover. Don't know why that happens with me every time…Boy! remind me to write a blog about my first wedding…It was epic 🙂
Ever since we got back from our Scandinavian trip, I have been planning this day. We had promised earlier that we would get married many times in our life and in different traditions. It was my time to fulfill it and what best date than our first anniversary? I chose Seychelles because of its dreamy beaches and ample wedding options available. I took no time to google all the wedding companies and shortlist some based on my budget. I send them an inquiry, few got back to me. I liked one in particular because of their amazing photography skills and reviews. We quickly decided the theme, colors, flavor of the cake, champagne etc and finalized the date. I then told my husband that I wish to go to Seychelles on our anniversary, had to hard sell to convince him. He would forever be grateful for that I know… 😀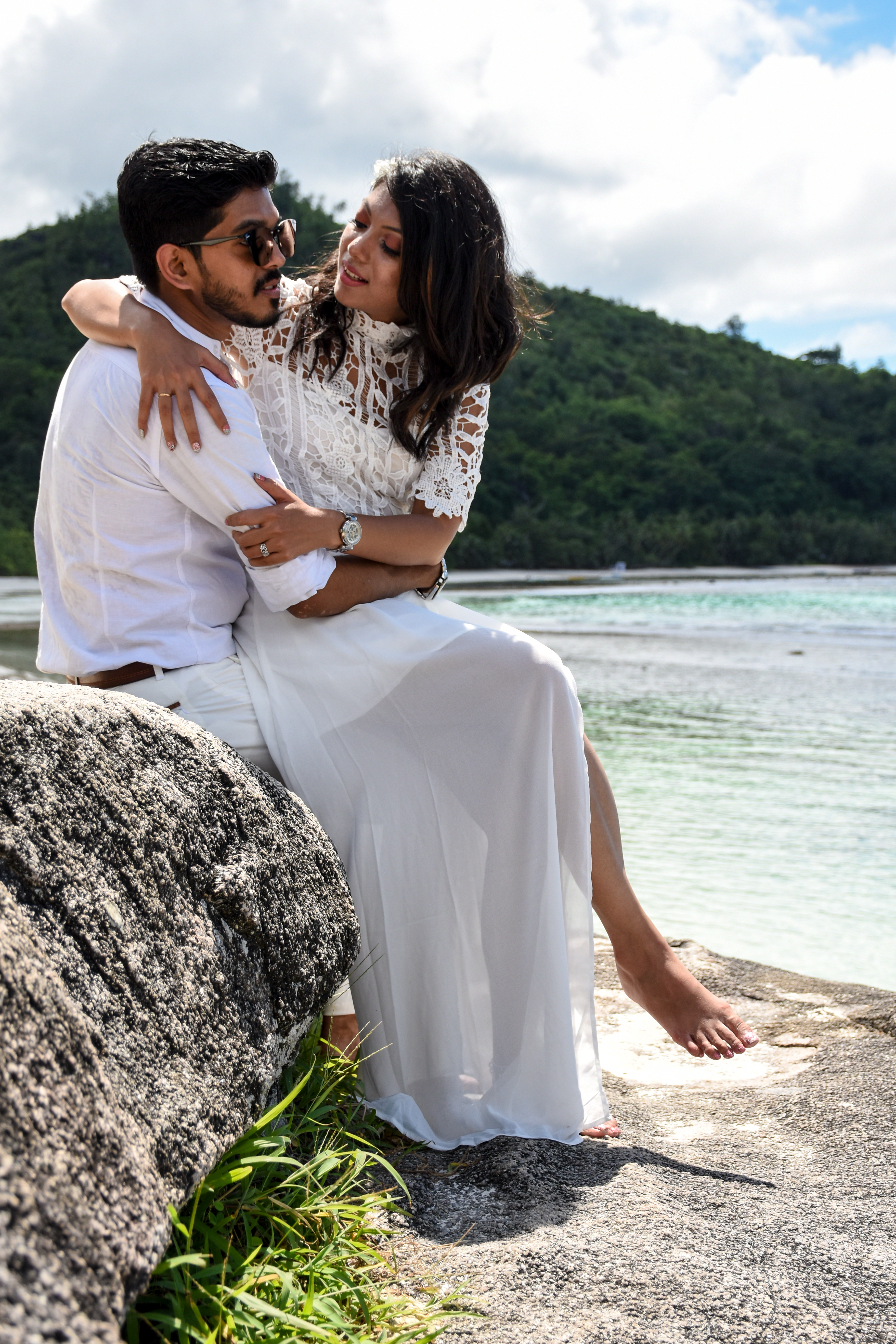 Fast forward to the wedding day- I knew I had to look perfect, so I took no time to finish my breakfast and started with the make up. My husband kept wondering why on earth would I take out time to look so good when we were just going to take a dip in the ocean. That's because I had told him we were going to Anse Intendance beach and I had booked a tour operator who would pick us up. I had tried hard to convince him to wear all white, though he kept shooting it down saying he looks ridiculous and not a beach attire to wear. When we got all ready he even pointed it out that we look as if we were about to get married. I laughed out loud inside and thought…Wait for it.. The driver who picked us up was aware that it was a surprise and played along. My husband, the nosy that he is.. kept checking google maps and pointing out that we were taking a different route that's away from Anse Intendance beach. Gosh! Should I get an award for my deceiving skills? We finally reached the venue and while we are parking, he spotted the wedding decorations. And there he was..my innocent husband who thought it was some one else's. While we got out of the car, the wedding coordinators came running towards us with my Bouquet and his boutonniere, he kept saying "Why are they coming towards us? I guess they got the wrong couple, we should tell them". I took out my phone, switched on the video mode and then finally revealed it was our wedding. His reaction was priceless!! Thank god! I got it all on camera :-). 
We both were shaking…he from the shock I just gave him, and me from all the excitement. The song started playing in the background and we walked down the isle. The wedding rituals commenced. He had no vows written down, so what he said was totally impromptu and heartwarming. The tear in his eye just added to how much he meant all of those (Might have also been because of the strong rays of sun hitting him directly in the eye, I like to believe the former). I on the other hand had completely forgotten what I had prepared and blabbered till Nazmah(Coordinator) said its enough 😀 It was a beautiful ceremony on the back drop of breathtaking views of the ocean. The dream I long had was finally coming true and I still couldn't believe I have the best of both worlds with me. It ended with the customary kiss and reconfirmation that he was mine all over again. The celebrations began, we opened the champagne bottle, cut the cake and went on with the photo shoot. 
After all that we finally sat down on our creole chairs facing the endless ocean and thinking how lucky we are to have found each other. Clinking our champagne glasses and toasting to the amazing wedding we just had, we completely lost ourselves in the dream of happily ever after. (Got a little cheesy there)
Flights/Accommodation/Getting around/Things to see and do:
Please do read our blog: Seychelles – Without a hole in the pocket
Planning the wedding:
There are numerous options available for wedding in Seychelles ranging from budget to luxury. You can chose to do all on your own (The decorations, photography etc) or chose to book a wedding coordinator how would take care of everything for you. The latter would be the better option, because trust me you wouldn't want to run around for flowers, chairs, photographer, someone to officiate the wedding etc. Its too much of a stress. You can also choose to have a beach wedding or at a location like the Tea factory or on a Yacht or even in the comfort of your room. An average wedding like mine could cost you EUR 850. There some quick hassle free and low budget wedding options available also if you chose to let go of some inclusions like photography. If you like to spend lavishly, you could opt for some uber luxurious options available with stay, food, wedding on one of the inner islands (Like Praslin and La Digue), drone photography. If you are an UAE resident and need a quick wedding, Seychelles is your destination. All the wedding companies would ask you for an advance to block the dates. They accept Paypal, Western Union money transfer or you can visit your bank branch and request for the transfer.
Below are some links based on my research
Seycaptures: 
https://www.seychellesbeachwedding.com/
They are a very professional team and I had an amazing experience working with them. Nazmah who coordinated with me from the start was very understanding and accommodating. She ensured all the things were taken care of and the element of surprise was kept till the end. She even had the presence of mind to send me a voicemail just in case my husband goes through my Whatsapp messages. The photographer- Naziyah was too good, you can see it for yourself. She captured the essence of the location beautifully. The driver- Winston was great. He so effortlessly played along the surprise even when my husband spotted the venue decorations. Together they made my "I Do" a very special moment.
I took their Signature Seychelles wedding package that included a list of things. Also as ours was renewal of Vows, we did not really require an apostille by the supreme court of Seychelles to officiate our wedding. It was done by Nazmah herself and costed us a little less. They also gifted us a beautiful souvenir and a handmade wedding album which is mentioned nowhere in the package.
Seyromance Seychelles: 
https://www.weddinginseychelles.com/
Email: weddings@seyromanceseychelles.com
This was my other choice of wedding planners, thanks to their beautiful captures. Whats a destination wedding if you dont have the best photographer in town to capture your best moments? Have a look at their gallery, you will be mesmerised. Also they have a choice of bridal make up options, musicians etc.
Tropical Sky: 
https://www.tropicalsky.co.uk/weddings/indian-ocean/seychelles
They have a range of luxury wedding options. But they do not do weddings only. You have to book stay with them.
Seychelles wedding: 
https://www.seychelleswedding.org/
Want a wedding with Drone photo and videography? They are your go-to guys. They are a little expensive compared to the other wedding planners.
Wedding in Seychelles: 
http://www.wedding-in-seychelles.com/
They also have wedding packages ranging from budget to luxury. The only problem is they charge extra for photography, not included in the package.
Customized wedding options:

SeyVillas:
https://en.seyvillas.com/html/weddings
You can pick up from a range of options from legal formalities to location, venue decorations and extras. You can keep adding till you find your dream wedding package.
Wedding photographers: 
You can also choose a wedding package and book in your separate photographer.
https://shevtsovy.com/
http://seychelles-wedding-photographer.com/
My thoughts: 
I would highly recommend a destination wedding because it definitely costs less on our pockets, when compared to an average Indian wedding even if not a big fat one, provided you do not have a huge entourage with you. Enjoy the big day of your life with only your soulmate and loved ones beside you. 
Wedding tips: 
DO NOT wake up with a hang over on your wedding day. It consumes a lot of time and make up to look perfect 😀 😀
Definitely book a photographer or have it included in your package. Trust me you will be too busy enjoying your moment, have someone else capture it for you.
Always carry an extra pair of clothes and towel if you decide to take a dip in the ocean.
You might get hungry after the ceremony and the photo shoot, ask your coordinator to help with a nearby restaurant or find it in advance. Well, we decided to binge on the cake instead 😀
For more pictures kindly visit Gallery
Note: The above information is true as of Dec 2018.
Author: Gloriya