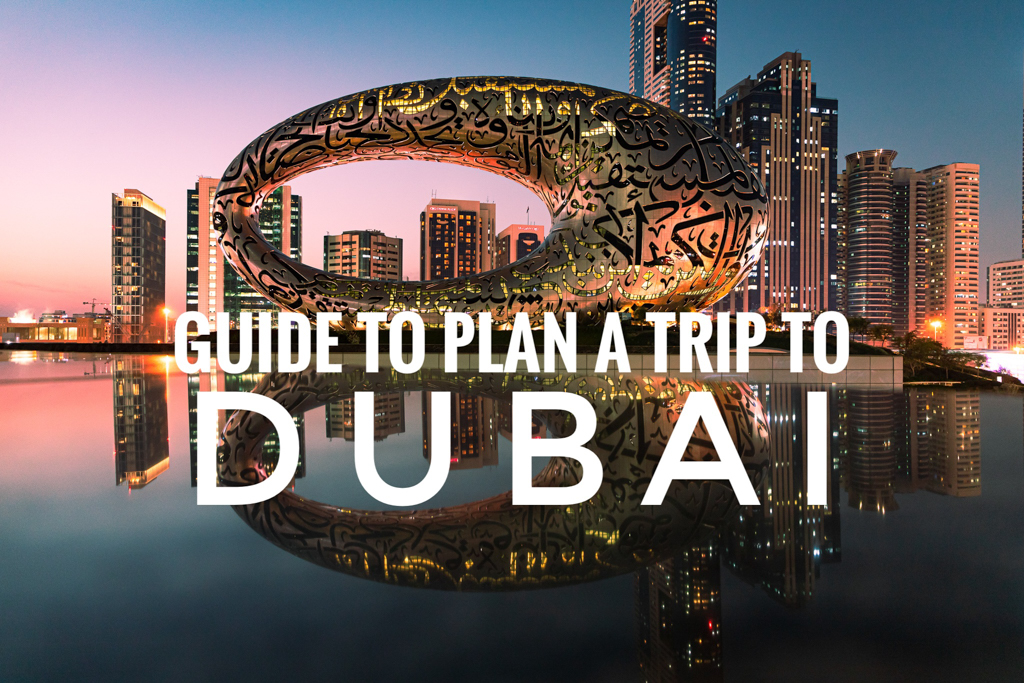 Travelling to Dubai for a vacation? Read this guide before you plan your trip (Part 1)
Along the coast of the Arabian Gulf, a land that was once known for the fishing villages is today known for its skyscrapers tearing the clouds. Over the decades, from a Creekside settlement with merely a few hundred tribe members, this land has grown into a flourishing cosmopolitan, home to people from more than 200 nationalities. A desert land that didn't seem very significant on the world map a century ago is now catching the world's imagination with its manmade wonders. From an economy that was largely dependent on the revenues generated from trade and oil exploration, today it is leading by example in terms of trade, transportation, technology, tourism, and real estate.
Dubai has grown exponentially in the early 21st century and has transformed itself into a world-class city for business and a holiday destination. No surprise that the most populous emirate of the UAE has been named TripAdvisor's top destination in the world for 2022. On our 6-day trip to Dubai, we realized why so. With plenty of beaches, deserts, adventure parks, luxury shopping hubs, lively nightlife, entertainment, and state-of-the-art architecture, Dubai is undoubtedly a place that should be high on every travel enthusiast's bucket list.
As a city, Dubai has conserved its old-world, Emirati heritage and fused it with ultra-modern culture making it one of the multicultural cities that will blow all your expectations. Growing from a small settlement, Dubai, at present is continuously attracting global expats and tourists. Dubai is often looked at as a luxurious destination only for the elites and riches, however, it is very much possible to plan an itinerary based on a specific budget. It has so many places to explore and innumerable activities to do that one would need nearly a month to cover all of them. Based on our interests, here are the places we got to visit. Whether you are a solo backpacker, a couple on their honeymoon, or a family on vacation, this travel guide to Dubai will help you make the most of your visit while guiding you on things you might be interested in.
How to Travel to Dubai?
There are many non-stop flights by airlines such as Air India, Spice Jet, Indigo, and Emirates that connect Dubai directly with Indian cities like Ahmedabad, Bangalore, Chennai, Chandigarh, Delhi, Hyderabad, Kolkata, Kochi, Lucknow, Pune, Mumbai, Madurai, Tiruchirappalli. Currently, a one-way fare range anywhere from 11k to 16K.
You can also fly on Etihad Airways into Abu Dhabi or on Air Arabia to Sharjah and take a shuttle bus or taxi for an hour to Dubai.
We flew to Abu Dhabi first and after spending three days there, we took a local cab near the main bus terminal for 40 AED (825 INR) per person to Dubai.
Do You need a Visa to enter Dubai?
While citizens of GCC countries do not require a visa or permit to enter Dubai, for some countries, the citizens can get a Visa on Arrival. Indian citizens with normal passports holding a valid visit visa/a green card issued by the USA or a residence visa issued by the UK or EU can obtain a visa on arrival for 14 days.
However, Indian citizens who do not hold any of the above requirements must apply for a Visa/Permit in advance that gets processed within 3-4 days. Tourist Visa for the UAE costs around 7000 INR per person.
More information on UAE visas can be found here

We applied for our UAE visa with Karnataka-based travel agency Chariot world tours. The process was completely hassle-free. We just provided a passport-size photo and original passport. Flight tickets or Hotel booking details were not required to process the visa application.
The UAE visa is applicable for all the emirates. So, you do not have a separate visa for Dubai, Abu Dhabi, Sharjah, or other emirates. However, each emirate might have its entry requirements which you need to check before travel.
What are the entry requirements for Dubai Airport?
1. From 26 February 2022, Vaccinated travellers to the UAE are not required to present a negative result of the RT-PCR test at the airport of departure nor there is any on-arrival test at the Dubai Airport. Vaccinated travellers have to produce a valid COVID-19 vaccination certificate, reflecting that the passenger is fully vaccinated with a vaccine approved by the WHO or the UAE. The certificate must contain a QR code.
2. However, those who are not fully vaccinated must either present a valid, negative result of an RT-PCR test conducted within 48 hours before arrival or a recovery certificate (containing a QR code) from COVID-19 issued within 30 days before departure, if they were infected with the virus.
3. Children below 12 years of age and people of determination are exempted from getting a COVID-19 test at the departure airport but have to undergo a test on arrival in Dubai.
Information in the UAE government portal
Note: In addition to the above requirements, we recommended you take travel insurance though it is not mandatory. However, at this age of pandemic, in case of any hospitalization due to COVID or other health concerns, the insurance can cover your medical expenses while giving other benefits as well.
What is the best time to visit Dubai?
Being a desert region, the summer months from May to September can get extremely hot, as high as 55 degrees Celsius. The pleasant winter months from November to April are best to enjoy the outdoors activities and popular events like Dubai Shopping Festival. The cooler months can also see more tourist footfalls, especially from December to February. We visited in the middle of March, the weather was pleasant on certain days with a slight breeze and some days were hot but bearable.
How to get around in Dubai?
Dubai, a major tourist hub has several modes of transport like metro, tram, bus, waterbus or abra, and taxi that connect to the different parts of the city. The city transport system is divided into 7  zones.
Each zone has Metro stations, Bus stations, Tram stations, and Water bus stations. You can use different modes of transport to go from one to the other. At the end of your journey, you will be paying according to the total number of zones you have crossed.
Note: However, changing between two modes of transport must be done within 30 minutes to consider a single journey. Otherwise, it will be two separate journeys.
To use all the public transport, buy a smart card called 'NOL card'. This card helps you to pay for various RTA transport modes in Dubai with a single tap. You may use it for Metro, Buses, Tram and marine transport like Water Buses. There are five different NOL cards to choose from. Fare starts at 3 AED. You need to have a minimum balance of 7.5 AED to board and top-up/recharge can be done for 5, 10, 20, 30, 40, 50, 100, 150, 200, 400, 500, and up to 1000 AED for anonymous cards. 
We bought a 25 AED card that came with a 19 AED balance and recharged it as required.
More information can be found on Dubai's RTA website
For time table of different transport click here;
Metro:
Dubai metro is a fully automated urban rail system operating on two different routes (red and green lines), connecting all major attractions and providing commuters with a convenient mode of travel. At both the end of the train there are cabins reserved for Women & Children and private cabins for gold class ticket holders.
Some of the attractions that are in proximity of the metro stations are Dubai Frame, Mall of Emirates, Dubai Mall, Burj Khalifa, Dubai Fountain, etc. It may require a bit of walking to reach the exact spot from the station.
Tram:
The tram line runs from Dubai Marina and JBR to Al Sufouh connecting major hotels. It has 11 stations. A ride costs 3 AED for general tickets and 6 AED for gold class irrespective of the distance covered. Our itinerary did not require the use of a Tram.
Bus:
The buses cover 82% of the urban areas in Dubai, bridging the gap between metro/tram and attractions. The bus network consists of 119 internal lines, including 35 lines linking to metro stations, and 12 intercity lines to transport passengers to other emirates.
Although on our whole trip, we got to use the bus only once. Unfortunately, a couple of times when we waited for the bus, it did not show up. We tried to follow the RTA app to plan the route and waited at the correct bus stations, but on both occasions, it did not come after 30 minutes of waiting. We further did not use the bus.
Dubai Abra/Water Taxi:
Abra, the word comes from the Arabic verb 'abara' which means 'to cross'. These traditional boats are symbol Dubai's history and heritage.  It connects Bur Dubai to Deira/Al Rigga and helps to cross the creek. The fare is as low as1 AED for traditional abra, whereas air-conditioned and petrol abras cost 2 AED per person.
On the RTA website you can find all relevant information about Dubai's public transport system;
Monorail:
Dubai Monorail is only present on Palm Jumeirah Island. The 5.5 km long stretch connects key landmarks of the island from the Gateway Station, to Golden Mile Galleria, Al Ittihad Park, Nakheel Mall, and Atlantis Aquaventure station at the final stop of the journey. Work is in progress to open another station at the Pointe. A single trip costs 10 AED.
More details can be found here 
Hop-On/Hop-Off Buses:
This is another way of seeing the city. There are different Hop-on Hop-off bus tour operators in Dubai. They offer multiple routes that you can choose from. It helps to explore at your own pace while you can get down/get in any of the designated spots. 
Taxi:
While taxis are expensive in Dubai, we ended up using them a lot to avoid the daytime heat and to save some time. Taximeter generally starts at 5.5 AED but during peak hours price can start from 12 AED. The minimum fare should be 12 AED. After the starting fare, each additional KMs costs 2 AED.
While there are many apps like Careem, RTA Dubai, S'hail, and Uber we found it easier to catch a running taxi. Careem is the best app. Also, you can book a taxi by calling +971-4-208-0808 from your Dubai number.  There are taxis driven by female drivers but only for women and children.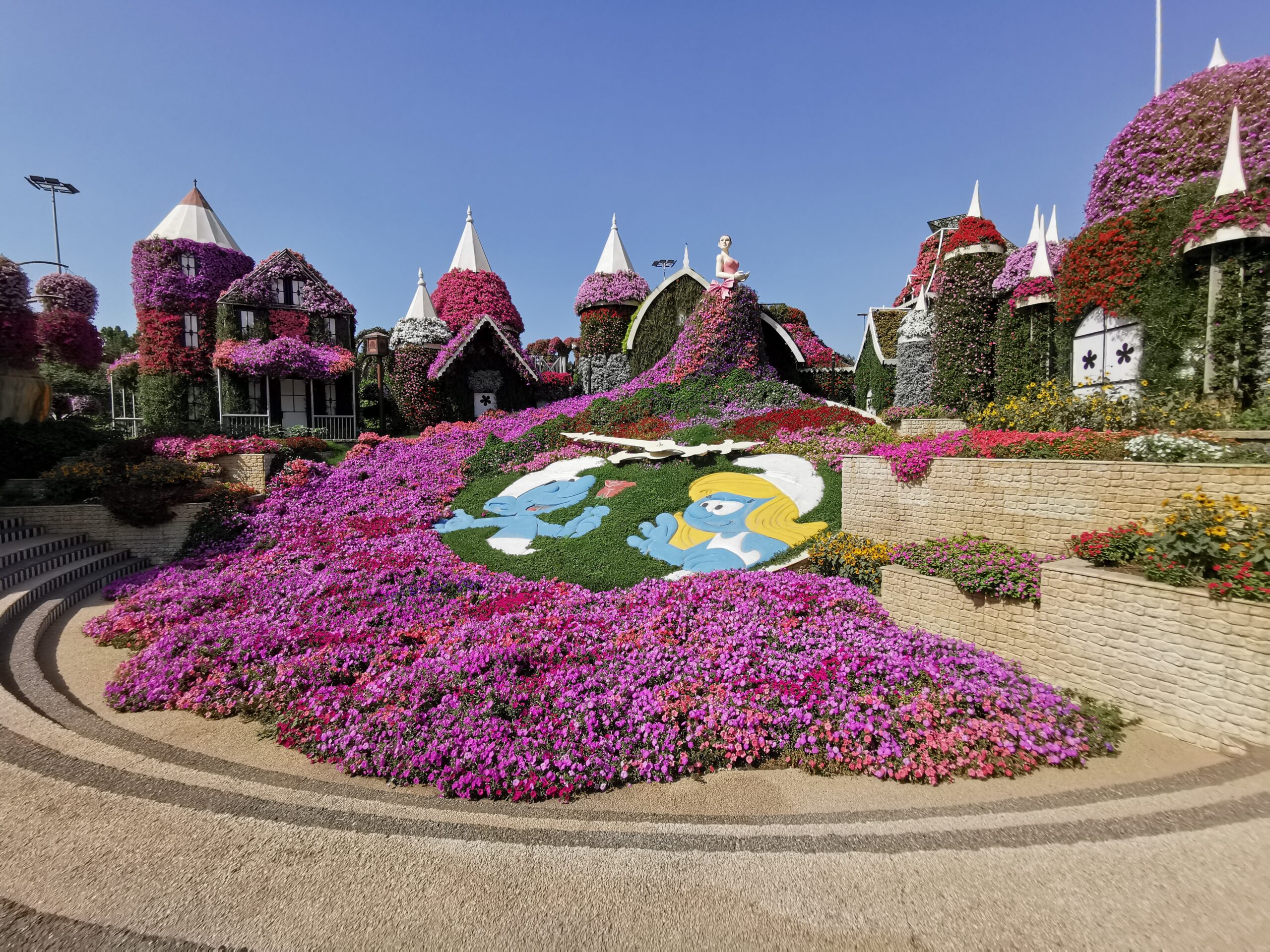 Things to know about Dubai:
-Dubai is the second-largest emirate in the UAE, after the emirate of Abu Dhabi which is also the country's capital city.
-Dubai International Airport (DXB) is the world's busiest airport by international passenger numbers for the eighth consecutive year after clocking 29.1 million in annual traffic in 2021.
-Dubai holds more than 130 Guinness World Records for attractions like Miracle Garden, Burj Khalifa, Ain Dubai, etc.
-Arabic is the official language of Dubai. Although with over 200 different nationalities living in Dubai, there are many other languages spoken. English is a common language. We were surprised to know that Hindi is also widely spoken by some ex-pats who belong to the Indian subcontinent.
-UAE Dirham (Dhs) is the currency of Dubai. 1 DHS is around 20.5 INR or 0.27 USD
-Major credit cards including Visa, MasterCard, and American Express are widely accepted in Dubai's hotels, malls, and attraction ticket counters. Although it's great to have some cash for tips, taxis, and souks.
-Dubai Law is quite strict in terms of Alcohol consumption. The minimum drinking age is twenty-one and alcohol needs to be consumed only in designated places like pubs, restaurants, etc.
-Dubai is quite liberal, in terms of dress code compared to other states in the Middle East region. You are mostly allowed to wear what you like. Although it would be wise to avoid clothing that is too revealing. It's more appropriate that you wear clothing covering your shoulders and your knees, especially in places like shopping malls, mosques, and during Ramadan. Be respectful of their rules and culture. Saying so it's perfectly alright to wear swimming trunks, bikinis, or one-piece swimsuits on the beach or by the hotel pool. Dress modestly when in public.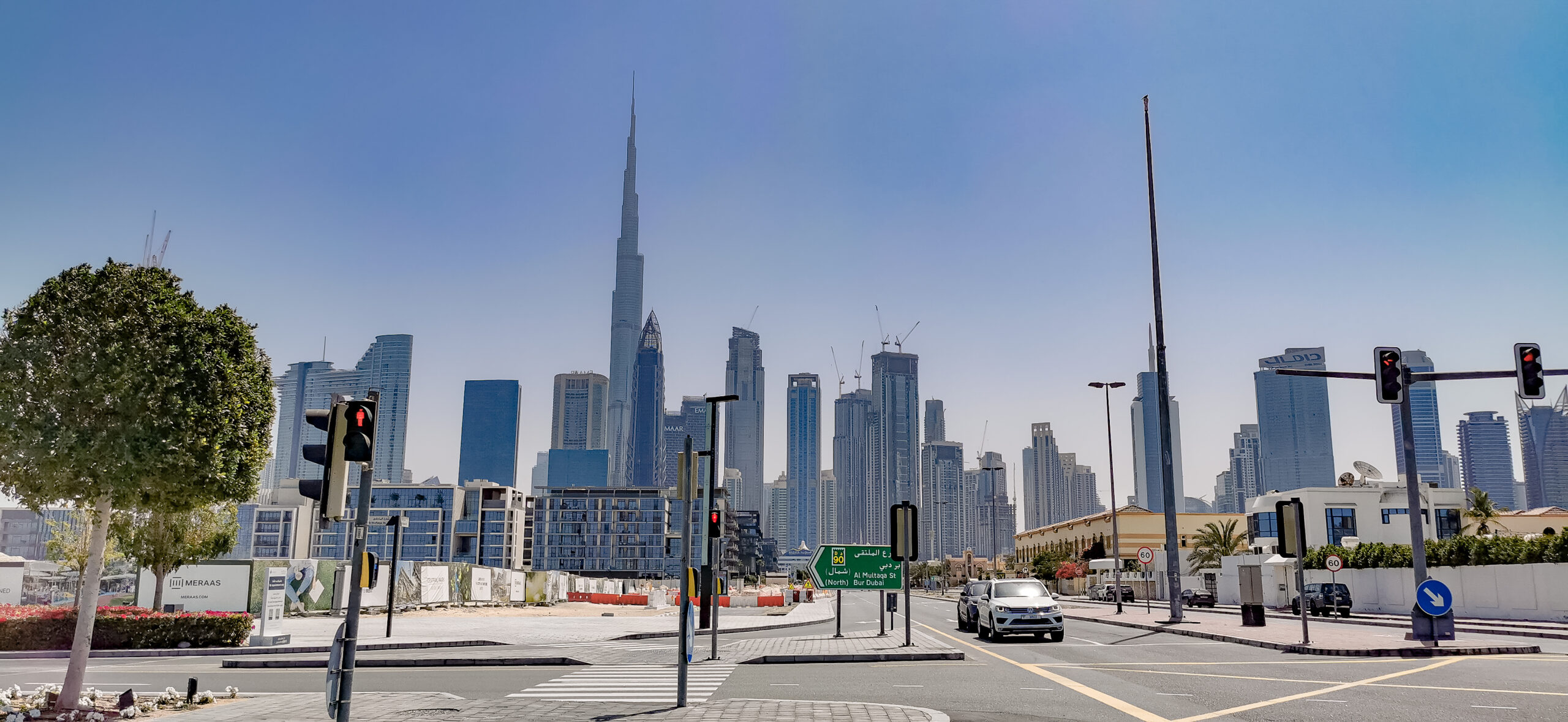 Where to Stay in Dubai?
Dubai is certainly not a backpacker-friendly destination and during peak season (November to April) the prices of accommodation can go high. On such months the stay in an average hotel can cost around a minimum of 5000 INR per night. If you are staying in Dubai only for short period or a layover then it is better to stay in Deira near the DXB Airport. The areas near the Creek such as Bur Dubai, Deira, and Al Fahidi have many service apartments, and budget hotels within a range of 2500 to 4500 INR per night.
If the budget is not a constraint, then downtown Dubai, Dubai Marina, and Jumeirah Beach Residence, Palm Jumeirah Island are the best areas to stay in, as many of the top attractions are located in these areas. Per night cost of hotels in these locations can start anywhere between 10000 to 20000 INR per night for two.
While you may not see many hostels for backpackers, there are a few budget-friendly ones such as Bombay Backpackers DXB, DXB Backpackers, Travelers Backpackers, 1 World Backpackers Dubai, Elegance House, etc. These cost around 1500-3000 per night when booked well in advance.
We stayed at First Central Hotel Suites for the first 4 nights (6000 INR per night) and then 2 nights at Mercure Dubai Barsha Heights Hotel Apartments (7700 per night). Both were close to Dubai Internet City metro station.
We booked our stay through Agoda.com. The site gives some of the best deals. Another site that you can consider is Booking.com.
Note: If you are going to use a lot of public transport to move around the city, then it is helpful to stay near a metro station.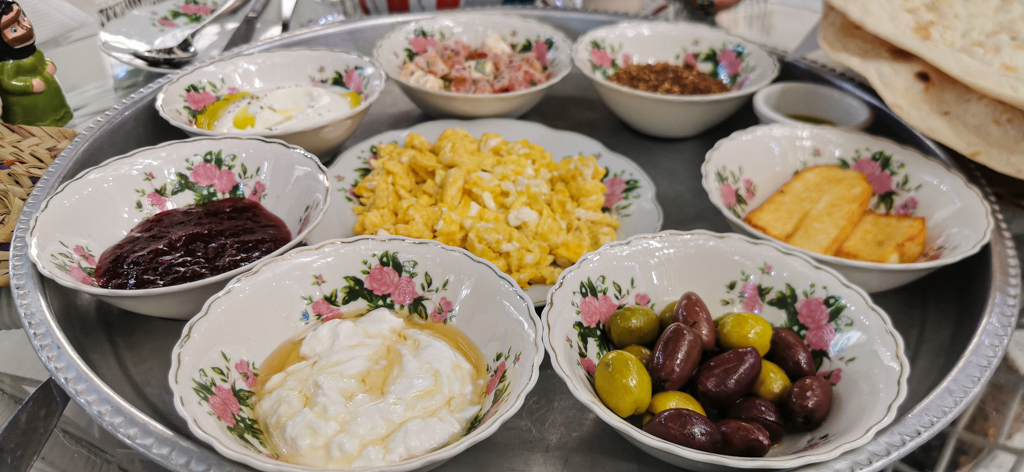 Where to eat in Dubai and what are must-try foods?
It depends on your budget and what you would like to try. We were open to exploring different cafes, pubs, exhibitions, and street foods to find the local delicacies as well as cooking some meals on our own in the hotel room kitchen.
In a place like Dubai food can be very expensive if you are staying in a plush area where restaurants/café meals will cost not less than 150 AED per person. On top of that if you wish to eat all your meals from eateries/hotel restaurants then expenses on food can go overboard.
Both the hotels we chose during our stay were 1-bedroom apartments with kitchenette facilities. We could prepare breakfasts and dinner on certain days. At times we consumed some ready-to-eat foods that we carried from India and on other days we bought food items from the local supermarkets to prepare our desired meal. Since during most trips we leave quite early in the morning, we usually avoid booking breakfast along with our room. Rather we prepare food to our liking saving quite a bit (to give an idea, breakfast in any 4-star hotel will cost between 60 to 100 AED per person).
On days when we couldn't manage to cook, we ate at small stores in metro stations or at restaurants in old Dubai which did not cost more than 25 AED or around 500 INR for two. These small eateries are quite helpful if you are on a budget. The food joint that we tried at Dubai Internet City metro station had items ranging from rice, and meat dishes to burgers, wraps, muffins, cakes, beverages, fresh juice, and whatnot. In areas closer to the creek (such as Al Satwa rd, Al Fahidi road) we found a lot of Indian, Pakistani, Nepalese, and Asian restaurants that have snacks available for 5 AED or less. We tried some samosas, fritters that were just 1 AED, and tea for 0.5 AED. 
Then there were days when we tried some amazing burgers, shawarmas, kebabs, pizzas, and Japanese ice cream from food trucks at Dubai Expo, and treated our tastebuds to some lip-smacking world cuisines at Global Village which offers 200+ restaurants, cafes, and street food options. We ate delicious appetizers and desserts in cafes like Forever Rose Cafe and Saya Brasserie. Experienced Dubai's bustling nightlife at the sleek and stylishly rooftop terrace in Level 43 sky lounge while enjoying the spectacular bird's eye view of the Dubai skyline and contenting our hearts with their signature cocktails, freshly made sushi, and some fish fritters.
To savor an authentic Arabic/Emirati breakfast platter or to taste some of the most famous local dishes try visiting Arabian Tea House in Al Fahidi. The décor and vibe of this café/restaurant are a reminder of the rich culture, heritage, and hospitality of the Emiratis. The breakfast platters here start from around 72 AED.
We tried some Chinese food at the Dubai Mall food court too, where prices started from 15 AED. 
So, whether on a budget or not, there are plenty of places where you can eat across Dubai.
Some of the local favorites that we loved were Samboosa (just like Indian Samosa, hot pastry filled with meat, vegetables, and spices, sometimes even with cheese), Shish Tawouk (marinated chicken shish kebab), Machboos (rice dish cooked using locally caught shrimp, lamb or chicken) shawarma, knafeh (a sweet dish made with cheese).
Now that you know the most essential information to plan the trip to Dubai, read part two of this blog to design your itinerary. Click here to read.
Author: Sourab