3 Days in Abu Dhabi Itinerary  – Best places to visit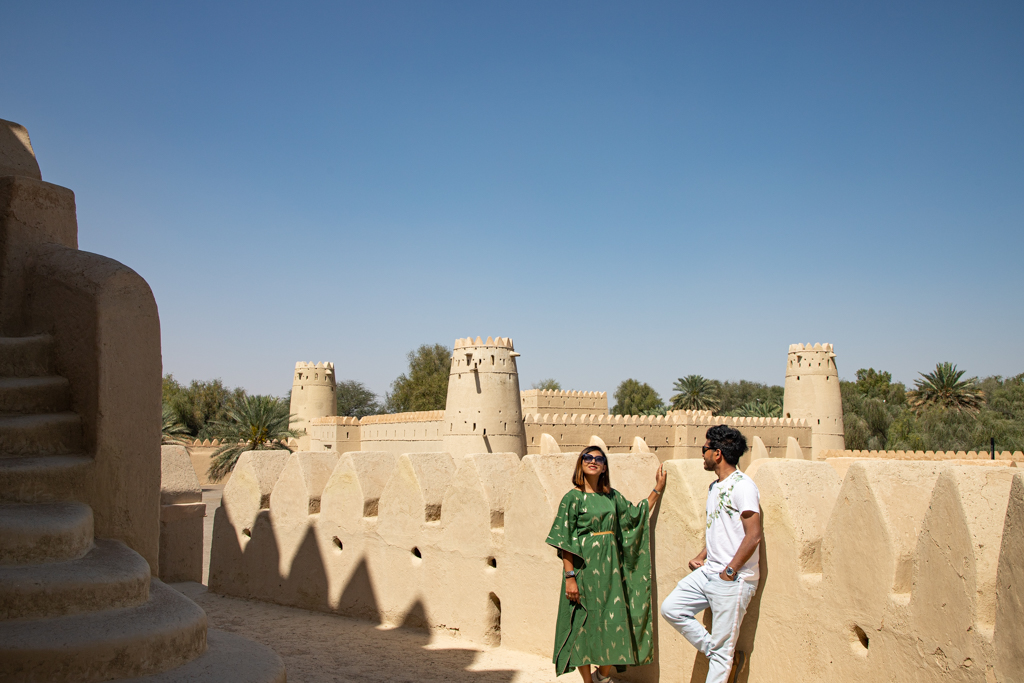 Abu Dhabi is generally overlooked as a destination with Dubai being the most popular city and located right next to it. But make no mistake, this city being the capital of the UAE has a popularity of its own. From High rise buildings, shifting dunes, turquoise ocean, pristine beachfront, rich history, breathtaking landscapes to luxurious stays, you name it you'll find it there.
We explored Abu Dhabi for just three days and were left awestruck by the calmness, grandeur, and adventures it has to offer. We wish we had more days in our hands to explore this Arabian gem. Our suggestion is to make it a part of your itinerary if visiting UAE and trust us you'll not be disappointed.
Here is our itinerary which covers the most popular attractions and some hidden gems.
Day 0 – When we arrived in Abu Dhabi the RTPCR test was mandatory to have green status on the Al Hosn App which is in turn required to enter most of the tourist attractions. However, it is not a requirement if you are just staying in Abu Dhabi and not visiting any attractions (which is highly unlikely). Slowly the restrictions are getting eased, check the latest information on their official website mentioned below.
We reached Abu Dhabi international airport around 8 PM. After leaving the airport we went straight to our hotel had a relaxed evening and planned the itinerary for the next day.
Day 1- Al Wathba Salt Lake, Fossil Dunes, Desert Safari
As we had missed doing the RTPCR at the airport the previous night our first order of business was to visit the LLH hospital and get the test done. It cost AED 40 per person. After we were told the results would be updated in 24 hours we then modified our plan to accommodate the activities that did not require the green status on the Al Hosn app.
Al Wathba Salt lake
This location is a recently discovered attraction and a rage on Instagram. Aqua blue lake waters lined with salt beds and circular salt formations are a place to be found in Disney movies. So naturally, we headed out there with a heart full of anticipation to cover a distance of 48 km and explore this gem.
Finding this place wasn't difficult as it was a Sunday and a lot of families had come there to enjoy the salt flats. We spotted a line of vehicles and headed straight over there through a quarry.
What did we find there? To our dismay, the lake has almost dried up, water dirty greenish, plastic bottles recklessly thrown into it, no salt formations, no sign of anything extraordinary. We spotted a pink lake next to it that looked better but nothing worthy to have made this journey. We spoke to a few visitors there and showed them the Instagram pictures. None of them were able to confirm whether this was the same place. Disappointed, we took out our cameras and tried to capture something as a memory. On our way back, we enquired with some of the workers in the quarry who confirmed there was no other lake nearby than the one we went to and that it would have looked the same as in the pictures had we visited a few months earlier.
The location that we were actually looking for goes by a slightly different name- Al Wathba LONG salt lake and is a bit far from the one we visited. You can locate it on Google maps. We realized this later and by then it was too tiring to circle back. Maybe the next time we visit Abu Dhabi, we will try visiting there.
Fossil Dunes
Not far from Al Wathba lies these fossil dunes frozen in time. These stunning natural dune formations are abstract structures made by sand swept in the wind over a long period of time. Entry to this attraction is free. Unfortunately, we were not allowed to enter the site as the test results for RTPCR were not in yet.
Desert Safari
The next activity that we added to our itinerary was the must-do- Desert Safari (thankfully, it did not require the green status on Al Hosn App). There are various tour companies to choose from, the one we selected (http://www.arabiandubaisafari.com/) charged AED 70 per person including dune bashing, camel ride, sandboarding, barbeque dinner, and other entertainment. The tour agent instructed us to wait at the Al Wahda mall by 2:30 pm. The bus picked us up at 3 pm. After two long hours cramped up in the bus (it was full being a weekend), we reached our destination. We were then divided into groups of six for dune bashing. It was my first time and for a person who hates speed, it was quite an ordeal. Those 10 minutes of roller coaster ride doing somersaults inside our 4×4 having my heart in my mouth and clutching on for dear life had been a horrible experience. Sourab, on the other hand, enjoyed it so much and wanted more.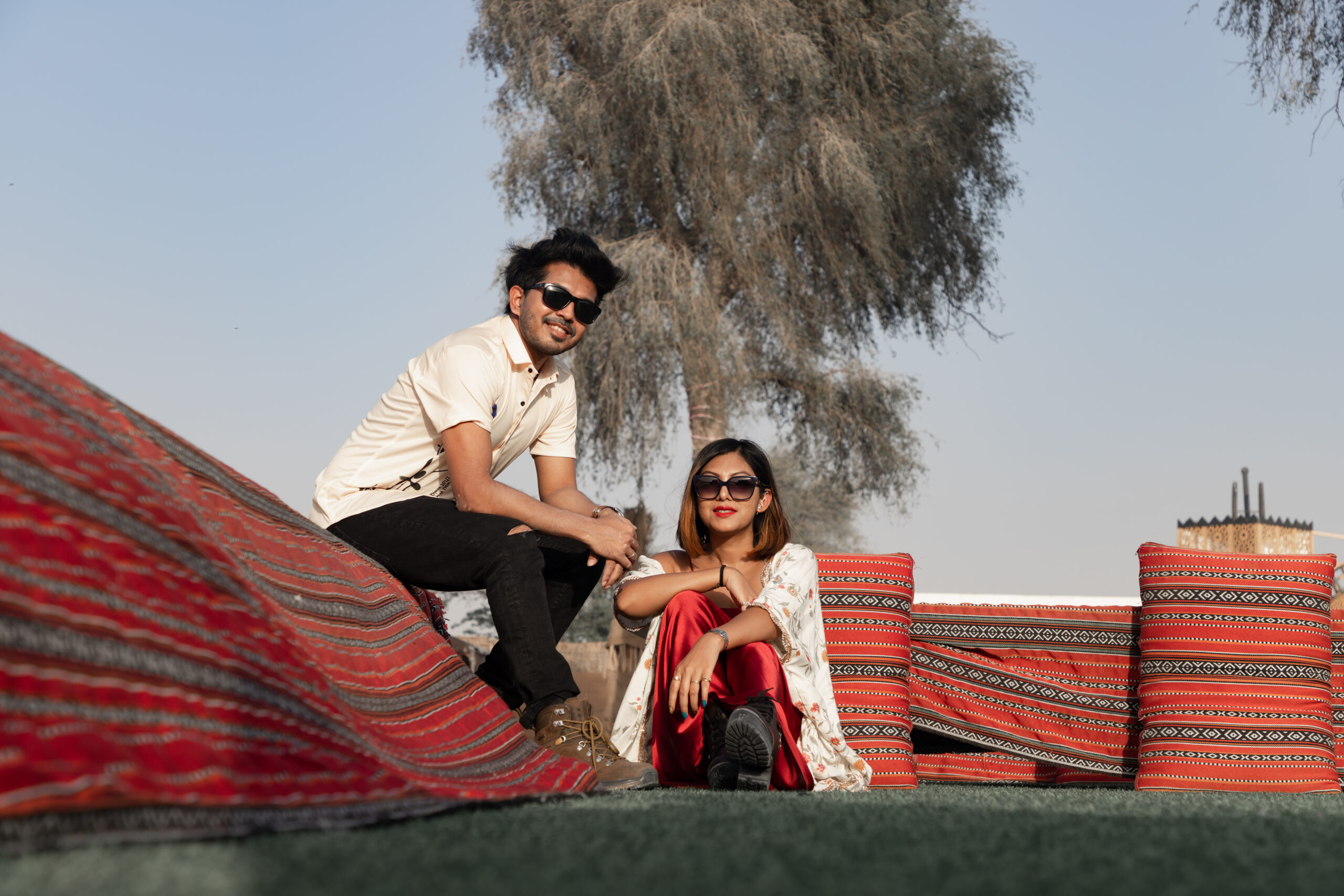 After getting down and straightening up myself, we walked towards the main camp which was empty as most of the guests were attempting other activities like camel rides, pictures with Falcon, and sandboarding. We rested for a while. Then at the golden hour headed out to explore the desert and enjoy some quad biking rides. After sunset, we found our way back to the camp, the entertainment and food service had already begun. We took up our seats and enjoyed the fire show, belly dance, and tanoura performance. Post dinner we boarded the bus and returned to our hotel calling it a day.
Note – You might be offered better seating on the terrace and table service at an extra cost of 100 AED. It's better to avoid that as it makes no difference at all. The service was mostly delayed and we found the seats below were more pleasing as they were closer to the stage of the ongoing action.
Day 2- Mangrove Park, Louvre, Qasr Al Watan, Emirates Palace
We finally gained a negative test result for RTPCR and a green status on the Al Hosn app the next day. Now Abu Dhabi was ours to conquer.
Jubail Mangrove Park
After a quick breakfast, we headed for Jubail mangrove park- a one-of-a-kind park in a desert. A long trail amidst picturesque mangroves, the sight of marine life in the waters, and the cool breeze in the morning will leave an indelible impression. There are three pathways to choose from, the longest being up to 2 km zigzagging through the dense flora. The viewing tower provides a panoramic view of the area to the visitors. The park also offers activities like paddle boarding, kayaking, and dragon boat ride with prices starting from AED 80.
Visit the website below for more information.
Opening time- 7:00 am to 09:00 pm
Entry price – AED 15 per adult for the boardwalk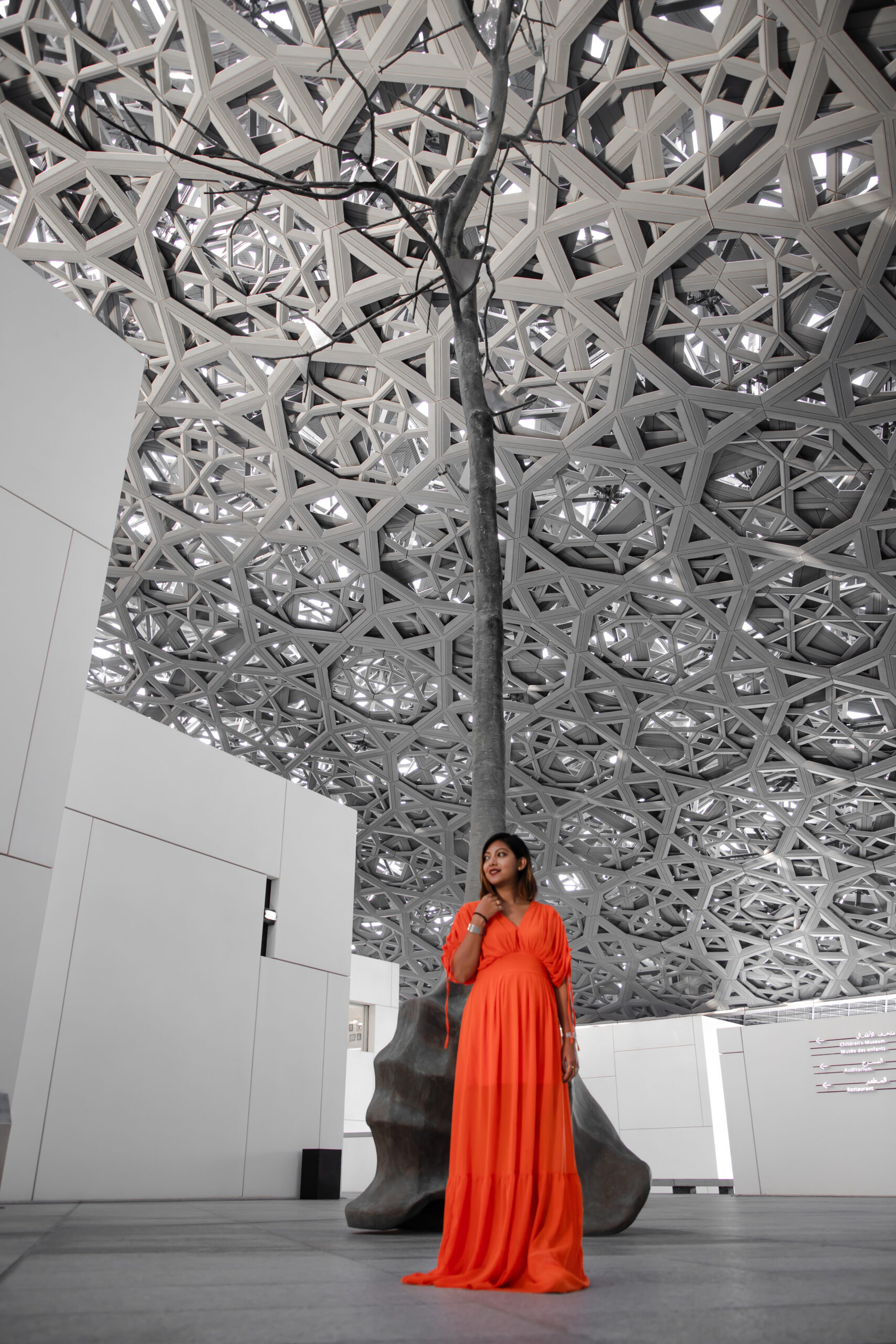 Louvre Abu Dhabi
On our way back from Jubail Mangrove park we visited the famous Louvre Abu Dhabi Museum. Did you know? The name "Louvre" has been leased as an agreement between UAE and France to be used until 2037. As soon as we walked in, we were greeted by a guard whose humor got us in splits. Laughing all the way, we locked away our luggage and walked toward the main galleries. Amazed at the collection of artifacts, sculptures, relics, and paintings of famous artists from across the world, we made our way through every gallery, exhibition, and section. We read every piece of information displayed next to the artwork. We then walked to the outer part where the floating dome of light and shade covered most of the museum while the water surrounded all around. The web pattern architecture of the dome allows the sunrays to filter creating an incredible effect on the ground. There was artwork everywhere. We spent some time here capturing the remarkable details and ourselves to document our journey here.
Opening time- Tuesday to Sunday 10 am to 6:30 pm, closed on Mondays
Ticket Price- AED 63 for adults
Website- https://www.louvreabudhabi.ae/
Qasr Al Watan
The next stop on our itinerary was the presidential palace- Qasr al Watan. Right outside Louvre Museum, we found the bus stand. A lone bus appeared which happened to be a tourist service. The friendly driver confirmed he would take us to our destination through the picturesque paths of Abu Dhabi. We stopped at a few tourist spots, but no one got in, so we three (the driver, Sourab, and I) continued our conversation till our stop arrived.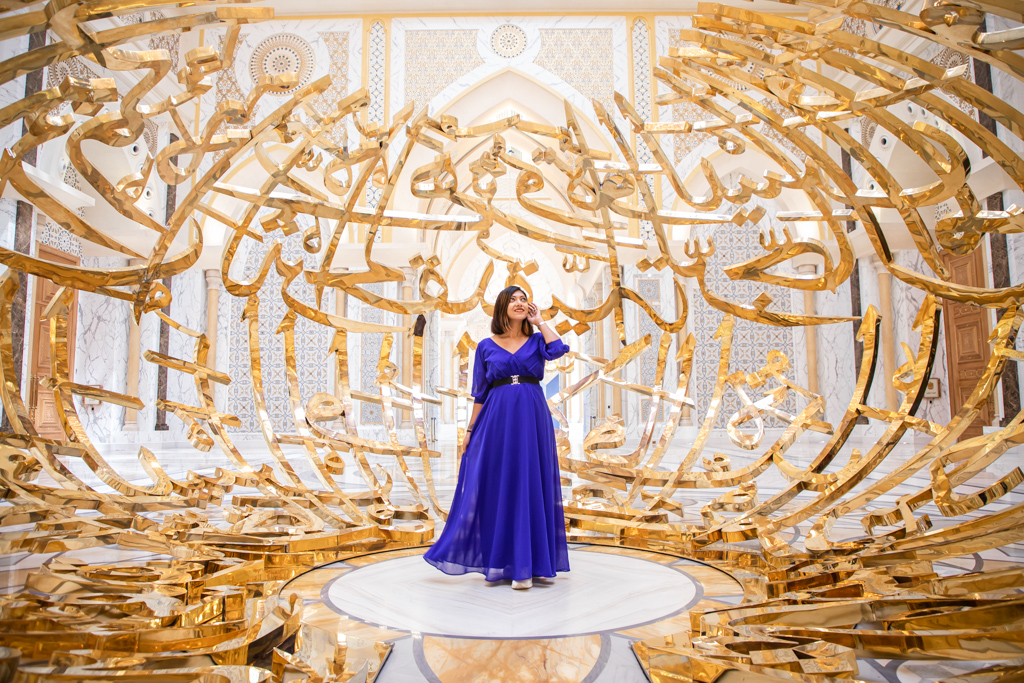 Qasr Al Watan is a sight to behold. The pure white building with golden artwork is exquisite. What lay inside was even more bewitching. The massive hall with soaring walls, the elaborated artwork all around, the beautiful abstract mirror work, the great library, and the oblate-shaped Arabic calligraphy structure were too beautiful to describe. We spent around an hour there walking through and grasping as much as we could of this insightful Emirati marvel.
Opening hours- Generally timings 11 am until 6:30 pm and changes every month. Visit the website below for the latest updates.
Ticket price- AED 65 per adult
Website- https://www.qasralwatan.ae/
Emirates Palace
It is located within walking distance from Qasr Al Watan. Emirates Palace is a luxury and highly rated five-star property on the corniche road. Entry to the lobby is free. You can also purchase the day pass for access to the pools and other public sections. A guided tour is also available for AED 150 to explore some parts of the hotel.
As we walked in through the fountains, we spotted the grand staircase toward the main building where the Fast and Furious 7 movie was shot. We walked along and found the entrance to the hotel lined with all kinds of luxury vehicles. A red Ferrari took our hearts away! We entered the palace and looked around at the dripping extravagance, the vast amenities this place has to offer, and the breathtaking views of the ocean. With a heart full of wonder, we left for our hotel.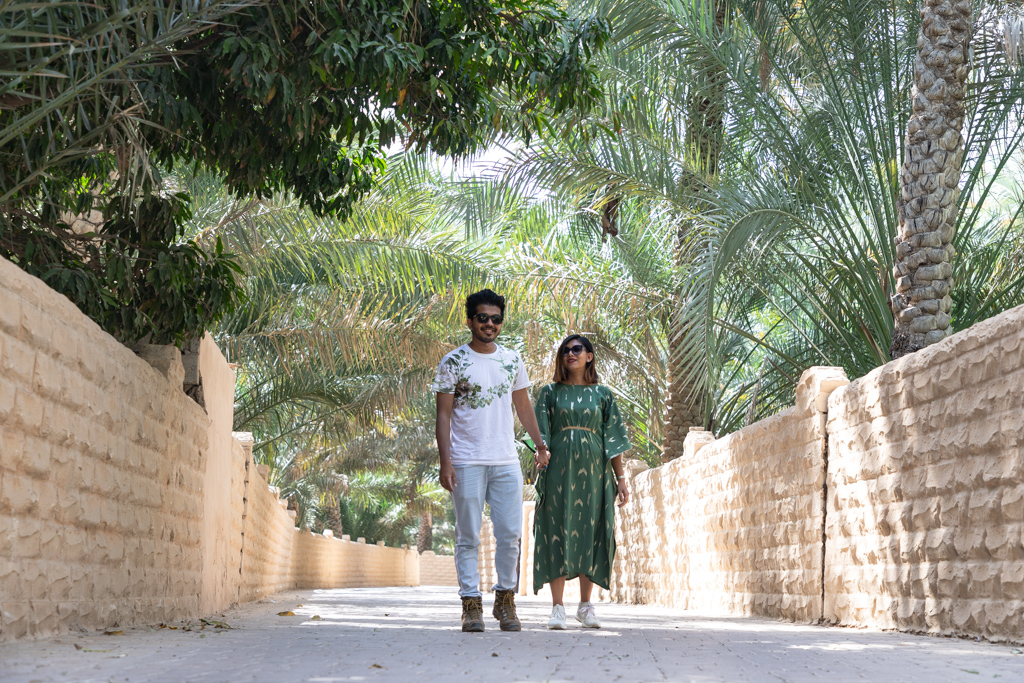 Day 3- Al-Ain Oasis, Palace Museum, Al Jahili Fort, Sheikh Zayed Mosque
Al-Ain is a city close to the border of Oman located 171 km away from Abu Dhabi. It is known for its Oasis, palm groves, natural springs, and one of the highest mountains in the country- Jebel Hafeet. We left for Al Ain early in the morning and reached the central bus station at 7:00 am. Upon enquiring we were told the next bus would leave in 2 hours which would be too late. Thankfully a cabby overhearing our conversation offered to drop us at our destination in his car for half the price. The only condition was that we needed to pool in with another passenger, which we were completely fine with. After less than two hours of listening to Bollywood music on the FM in the taxi and watching the scenery change outside, we reached Al Ain right on time. We noted down the driver's number as he agreed to drop us back to Abu Dhabi as well. Our first destination was the Al Ain Oasis.
Al-Ain Oasis
It is the largest oasis in the city and UAE's first world heritage site. This site is 1200 hectares of palm grove that cultivates more than 100 varieties of date palms, fodder crops, and many fruit trees such as mango, orange, banana, fig, and jujube. As soon as we entered the main gate, we found bicycles and pedal carts on rent. The oasis is spread over a massive area and would be difficult to explore on foot. So we rented one bike each for an hour. We set off through the broad paths amongst the tranquil lush green palm trees, occasionally making a stop and sighting the sun rays piercing through the blanket of Arecaceae leaves. At one point in time, we heard a faint sound of water flowing at a distance. We got down to find the irrigation system used to water the plantations. This irrigation called the Falaj dates back thousands of years, where water is brought from the mountains and nearby wells via a complex system of underground and surface channels. It was surreal!
Opening hours- Closed on Mondays. Fridays- 3PM – 7:30 PM. All other days 8:30 AM to 5 PM
Ticket price- Free
Bicycle rental- 25 AED per hour
Al-Ain Palace Museum
Walking distance away from the oasis through the Orchard garden is the Al Ain Palace Museum. This place used to be the private residence of former rulers which has been converted into a Museum in 2001. The pictures of the ruler families adorn the walls. A family tree of the Al Nahyan family is put up in one of the rooms, while a vintage land rover rests in the courtyard.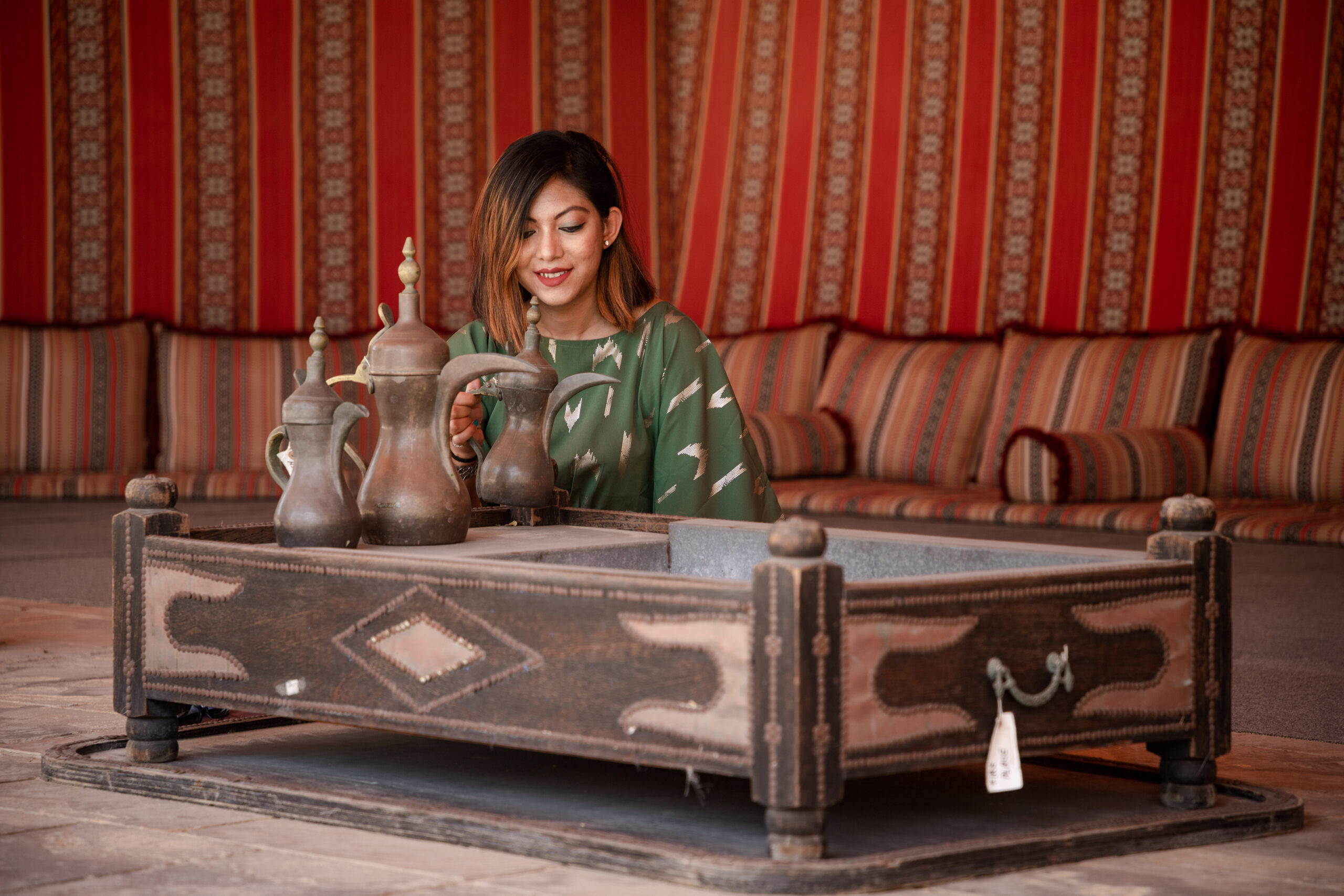 A Bedouin tent on the other end of the palace, numerous rooms which served for reception, study, hosting women, and bedrooms for family members under the two-story building are open for visitors to explore. After the tour, we were offered a cup of special Arabian tea (we found it too strong for our taste).
Opening Hours- 10 AM to 6 PM
Entry Free
Al Jahili Fort
The next stop was Al Jahili fort which was located 1.8 km away. We decided to walk there while making a stop in between for lunch. When we reached the fort, it was already noon, the sun was at its peak shining bright on us, and we could feel our skin burn. Gulping down the last bottle of water we made our way in.
Al Jahili is one of the largest forts in the UAE and was a summer residence of former rulers of Abu Dhabi. The earthen architecture is quite remarkable. The area includes a round watchtower, a square fort with defensive towers at its corners, and a mosque directly outside the walls. What interested us the most is the way the fort was planned and constructed. A 10-minute presentation at the visitor center took us through the history and renovation of the fort. The usage of mud bricks, other traditional materials like palm trunks and fronds, and chilled water pipes over the surfaces makes for an innovative climate control technology while at the same time preserving the architectural heritage of earthen buildings in the UAE.
After exploring the fort, we called our driver to pick us up and take us back to Abu Dhabi where we had one last attraction to visit for the day.
Opening Hours- 10 AM to 6 PM
Entry free
Sheikh Zayed Grand Mosque
It was an hour before sunset when we arrived at the mosque. I changed into my abaya and headed toward the entrance.
Sheikh Zayed Grand Mosque is one of the largest mosques in the world. This marvelous Islamic architecture also boasts of owning the largest handmade carpet, one of the largest chandeliers, and the largest marble mosaic artwork in the world. This monumental marble structure reflected the golden rays of the sun and created a beautiful aura all around. There are 82 domes adorned with intricate golden artwork, four minarets of different architecture styles reaching up to 106 meters high, and 1192 pillars encrusted with semi-precious jewels. There are designated and marked sections throughout the mosque where tourists are allowed to photograph. We watched the sunset from the pool and slowly the lights go up. After spending nearly an hour and a half, we exited the mosque and hired a taxi to take us to the other side of the road where the mosque is best viewed after sundown.
Visiting hours- Saturday to Thursday- 9 AM to 10 PM, Friday- 9 AM to 12 PM, 3 PM to 10 PM
Entry free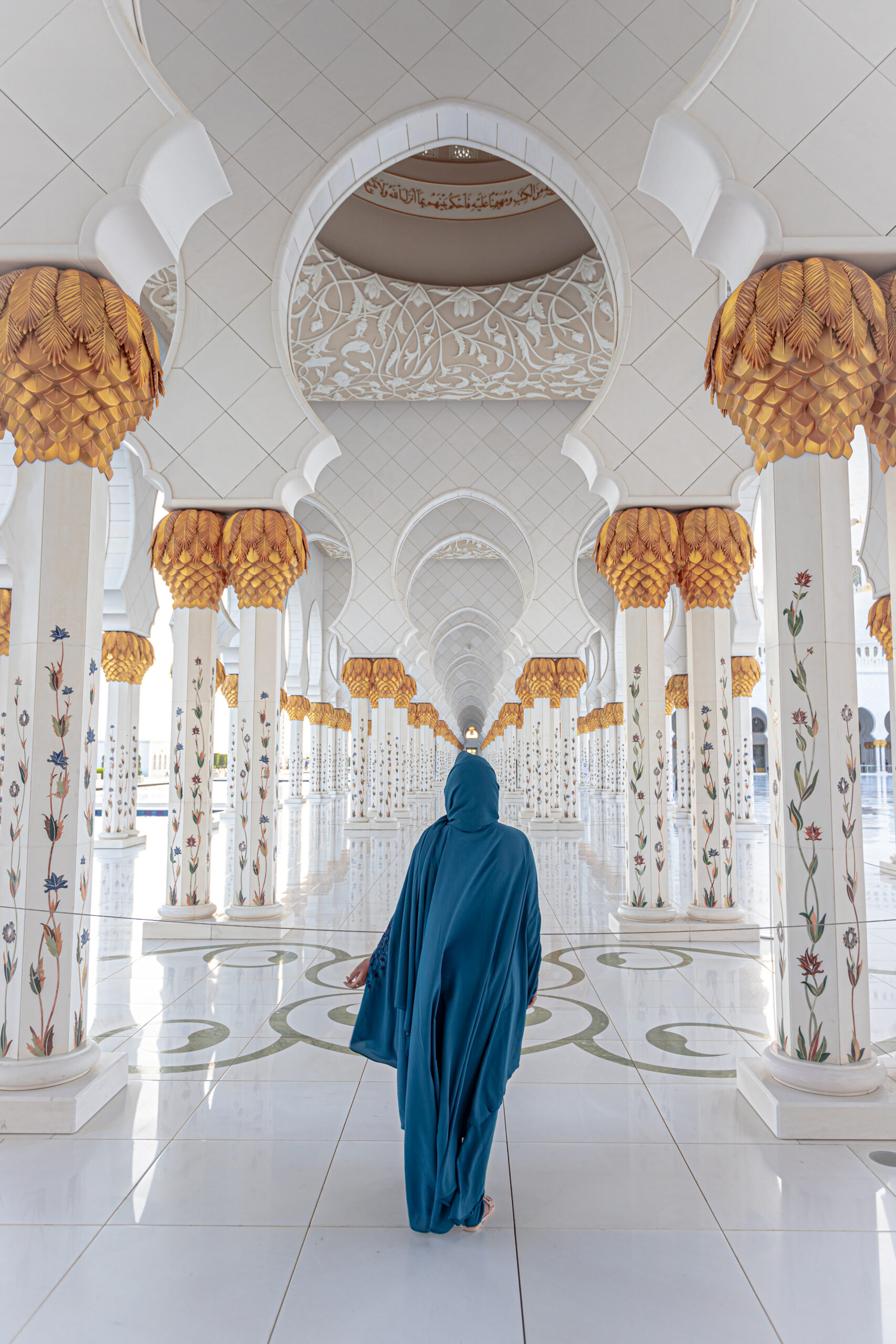 Dress code- Women: Abaya or any other attire that covers hands, feet, and head. Men: Respectful clothing that covers shoulders and knees.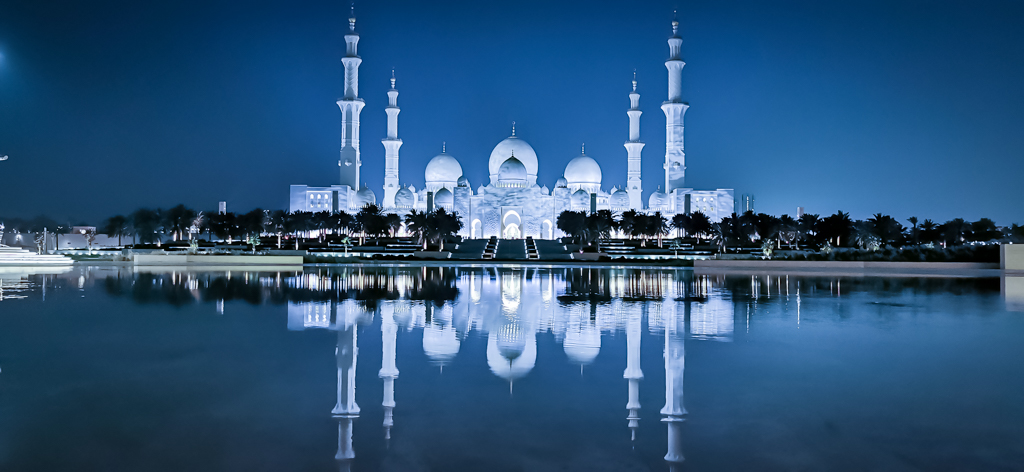 Wahat Al Karama
Wahat Al Karama is a memorial to the Emirati Martyrs who died in the service of the country. This is also the place where Sheikh Zayed Grand Mosque is best viewed from. The mosque in all its grandeur is a sight to behold as it illuminates against the setting sun and Wahat Al Karama is just the right place to experience this wonder. A short taxi ride away this place is on the other side of the busy street and offers uninterrupted views of the mosque and a stunning reflection in the pool below from the amphitheater. We could just spend hours here lost in the tranquility.
Open time- 9 AM to 10 PM
Entry free
After what seemed like an eternity, we unwillingly made our way back to the hotel and packed our bags, ready to bid adieu to this impressive city. The next morning with a heart full of anticipation and excitement, we left for another destination- Dubai.
How to reach Abu Dhabi?
Abu Dhabi is well connected to most of the cities in the world through direct flights. We traveled by Air India from Bangalore which took us 4 hours to reach. Price- INR 12500 per person one way.
The airport is the second largest in UAE and has three terminals. Immigration and baggage collection was a smooth process.
Please pay attention to the next part if you are visiting attractions in Abu Dhabi and need a green status on Al-Hosn App.
Step1- Buy a local sim at the Arrivals terminal. Separate sim cards are required for each individual. We bought an Etisalat connection that cost us AED 125 each and came with a free pass to DUBAI Expo. Once the connection is active, download the Al Hosn app and update all relevant details
Step 2-Next to the sim kiosk you'll find a board that will lead to the lab where RTPCR tests are conducted. Price- 40 AED per person and the results will be shared within 24 hours via SMS or updated on the Al Hosn app.
Step 3- Once done visit the immigration counter in terminal 3 (next to the Etihad counters) where the staff will help link the local phone number to the Al Hosn app using your Visa number. You can then log in to the app and check the status. On receiving the negative RTPCR, the status automatically turns green.
What Currency to use?
Currency conversion counters are available throughout the airport and at some shops in the city. We loaded our international travel card with AED from India which was accepted everywhere. We used our Visa credit card for further expenses and were charged an exorbitant amount of conversion taxes- so better to avoid credit cards while traveling in a different country unless your bank offers attractive conversion rates. Cash is also widely accepted.
Commuting within Abu Dhabi
On the first day, we wanted to visit Al Wathba Salt lake. This location was not connected through public transport and hence we booked a taxi to reach there. For a total commute of 145 km the whole day, we paid AED 303. Taxi services can be booked via Abu Dhabi taxi, Darbi, and Abu Dhabi Link apps. Running taxis are also available at most of the points.
The next day we wanted to explore the city via public transport and bought the Hafilat card (5year pass) for AED 25 each which comes with a balance of AED 19. The card can be topped up at any of the bus stand kiosks or online. Most of the attractions like the Louvre Abu Dhabi, Sheikh Zayed Mosque, and Qasr Al Watan are well connected by bus. Do check the route map and bus timings in the Abu Dhabi Link app.
There are also tourist bus services that run throughout the city covering all the main attractions and are free. So just hop on and hop off at your favourite destinations.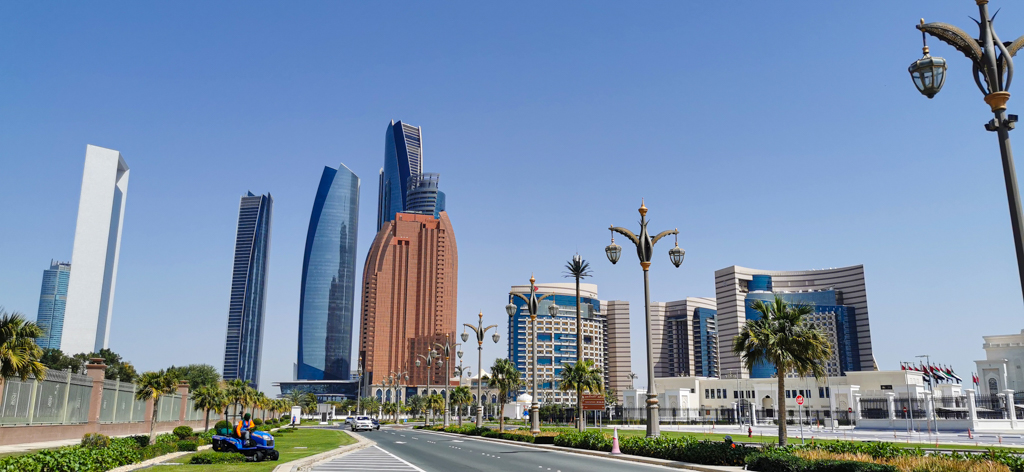 Where to stay?
The city offers accommodation for all kinds of travellers. Ranging from ultra-luxurious hotels, and beachfront resorts to mid-range stays and hostel facilities for budget travellers. We stayed at the Al Diar Capital hotel which is a mid-range stay located in the business district close to most of the attractions and bus stations. The average price per night was INR 5381 room only.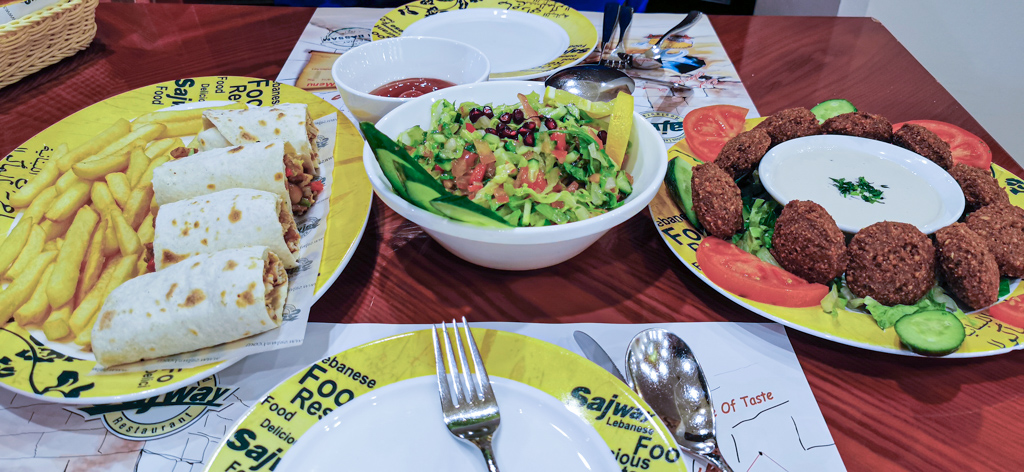 Where to eat?
The room we booked came with a kitchen (I wouldn't say fully equipped) where we managed to cook some easy meals for breakfast. The surrounding areas in the business district have many restaurants and cuisines from all over the world. We explored some mouth-watering dishes at a Lebanese restaurant a few meters away from our hotel and Sushi at a Japanese restaurant right outside. The average price per meal is INR 3000 for two.
What to carry
Abu Dhabi can get very hot during the day. Carry sunscreen, sunglasses, hats, and water bottles. Stay hydrated, take short breaks at shaded areas during the tour and avoid venturing out during noon to open areas. Keep a scarf at all times in case you are asked to cover your head at some attractions. Be respectful of the culture and people around you, and follow the dress code wherever applicable.
We had a very pleasant and calming experience during our short trip to Abu Dhabi. But Abu Dhabi has a lot more to offer to its admirers. If you are looking forward to some gutsy adventures then Abu Dhabi Ferrari World is the place you have to add to your itinerary. After the desert safari, I was definitely not up for trying the world's fastest roller coaster or some gravity-defying rides. So we skipped this indoor theme park. If you want to take the level of adventure to a further high, then get ready to skydive in Abu Dhabi. If you are travelling with your kids then head over to Yas Island Waterworld and to Warner Brothers World. These theme parks will not just brighten up your kid's day, but will also bring out the inner child in you. For sports enthusiasts, the Yas Marina grandprix circuit offers tours to know about what happens behind an F1 race. Abu Dhabi is sure to stay in your heart forever as it will for us. So the 'Time is Now'. Happy Travelling.
Author: Gloriya