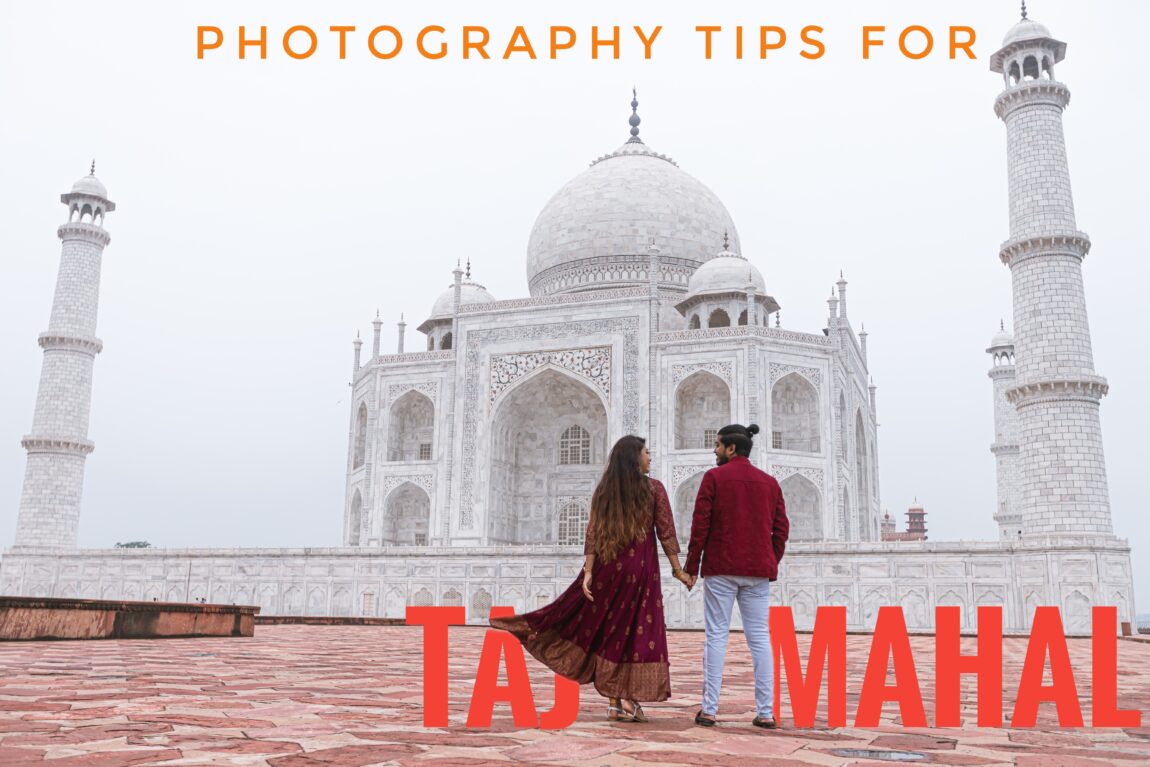 Taj Mahal photography tips for beginners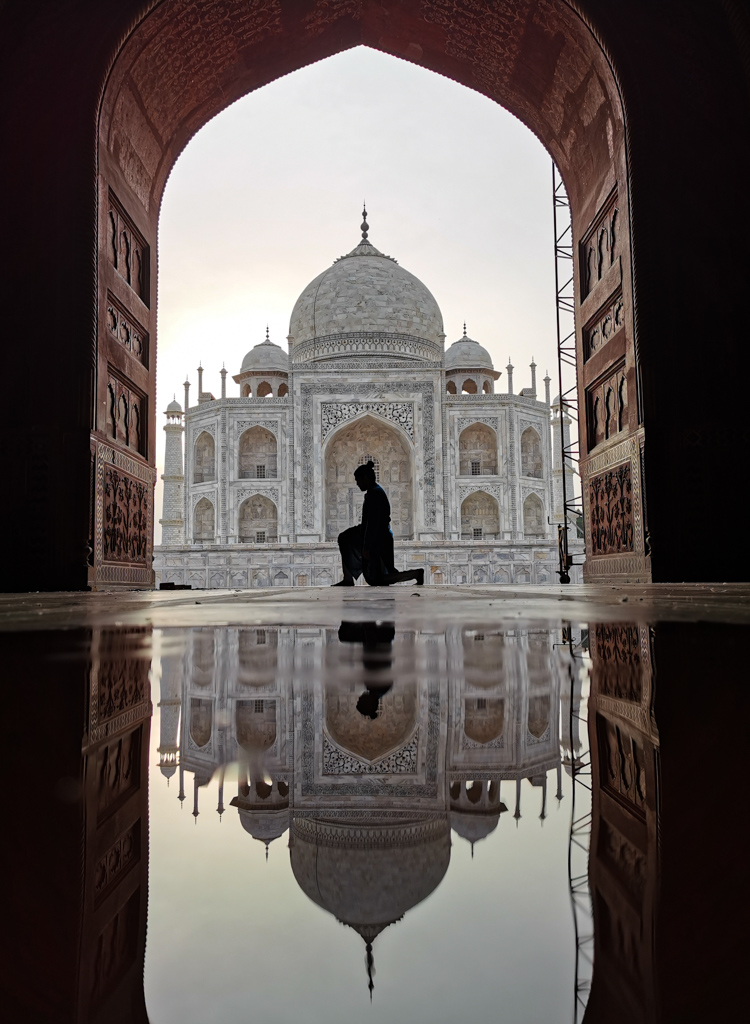 How do you capture the essence of a building that is not just a piece of architecture? How do you tell the story of an emperor's love and grief for his beloved and bereaved wife that gave rise to a monument like no other? Something that has spellbound millions across the world over hundreds of years, how do you catch the magic of such? An astonishing architecture, a global monument, a marble mausoleum, or a symbol of eternal love how may ever you refer to it, the fact is taking a photo and justifying the beauty of the world's no. 1 wonder is a daunting task. Especially when it is always surrounded by a crowd on any given day. No matter how many times you see this majestic marvel, you would always want to snap or film it as a memory to reminisce years later. Based on our exploration here is a guide on how to photograph the iconic Taj Mahal. We hope these tips can help you to click your unique perspective of the Taj Mahal.  
Tip 1. Visit during sunrise rather than in the evening 
This one is a no-brainer if you would want to capture the beauty of the monument in the soft golden light all while having no distractions around. As the first sunlight shines on the white dome, it appears to be a stuff of the dream. And freezing that moment perfectly in your camera is nothing less than an achievement. Taj Mahal entry opens at 6 AM (do check the opening times on the official website, pre covid the gates were open from 5:30 AM) in the morning and tickets are available to be booked online currently. As you enter do take your time and savour every moment as you let the royalness of this gigantic monument dawn upon you.
During the peak/holiday season the crowd starts gathering near the entry gate even before it opens. If you are staying near the Taj Mahal, then try reaching 20-25 minutes before the gate opens to avoid a long queue. Don't worry the roads will not be empty, many locals wake up early to jog/run along the paved pathways outside the complex area.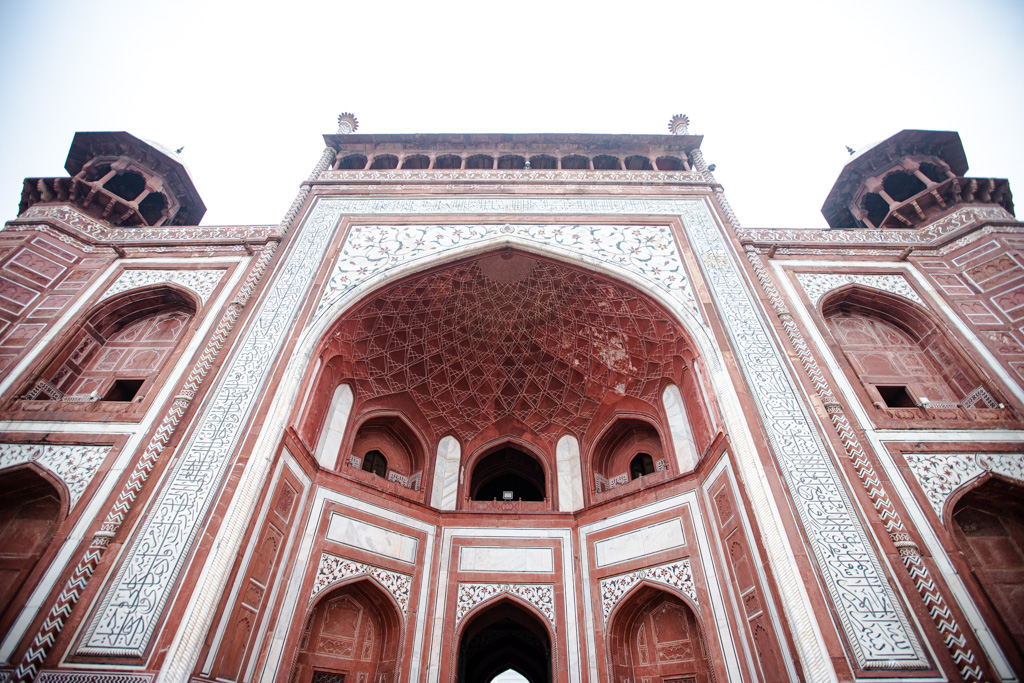 As soon as you enter the main complex, try not to waste any time. Pack a small bag of just a camera and any absolute essentials to avoid spending long inspection time at the security counter. Avoid hiring a guide or collecting an audio guide, you will get ample time to do so at later hours. Utilize the first couple of hours to get the best shots that you would have desired.
Note: East gate sees lesser visitors compared to the West gate, giving an opportunity to enter without any jostle.
Tip 2: Organizing your Camera bag 
Tripods, gimbals, drones, and any professional photographic lighting equipment are not allowed. Power banks, lighters, cigarettes, any type of food or drinks, liquids such as sunscreen lotions are not allowed either. You can carry a small water bottle. However, you are good to go with your phone, camera, and spare lens. If you are carrying more than one lens, then pack a small and proper camera bag to display it at the checking and for easy entry. It is advisable to carry a standard zoom lens of 24-70 mm and a wide lens such as 12-24 mm to capture the monument. If looking for portrait photography, then your zoom lens accomplishes the task otherwise you will have to carry a third, a prime lens of your choice.
Tip 3. Choosing the attire for those portrait shots 
Wear the brightest colour- Reds, greens, blues, pinks, and oranges to stand out against the breath-taking backdrop. Try out some Indian ethnic wear to give that oomph- Saree, lehenga, salwar with dupatta, etc.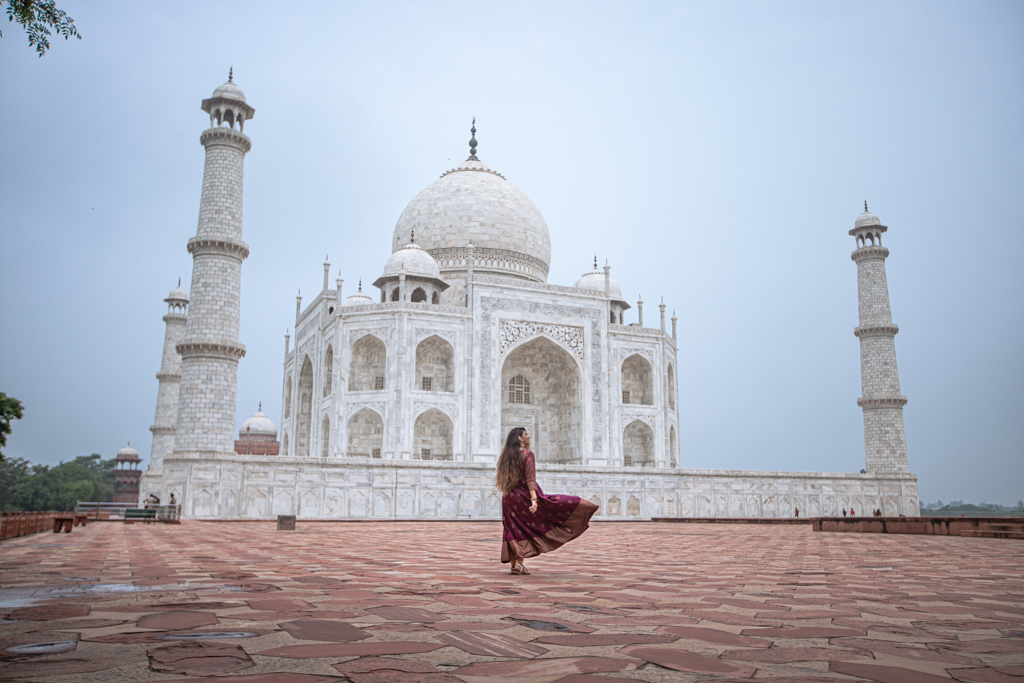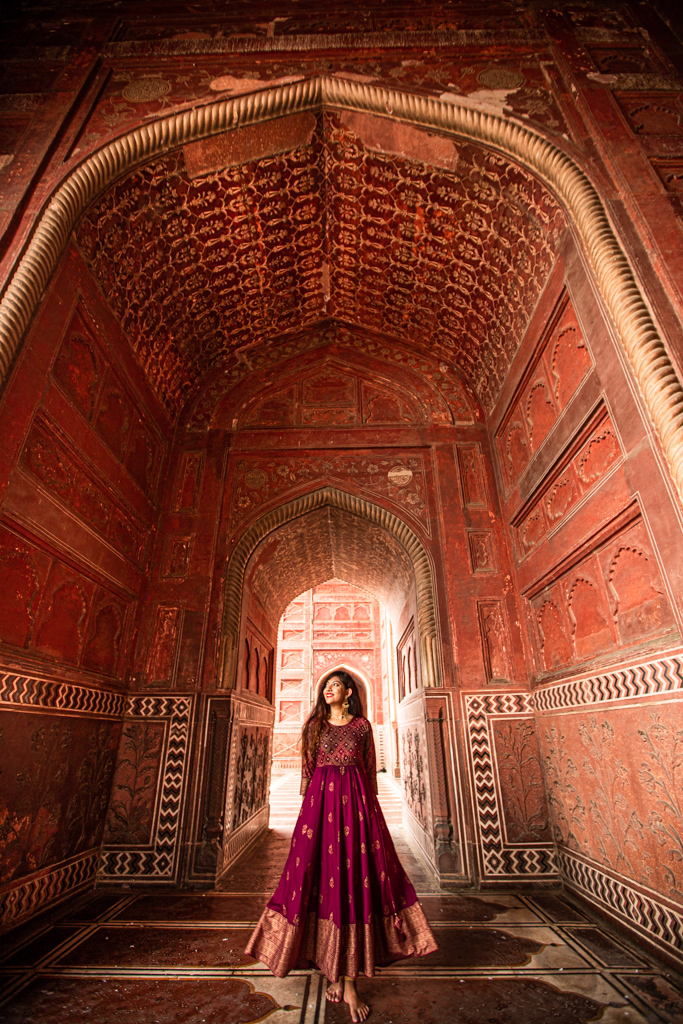 Tip 4: Choosing the best Photographic spots 
Well, this is a tough one to choose from as every angle and every corner of the complex gives amazing frames. However, here are some spots we absolutely loved. 
a. In front of the fountain with the entirety of Taj behind you, right after you enter through the Great gate
b. Reflection of Taj Mahal from the pool below the fountain
c. From inside the mosque with the Taj emerging from behind the arch
Note: we noticed the mosque area being a preferred spot for many photographers, gets crowded often. But the replica building of the mosque 'the guest pavilion' on the eastern side doesn't get that many visitors, you can try some clicks from that side as well
d. The seating areas on the riverside
e. Main mausoleum area to get up close with the monument
f. From the Charbagh gardens
Do read here from where else in Agra you can get some stunning shots of the Taj
Tip 5: Get Creative 
The perfect frame that you would have thought of in your mind, many others would be trying to click that too. So don't be surprised if at some point you see that your chosen spot to capture the wonder is buzzing with onlookers. Just move on and look for another place. Try shooting from the same spot maybe at a later time of the day under different lighting conditions. For example, while we were waiting to get an up-close shot of the main mausoleum around 8 am it was cloudy and there was constant movement of people in front of the lens. So instead of wasting any time there, we decided to go inside the mausoleum.  We came back there an hour later and the place was almost empty as it was sunny by then and we got our shot.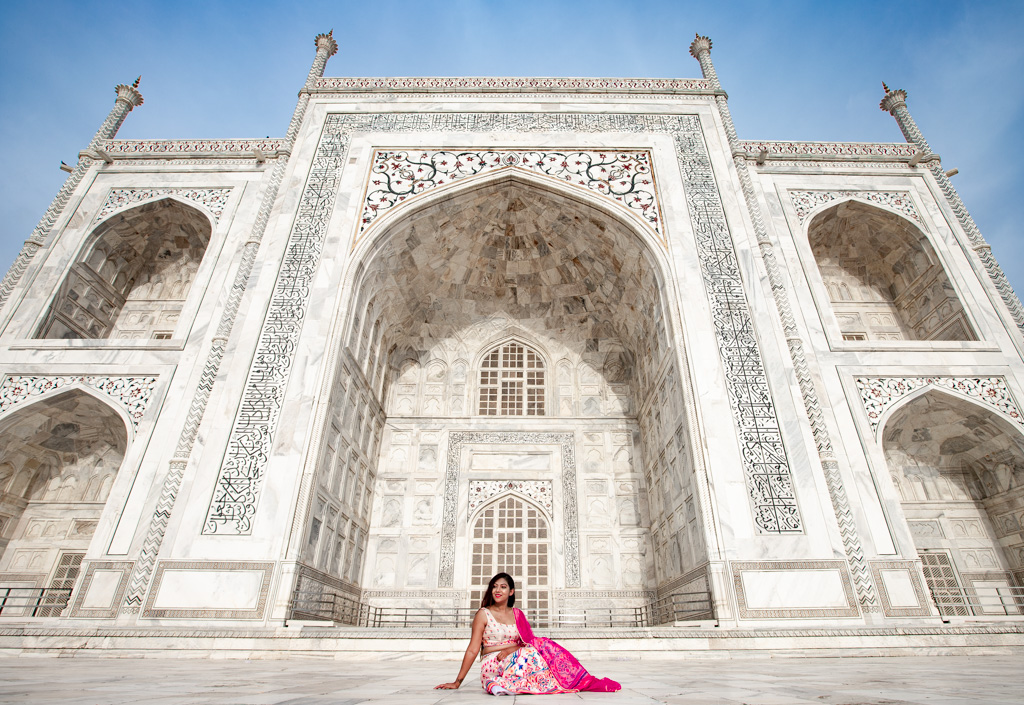 Go ahead and try out different frames, reflections, angles, super-wide shots. Don't hesitate to go and shoot from a point that looks vacant. Experiment with some detailed shots of the intricate artworks.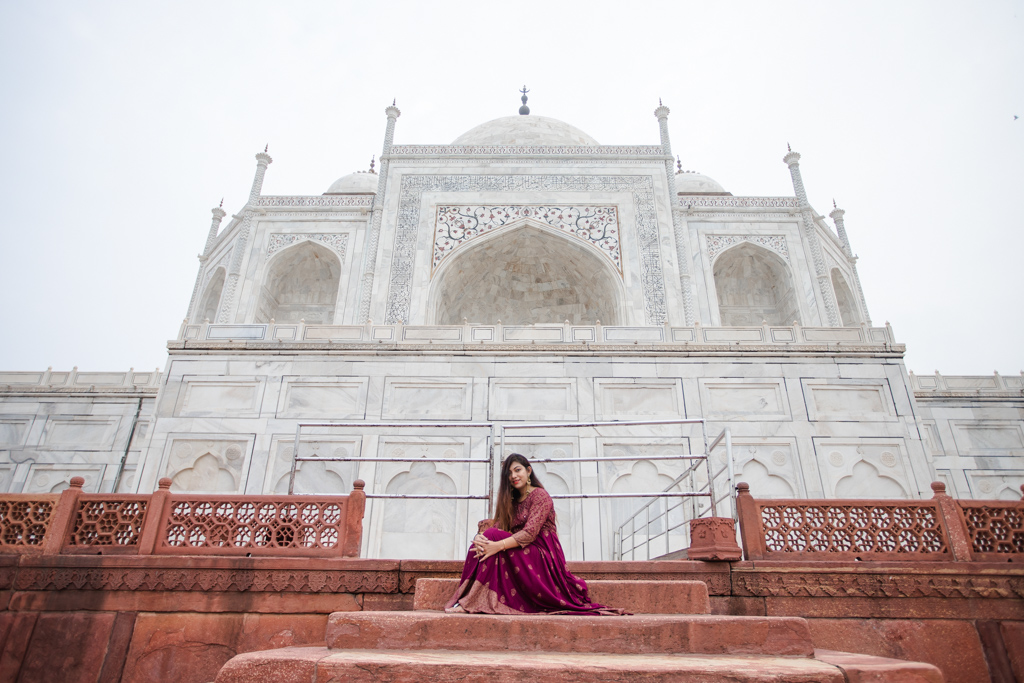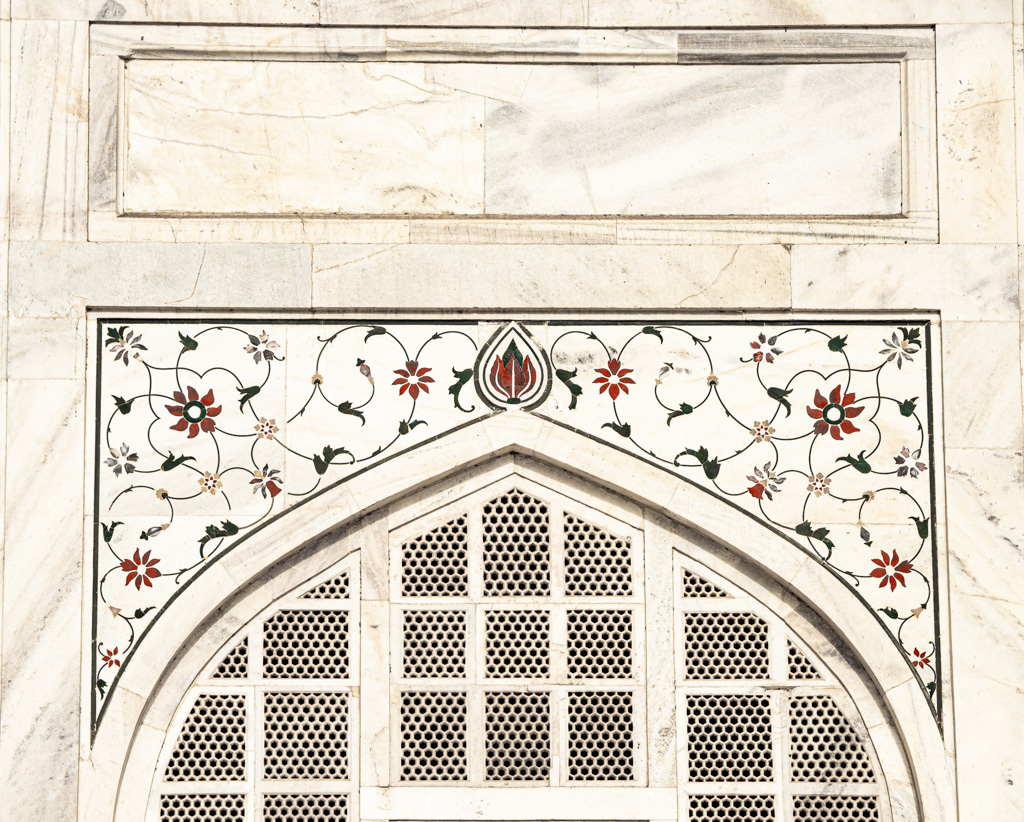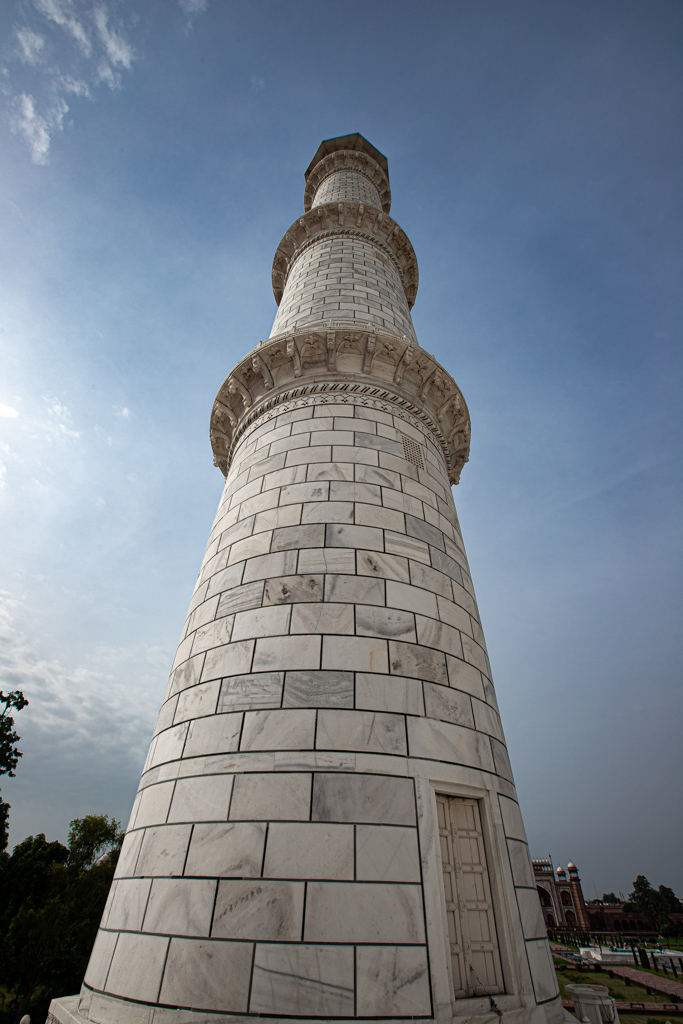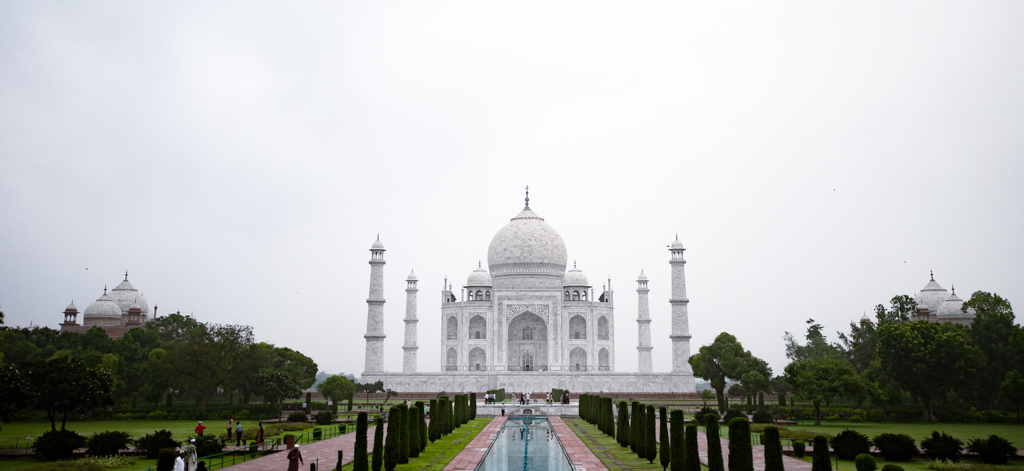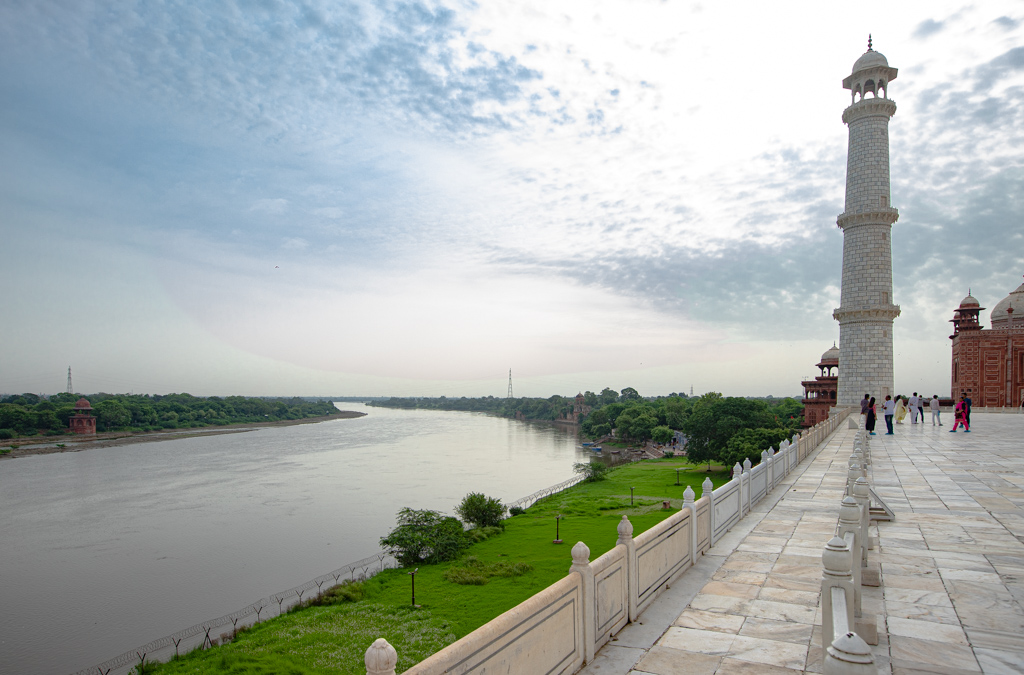 Don't forget to explore the surroundings through the eyes of your lens. Every shot every frame count, you never know one might exceed your expectation than the previous click. Also, besides taking snaps of the structure don't miss out on including yourself in the frame. Ultimately you wouldn't want to miss yourself from the stunning backdrop of the marble giant.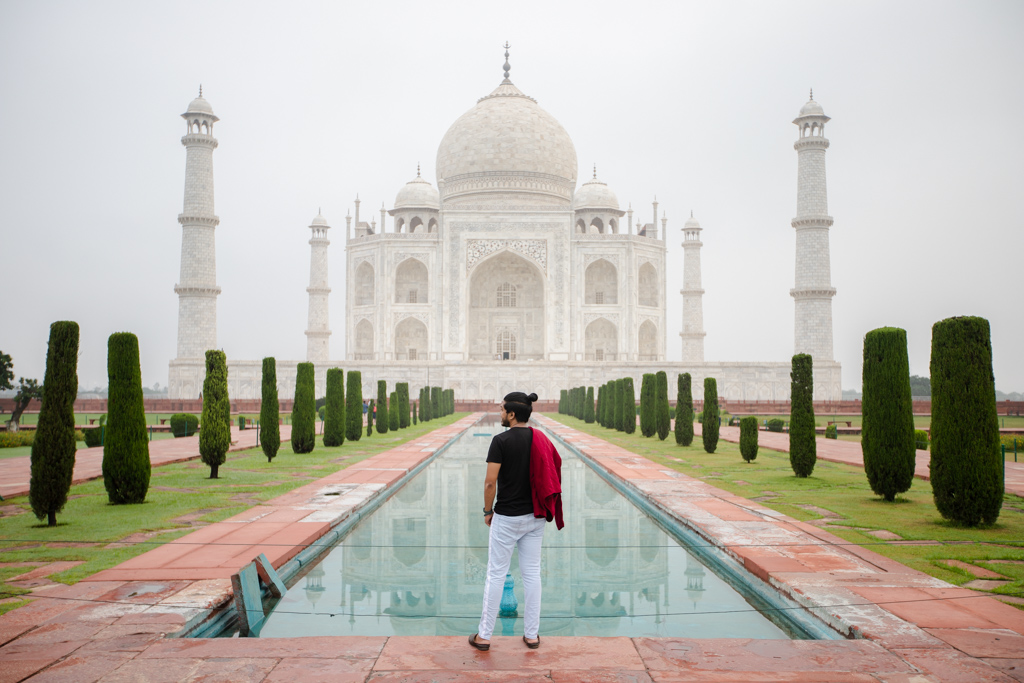 Tip 6: Timing and patience 
Some shots will never go wrong. All you need is to wait for the right moment and not rust through it.  Wait for the sun to rise from behind the Taj. As the first rays caress the sidewalls, the whole monument comes alive. The tomb structure happens to be a spot for birds. Wait patiently as the pigeons fly away and capture your heart's desire.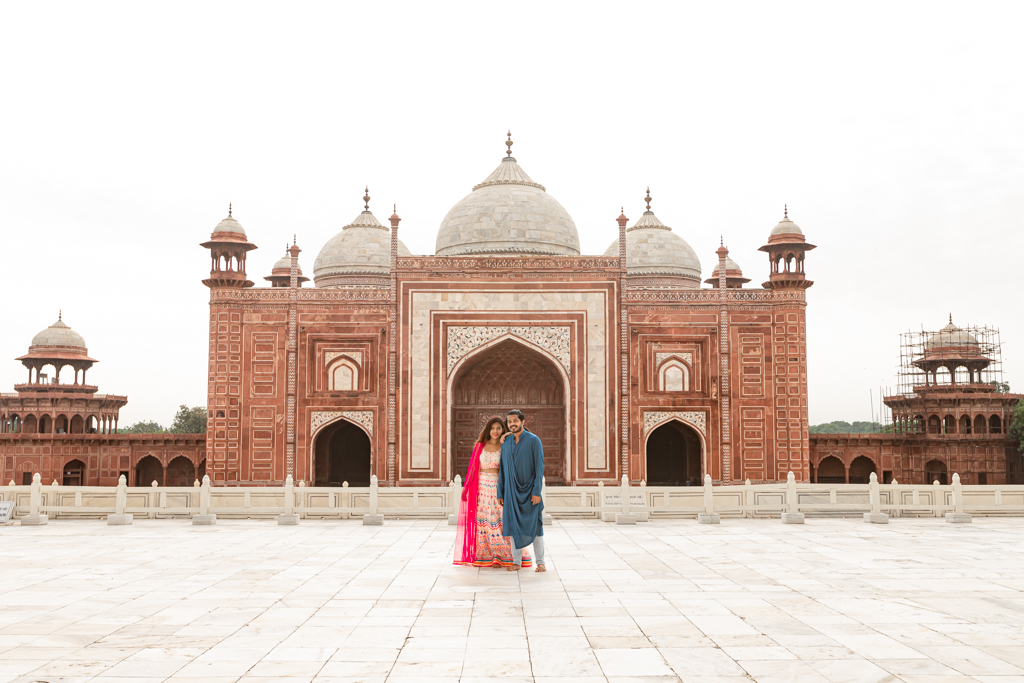 Bonus Tip: An extra day for visiting the Taj 
Now, this idea we had from the inception of our plan. We had decided to visit the Taj on two separate days (On Monday and then again on Wednesday). There were mainly two reasons behind this idea. First, we didn't want bad weather like an overcast or rainy day to ruin our plan of clicking the Taj Mahal in golden light. Not that it would be a bad shot if Taj is framed on a gloomy day, rather we would get a chance of seeing it in different lighting conditions. Secondly, we thought if we keep two days to visit the monument, we might get lucky on one occasion with a little lesser crowd. And not to our surprise, while Monday had a little rush even early in the morning, on Wednesday as we crossed the great gate to enter the complex, we were the first one to step in. Another couple along with us were stopped at a security check for long scrutiny as they were carrying a rucksack. We took advantage and went straight ahead towards the fountain, followed by the mosque and tomb area, and there was not a single soul in the whole complex. And the results are in front of you.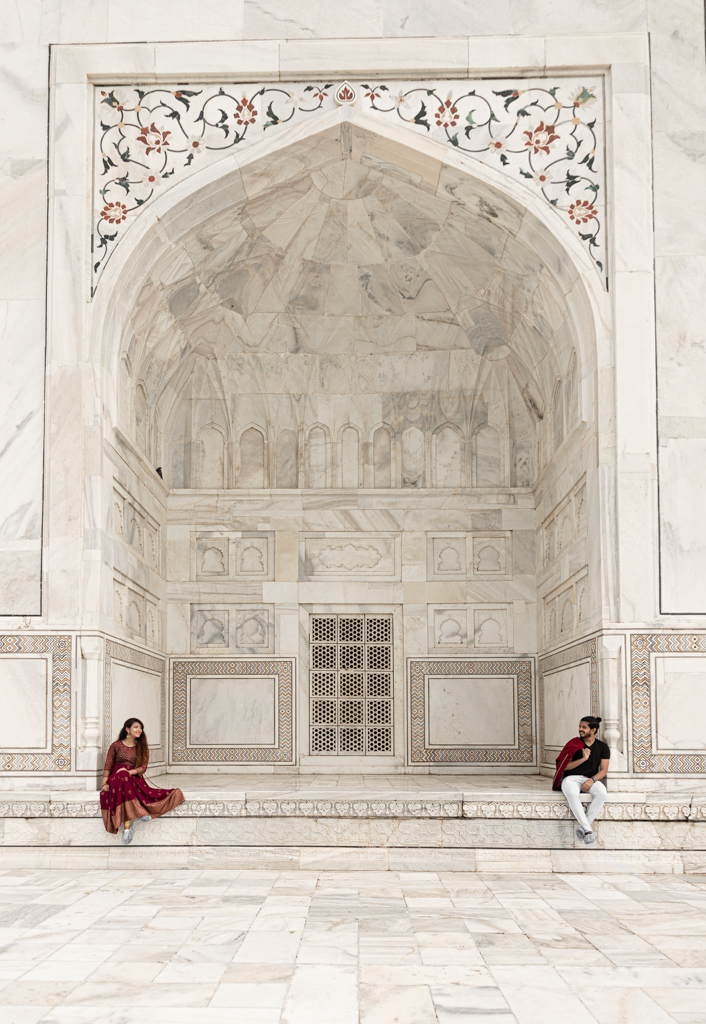 Whether we were completely lucky that it was a post-lockdown scene or our hope of going very early morning in the middle of the week and being the first ones in the entry queue worked, not sure but that helped. We heard many times that during off-seasons weekdays see a lesser crowd and Bang! We didn't fail.
Now that you are done with the clicking, hire a guide and explore the whole complex listening to some of the unheard stories and information about the monument. Like did you know somewhere in the walls of the Mosque there is an image the represents the creator Shah Jahan's dream of planning another identical Taj Mahal in Black on the other side of the river? We had to see it zooming from our lens, as you wouldn't spot it in your naked eyes as it is painted on a height. Or that even though the Taj Mahal is a symbol of perfect symmetry, there is one section of a pillar that was left in imperfection deliberately to introduce the belief that only Almighty can be perfect.
When all is done, take a moment to sit down and let it all soak in. The beautiful love story that inspired the emperor to build this wonder of the world and how lucky you are to be in the presence of it.