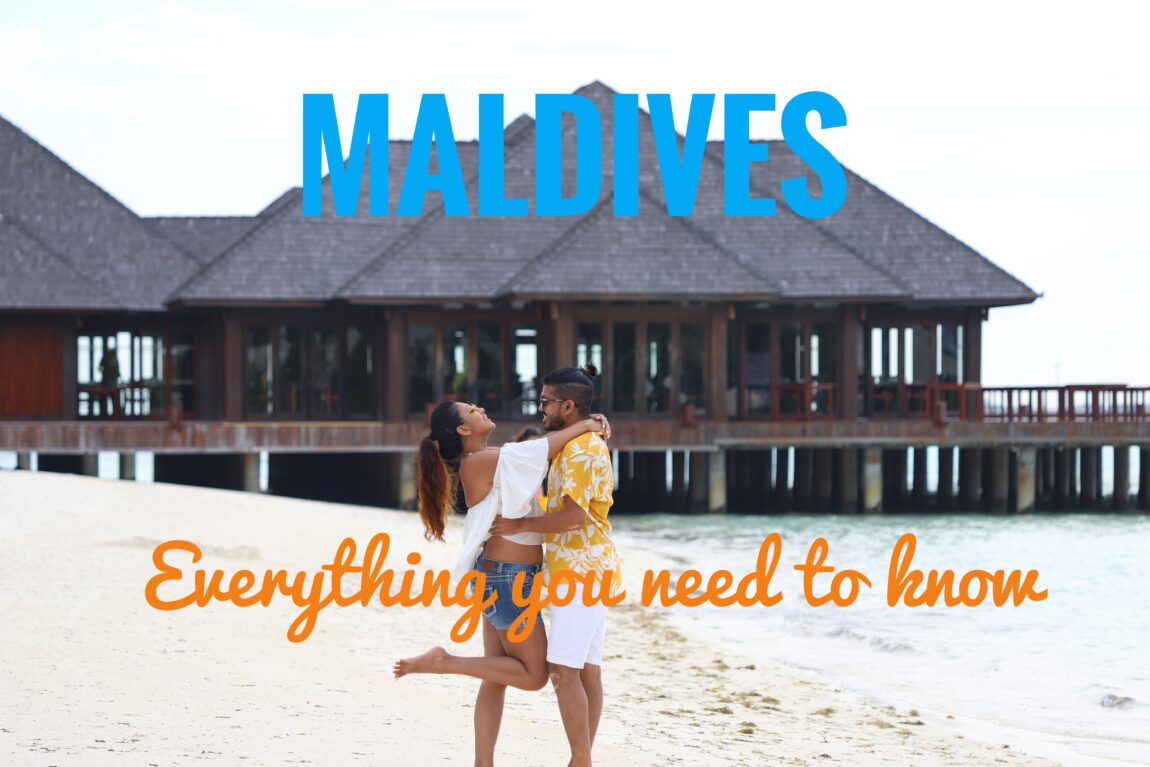 Are you planning to travel to the Maldives in 2022 – Everything to know before you visit there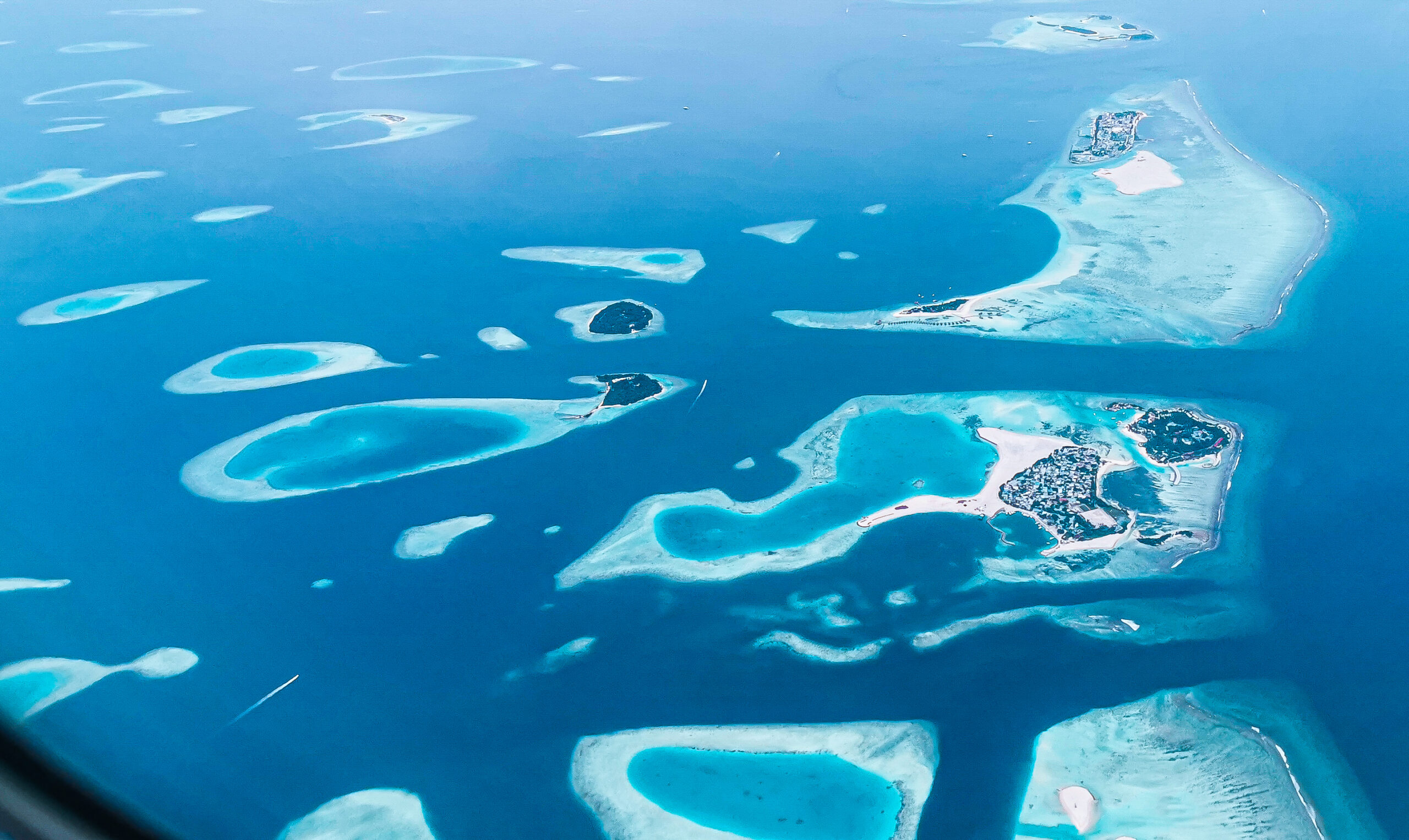 Many times, we have flown across the azure sea towards a new destination but this was a completely different sight to behold. As our plane flew over the ocean and started to descend, a cluster of islands appeared out of the gleaming blue water – of all sizes and shapes. The tiny pieces of green lands surrounded by turquoise ring-like coral reefs and white sandbars looked almost poetic.  
Exactly after a year, we boarded a flight. The world is not the same anymore. The way we travel has changed drastically since our last trip. Amidst all the concerns of the still-existing Pandemic, the travel industry reopened with air bubble agreements between countries and with a bunch of rules and safety protocols.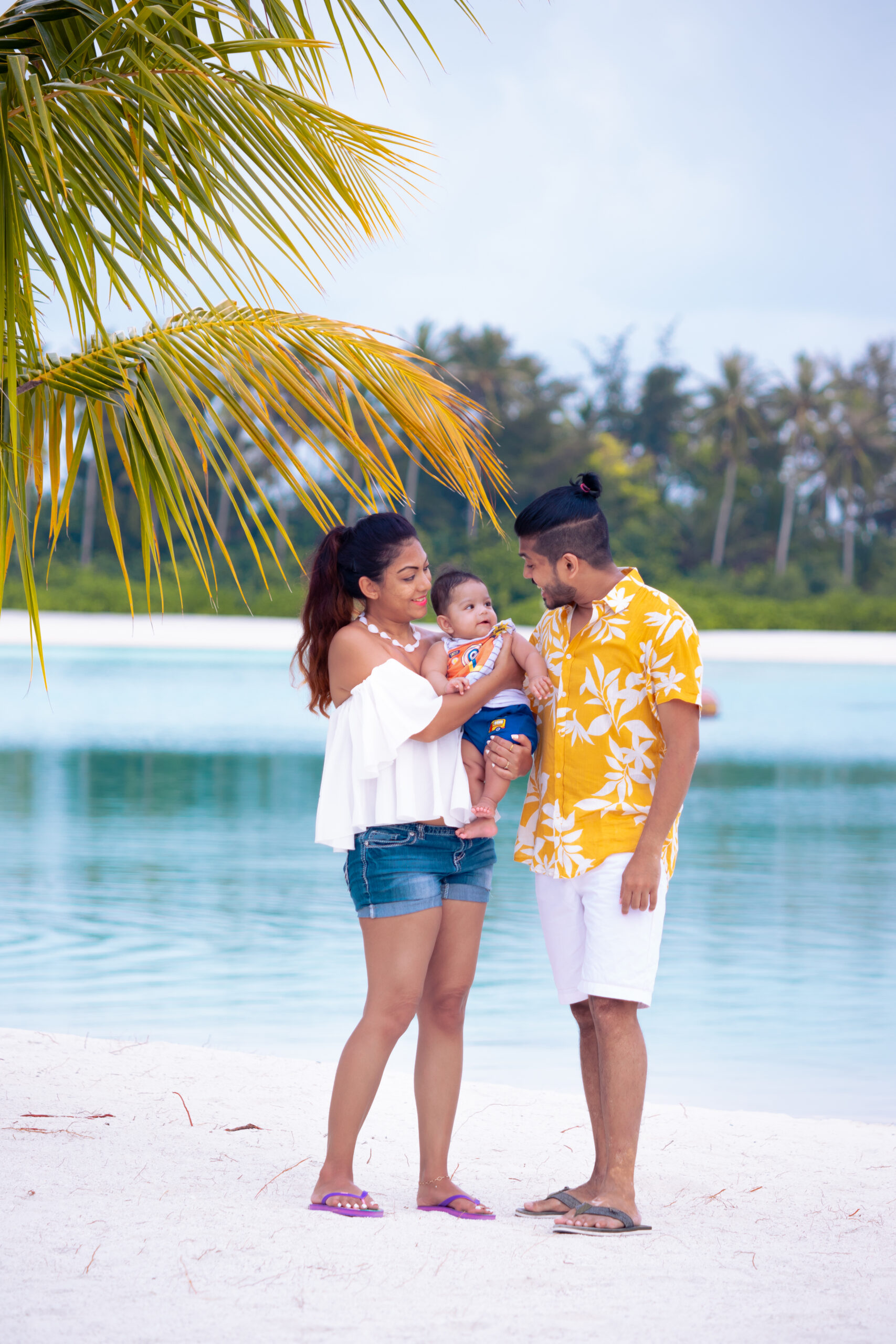 A lot has changed on the personal front too. We welcomed our son mid-last year. As much as we utilized the time of lockdown to stay at home and spent some quality time with family and got to see our bundle of joy growing with each passing day, we started to get itchy feet. The hope of the world coming back to its previous normal seems distant yet. We missed every bit of our three years travel journey and kept reminiscing about all trips. Travelling might be still considered as non-essential with the current situation. But the idea of so many fellow travellers making travel possible tickled our fancy.
Initially, we had our fair share of inhibitions about traveling with an infant and how that would turn out (Read our full blog on how to manage traveling during a pandemic with an infant). We waited until our son would turn almost 6 months. We stepped to the year 2021. By then we knew his routine and felt optimistic about travelling. So, after considering everything we zeroed in on the Maldives as the next destination. We realized it would be the safest option at the moment as the islands are secluded and don't involve sightseeing or visiting multiple locations. And there we were on the clouds with our son on his maiden flight.

About the Maldives
The Maldives archipelago in the Indian ocean is grouped into 26 atolls that consists of 1,190 coral islands and spread over an area of almost 90,000 square kilometers. Out of these only around 200 are inhabited and a majority of those are converted to island resorts to cater to tourism. The tourism industry is the biggest contributor to Maldives' economic growth with other significant sectors being construction, transport, fisheries. The population of this Islamic nation comprises majorly resident Maldivians and working foreigners of Indian, Chinese, Nepalese, and Bangladeshi origins.
This stunning island nation is known for its bright sunny tropical vibes, picture-postcard scenery, turquoise lagoons, pristine beaches, reefs teeming with diverse sea life abundant with unique species like baby reef shark, moray eels, and a wide variety of rays – manta ray, stingray, and eagle ray.
Some quick facts and things to know
Main Airport: Male Airport (Velana International Airport)
Currency: Maldivian rufiyaa. Though USD is widely accepted
Languages: Local speaks Dhivehi. English is widely spoken in tourist areas
Land Area: 298 km²
It's the lowest and flattest nation in the world and many islands are sinking due to climate change
It's illegal to bring any form of liquor into the Maldives. Alcohol is only available at island resorts and hotels
It's an Islamic country. Respect their traditions and dress up modestly covering the skin when in main lands like Male and Addu city etc. In most of the resort islands, you are free to wear what you wish including swimsuits. However, nudity is not allowed anywhere in the Maldives.
It's illegal to take any form of shell, sand, or coral back with you from the Maldives
The fare of the domestic seaplane transfers is heavy on the pocket and can be as high as the price of an international flight.
The Maldives has a massive population of manta rays and also known for whale sharks
How is the weather and what's the best time to visit?
The Maldives has a tropical equatorial climate that makes the weather warm and humid throughout the year. In terms of rain, sunshine, winds, the weather conditions slightly vary based on your location in the archipelago. The moisture-rich air from the Indian Ocean turns to a cool sea breeze making the weather tolerable most of the time. The high temperature reaches up to 31 degrees Celsius. The average low temperature is 26 degrees Celsius. Thus, there is no extreme hot and cold during the entire year.
Two main monsoon seasons control the climate in the Maldives. The dry season of October/November until April ('Iruvai' in Dhivehi) brings the north-eastern monsoon. While the wet season (termed 'Halhangu' in Dhivehi) associated with the southwestern monsoon brings strong winds and thunderstorms lasting between June to late October/November.
With the seasons in mind, the best time to visit the Maldives would be from December to April as the climate is dry, breezy and the weather is warmer. Most days bring sunshine, clear blue skies, and calm seas. Even so, you may experience occasional cloudbursts and strong winds at times. Most visitors see this as the best time to go, although there are other points to keep in mind while choosing the time of year to visit the Maldives. For instance, what water sports you wish, when to see specific marine life, when you can find the best deals. April till October is a favourable time for surfers due to the large waves. On the other hand, February to April becomes the best months for scuba diving and swimming with magnificent manta rays and whale sharks. Months between May and August, you can find the cheapest deals for resorts.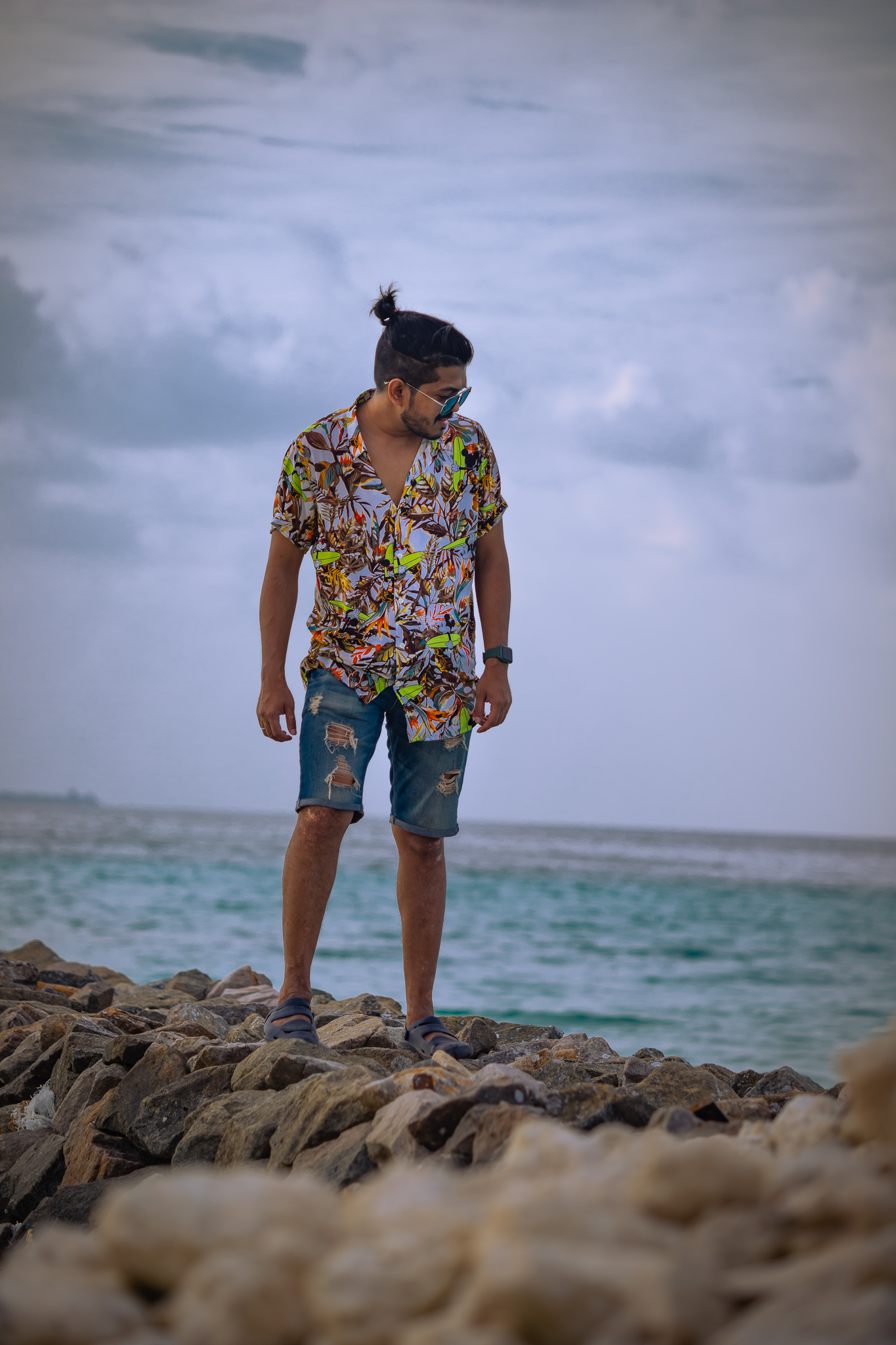 What are the essentials to pack?
Sunscreen and Sunglasses – In a tropical place such as the Maldives, you will be exposed to a lot of sun rays throughout the day and tend to get sunburnt. Take 40-50+ SPF water-resistant sunscreen cream/lotion to cover your face and body. A pair of polarized sunglasses to protect against glares and UVA/UVB radiation.
Sandals/flip flops/crocs – You can simply walk barefoot on the clear sandy beaches. However, pack casual sandals, flip flops, or crocs to walk through the resort area. Dive shoes are comfortable to put on for water activities such as diving, snorkelling, or swimming.
Wide-brimmed sun hat – to protect your face from the bright sun.
Dry Bags and Wet bags – A waterproof dry bag to carry your essentials like camera gears, wallet, and other valuable items when you go for boat trips and water activities. A wet bag to carry your wet clothes, towels back to the resort.
Swimwear/Swim shorts – 3-4 bright swimming suits for her and a couple of quick-dry shorts for him. Bright coloured bikinis/monokinis in red, orange, maroon, or even white will contrast beautifully with the turquoise ocean and white beaches. Guys can choose swim trunks/shorts in colours like blue, yellow, green and whites. Also, tropical printed, polka dots look classic against the backdrop of the ocean.
Kaftans/Wraps ups/See-through layers – These will help ladies to cover up from the sun after coming out from the sea. You could walk around in it comfortably in the resort.
Smart evening wear – A flowy gown or a maxi dress would be perfect if you wish to go for a romantic date or a candlelight dinner by the beach.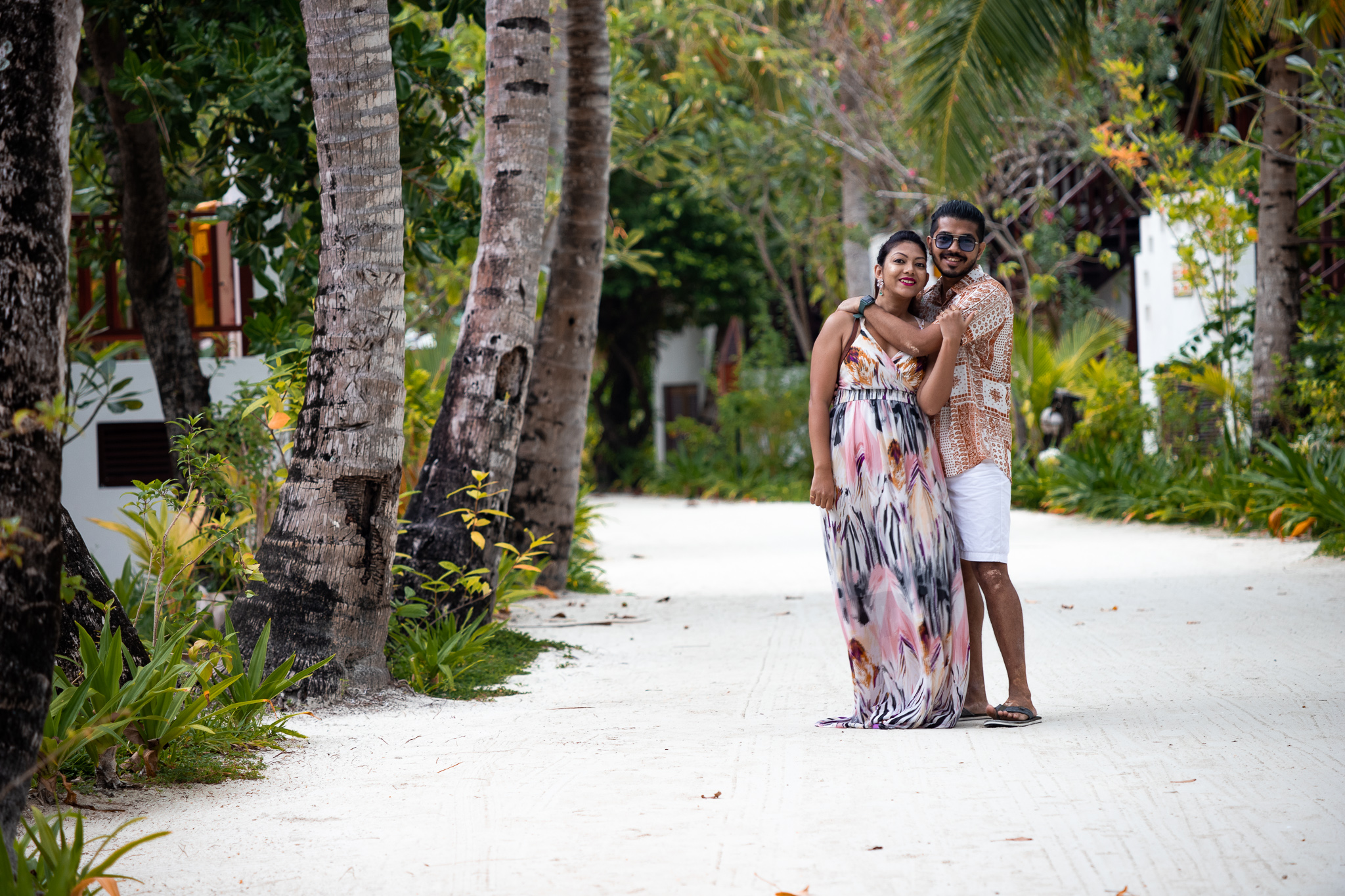 Light summer clothes – Pack a couple of light and airy dresses like long flowy dresses, tunic dresses as bikini cover-ups, fringes shrugs, stylish tank tops, and denim shorts. These will come in handy if you are exploring around the island or going for some tours. Men can pair vests with Bermuda or chino shorts and shirts with plain shorts.
Also, if you are planning to visit the cities like Male, Addu then pack a scarf, casual pants, and shirts /tops covering shoulders. It's an Islamic nation, so dress conservatively in cities.
Sport tee/shorts/tracks – If you are staying for longer and want to work out in the resort gyms or even take a beach yoga session
Photography gears – Maldives will leave you amazed with its picture-perfect sceneries; you wouldn't want to miss capturing the moment. For most vacationers, a good camera smartphone will be sufficient to click. For photo enthusiasts, some gears might be essential. Take a selfie stick for your mobile photography. An action camera like GoPro to capture all your adventures on land and underwater. Pack snorkelling case, floaty, wrist mount, etc. We took Hero 7.
A light SLR or point and shoot camera to frame your special moments. If you own a drone, do not forget to pack it. The Maldives will leave you awestruck with its aerial landscape. Please check the drone policy of the hotel/resort before you go there. Some properties do not want you to fly a drone over private villas/water bungalows. In Sun Siyam Olhuvelhi where we stayed drone was not allowed.
Snorkelling gear – Many resorts offer free snorkelling gear or at a small rental cost. Although the dive center staffs sanitize gears after every use, it would have used by many. So, if you have one, then take it.
Insect repellent – To protect you from flies and mosquitoes.
Other equipment – Beach accessories like beaded chains or bracelets, a travel adapter for charging your devices as the Maldives has type G power plug sockets, kindle if you love reading and do not want to increase the weight with many books.
Avoid carrying laptop, jackets or warm clothes, shoes/boots, heels/stilettos, Jewelry, alcohol, pork by-products, hair-dryer.

How the Maldives prepared itself for the Pandemic and saw large tourist footfall?
With the breakout of the Covid pandemic in early 2020, the travel industry came to a standstill. Many countries went into complete lockdown, India and other countries halted their commercial/international/domestic flight operations. Hotels, resorts, tour operators had to close down all operations. A few months later, the world started to take protective and safety measures to battle against the deadly virus. Lockdown restrictions were slowly lifted in stages with government-mandated guidelines in place. And finally, after several months the travel industry also started to open its doors.
Since India and Maldives operationalized South Asia's first air bubble last August, it prompted a lot of Indians to go for a vacation in the tropical islands. Air bubble ensured travel would be safer until normal travel resumes. Eventually, other countries also set up air bubble arrangements with India.
However, short travel time from India, no visa requirements, no quarantine policy, isolated islands with large open spaces made it an absolute favourite hotspot for holidayers from the sub-continent. Also, most properties were built with the 'one island one resort' policy. Due to that most tourists are confined to one location and the chances of any large-scale community spread become less. Towards the end of 2020, tourists from across the World started visiting the Maldives. Taking the tourist arrival numbers to 555213 as of 31st Dec, surpassing the government's goal of 500,000 (although a reduced figure from pre-covid numbers). By July 15, Maldives opened its borders for international tourists. Russia, India, and the UK were the three biggest markets for the Maldives, besides the USA, Germany, France, UAE, Ukraine among significant others.
With more than 150+ resorts currently in operation, Maldives ensured safety comes first. From having a mandatory Covid negative test report before arrival to filling self-health declaration, from wearing PPE gears in public and having health scans in the airport to maintaining social distance; the Maldives kept all measures in check. Thus, ensuring maximum safety for all visitors during these troubled times.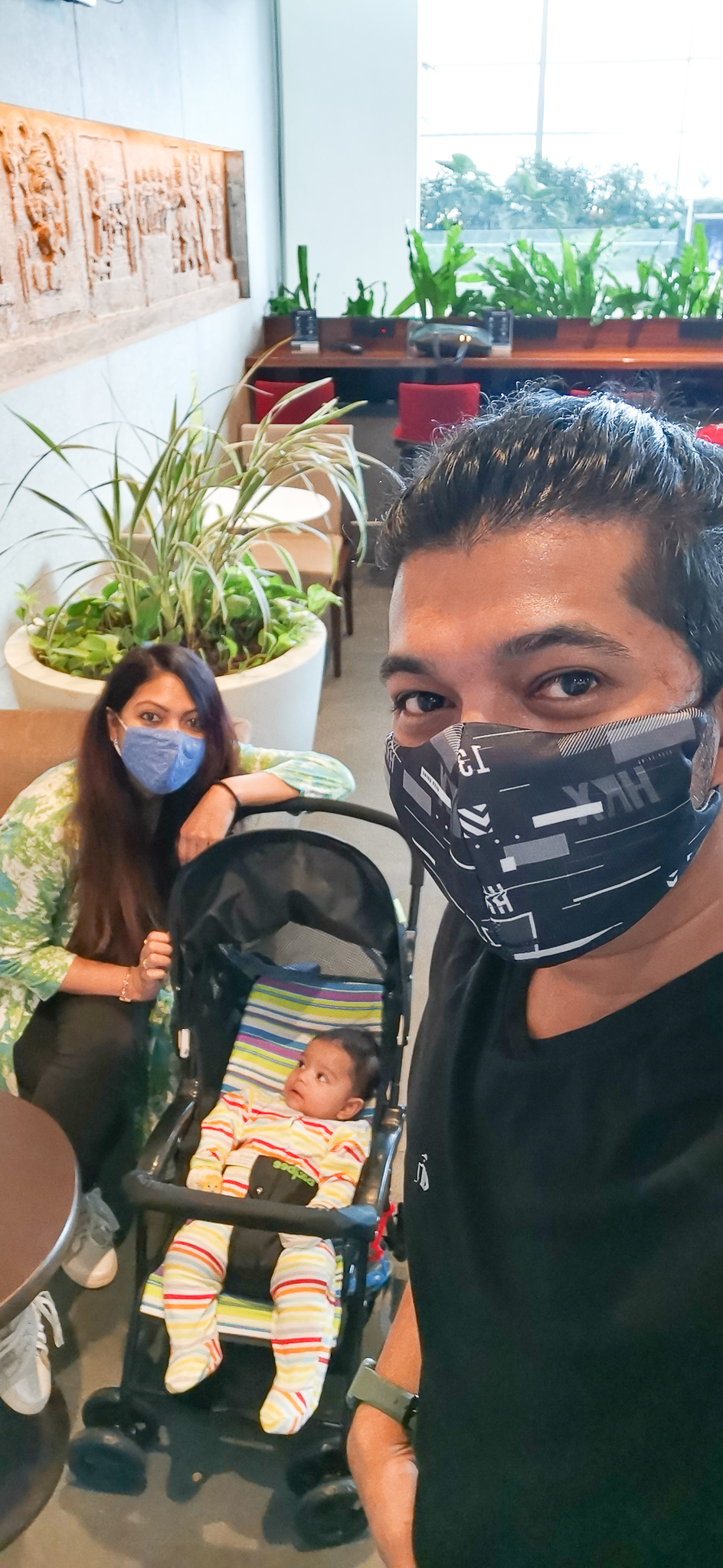 Visa, entry requirements, and other guidelines
A tourist visa to the Maldives is granted on arrival free of cost for all nationalities for 30 days. There is no requirement for pre-approval for the visa.
To find what are the other documents/guidelines that are required for traveling during the pandemic, please read our blog here.
How to get there?
At present, Indian carriers such as Air India, Indigo and Go Air is connecting Male to the cities of Mumbai, Delhi, Bangalore, Kochi through non-stop flights. Also, Maldives national carrier Maldivian Air is operating flights between the two countries. Additionally, Air India, Sri Lankan Airlines are also operating some connecting flights to the Maldives. We took a Go Air flight from Bangalore, which had a duration of 2 hours. We booked our tickets from Ease My Trip for a slightly discounted fare compared to other websites.
You can use the Skyscanner flight search engine to find cheap flights. Skyscanner will search for all flight booking websites and airlines around the globe. So, you can compare the rates.
Within Asia, the low-cost airline Air Asia has one of the best connections to and from the Maldives. There are direct flights to the Maldives from Sri Lanka, Dubai and Qatar. Also, there are many flights from Europe and the USA that connects the Maldives.
The cheapest flights to Male are from Kochi that starts at 6000 INR for one way. From Bangalore airfare is 6500+ INR, from Mumbai 7500+ INR, from Delhi 7900+ INR for one way.
How to transport within islands?
Public ferries are the government-operated transport that connects the nearby islands. You can book tickets directly at the Male island ferry counter as it cannot be booked online. Please keep in mind these points while you plan for ferries.
A public ferry does not take you to the island resorts. You can only connect to the local island to reach the hotels/guesthouses. For resort island transport you will need to rely on their transfer
Ferries connect only the islands within an atoll. It will not take you from one atoll to another atoll. Each atoll has its ferries
Travel time in these ferries is much longer than speedboat transfer
Ferries run infrequently and there might be cancellations due to bad weather conditions.
More details on what islands are connected via local ferries in the link below
https://www.atolltransfer.com/ferry-routes-c1jxp
Another way of travelling to some of the islands is the domestic flight or the seaplane. The internal flight fares are as high as international fares. Maldivian Air, MantaAir, FlyMe are the domestic carriers. Here are few links to book domestic flights within atolls
https://maldivian.aero/
https://www.atolltransfer.com/domestic-air-transfer
The atoll transfer website can also be used to book speedboat or seaplane transfers to resorts (https://www.atolltransfer.com/all-properties)
For seaplane transfer, here is a link
https://www.transmaldivian.com/
Is the Maldives only for the rich and the celebrities?
The Maldives witnessed several international celebrities and Bollywood's A-listers vacationing in some of the ultra-luxurious resorts during the last year. Their continual Instagram updates or the news articles covering their holiday pictures would have made many of us wonder if the Maldives is only for the riches.
Well, you should know, as much as the Maldives is known for having some of the most expensive island resorts, it also has hotels, resorts, guesthouses that would suit everyone's need. You do not have to have a huge bank balance for planning a trip to the islands.
Although it would be unfair to expect super cheap accommodations or hostel dorms in less than 10 USD per night like southeast Asian countries. That being said, there are more ways to find affordable accommodations and to cut down prices while travelling within the islands.
Can you make a budget trip to the Maldives?
The answer is Yes. Please read our blog here for all the information, tips on how to make a budget trip to the Maldives.
What types of stay/package to choose from in the Maldives?
Now, these entirely depend on your preferences in terms of choosing the type of stay (resort/hotel/guesthouse/liveaboards), type of room (standard/deluxe/beach villa with or without pool/water bungalows with or without a pool or jacuzzi/ water suites) and activities you wish to indulge in. All these types are explained here;
Type of Stays:
Resorts – An exclusive island dedicated to one resort that will provide all sorts of facilities/activities/tours. You can spend the entire trip in one location. Good for visitors with a high budget. Prices can start from 100 USD per night for 3-star resorts and can be up to 2000 USD or above for 5-star ones.
Liveaboards – These are fancy yachts/cruises with limited cabins dedicated to scuba diving trips, surfing trips, fishing trips. These can be booked for individual requirements or as tailor-made cruises for exclusive groups. The vessel will follow a standard pre-designed sailing itinerary. It can be exorbitant (2000 USD and above) as the tour is for a minimum of 7 nights and above.
https://www.liveaboard.com/search/maldives
Hotels – If you are visiting the Maldives on business or looking forward to exploring the capital Male', then staying at a hotel is convenient. You can stay in exceptional hotels for as low as 30 USD per night.
Guesthouse/Bed & Breakfast – A guesthouse is the most budget-friendly option and offers a different experience. You will get the chance to stay in a local town and get to mingle with the Maldivian people and get a taste of their culture/traditions. Prices start from 20 USD per night.
Type of rooms:
Broadly there are two types of rooms on any Maldivian resort: the beach villas and the overwater villas (they may also be called bungalows or suites).
Beach Villas – The beach ones are the standalone villas close to the beach. Most of these are single-story buildings. Some resorts like the one we stayed at (Sun Siyam Olhuvelhi) have two-story villas. Each floor for a separate guest with access to a balcony or a terrace. In beach villas, some come with private pools or jacuzzi.
Over Water Villas – Water Villas sits over the lagoons. These come with direct access to the lagoon/sea. Some have a private pool or hot water tubs.
Luxury/Presidential suites – Lastly, each resort will have some luxury suites that would house a large infinity pool, 2 bedrooms, and high-end amenities. These are lavish and exorbitant.
While booking your stay also consider the different meal plan options and see what package suits you.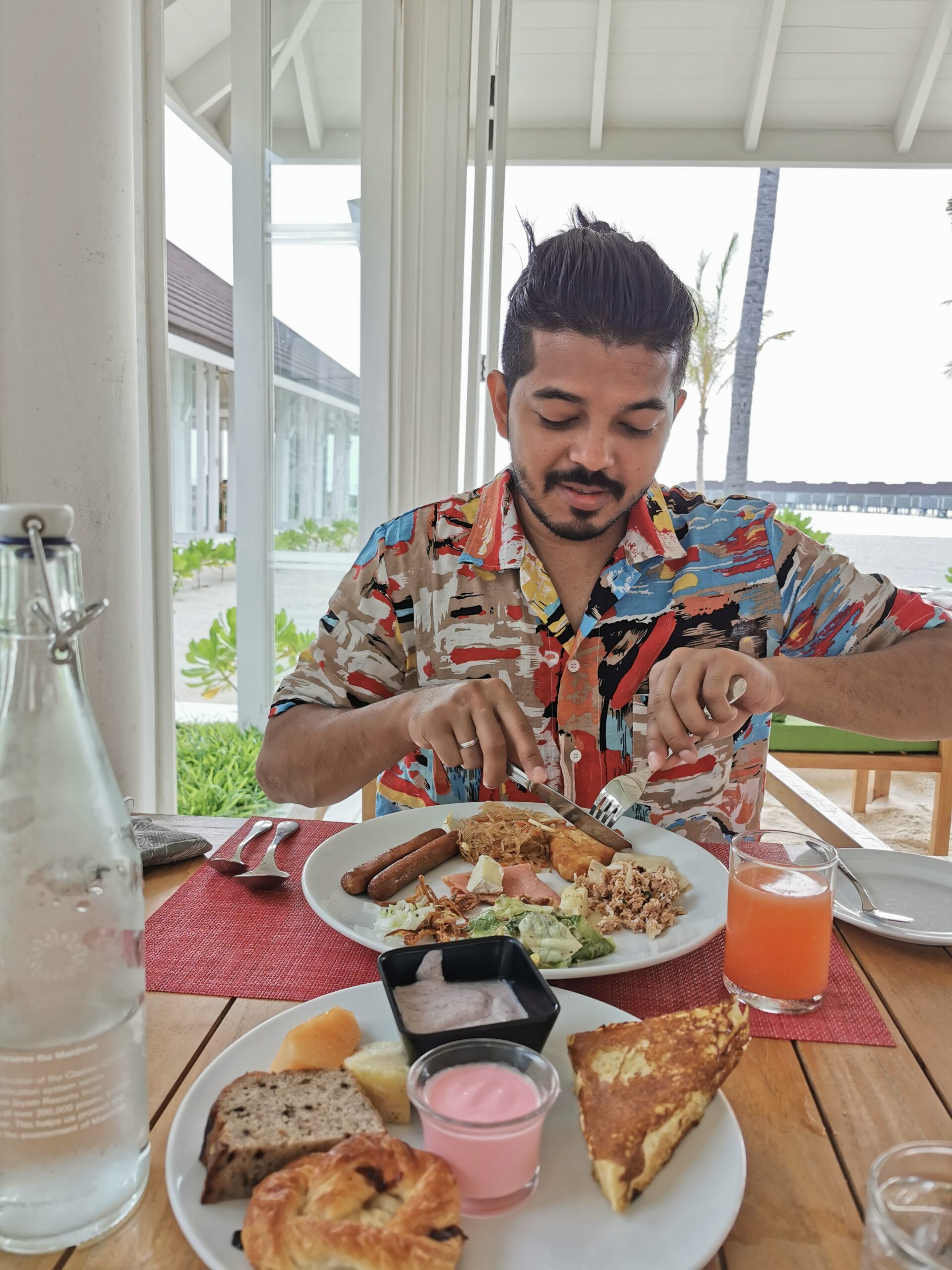 Breakfast Only – provides only breakfast. All other meals/drinks will be at extra cost.
Half board – provides breakfast and anyone meal (lunch or dinner). Drinks will be charged.
Full board – All three meals of the day are included. Drinks will be charged
All-inclusive – All three meals of the day are included in the price and also a lot of free, selective alcoholic drinks will be available. Also discounts for some activities.
Note: All these meals are in buffet style and we felt it was overpriced for the options available. We have had a full stomach meal at times when we ate in a-la-carte restaurants for much lesser price. e
To know what are the activities and things to do in the Maldives, read our blog
Here is a list of some highly reviewed hotels/resorts for different budget groups:
Budget Hotels/Guesthouse (Upto 30 – 80 USD) – Rosemary Boutique, Liyela Retreat, SeaLaVie Inn, UFA Escape, Endheri Sunset Dhangeti, Holiday Cottage Thoddoo, Liberty Guest house, Karaa Village at Thoddoo island, Mulah Surf camp, Pebbles Inn Hithadhoo, Banyan Villa, Blue World Dharavandhoo, The castaway retreat, Keyla Inn.
Low-range Resorts (90 – 200 USD) – Malahini Kuda Bandos Resort, Biyadhoo Island Resort, Medhufushi Island Resort, Bandos Maldives, Paradise Island Resort, Innahura Maldives Resort, South Palm Resort Maldives, Equator Village Resort, Kuredu Island Resort & Spa, Sun Island Resort & Spa, Reethi Beach Resort, Royal Island Resort & Spa, Furaveri Island Resort & Spa
Mid-range Resorts (200 – 450 USD) – Vilamendhoo Island Resort & Spa, Hard Rock Hotel Maldives, Drift Thelu Veliga Retreat, Summer Island Maldives, Reethi Faru Bio Luxury Resort, Kurumba Maldives, Adaaran Club Rannalhi, Veligandu Island Resort & Spa, Sheraton Maldives Full Moon Resort & Spa, Sun Siyam Vilu Reef, Sun Siyam Olhuveli, Dhigufaru Island Resort, Noku Maldives Resort, Amaya Resorts & Spas Kuda Rah Beach, Kandima Maldives, Sun Siyam Iru Fushi, Kuramathi Maldives, Kudafushi Resort & Spa – All Inclusive, Coco Palm Dhuni Kolhu, Komandoo Island Resort & Spa, Grand Park Kodhipparu Maldives, Cocoon Maldives, Lux South Ari Atoll Resort & Villas, Fushifaru Maldives, Palm Beach Island Resort & Spa, Velassaru Maldives
Luxury resorts (450 – 2000 USD) – Centara Ras Fushi Resort & Spa, Emrald Maldives Resort & Spa, Adaaran Prestige Water Villas, Hurawalhi Island Resort, Iti Maafushivaru Maldives, Anantara Veli Maldives Resort, Kudadoo Maldives Private Island, Dhigali Maldives – A Premium All-inclusive Resort, Vakkaru Maldives, Gili Lankanfushi, Conrad Maldives Rangali Island, Cinnamon Dhonveli Maldives, Amari Havodda Maldives, Joali Maldives, Lux North Male Atoll Resort & Villas, Pullman Maldives – All-inclusive Resort, Ayada Maldives, Waldorf Astoria Maldives Ithaafushi, Soneva Jani, Amilla Fushi, Varu by Atmosphere, Ozen Reserve Bolifushi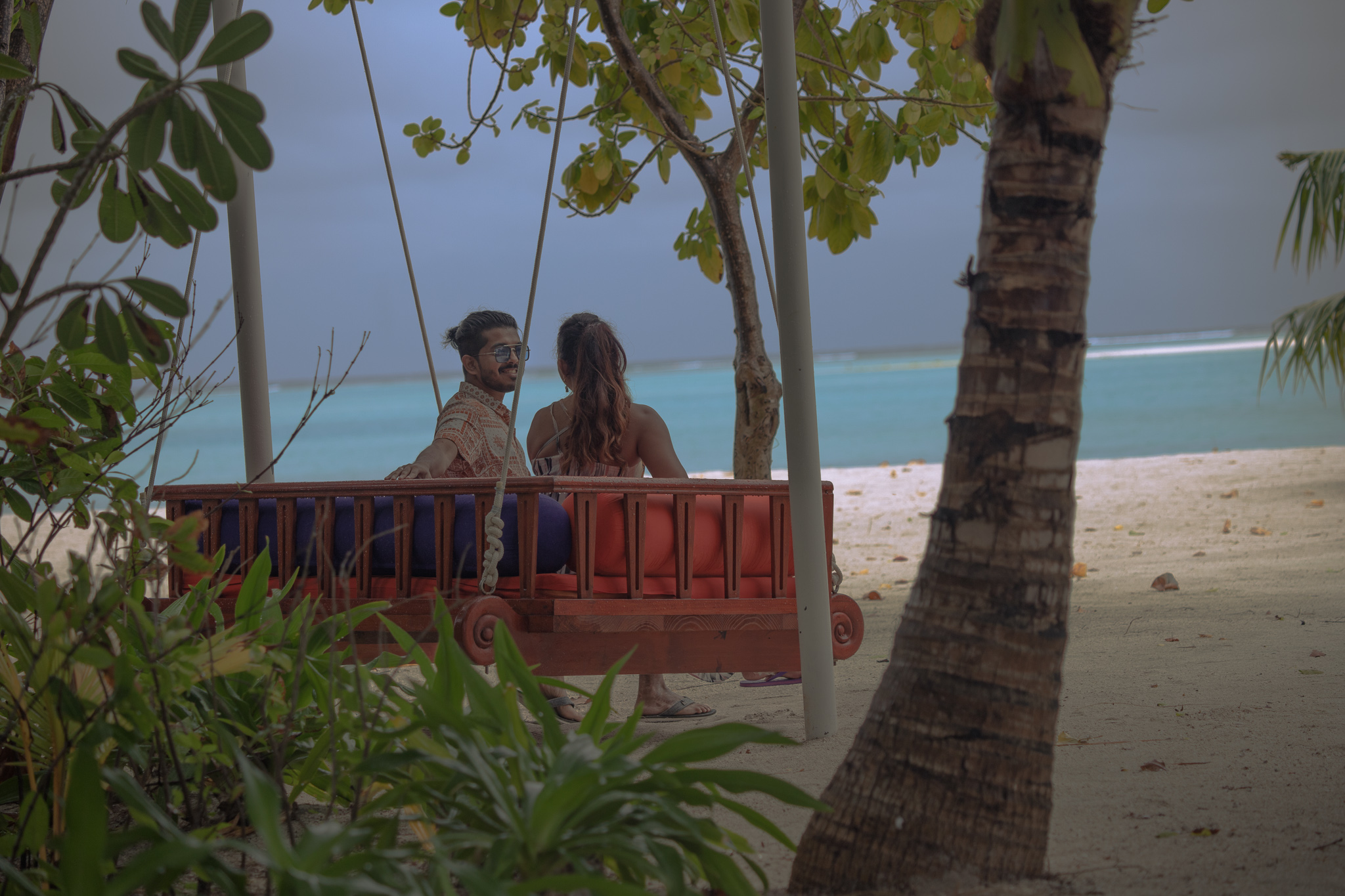 Conclusion:
With so many islands, Maldives has a lot to offer to all the visitors. Each of the islands is different in some way and has something special to offer.
For example, the Vaadhoo Island is famous for the natural phenomenon of bioluminescence that appears as thousand glowing stars in the sea waters during the night. Whereas the Male city gives you a slice of the island life and a feel of the city with brilliantly lit buildings, restaurants, budget hotels, numerous sightseeing places to explore. Maafushi is famous for all backpackers and is the best spot to peek into the Maldivian culture. The rustic and relaxed environment of Biyadhoo island is an idyllic place for scuba affairs within budget. The tranquil and romantic ambiance, the swaying palms on the velvety sand beaches, the exquisite lagoon villas of Olhuveli island can be a tropical paradise for honeymooners. While Finolhu island has these stylish and uber-cool secluded 'beach bubble' houses, in Kuredu island you can experience the magic of dining in an under-ocean restaurant.
In the first thought, the Maldives might appear as an exotic destination favourite only among honeymooners and affluents. But on a close look, you can realize that it is an amazing country with its history, tradition, cuisine, and attractions. Beyond the Sun, sand, and the sea, it has a lot to offer to all its guests – to the thrill-seeker or the souls in romance, to the spirited budget traveller or to the family seeking fun, to the first-time visitor or to the ones who kept coming.
I hope this post helps you with some useful tips for your trip to the Maldives.
If you discover something new and amazing about the Maldives then do let us know through your comments.
P.S. the details are up to date till Jan 25th, 2021
Author: Sourab