Hi there! We're Sourab and Gloriya. Welcome to our page. We look forward to inspire you with our travel stories.





It all started with a drink, a shared passion for travel and a burning desire to explore the world. We were two strangers on our first date talking in lengths about our dreams and getting amazed at how much we were alike. The following few months were spent in planning our wedding and a 3 country honeymoon which turned out to be an impromptu 5 country extravaganza. This was just the beginning, we had gotten the taste of wanderlust. We started getting drifted to a dreamland every time we saw a beautiful destination in articles, social sites or on television. With that dream, we have traveled a total of 12 countries together.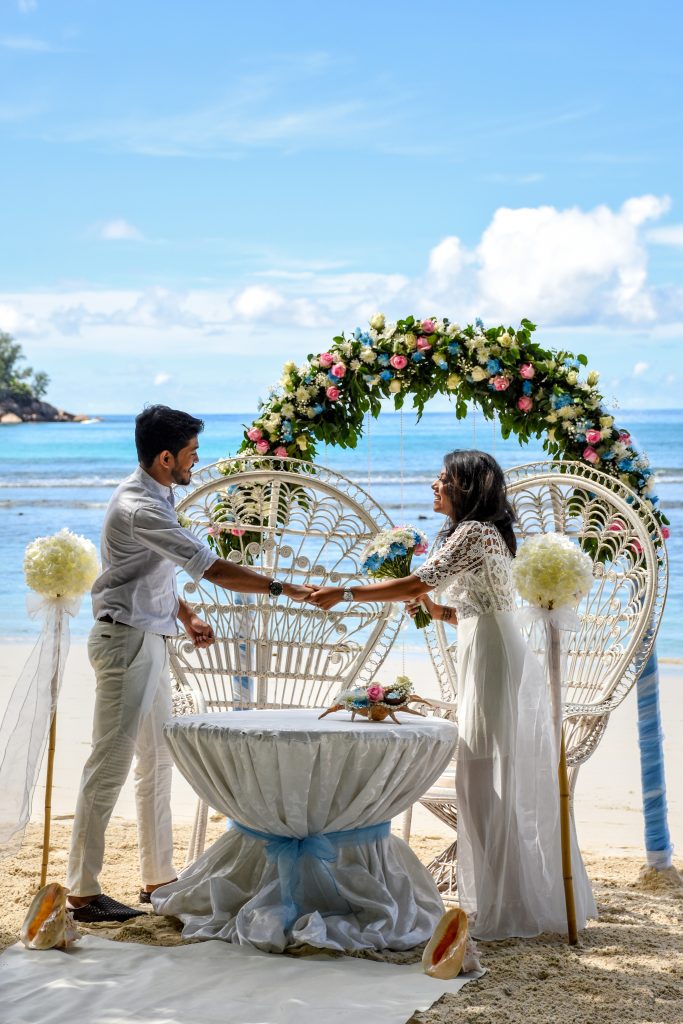 A promise made and a promise kept!
On our first wedding when a few plans were going wrong, we decided to let things run it's course and not let it bother us much…as we would not let this be our last one. We made a promise to celebrate our bond, our love, our connection in a different way every year. And we made it to 3 ceremonies in 3 different countries- India, Seychelles and Vietnam on each of our wedding anniversaries. With many more years of togetherness to come, we hope to keep this fire alive and continue the streak.
Well as they say… Man proposes God disposes. This saying couldn't have been more relevant in the current situation we all are in. After our last trip backpacking across south east Asia we were all set to travel to the Middle east this year. Flights booked, stay booked, shopping done and then the Covid-19 wave hit the world. While we patiently wait for all of this to get over and the world to come back to normal, we silently pray for the well being of the ones affected all over the world. We are keeping our hopes high that we will travel again with the same zeal but this time it will be three of us 🙂
A look back at the year that was -2019
2018 was the year of relax travel, lodging at the comfort of hotels, dining at famous restaurants, moving around at on pace, commuting by taxi moving around at our own pace, commuting by taxi, numerous flights and only travelling to well-known tourist attractions while 2019 was the year of change. This time around we decided to let go of our comfort bit by bit and explore every part of the city we travel in true backpacker style. We started with Singapore, Kuala Lumpur and Langkawi in July and ended the year with a backpacking tour through four countries across South east Asia.
The year has been phenomenal in terms of having crazy adventures. From losing mobile phone in the aircraft and getting it back after 4 days, getting lost in a remote village in Vietnam, being chased away by crocodiles in Laos, spending sleepless nights fighting bedbugs, roaming the ghostly streets at nights, besides wonderful experiences like getting to speak to locals, staying at their home, trying out local delicacies, exploring off beat places, walking miles together, watching sunsets, these experiences have made our travel truly extraordinary.
This year also taught us about responsible travel and sustainability. Inspired by a lot of travellers, we wanted to do our bit for the world we live in and hence we brought in a change in the way we traveled. We explored a lot by foot, local buses, metro, trains, journeyed from one country to another by bus instead of flight, avoided using plastic as much as possible and zero wastage of food and water.
We do have quite a few plans for this year and yet another change in our lives. We can't wait to begin our journey and share our travel stories in the hope of inspiring more people to travel, and mainly TRAVEL RESPONSIBLY
Subscribe to know about more interesting stuffs and upcoming adventures